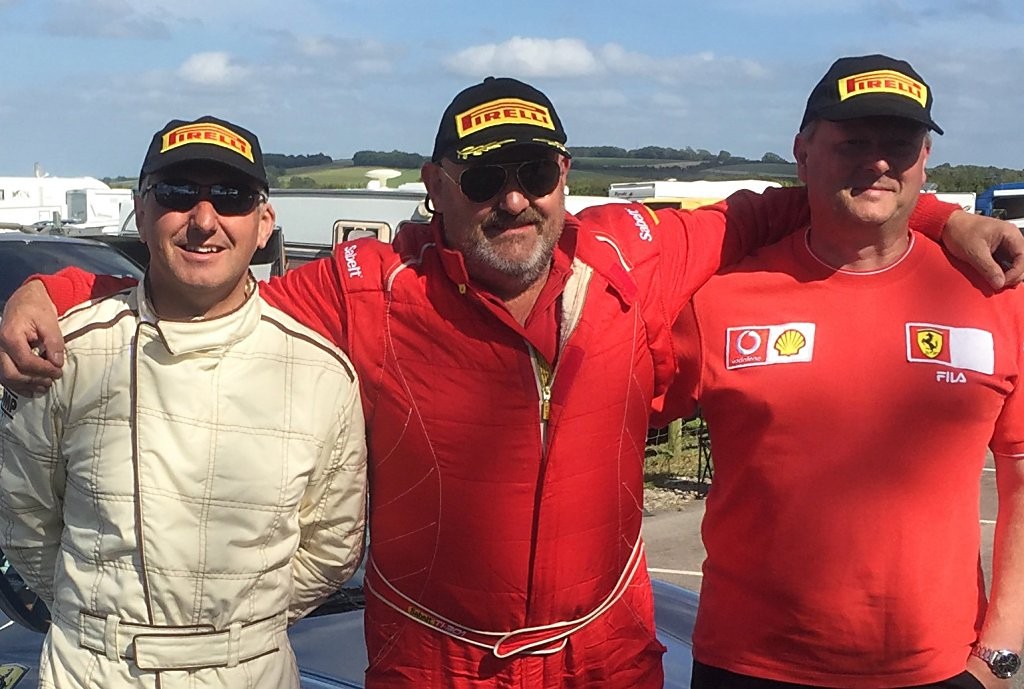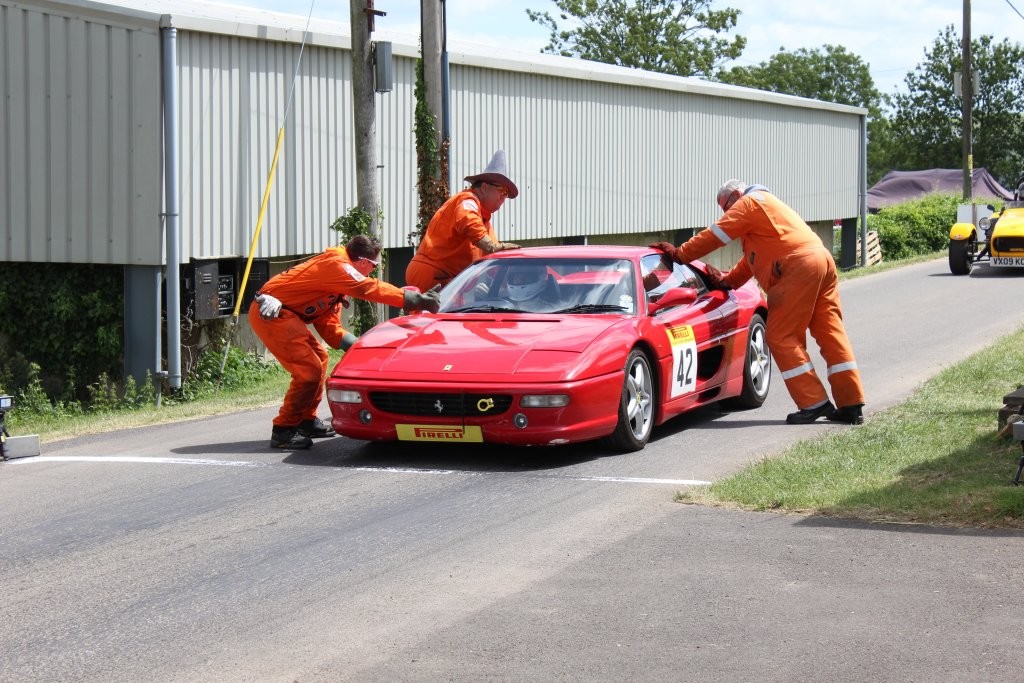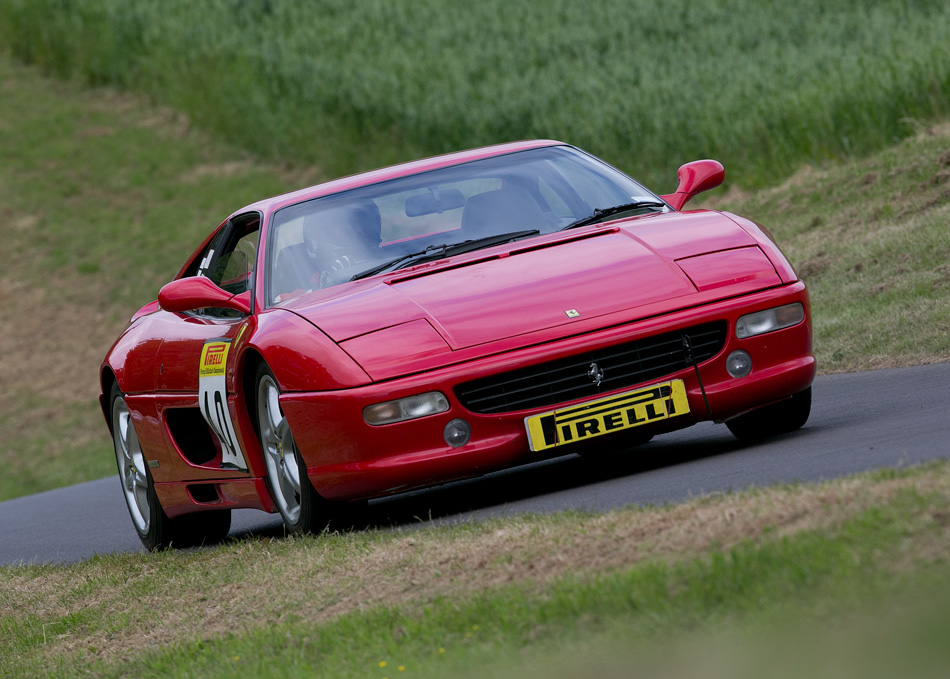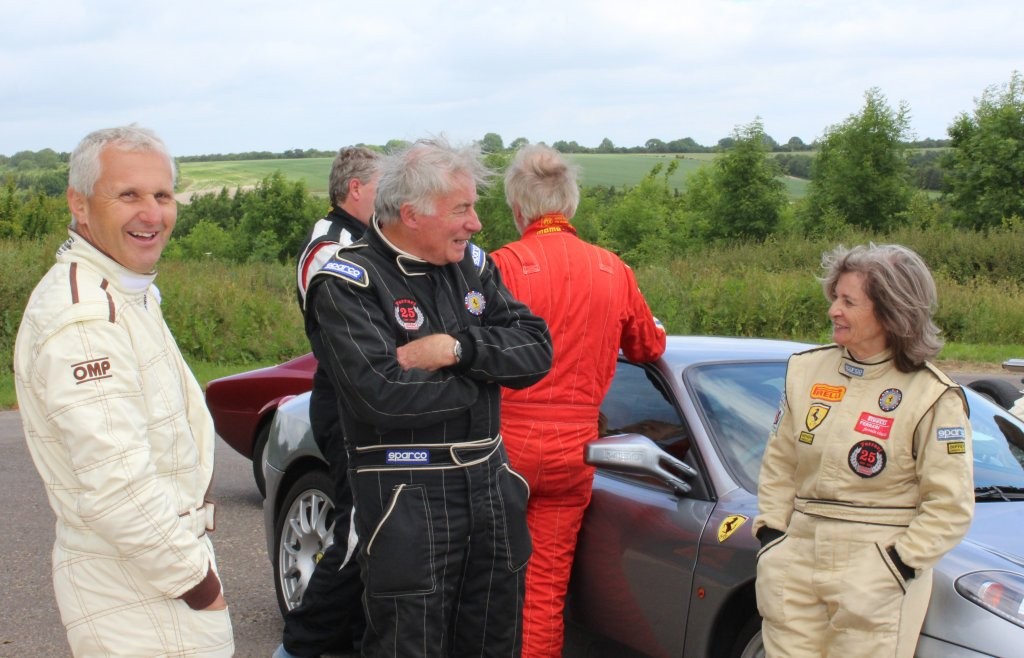 Six Ferraris and seven drivers were drawn to Gurston and the weather was bright and sunny and, unusually and untraditionally, the Ferraris were not the first on track, which was just as well as our leader RP was traditionally late and nearly had to join a later batch for opening practice. The other competitors were Dave Snelson who had the most powerful car but was new to Gurston, and Doc Tony Attwood sharing a double drive with his son Iwan in their 308GT4.
Pauline Goodwin was in her circuit 328, not her hillclimb car, Phil Whitehead who had the long trip down from up North and your scribe who had dragged his 355 out from the back of the garage, blown the dust off with an airline (yes I did!) kicked the tyres (eight years old, ooer!) and it behaved perfectly all weekend (don't you just love 355's).
The first practice began with Dave scorching away with a 37.66secs run! – never been here before he said … Prior was only a few tenths off, followed by Whitehead and Wood, Pauline and the Attwoods. Back in the paddock talk included the 0 – 64' times – for some reason the organisers had stopped tyre warming before the start line. The three foot square sign at the side of the track going unnoticed by Mr Prior who spun his wheels up anyway.
The writer and others struggled all day with start line traction and yours truly had some of his worst starts in hill climbing, 2.80 seconds x 3! (old tyres plus no wheel spinning had a marked effect).
Second practice started and we could be sure that Snelson's first practice was no fluke as he went faster at 37.49. Prior knocked a few tenths off and Doc Attwood lopped a huge 1.3 seconds off to record 43.49. Everyone else went faster than their first runs as the track warmed up.
Nice venue, Gurston, the restaurant facilities are excellent and some of the competitors availed themselves of them during lunch whilst others passed the time in the paddock awaiting the official runs in the afternoon.
The handicap figures were set and for everyone except Dave, they are of course, set at your best ever time at the venue. For Dave we had to make something up so Richard set Dave's HC to 36.80 only for him to go out on the first official and record a 36.49 ten minutes later.
All I can say is it looks like Mr Snelson was sandbagging as that is a new fastest time for an F430 at Gurston beating Nick Taylor's previous best by half a second! RP did his best in the second official to reel in Snelson but the time was half a second off his best here, a still very creditable 37.24.
Phil Whitehead knocked a few more hundredths off to stay a handy 1.3 seconds ahead of Wood. Both men were a second or so off their best times here. Pauline, as usual, pipped Wood for the points on the last run, this time by three hundredths. I have lost count how many times this has happened to me!
Tony and Iwan both got their best times on the last run. Tony on a 42.74 and Iwan recorded 43.85. Dave Snelson's best time of 36.49 wasn't only a new 430 record for Gurston, but it got him the scratch win and the twenty points (due to Prior, as the current champ, being on plus 1%) a fantastic achievement and an excellent drive.
We found out later from the paddock marshall who saw him at Gurston a couple of weeks earlier – for some covert practice – he obviously made good use of it!