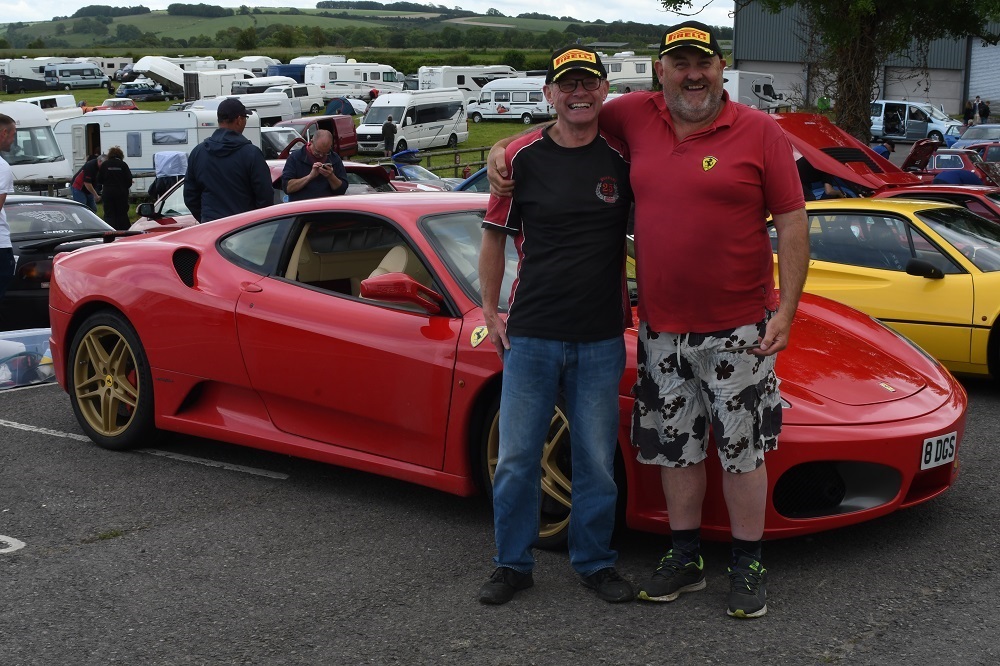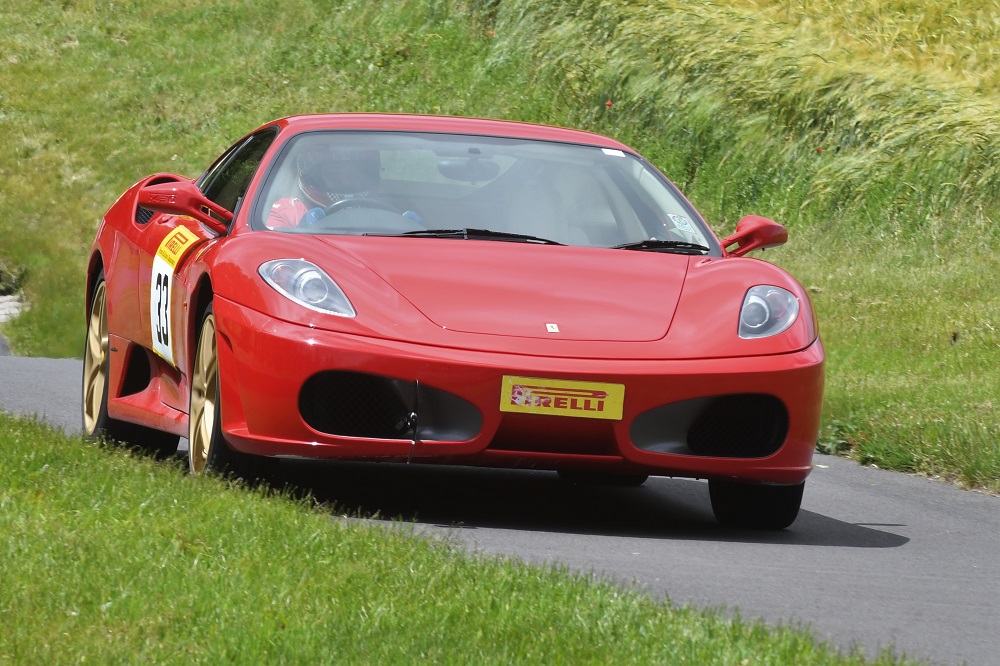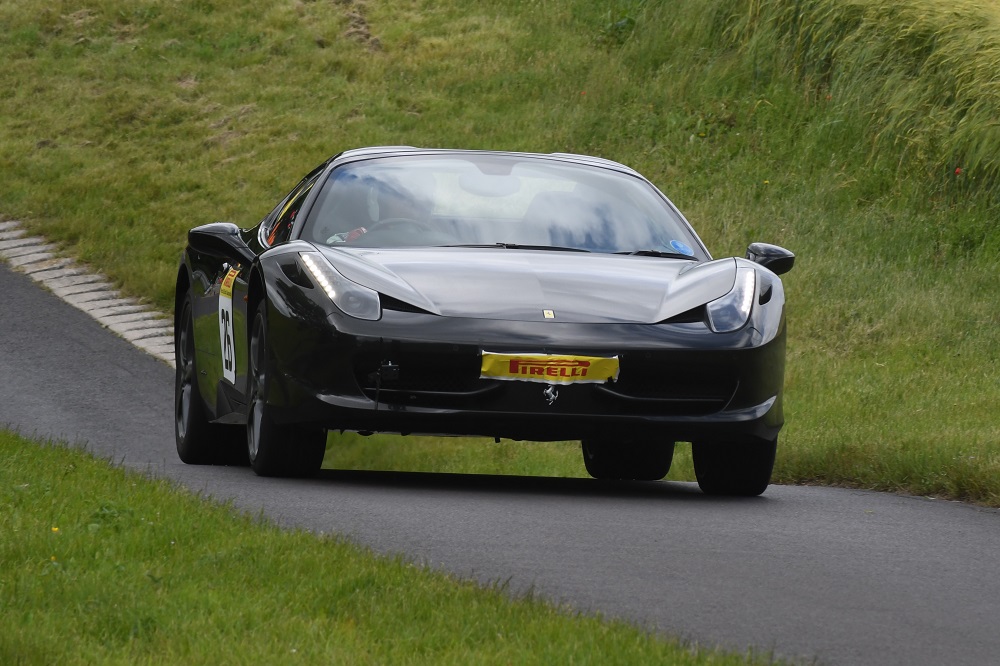 The BARC South West's Gurston Down hillclimb is the PFHC's most southerly event.  It is not as famous or historical as, say, Shelsley or Prescott, but it does have a unique, almost friendly, feel to it. The paddock is a working farmyard and, bizarrely for a hillclimb, it starts by going downhill.  But make no mistake: this is a fast and potentially dangerous hill. In fact, whenever I am facing the dentist or undergoing surgery, as a distraction I remind myself of the hair-raising passage through the first bend, Hollow, which few would argue is the most fearsome on British hillclimb tracks.
Ten Ferraris were entered but only eight arrived.  Mark Hargreaves was unable to make it and poor Richard Preece was still suffering with the flappy gear-change problem on his 360 Modena.  However, we were pleased to welcome two new drivers to our fold.  Tim Dickinson (who had shown serious form when he made his baptism of fire at the recent Harewood event) was in his potent 458 Italia and Jeff Orford, who had just returned from a Mediterranean sailing race – which ended at what must be the ultimate finishing point for yachts: Monaco harbour.  On arrival at Gurston, he might have found the wet paddock a bit of a culture shock after the sunshine of Monte Carlo.  Jeff has a nice blue F355 which, because he was late, was pounced upon by most of the other Ferrari competitors to help with stickers, numbers, an improvised timing strut, and all the other essential bits and pieces that need to be fitted prior to scrutineering.
First practice, which was damp (and minus latecomers Dave Snelson and Jeff Orford) was led by Spicer, very closely followed by Dickinson and then Pauline Goodwin and Jeff.  Snelson arrived before P2 and practised on a drying track, shooting up to his customary place at the top of our group in his 430.  He tells me that he feels he has bought the Gurston Down Hillclimb School as he is there so often!
Second practice assumed a more natural order with Dave now at the top of the leader board, having knocked almost a second off his P1 time, but now followed by Dickinson with a time of 37.99.  Now, I know the 458 (incidentally it sounded superb doing the noise test) is a serious piece of kit but sub-38 seconds is very impressive indeed. Spicer was third, and in fourth, another recent school pupil, Tony Attwood, his excellent 18.47 to the first split yielding a strong 41.99.
John Swift (F355), with identical speeds at both speed traps returned a cautious but tidy 45.55, Pauline took nearly four seconds off her P1 time and Orford (whom we had guessed does have some 'previous') did a decent 43.58.  This was Impressive on his first visit to a hillclimb and particularly at one of this magnitude.  Iwan Attwood, in the shared 308GT4, was in the guardsman's van but this is not indicative of his skill; it was just not his day.
After a fairly lengthy lunch break, the weather picked up and we were away on the first timed run.  The order remained just the same as before except Jeff leap-frogged Pauline, despite her vigorous adjustment of tyre pressures on her 328GTB.  Tony Attwood improved by a large margin, bettering his PB by almost a second. Snelson, to the chagrin of his fellow drivers, went yet faster with 36.39 (and equalling John Marshall's all-time finish line speed of 103 mph).  We remember, of course, that Marshall had a 360 Scuderia on MSA Gp 1B tyres.  Spicer did a 39.22 and was looking forward to driving properly in the second official run, but . . .
One of the quicker single-seaters shot off the line like a scalded cat but sadly didn't make it past Hollow when it suffered a very heavy accident (the unfortunate driver escaped injury).  The recovery of the car was made difficult by the fact that both front corners were knocked off so it could not be moved until a JCB with hay bale lifting equipment was brought in to lift the stricken vehicle.  This all took such a time that the meeting now risked running beyond the curfew hour.  The organisers deliberated and decided, much to everyone's disappointment, to abandon the meeting.  The results were therefore declared on the basis of one official run only
And so to the results.  Dave Snelson was the scratch winner, his time being the third quickest-ever Ferrari time at this venue.  Tim Dickinson took the 2nd scratch place with Spicer in third.  Snelson also captured the 20 Championship points with Spicer on 17 and Dickinson a very useful 15.
Mike Spicer, who had been neck-and-neck with Dave for the Championship lead prior to Gurston, reflected that he would have had to better the hill's record time for 328s, on the now scrapped second run, by half a second which perhaps was unlikely.  In the Club handicap competition, Tony Attwood took the award.
As we look forward to the next rounds of PFHC, the double header at Loton Park in July, the Championship is now led by Dave Snelson with Mike Spicer nibbling at his heels by a mere 3 points.  So there is still all to play for!