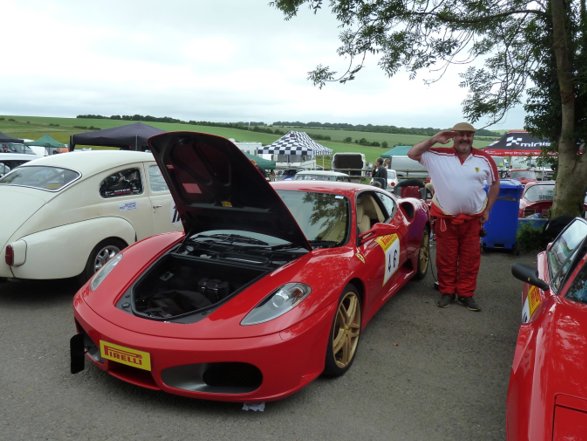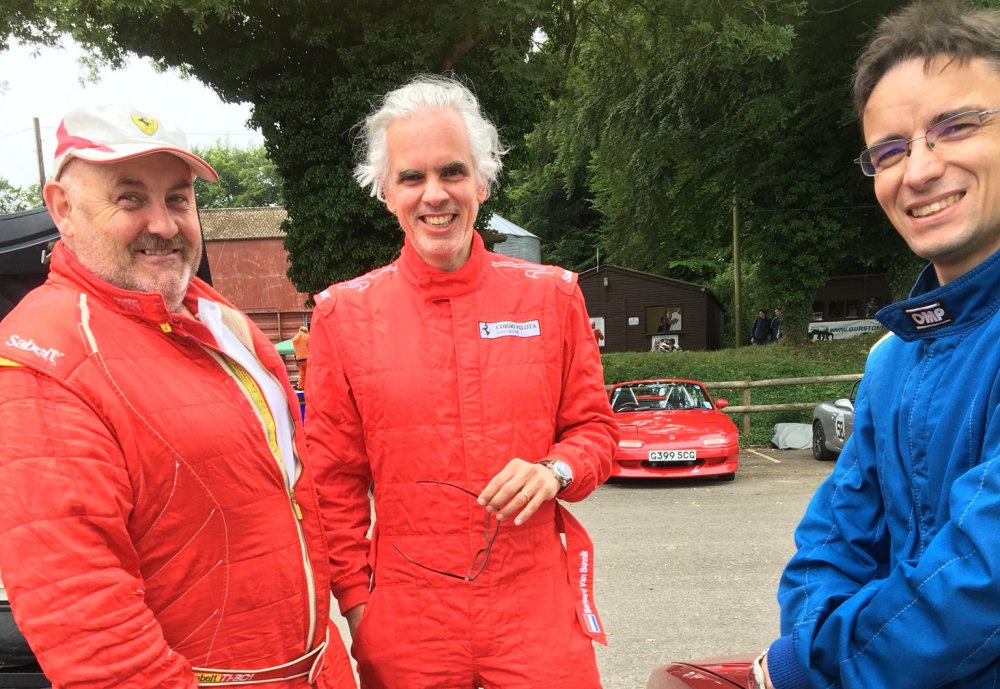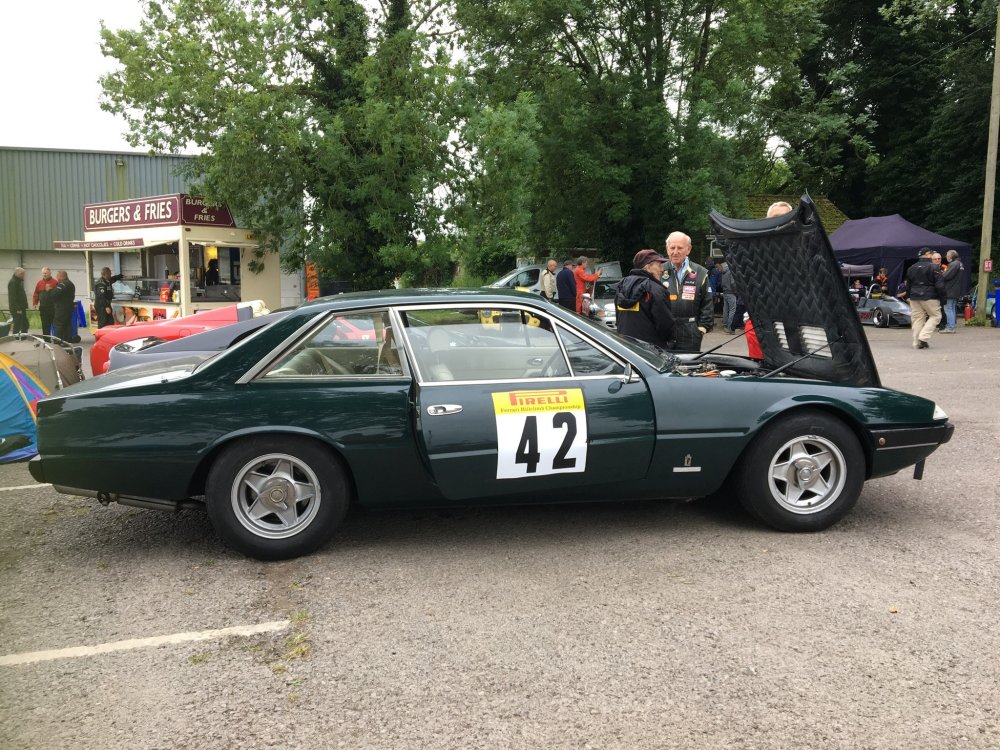 The fifth round of the 2018 Championship was held at Gurston Down, in Wiltshire, on Sunday, 17th June.  Gurston is quite a bit different to other hillclimb venues.  Uniquely, the start and first part of the short (0.967 km) course is downhill, so you arrive at the only really technical section – the viciously twisty Karousel – at a fair rate of knots while giving the brakes a heavy workout.  Like most tracks that we use, Gurston is very rural (it's a working farm throughout the year) and the competition cars rub shoulders in the paddock with tractors, hay balers and other assorted farm machinery.  BARC operate the weekend activity and it is all very friendly and helpful.
The Ferraris were last here in 2015, when a poor turnout of just six cars prompted us to give it a 3-year sabbatical before hoping for better support this year.  We were rewarded with a slightly better entry of eight drivers in a diversity of the usual tipos ranging from '70s 308GT4 to up-to-the-minute 458 Italia spider.
Dave Snelson, the current PMFC champion, was in his F430 while newcomer Paul Booth was continuing his hectic track learning curriculum in his lovely 458.  Both Dave and Paul had wisely attended the Gurston hillclimb school to sharpen their attack.  Pauline Goodwin was at the wheel of her 328GTB while 'old hand' Mark Hargreaves selected his other Ferrari, the GT4, rather than the potentially faster 308GTB.  The Attwoods, father Tony and son Iwan, shared their familiar 308GT4 and your scribe, making his first appearance here for 23 years, was in his mafia black F355.  To complete the line-up was Bernard Van Bunnik, having his very first essay in a UK hillclimb, driving an interesting 365GT 2+2 finished in BRG paintwork.  Although on German plates (the front one inconveniently dropped off on his journey from London) the car is a right-hooker but its instrumentation is in KPH and litres.  The reason, Bernard explained, was it was originally supplied to a customer in Monaco where, apparently, this is the normal configuration.
The weather on Sunday morning was fine after overnight rain and the forecasters promised a dry day.  We had barely taken our places in the paddock (now paved in tarmac rather than the grass of yesteryear) before the scrutineers descended to efficiently do their stuff.  The 365 was found to have a loose battery (black mark for Halfords who supplied and fitted it after Bernard's non-appearance at Prescott at the end of May) but this was quickly anchored properly.  Snelson was the last to arrive having been delayed in Scotland buying a fishing boat – no doubt to catch mackerel for the fish course before he served the usual venison.
Practice P1 unsurprisingly saw our two school graduates in the lead, the 430 a second ahead of the 458.  Pauline Goodwin was easily the best of the rest while your reporter was quick to realise he had completely forgotten which way the track went.  Bernard was in almost the same position albeit also having to cope with a big and heavy 4-seat Ferrari.  Almost everyone improved their time in P2, Snelson recording a useful 36.51.  Iwan moved ahead of the GT4 battle much to the chagrin of his dad, who had detected a misfire on his run.  Swift found an extra 10mph at both speed traps but was still a couple of seconds behind the flying Pauline.  And Van Bunnik cut nearly 4 seconds off his time as he gained more knowledge.
The leisurely lunch break gave an opportunity for us to look around the paddock at the many interesting vehicles.  This meeting included motorcycle classes and Paul Booth was fascinated by a dangerous looking 1000cc sidecar that had every appearance of a space rocket and was controlled by a pair of experienced bikers who thought it gave more thrills than the Mallock they previously used.  They confessed that they rarely completed the course without a major incident and Paul wondered if they were sponsored by Dignitas.
Other vehicles of interest included an early Volvo – a PV544 I think – which might have taken part in a mid-sixties Monte Carlo Rally, and a special Jaguar Mk2 which had allegedly been used in saloon car racing in the 1960s.
The Gurston restaurant was not as great as some had suggested: the sausage and chips certainly would have its work cut out to be Dish of the Day.  It made one appreciate the strides that have been made at Prescott and Shelsley in their culinary offerings in recent times.
But back to the start of the competition proper, the official runs.  Only two drivers, Mark Hargreaves and your writer, managed to improve on their practice times (perhaps it was those chips).  Snelson kept ahead of Booth, but now only by a second and a half.  Pauline (41.68) was valiantly in third overall with Swift closing to within half a second.  Iwan shot ahead of Tony by two whole seconds leading the car's owner to blame the difference on the mystery misfire he seemed to experience.  Bernard had an exciting time in the Karousel when his 365 got slightly sideways.
After some delay in recovering broken-down vehicles it was time for the final runs.  Temperatures had cooled and it seemed doubtful whether anyone could go quicker.  First to run was Booth, slower by 0.50 sec.  Then Swift recorded a more respectable 41.17 and the second fastest speed at the top of the hill (90mph).  Van Bunnik kept his big Ferrari on the tarmac this time to improve slightly and Hargreaves set his quickest time of the day.  Pauline gathered up her skirts to post 41.07 and beat Swift's best effort.  But the star, in my view, was Iwan Attwood, who wound up the GT4 to a glorious 41.45 (and 83mph over the line) to take 17 valuable Championship points and the Handicap.  Finally Dave Snelson powered his 430 to 36.92 seconds (102mph at the Finish) and capture the 20 points.
Championship Coordinator Anne Swift worked the scoreboard in admirable fashion to keep us informed, even managing to recruit a couple of Ferrari-owning spectators to join us next year.