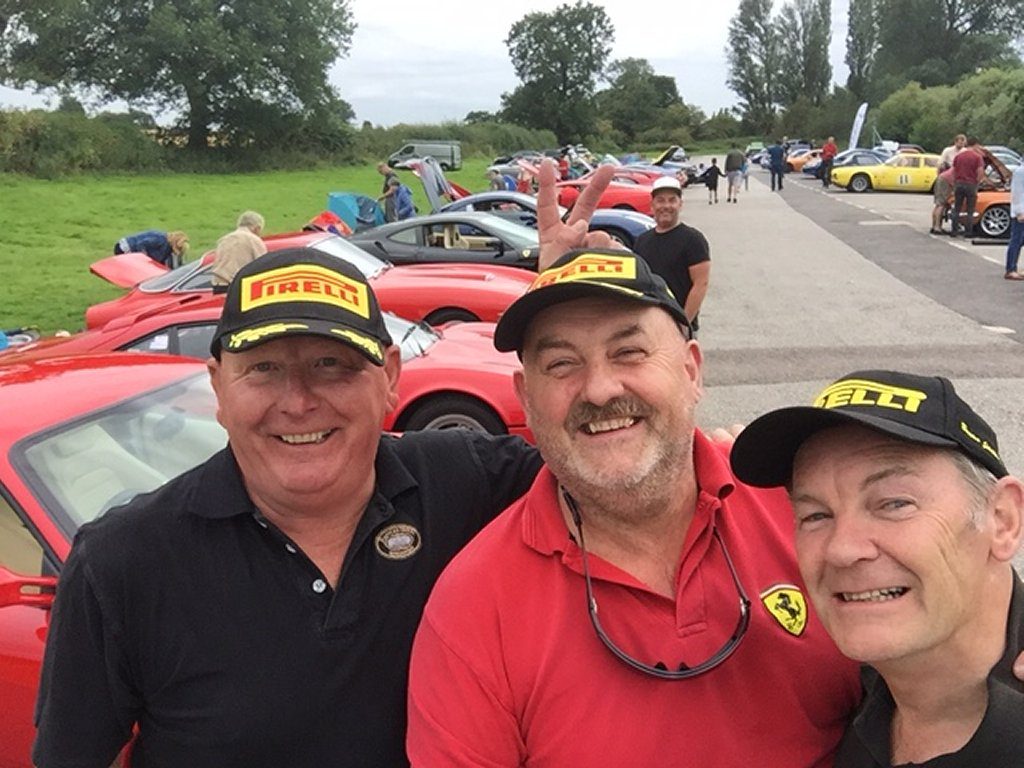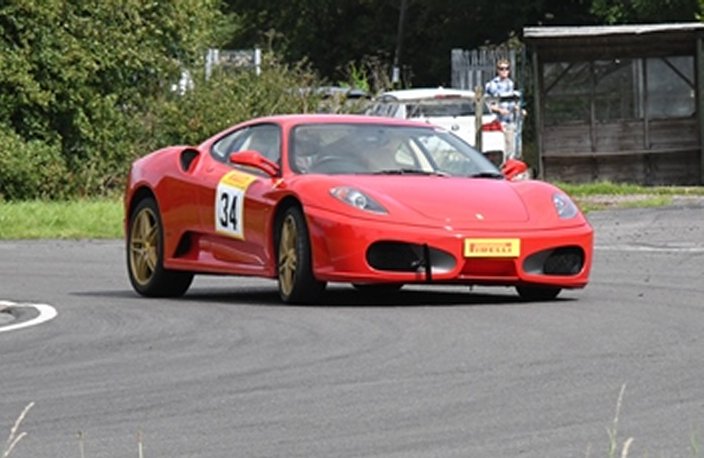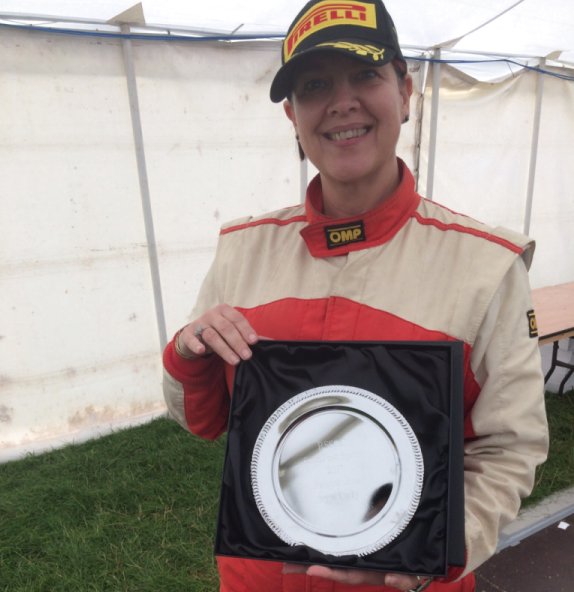 After a disappointing entry at Brands Hatch, though not entirely surprising given the scheduled running times, it was a joy to see a full field of 16 Ferraris at this friendly, compact circuit near Lichfield. Curborough's newish Figure-of-8 layout is always popular and seems to run smoothly with very few incidents and a predictable, early finish for the homeward journey.
The season is starting to come to a head for the overall Championship title, and whilst all four contenders were slated to run, Phil Whitehead suffered a non-starting problem at home and had to scratch. That left current leader Dave Snelson and Nick Taylor to hope that this traditional power track was dry to give them the advantage over Mike Spicers nimble 328, and trust that Brian Jackson preferred his similar 308 rather than the mobile box of tricks (and 550 horses) of his California T. As it turned out, Brian is increasingly favouring the Cali so he duly rocked up in that. The destination of the 20 points could make the difference in what will probably be a very tight finish at the top, and the upper middle order runners are starting to bunch too, so scrapping for points there would also occur.
It was good to see Mark Hargreaves out in his 308, with Jack running his Honda S2000 in another class. Richard Preece also made a rare foray onto the track, Jon Goodwin brought out his lovely 250 Lusso this time over the SWB, and Len Watson is becoming ever present as well. Juan Moreno also made the long trek up from Plymouth.
It was also dry, and in fact turned out to be rather warm, so track temperatures were perfect for fast times, which therefore favoured power and brave application of the throttle.
First practice saw a varying set of times but first runner Snelson put down a marker at 66.81 secs, half a second ahead of Taylor, followed by Spicer quick out of the box at 67.94 and Jackson revelling in the power in 69.70. Chris Hitchman, part of the Scuderia Hitchman three-member team, was the only other driver under 70, at 69.42. Cue to all hit the bacon butties after the refamiliarisation run.
Second practice followed in good order, with Dave improving to 66.06, followed by the Goodwins within a second of each other, and Nick getting down to business with a class leading practice time of 65.23. Most competitors in fact improved, notably Moreno, Chris Hitchman and myself with a first sub-70 time of 68.93 which left me shaking afterwards. Jackson and Spicer also took time off to increase the potential points pressure on the scratch leaders and by lunchtime there was everything to play for, as neither of the two Championship leaders could guarantee the full and crucial 20 points.
With the weather if anything heating up the track even more, it took a long time to get all our class round the track for First Timed Runs, it having already been confirmed there would only be 2 runs. At this point getting a recorded time, a 'banker' is what it's all about, but no-one told Snelson who blasted round on the edge at his best ever of 64.97, with Nick Taylor a smidge slower than practice at 65.28. Game on. Jon Goodwin stroked the 275 round in what was to be his third time in the 73s, a remarkable achievement in a 50 year old car, though Pauline edged him out by half a second for spousal honours at this point.
Brian's Cali went round in a highly competitive 67.17, putting him 4th, and defending champ Mike Spicers 67.72 actually put him second in the points at that stage despite a spectacular lock-up beyond the finish line which saw him in the grass (by those that could see through the smoke anyway). His new, collectors item tyres potentially ruined ? Richard Preece felt confident enough in his newly temperamental car to give it the full beans and slip well into the 69s, Moreno sliced a second off for an excellent 68.14 and Peter Hitchman also hammered the loud pedal as he gets more seat time in the 430 to post a 72.90. Chris Hitchman however went backwards, as far as time goes at least, to 70.34, as did I to 70.07. The amazingly consistent Peter Rogerson sorted out the 0-64ft issue which saw his practice times at 4.5 seconds for the initial dash, and put in the first of two identical times of 75.16. Spooky. Start times hadn't been that good all day actually, but as ever Pauline showed the way amongst the early runners, though old hand Spicer took the early lead in this hotly contested sub-competition.
So there was work to do – huddles of competitors swapping the usual banter and others taking time out to concentrate their thoughts before T2.
Nick Taylor was presumably keenly watching Snelsons time, which came in at 65.38, so no improvement, but crucially Nick didn't beat that so would be anxiously looking for Brian Jacksons time, which came in a fraction slower. Realistically only Spicer could affect the podium and major points, and he was well down the running order.
The Goodwins stabilised in the 73s, with final fastest time being Paulines 72.79 from the previous run. Len Watson posted his best of the day at 72.83, followed by bests from Mark Hargreaves, Richard Preece (a new PB in fact) and Lorraine Hitchman at 71.60 in her now regular red 360. This won her a surprise silver salver for Fastest Lady of the Day. Husband Chris was back on his mettle at 68.87 and Juan was slightly slower at 68.60, though was the fastest 360 driver overall.
All eyes on the Champ then… would his tyres hold up, would his 1% Champions PEP negate his best efforts ? In fact, he wasn't as fast as previously, so no calculations were required and the top 3 points carve up remained unchanged. The Full Monty went to Dave Snelson with the class win and 20 points, Mike ruined Nicks day to take the 17 and left him with 15 points. Brians' Cali fully vindicated his car choice for 4th whilst the final three runners completed the day. Doc Attwood put in his best time at 73.72 which helped his points tally, keeping on the black stuff all day, Peter did 75.16 again and I sneaked into the 69's by 22/100ths.
Thus ended a perfect days weather for sprinting with handshakes all round, cars loaded – and a downpour. But the day was complete, a few hardy troopers staying for awards from the host Club and looking forward to a hill next time, Prescott on 2nd September.
Nothing settled, still all to play for…