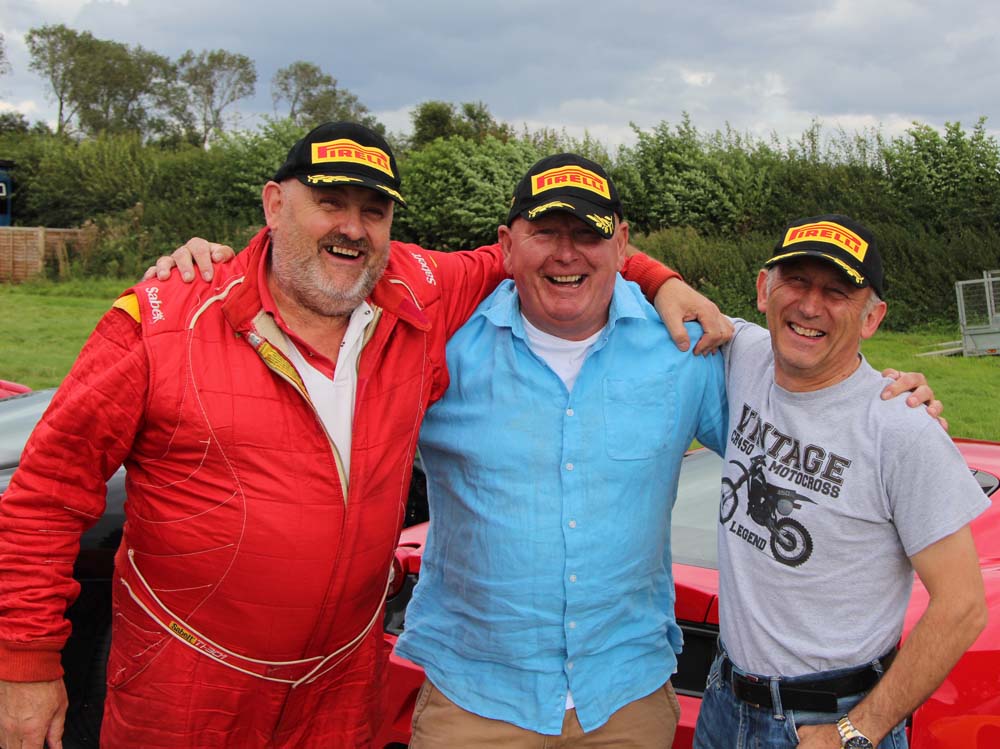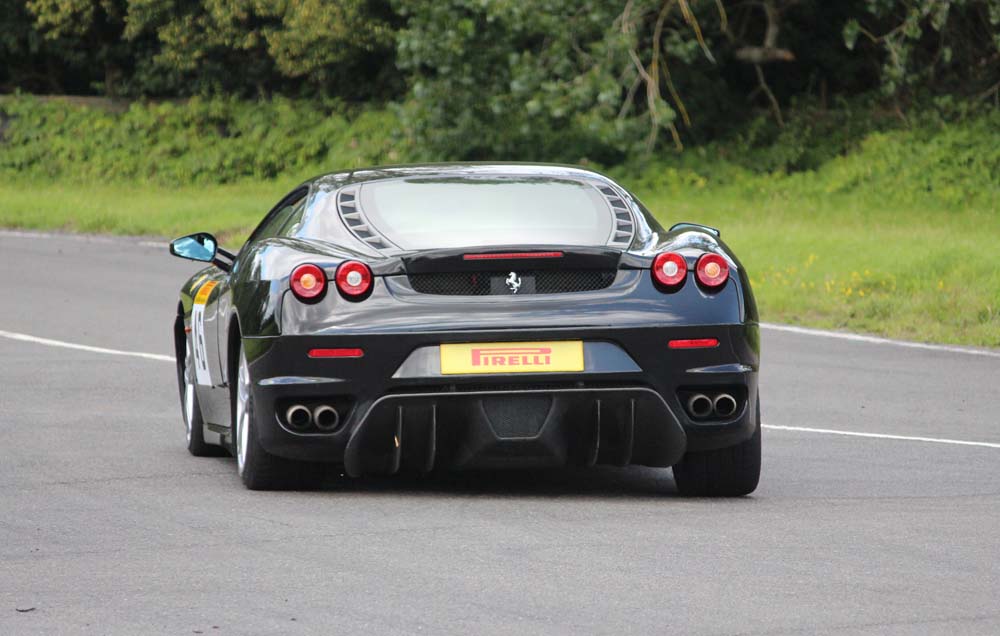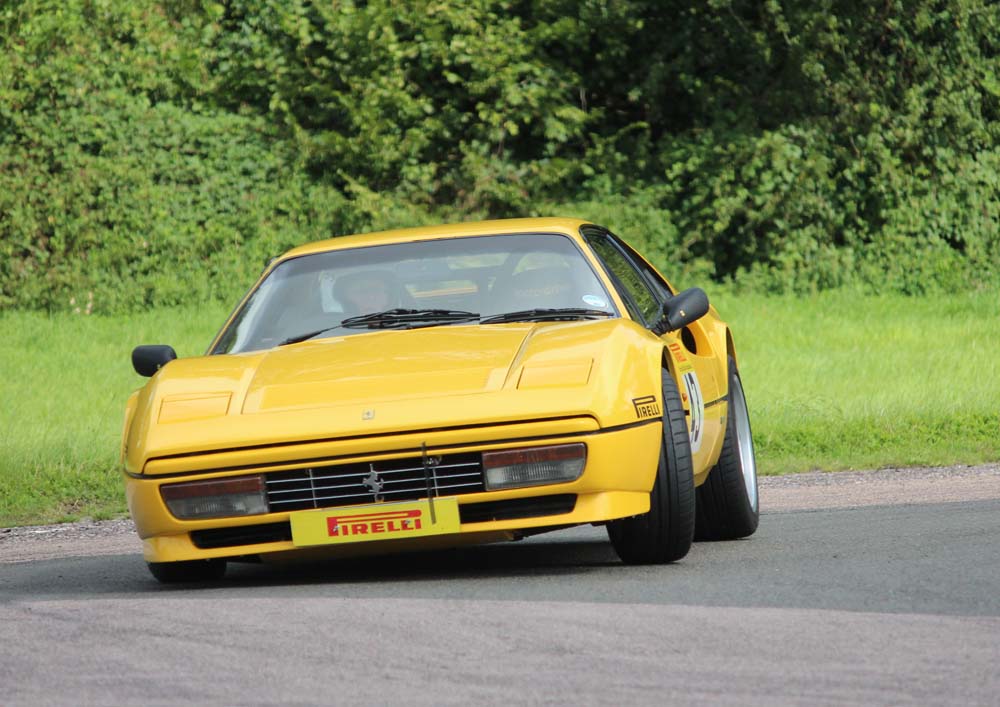 Our first visit to Curborough this year for the annual Reliant Owners Club event attracted 15 Ferrari drivers. Although unloved by some, this small Midlands sprint track always sees a good attendance from our hillclimbers, the 'figure of eight' circuit being popular.  Following a rather unsettled week weather-wise, we were expecting showers to dampen proceedings; however luckily only a few spots fell from time to time and competition was not affected.
At sign-on, Jeff & Caroline Cooper found they had forgotten to bring their comp licences with them.  A declaration had to be signed and a fine paid before they were allowed to take part. This was not to be their only unexpected cost of the day.
Following a pep talk at Loton Park at the end of July regarding late arrival at events, we were all signed-on and ready in time for first practice, just!  We noted Diamond Dave was especially early by his standards.  Pauline Goodwin was showing off her Union Jack socks and Peter Hitchman, making his first appearance of the season, had forsaken his Mayoral robes for the requisite fireproofs.
A new two-storey commentary box has been installed this year prompting Eddie Walder to complain about having to climb the steps to reach his microphone.
First practice got under way and there were no major dramas, although Dave Snelson in his 430 caused the marshals to do a little track sweeping after his run.  Tim Dickinson seemed to have a good run in his 458 but for some reason failed to get a time.
The usual suspects, all below 70 seconds, headed the field: Nick Taylor's 430 ahead of Dave, and then Mike Spicer's 328GTB followed by local-man Chris Hitchman's F355.
Second practice saw Tim recording 67.20, which moved him up ahead of Chris on 68.03.  The top three remained the same: Taylor on 64.29, Snelson 65.24, and Spicer 67.04.  Mark Wyman, in his black-over-red 458, made a good improvement to 70.02 but then blotted his copybook slightly by taking out the marker post after the finish line.  Others chasing hard and in the 70 second band were Pauline G's 328GTB on 70.28, Brian Jackson's 308GTB on 70.83, and Richard Preece's smart 360 Modena on 70.85.
A short light shower passed over after P2 but the track soon dried and it remained dry for the rest of the day.
Our hardy supporters came along to cheer us on. Championship steward Sue Skinner and Paul were in their 308GTB and the Swifts made a welcome appearance – John was on camera duty as a change to competing while Anne logged all the results.  After lunch at the busy Curborough diner it was on to the official runs.
First away was Jeff Cooper in his 360 recording a steady 74.72. This was enough to head Peter Hitchman's 430 (75.99) and Jon Goodwin's superb 275GTS  (77.68). Jon almost took the cross-over course again on his second lap but corrected himself just in time to continue along the finish straight.  Tony Attwood's 308GT4 recorded a fail on this run (4-wheels off) to bring up the rear of the class.
Mark Wyman had a twitchy run and couldn't match his P2 time, his 70.91 good enough for 9th.  Lorraine Hitchman's 360 was next on 72.31, and then it was the shared similar car of Caroline (73.63).
At the sharp end Taylor remained ahead, his 63.76 setting a new class record. Snelson remained in the 65's on all his runs, not happy with the grip from his tyres.  In 3rd & 4th Spicer and Dickinson were still in the 67's, slightly slower than their practice times.  After a near spin at the 90⁰ Flagpole Corner, Chris Hichman also failed to improve on his practice times, recording  68.65.  Richard Preece carved 2 seconds off to bag 6th with a 68.78. Pauline G and Brian Jackson both improved with almost identical times of 69.88 and 69.90 respectively.
Jeff Cooper led away again for the second runs and made a good improvement to 72.03 giving him 11th in class and 5 points.  Richard Preece failed to improve, so ending up 6th with 9 points. Tony Attwood's 73.71 was his best time of the day netting him 13th and 8 points. Mike Spicer's first run time was good enough for 4th and a bountiful 17 points. Jon Goodwin got down to 76.81, his lovely Ferrari perhaps more suited to bowling down to the South of France on a warm summer's day than charging round Curborough's intricate twists and turns; his 6 Championship points were well deserved. Pauline Goodwin chipped another half second off for a new PB, her 69.39 giving her 7th and 12 valuable points.  Nick Taylor remarkably took another couple of tenths off his new record to set a new fastest time of 63.47, easily taking the win and the maximum 20 points.   Dave Snelson had his best run of the day with a 65.06, then by way of celebration took out the marker post after the finish line. 2nd on scratch and 13 points were his.  Brian Jackson failed to improve and so ended up 8th with a useful 15 points. Peter Hitchman improved by well over a second, getting down to 74.30  (14th and 2 points).  Tim Dickinson's 65.77 in his 458 was 2 seconds quicker than his first run, so he jumped up to 3rd and 10 points.  Chris Hitchman also improved to 67.75 (5th and 11 points). Last of the Hitchman clan, Lorraine recorded an impressive 70.93 to capture 10th spot and 7 points. Mark Wyman's 458 seemed to be a bit of a handful again and he failed to improve, ending up 9th with 4 points.
Our final runner in class was Caroline Cooper. Her 360 was going well until the car got sideways exiting the Molehill. The car continued to rotate and took to the grass; it only came to a halt when contact was made with the unyielding barriers.  Happily Caroline was fine and the car was still drivable, but the 360's rear quarter panel and bumper require quite a bit of TLC before her next outing.  It was an unfortunate end to the day.
So, with dropped scores now coming into play, the Championship is getting interesting.  Dave Snelson and Mike Spicer are tied on aggregates of 136 points, but the menacing Nick Taylor is only 4 points behind them and can add one more score before dropping any scores.