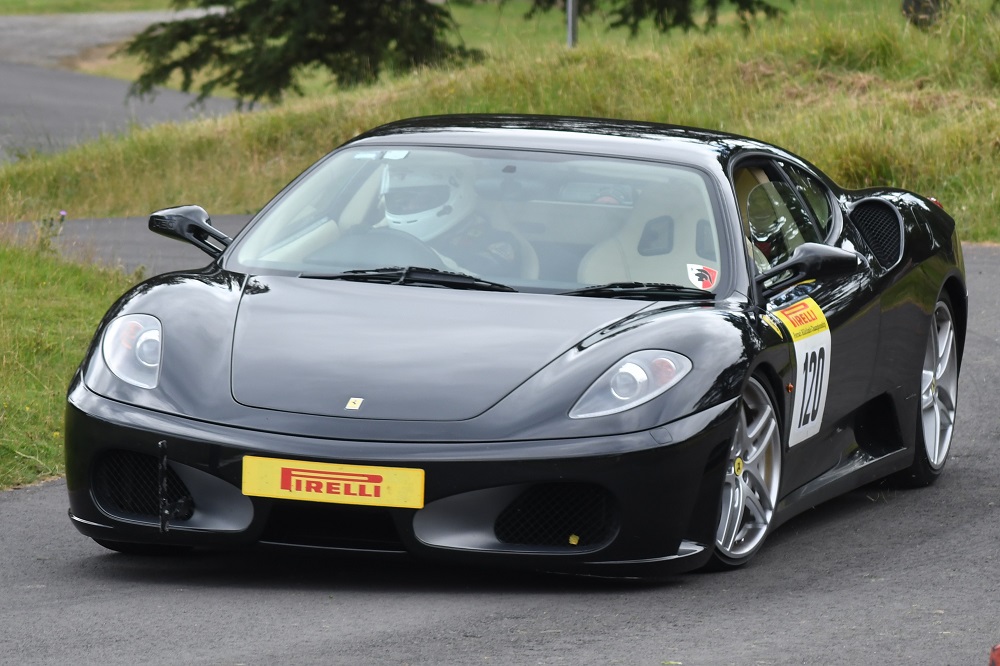 Sunday, 16 August 2020 saw the first meeting of the Club's hillclimbers of this year's season, the event taking place at the relatively flat hill of the Curborough Sprint Course in Staffordshire, using their figure of 8 layout.  The weather did not match the warmth and enthusiasm of the drivers, alternating between heavy showers and drizzle for most of the day.
The capacity of the meeting was reduced due to Covid restrictions, with extra space between each car in the paddock.  Overall there were only 56 entrants, with 8 in the Ferrari Class, reduced to 7 competitors by the non-appearance of Dave Snelson.  Of particular note was that Pauline Goodwin ran her 'new' car, the ex-Mike Spicer yellow 328GTB that was jointly victorious in last year's Championship.
When the Ferrari Class were called forward for the first practice run the rain had eased to drizzle.  Iwan Attwood was the first Ferrari runner away, the GT4 sounding a little flat.  He caused some concern and confusion when he omitted to take the right-hander to the bottom loop after exiting the hairpin for the first time, turning instead after the finishing post.  He therefore posted a 'fail'. Fortunately the other runners didn't follow Iwan's example but there were a few demonstrations of twitches and slides due to the wet track, the most notable being Peter Rogerson and Tony Attwood.
We thought the second practice run would be dry but as our drivers got to the line the drizzle started again.  The second run was uneventful other than Jon Goodwin getting the tail of the SWB Reconstruction hanging out rather dramatically coming out of the hairpin.
After lunch the official runs started.  For our drivers' run the precipitation was not so heavy but the track was still damp, which caught Tony Attwood out as the Dino 246GT was tail happy at the hairpin and somewhat out of shape a little later in the lap. Happily at all times the lovely car remained on the black stuff.
Between the timed runs the weather brightened and the track dried, much to the relief of the drivers.  In the second official run for the Ferrari Class everyone looked as if they were driving with more confidence and this was reflected in the times posted.  Pauline G seemed to be settling into her new mount and getting the measure of the car.
Plans for a third timed run were abandoned by the organisers of the event.
Looking at the results, we congratulate existing Curborough Ferrari record holder Nick Taylor on bringing his rapid 430 home for another scratch win.  We also applaud Brian Jackson on an excellent drive in his famous 308GTB to post the best PEP-adjusted time.  And thirdly we doff our (waterproof) hats to Jon Goodwin on winning the Club's handicap award with his delightful 250GT SWB recreation.
Despite the weather, the drivers enjoyed themselves and are looking forward to the next round, at Prescott on 5 September