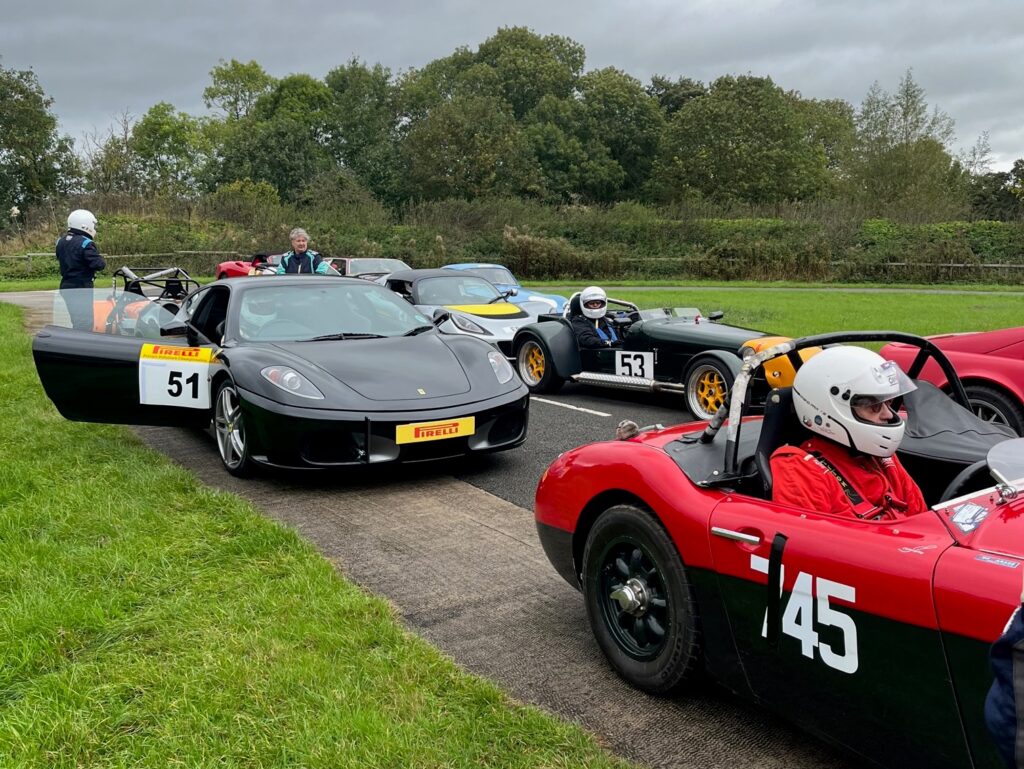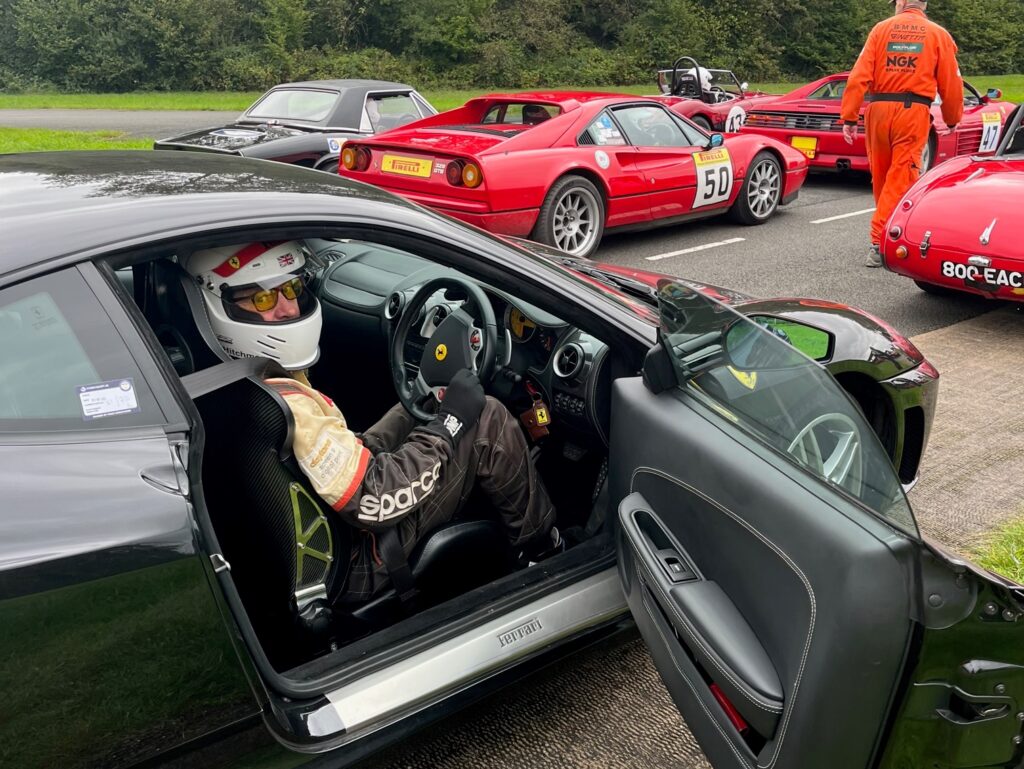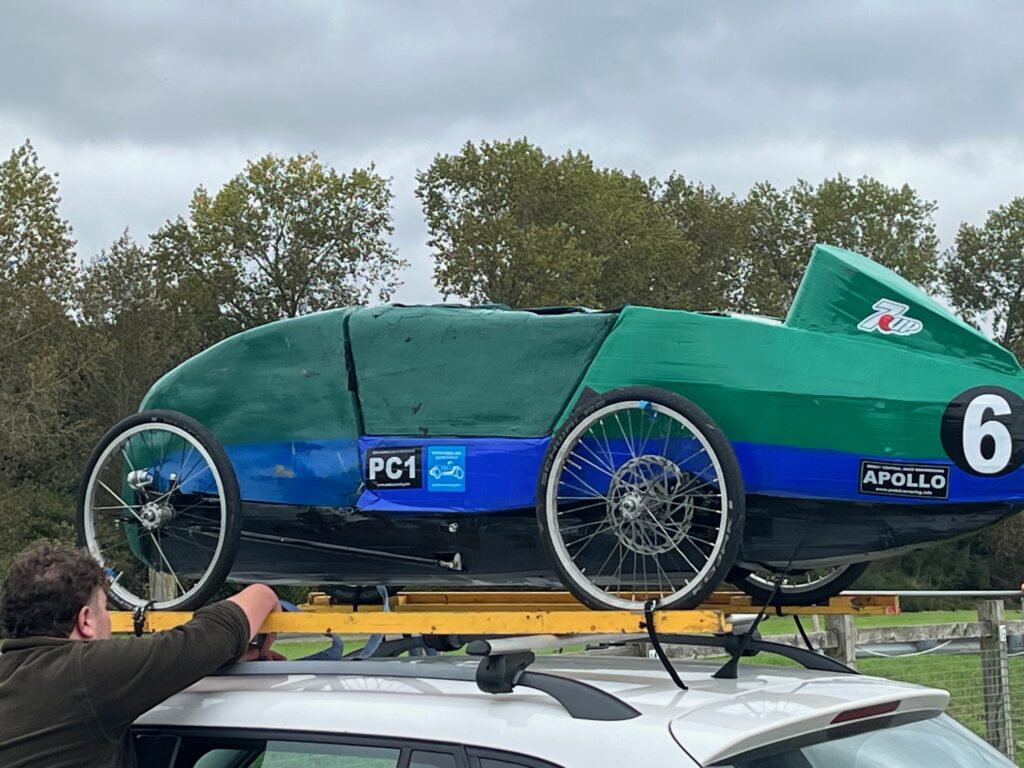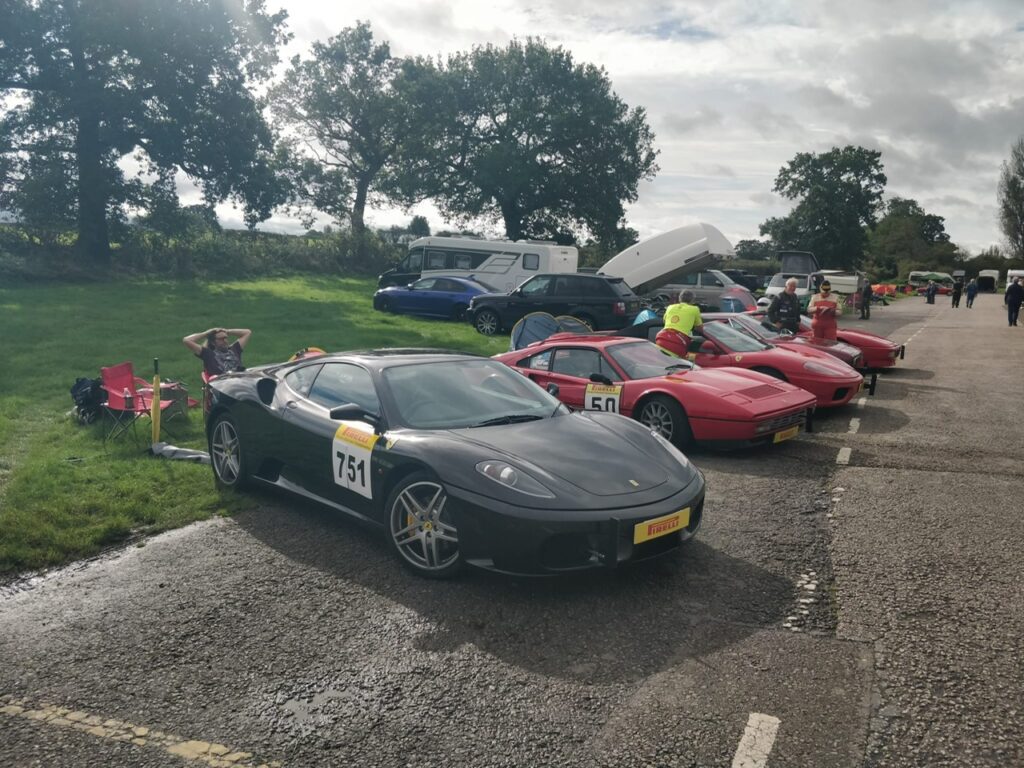 The Curborough Sprint was a very exciting day as there was a possibility that the championship might be decided between Tony and Pauline.
The day started sunny and pleasant, but rain was threatened as a strong possibility after lunch. All eyes were on the weather.
There had been a 6-hour endurance pedal car race the day before, and some pedal cars were still about – wow, 3 people teams peddling for 6 hours around the sprint course – sounds fun, the pedal cars were fab! On Facebook – pedalcarracing.info/Curborough link is https://www.facebook.com/profile.php?id=100063560529572
For our Championship, there was a small, but quality turn out, sadly Dave Snelson was unable to join us, and we missed his usual flair, but John Kennedy was able to take his place and get runs in his RS Ford and parked up with us so we could all socialize. 😊
Tony made a great commitment to his championship chances by arriving after globetrotting adventures and travelling from Aylesbury with little sleep! Good effort Sir!
Steve Nunney had another adventure losing bits from his door mechanism during practice – he said – 'I've lost my left side nut!' but at least you have one on the other side Steve 😊
The latest expensive lawn mower move was beautifully executed by Gary Mullins whose 360 came back intact but more green than red!
We were delighted to see Mr. Mark Wibberley back to help out with decision making and making sure all regs were being followed – to that end all our chassis numbers and specs were checked – ensuring a level playing field.
Sadly, due to the weather we only managed to achieve 2 practice runs and 1 timed run.
P1 – Chris got out of the gates and secured the fastest first p1run in 69.47 seconds with Pauline putting in a great second fastest run at 74.56 seconds.
P2 – Chris improved further with 69.44 seconds fastest p2 run with Gary Mullins and Rain Hitchman hot on his heels with joint second fastest p2 runs at 71.09 each!
The rain started and it got colder and wetter which meant everyone's times slowed.
T1 – Rain took advantage of being first in the rain and although slower got the better track conditions and pulled in a 72.33 second run which turned out to be the fastest – followed by Chris Hitchman in second fastest with 74.73 seconds.
After this the rain really hit and soon the track had standing and running water on it. So sadly, after Mark conferred with all the participants, and looking at the weather forecast, it was decided by mutual consent that it was too dangerous to continue and that we would close out proceedings. Many of the other competitors from the other classes had already left at this point. It turned out to be a good decision as the rain did not abate until 4.30 pm and so it would have been a wash-out.
Due to this early stop, existing results had to be taken which meant that Rain Hitchman took the win, with Chris Hitchman in second and Pauline Goodwin in 3rd with Tony Attwood taking the Most Improved Award.
Chris was delighted for his wife who had he said stolen his car and his win as he had never been able to come first. Rain refused to accept she was the Rain-meister saying that it was the luck of the draw but of course delighted to take the miracle win and be the first Wife/Husband team to take first and second place at a single round!
There was then much debate around what this all meant for the championship – it looked like Pauline was going to become Champion but of course there was still Prescott to come!