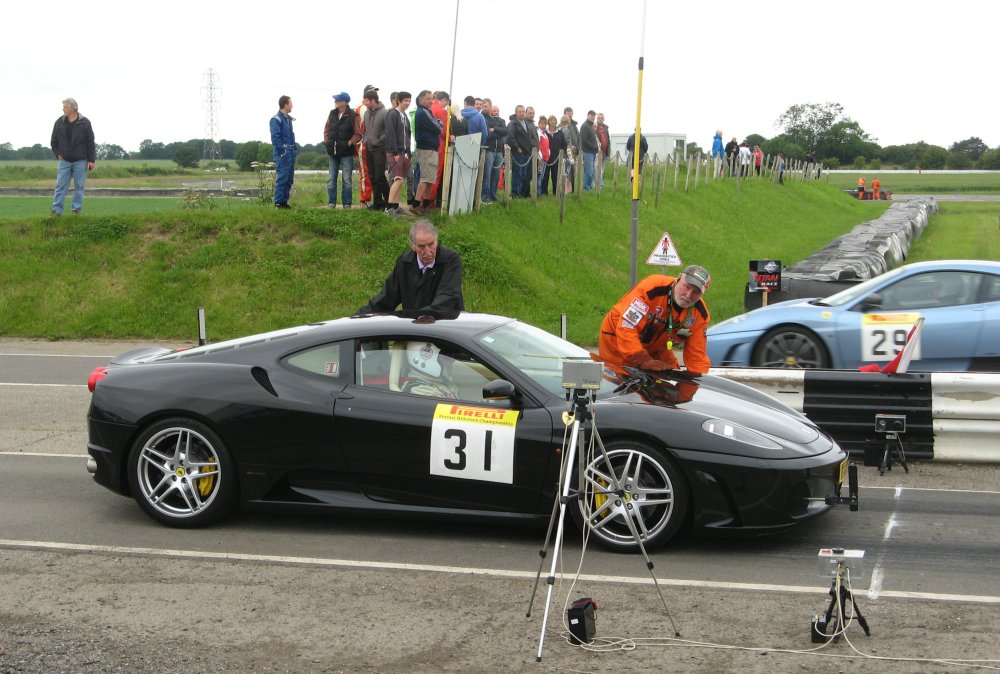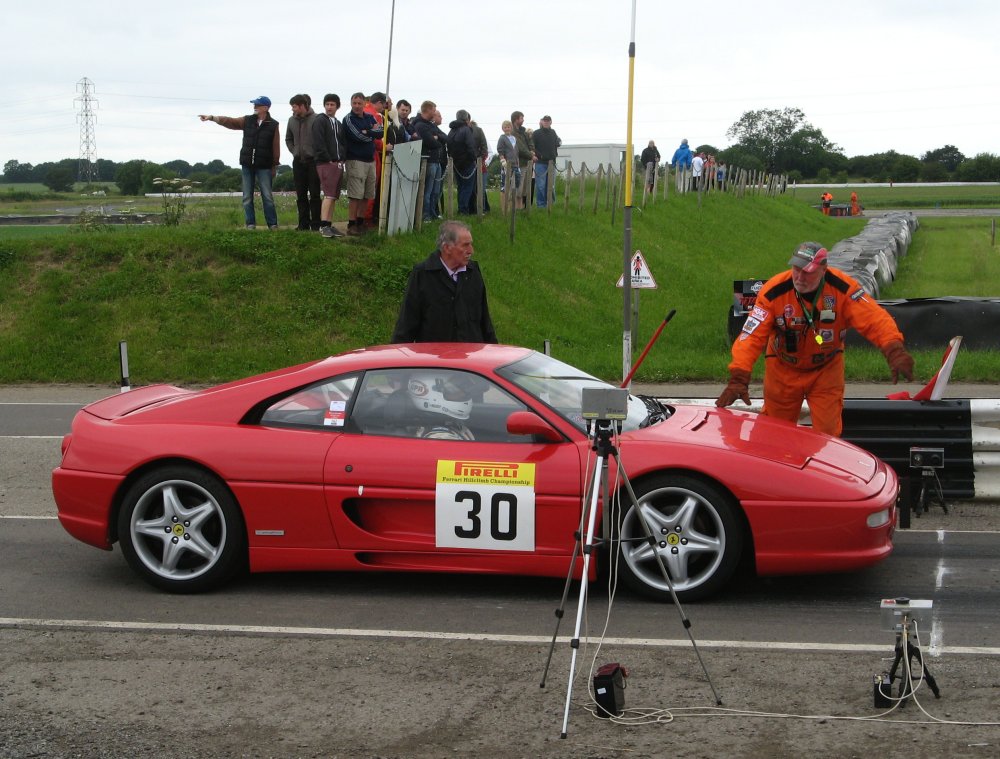 For only our second visit to the Lincolnshire flatlands and its relatively new ex-airfield circuit of Blyton Park, near Gainsborough, we had a field of 11 Ferraris booked in along with a very mixed selection of classics and moderns from other championships.
There was good selection of old and newer TVRs, Lotii, hillclimb specials and classic low volume British sports cars such as Elva and Crossle. The Evos and Porsches didn't make much of an appearance which contributed to a low overall entry, some doubt as to future use of the venue but crucially for competitors, lots of runs.
For once, weather wasn't an issue – a layer of cloud kept it warm and still, with little actual sunshine but no rain bar a light shower and lightening at lunchtime which disappeared without effect before T1.
For once the Ferraris were off very early and your reporter (360 Spider) was first off – and indeed he was, blasting down the long first straight, braking too late but catching the resultant spin at the expense of taking out a large directional sign with his timing strut. A salutary reminder that practice is just that, reinforced by a severe but gentlemanly wigging from the Clerk of the Course and his Deputy. We'll ignore the time, suffice to say 2nd practice would see a major improvement.
The rest of our class went round without incident, with good early shows in the 77 secs from John Marshall (430 Scuderia) and Pauline Goodwin (California), who competed here last year, followed by Messrs Prior (355) and Taylor (430) neck and neck in the 79s. Taylor was a debutant along with the effervescent Peter Rogerson (350 Modena), whilst new boy Chris Bullimore was nowhere to be seen.
Second practice was equally uneventful, with the usual large chunks of time lopped off by almost everyone. Peter Rogerson improved by 9 seconds, me by 11, most by a couple of seconds though Pauline Goodwin, experimenting with launch control and Nick Taylor (clearly taking another sighter lap) were marginally but strategically slower. John Marshall was fastest ahead of Richard Prior, the Scud sounding magnificent away from the start, short-shifting to get its power down and audible for most of its circuit.
A bonus of third practice before lunch showed that all competitors had settled down into exploring this fast yet technically demanding venue, where back straight speeds of over 100mph are recorded, interrupted by a chicane, The Wiggler. A complex of curves marks the latter stages, taken at considerable speed before a tight right hander for the final spurt over the finish. This was where spills were to be had.
P3 practice times followed much the same pattern, except Taylor really finding his feet with 5 seconds off to 75.44 and class leadership over Marshall and Prior both less than half a second behind. PG was next, followed by Jack Hargreaves in the 308GTB on 80.08, 6 seconds ahead of his fathers P2 time in the 308GT4, for no doubt an interesting lunchtime discussion. Wendy-Ann Marshall (328GTB) was the other notable improver, 3 seconds off to 90.07.
After lunch, the serious stuff – putting down a time to guarantee at least a point. So I did what The Reverend told me to do and put in an 82.68, much the same as practice, which was roughly what the rest of the field did. Shaun Smith was a tad brisker at 80.27 and with Mark Hargreaves the only pair to actually show faster than P3. Wendy-Ann seemed to lose her way, 9 seconds slower and current Champion Mr Prior at 77.23 almost 2 seconds slower – and he'd opted for a lightweight lunch too. Shaun Smith (328GTB) was almost sideway on the last bend, pushing hard to 80.27. So, after T1, the running order was J Marshall (75.79), Taylor (76.14 despite a poor start and a wiggle on the last corner), Prior (77.23) and Goodwin (77.60) – fairly predictable actually. Bullimore failed to show which was a shame.
Second timed run was very competitive, though being strung out in the paddock meant the usual buzz and chatter was fragmented. Although we knew we'd have a third timed run, only the first two would count and whilst the fastest times looked significantly quicker than the Classics, the PEP differences of up to 9% added up. I ducked below 80 seconds with a very pleasing personal best of 79.67, largely due to a much better line through Lancaster, Mark Hargreaves put in a best time of 84.14 though PGs 76.38 disappointed her. Shaun Smith's 328 hustled round 2 seconds faster at 78.29, though crossed the line badly out of shape and spun magnificently in a cloud of crushed hard core and dust in front of the gallery. A trip to Halfords won't polish that out Shaun…
Wendy-Ann put in her best time of the day at 88.57 – having sat on the line while debris was cleared usually results in a slower time, so hats off for her concentration. Husband John up next recorded 76 dead, taking the scratch lead, only to be beaten by the next driver, Richard Prior improving almost 2 seconds to 75.27. Both would be on the podium, with only Nick Taylor in the 430 likely to beat them. He duly obliged with a 74.11 and Class record for this venue, and the scratch win. Remaining were Peter Rogerson in the other TDF 360, with a best of the day 87.07 and Jack Hargreaves with a hugely significant 78.54.
So, the podium was Taylor, Prior and Marshall, but once the computers were out, Jack Hargreaves took the maximum 20 points by half a second from Richard Prior, followed by Shaun Smith over Nick Taylor. A third timed run was offered and most took it, but with the heat of competition absent, everyone was slower and the day was over. Competitors headed off into a lovely summers evening for the drive home and Fathers Day playtime was done.