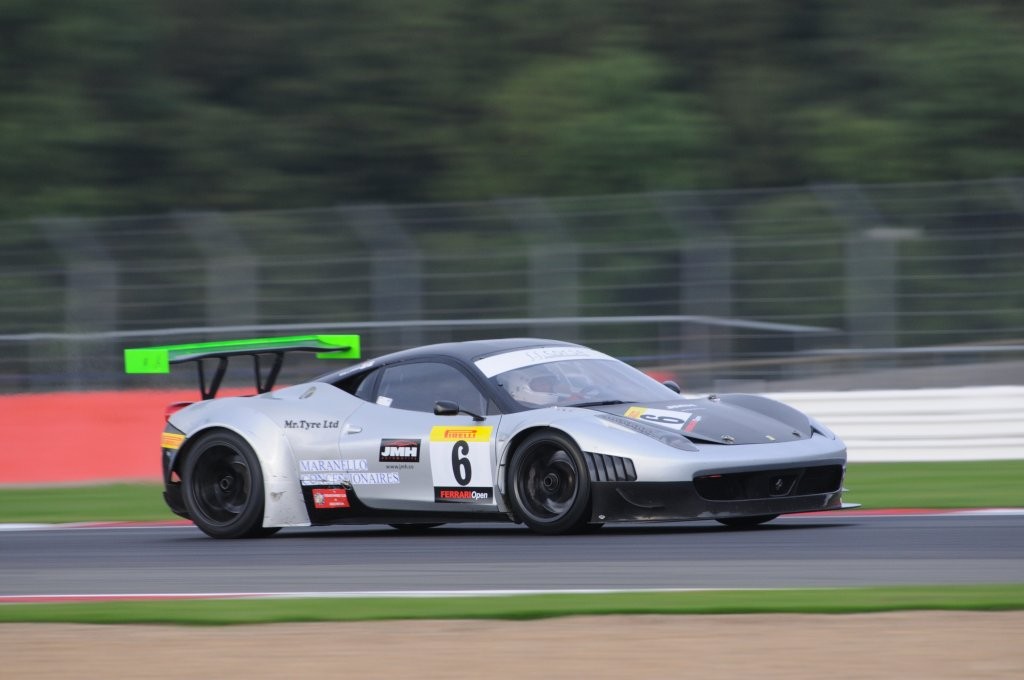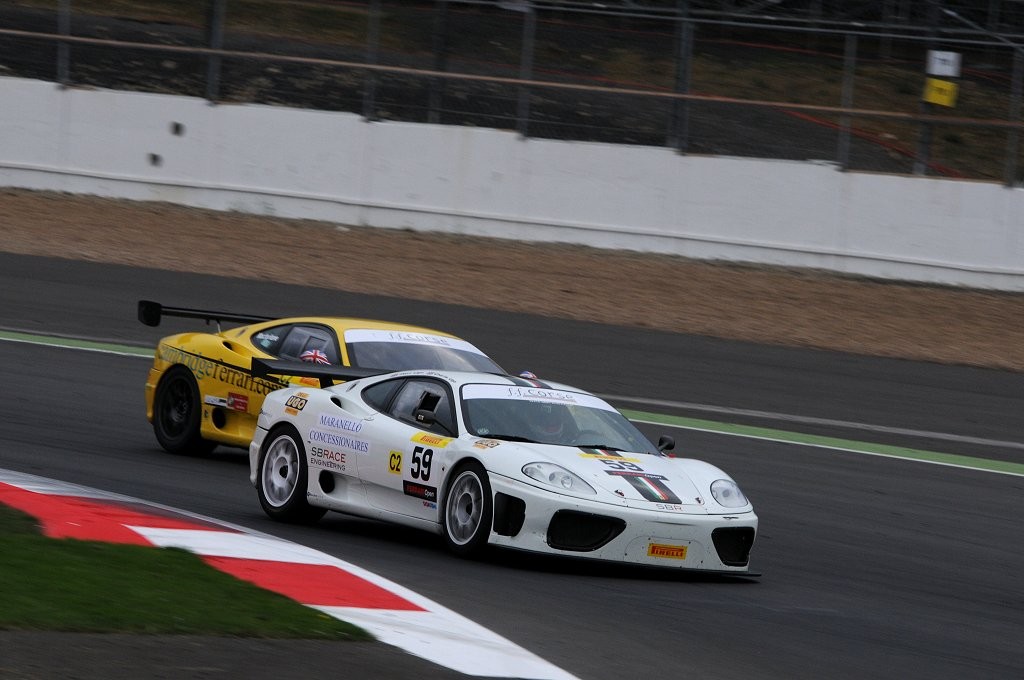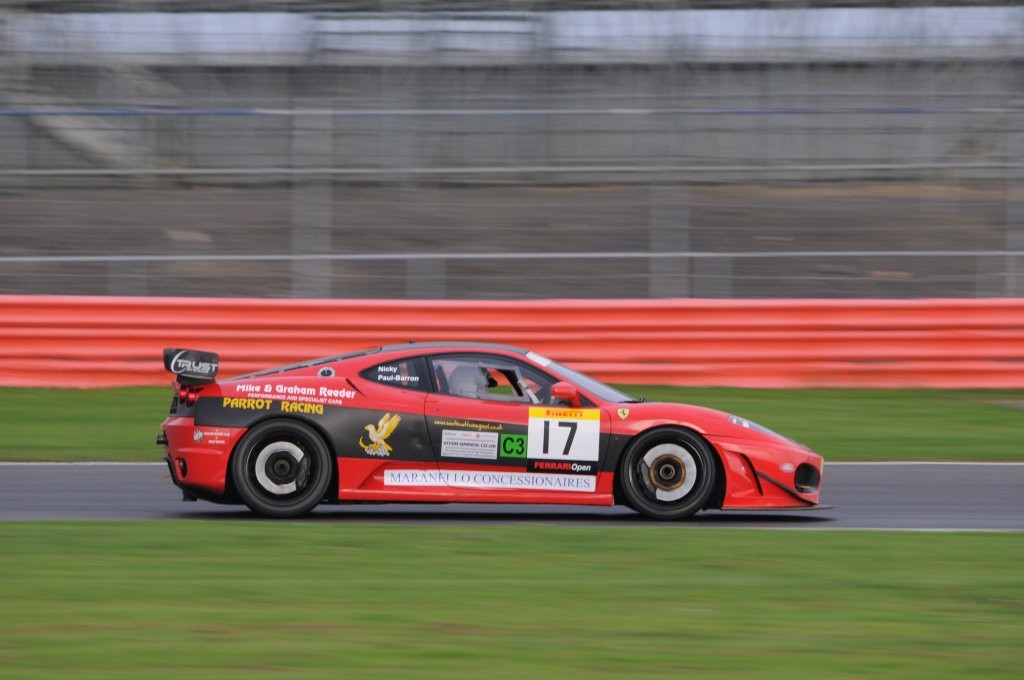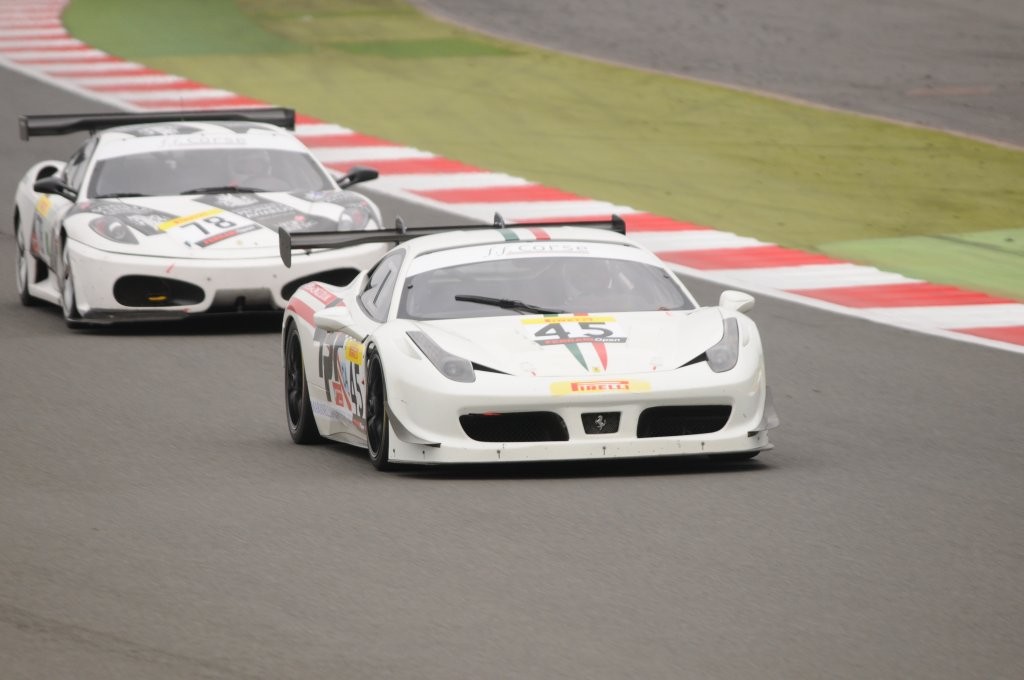 It's been two years since the last Ferrari Racing Days event at Silverstone, and very fond memories we have of it too! The Guinness World Record remains unbroken and was one of the highlights of that event, and so the 2014 rendition was eagerly looked forward to although a more tamer track parade would take the place of another record attempt.
The FOC was once again invited to put on a couple of races but this invitation was limited to the Pirelli Open series, and there was much gnashing of teeth amongst the Pirelli formula classic racers whose cars (mainly 328s, remember) were deemed just too old to join this particular show. This presented not a small problem, as our Open races were suffering from dwindling numbers this season and so it was with nervous anticipation that we awaited the entries that would be needed to fill the long Silverstone International circuit.
In the event the 19-car entry was not bad, and the quality was good. But why on earth did not more of the 25 or so 458 racers in the UK want to take part in the single most high profile Ferrari meeting in the country?
Qualifying
There was only one Q session for both races – at an ungodly hour on Saturday morning. For race 1, on Saturday evening, the quickest time for each car would count whereas for race 2 on Sunday evening the second quickest time would count. This would lead to the occasional anomaly as we shall see later…
Pole position was only ever going to belong to Arwyn Williams. We had seen Arwyn a few times before this season and, whilst his 458 GT3 is certainly the class of the field, his driving of it is superb to watch. Very smooth, fully committed to the corners, and extracting every inch of road out of Silverstone. Second quickest time was down to one of the revelations of the Open season this year, Marcus Hogarth, sharing his 458/Ch with his dad Bernard who was taking it over for the second race.
In third place was Club stalwart Wayne Marrs (458/Ch) ahead of Witt Gamski, whom we had not seen all season, who brought out his potent 430 GTC. Next up was the Graham Reeder/Tony Jones 430 GT3 which was going to be driven by Jones in the first race before then being handed back to the owner for the second.
Sixth on the grid was the hired 458/Ch of Club director Chris Butler which he was sharing with our chairman Richard Allen, and just behind that came another hire car just for this event, the 430/Ch of Nicky Paul-Barron. These last three were all normally Ferrari formula classic racers tottering along in 328s fitted with treaded road-legal tyres. The huge differences in grip, braking power and aero forces were a revelation to them and made them question future classic appearances….
The oddity about qualifying was that any shared drivers for the second race would benefit from the second-quickest time of the lead driver. This meant that Bernard Hogarth would start R2 from the front row of the grid, despite having qualified a lot slower than his son Marcus, and Richard Allen would start from Chris Butler's sixth place slot, after having been some 8 secs/lap slower. We kept our fingers crossed that these grid anomalies would sort themselves out without incident.
Race 1
Saturday, last race of the day. Not the best slot but welcome nevertheless.
As is usual for the Open racers it was a rolling start and both Williams and Marcus Hogarth got away equally. Marcus went for the inside at the first right-hander but had the door shut on him and then went into a long, slow and lugubrious spin in front of the entire field. Miraculously none hit him but he dropped all the way down to the back as he rejoining the race.
Williams simply disappeared up the road, on the second lap he had a 6 second lead, but behind there was a tight race between Gamski and Marrs, and then another between Jones and Butler. Really flying though was Marcus Hogarth and in a couple of laps he had scythed his way through the field and caught up Gamski, passing him on lap 3, and then three laps later he passed Marrs to put himself into second place behind the long-gone Williams. These two then held (distant) station all the way to the end.
There was a hugely entertaining dice between Marrs and Gamski behind, with their 458 and 430 respectively having strengths and weaknesses, and they were followed by Butler, Jones and Andy Christopher (430/Ch) who was keeping Sean Winder (430 GT3) at bay. Christopher then pulled into the pits to retire and Nicky Paul-Barron took up the chase of Winder, closing right up to his tail.
Amongst the various classes there was equally entertaining racing. Paul Ugo was the leading 360/Ch runner ahead of Robert Macfarlane, and the howling 355/Chs were being led by Nigel Jenkins.
At the front Williams continued his lonely race, easing off his lap times, and he crossed the finish line some 25 secs ahead of Hogarth who in turn had a 20 sec lead over Marrs and Gamski, less than half a second apart in what was undoubtedly the dice of the race. Not far behind was a commendable drive from Chris Butler, in his first experience of 'slicks & wings', a drive that will no doubt live long in his memory.
Race 2
This took place at the tail end of Sunday, and whilst there were not many in the public galleries there was an enthusiastic bunch of followers who gathered to watch some of the best entertainment of the day.
It had been getting a bit cloudy, with the odd spit of rain, and so the preceding Corse Clienti gentlefolk with their F1 cars decided this was not for them and they cancelled their appearance. With no notice our Open racers were therefore ushered into the collection area well ahead of time, some emerging blinking from motorhomes wondering what was going on. Arwyn Williams barely had time to light his pre-race fag. The spits of rain went away.
The grid was mostly unchanged, except that Bernard Hogarth would start the family 458/Ch from the front row and Richard Allen would start the Butler 458/Ch from sixth. Graham Reeder was in his 430 GT3 this time round.
The rolling start was clean and Williams shot into the lead ahead of Hogarth, Gamski and Marrs. By the end of the first lap Williams again had a huge lead, but behind him Gamski and Marrs settled down for a race-long dice, just as in the first race. It was interesting to watch the superior cornering of the 458/Ch versus the better braking of the 430 GTC. On power they seemed equal. Hogarth gradually slipped down the order as first of all Reeder went past, then Stuart Shield, with Allen holding station next but being caught by the flying Nicky P-B.
The Gamski/Marrs battle for second again provided the most entertainment, close but clean. Marrs said afterwards he could have tried a few dives up the inside but it might have spoilt a good race. The unfortunate Reeder had to retire the 430 from fourth place, leaving Shield and Allen to the mercies of Paul-Barron who relentlessly chased them down and moved into fourth slot at the end.
The clear winner again was Arwyn Williams, by some 20 secs ahead of Gamski and Marrs who were only 1 second apart. Fourth was an emotional Nicky P-B, having hugely enjoyed his experience of a slick-shod and big-braked racing car, some 3 seconds ahead of Stuart Shield with our own chairman, Richard Allen, coming home in an excellent 6th spot despite still recovering from a recent illness. Paul Ugo was again the best 360/Ch just a few seconds ahead of Macfarlane, and the 355/Chs had another fabulous race with Jenkins the winner ahead of Lee Moulden and Tris Simpson.