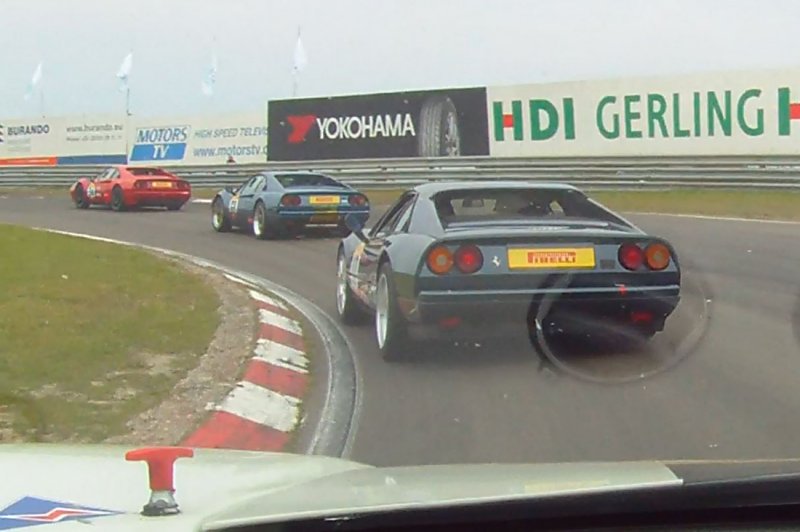 When racing abroad our two race series, the Open and the formula classic, are combined. This can also be done on the larger circuits in the UK, as in fact we are doing at the MG 90 meeting at Silverstone. It should ensure viable grid sizes.
Zandvoort is a great place to visit and the club have enjoyed many great meetings there. The seaside town is lively and the NH Hotel we use is just across the road from the track. The circuit itself is just such fun to drive. It has some truly challenging sections and elevation change etc. It's got the lot. There tends to be a big crowd too, which adds to the experience.
Planning a season of racing must be just the hardest job, and the effort required from our Competitions team of John and Anne Swift should not be under-estimated. The Zandvoort race was "bought" as early as November last year. As the calendar progressed it became lodged between the Donington double header and the big Silverstone meeting. Our traditional Spa races also were not far away on July 18/20th. There was also competition from other races with Inter-Marque, Britcar and GT Cup all racing on our Dutch week-end. As things turned out this pressure was too much for our racers, and we had a miserable turn out. Nine cars in total made the trip and only seven of those made race 1.
Race 1
With Jim Cartwright starting from the back of the grid there was at least some hope of an interesting race. John Shirley was the sole Open runner in his 360, and was on pole position from Gary Culver and Nicky Paul-Barron (both in 328s).
With so few cars Jim was through to 3rd on the first lap and chased down our classic leader Gary Culver. John Shirley drove a good race, made no mistakes and came home an easy winner. Jim challenged Gary for a while but found it hard to sustain the pace. Gary drove his usual immaculate race to take the win from Jim.
Once N.P-B had no cars in sight either in front or behind he backed off in the very hot and humid conditions to take 4th overall and 3rd in classic. Behind Nicky Peter Everingham had the same thought and similarly backed off. Right at the back though Swifty and John Fenny were having a decent dice right to the end, with Richard just holding on at the flag.
Race 2
The Monday race was almost as hot despite an earlier forecast of storms. Following a remarkable week-end long struggle to get his Grp 2 308 GTB raceable Chris Compton-Goddard joined us on the grid. The race itself was a bit of a repeat of Saturday except for Jim Cartwright who managed to slip by Gary at the chicane and go on to victory. Chris CC got a finish as a reward for his team's efforts which was thoroughly deserved.
In my many years of racing it has always been the overseas events that stand out. They are for me the best racing experience you can get. Whilst the numbers were frankly terrible there was still a great feeling of comradeship in the Ferrari paddock. The efforts made by Chris Compton-Goddard team to get him out, plus the week-end long efforts of Darren Wilson and team to get his 328 racing were quite something. Everyone was happy to muck in. Even the more fit cars needed some fettling and it was common to see competitors working on each other's cars.
Socially the week-end was great with some memorable meals and story telling etc. Some of these stories could even be told – some possibly not. From a personal point of view I was really happy to see Zandvoort again, but I reckon it will be for the last time, as surely we can never have the confidence to risk such a poor entry in the future.