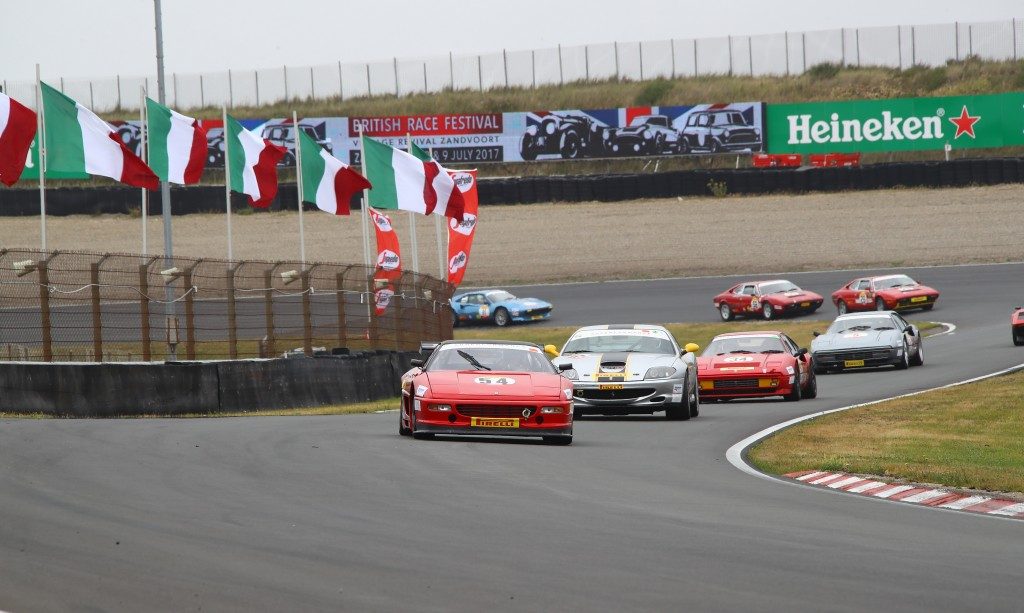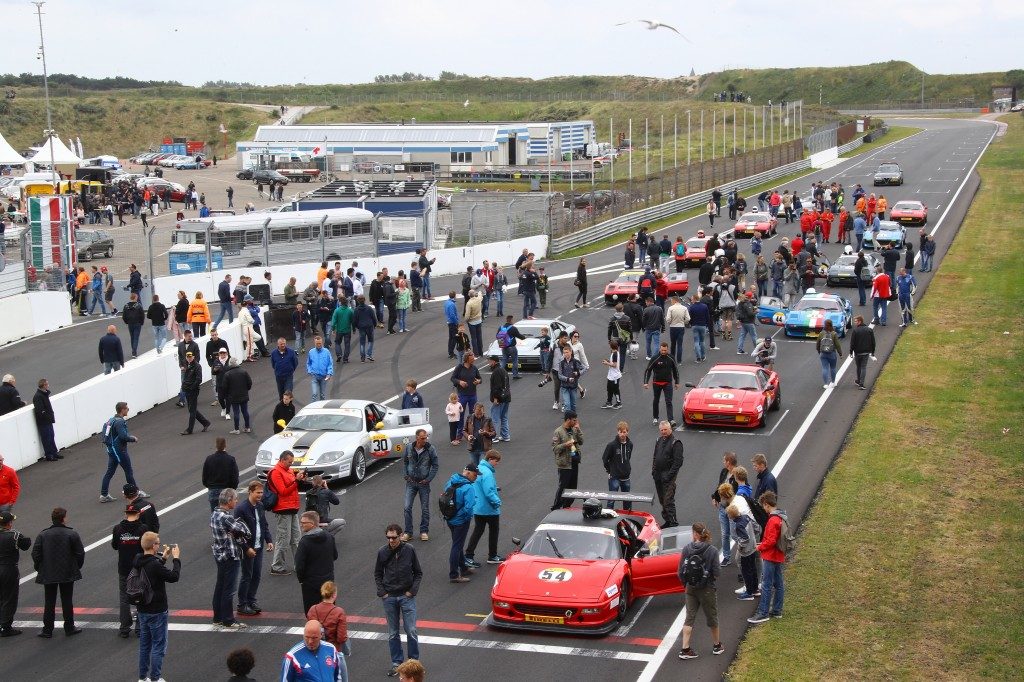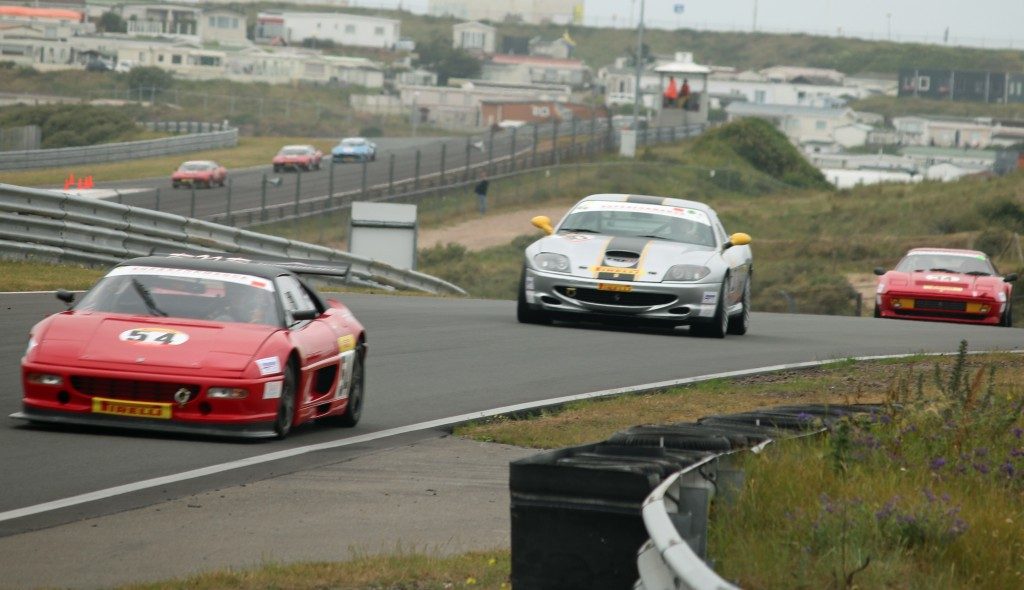 The Zandvoort circuit nestles in the sand dunes of the Dutch North Sea coastline. When the wind blows there it means business, and it certainly did. There was some light rain around too, although amazingly all qualifying and race sessions were dry or virtually dry. The paddock shelters and awnings remained packed away for safety as they surely would have taken flight. The circuit itself is a delight to drive and the local holiday town is fun.
Many years ago there were very successful Italia a Zandvoort meetings. Following the success of the similar Brands Hatch Auto Italia event the Dutch circuit chose to revive the event, with the pit garages and main paddock full of Italian themed stands, and even a very loud live disco. The outer paddock was for supporting clubs and Italian cars, many of them going out on track. For all sorts of reasons there were only 12 PFfc cars in the paddock, and this number was soon depleted when David Edge's 355 Challenge succumbed to an ABS failure, and no spare parts could be sourced. It was good to see John Swift back in the paddock with is 'Old Blue Thing' looking resplendent with a new paint job. It was also very good to have a welcome guest, Dick Waaijenberg in his modified 308 GTS. This car is a real blast from the past. It previously belonged to Hans Schorn and raced with us in the 1980's, even before the beginning of Maranello Challenge. Dick has some superb Ferraris and was a most welcome addition to our grid. In qualifying Nigel Jenkins showed top if the time sheets in his now regulation compliant 355 Challenge car. Next up was Peter Fisk in the 550 from Gary Culver in his familiar 328 GTB. Chris Butler continued his excellent form to qualify in 4th position. With the formidably long pit straight the circuit is well suited to the more powerful cars.
Race 1
From lights out it was Jenkins from Fisk, Culver and Butler, with Waaijenberg and Moulden chasing. The front two pulled away fairly promptly which must have been an unusual sight for Culver. Moulden got past the Dutch 308 and Chris Butler and set off in chase of Culver. This set up a race long duel between Butler's 328 and our guest 308, in fairness not running to our regulations. It didn't matter, it was good to watch.  Also fun was the 308 GT4 battle of Charlie Ugo and Richard Fenny. Early on it was Fenny with the advantage, but after several changes it was the young gun who came out the victor by a very narrow margin. The Butler vs Waaijenberg tussle also went to the last lap with the Dutch car just coming out in front. Lee Moulden gradually closed down Culver, but barring a mistake from Gary he was never going to get past. At the sharp end Pete Fisk really gave the big 550 it's head. On one lap it even looked as if he might actually get ahead, but on the last lap he had a thankfully harmless spin before re-joining, and that was that.  So a win for club racing returnee Nigel Jenkins. They race again twice tomorrow.
There was very pleasant beach bar-b-q on Saturday evening organised by the most welcoming Ferrari club of Holland. Our two clubs have an excellent history of co-operation and it was good to affirm that once again. Hans Hugenholtz was one of the guests. His father is often credited with designing the Zandvoort circuit. However Hans told us that this was not the case. The German army expected allied forces to launch the D day offensive in this area. They demolished local hotels to help form coastal defences and it was this rubble that was used for the foundations of the circuit. The main straight indeed was originally planned by the occupying forces as a parade ground to celebrate a German victory. Hans Hugenholtz Snr didn't become the circuit director until after the war, but he is correctly credited with playing a large part in the track's subsequent success.
Race 2
Sunday morning 9am with very similar grid positions. Dry but still very windy. The shared cars now had their second drivers, so Vance Kearney in place of Lee Moulden and Paul Ugo in place of son Charlie. Initially the lead positions were as race 1. On lap 2 Peter Fisk made an excellent move on the exit of the first corner hairpin Tarzan to take the lead. The 550 is strong in a straight line and can be quite wide, so could Peter hold on to a win? Nigel Jenkins though has always been an excellent racer and he found a way around on the exit of Scheivlak, getting his 355 back in the lead. Meanwhile Gary Culver was in a lonely p3 as in race 1. Chris Butler was leading Kearney, guest Waaijenberg and Compton-Goddard. Unfortunately we lost Kearney early on with a failing alternator, 355s don't run for very long with no charge. Paul Ugo was showing well in his GT4. Towards the rear Richard Fenny, John Swift and William Moorwood were close. This developed into a proper ding dong between Swifty and Fenny that lasted right to the flag. The other really good dice was Butler, Compton Goddard and Waaijenberg. This too lasted right to the flag and got a little tense at times particularly when Goddard had some gear selection problems. However once the dust had settled all remained friends.
Race 3
First the grid walk, which has become quite a feature this year. It was a slow burner, but in time the public caught on and there were all sorts having photos taken with the cars and drivers, young children sitting in cars etc. It's great and friendly and does our series and club credit.  The Kearney/Moulden 355 had made the grid with Kearney on board. He would start from the back of the grid. Our Dutch guest made the grid walk but lost it's gears and failed to start the race.
At lights out the Jenkins 355 Challenge car lead away, but out of the first corner it was Pete Fisk leading in the 550 from Jenkins, Culver and Butler. The front three at least stayed quite close in the early laps and it looked like a lot of fun. Perhaps this time the 550 could take it's second race win of the year, the first being at Knockhill. Vance Kearney was making progress from the back, but it seemed that his car was not at it's very best. In fact it hadn't really been healthy all week-end. With the 550 playing a defensive game Gary Culver was able to stay in touch this time, and even showed his nose to the 355 on occasion. It was hard to see quite where Nigel's 355 could make a passing move for the lead. Then around mid race the circuit commentary got really quite animated. I think it was a Dutch version of "Wow I didn't think that was possible" Nigel had overtaken the 550 on the outside of corner Ron Slotemaker-bocht! If you have not driven Zandvoort this won't mean a light to you, so please just trust me, this was one gutsy move. Quite what Jenkins would have done had it not come off is anyone's guess. I think we may still have been searching for him in the sand dunes. Anyway it did come off and Nigel lead to the chequered flag …… well no actually he didn't. With the cruellest of luck his nearside driveshaft sheared on the last lap and the car retired. As the wheel came off it actually passed him on the track stopping against the Armco on the left side as car safely exited stage right onto the grass. Fortunately there was no further damage. It could have been nasty. John Swift managed to keep Richard Fenny behind  him  by the narrowest of margins. So a second win of the year for Pete Fisk from Culver and a delighted Chris Butler, whose enthusiasm on the podium was a sight to behold. Chris Goddard was given the RnR driver of the meeting award for his spirited driving which included a heart stopping moment with a lurid slide just missing the concrete barriers.
The Circuit put on a really good event, and with three races and plenty of track time on a truly excellent historic circuit it was a real pleasure to be a participant. That said it would have been better to have had more cars on the grid.