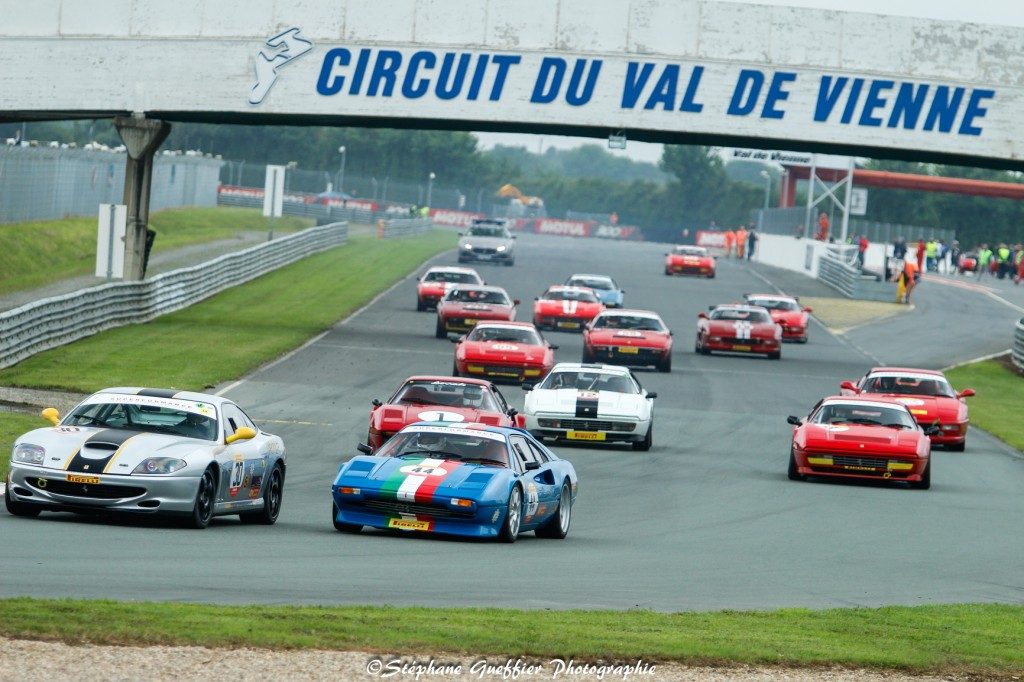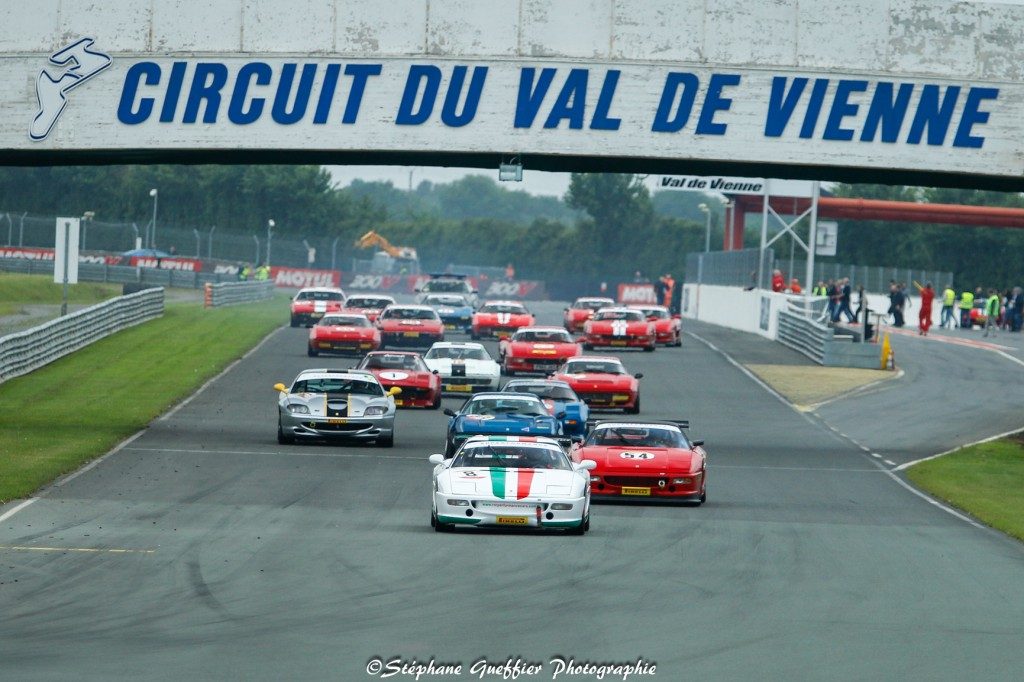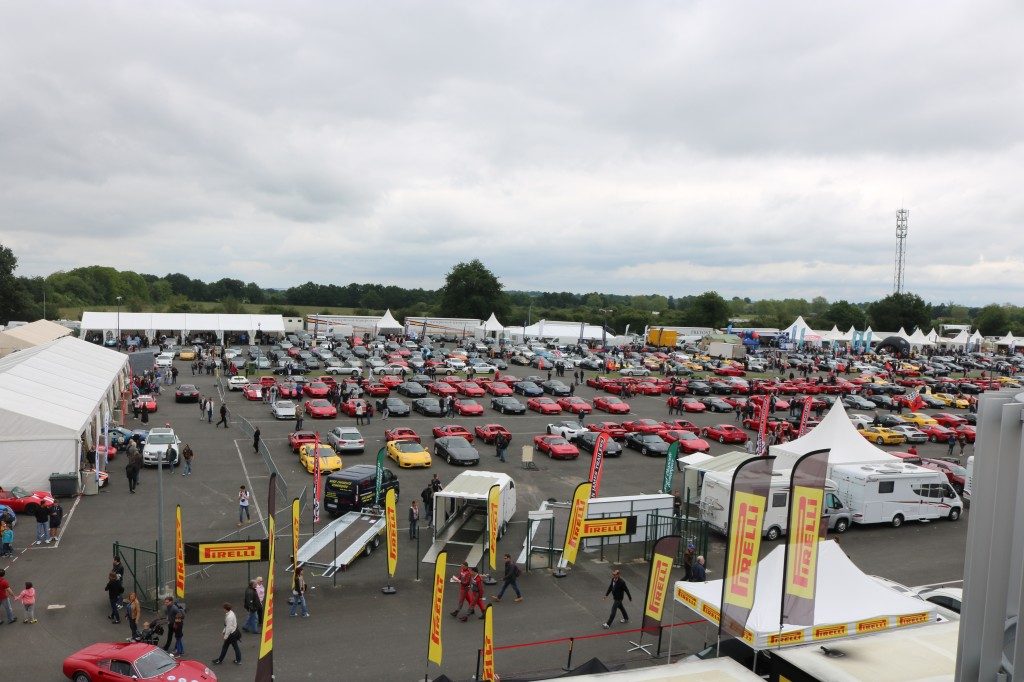 Our Pirelli formula classic series was indeed privileged to have been invited to race at the 22nd Sport & Collection "500 Ferraris against Cancer" event at Val de Vienne in France. This is principally a charity event benefiting the Cancer Research unit at Poitier University Hospital Centre. Some Euro 3.5m has been collected over 21 years. The late Didier Benaroya was instrumental in making this all happen for us. A memorial trophy was presented by Ferrari Club France during the Saturday evening cocktail party, and Didier was never far from our thoughts during the week-end. An event report is featured elsewhere so we will concentrate here just on our races.
In spite of threatened fuel shortages and poor weather our entry was excellent with 16 formula classics taking to the 3.729 Klm track for qualifying. One car was shared, so 17 drivers in all. It was excellent to see John Shirley racing his 355 and also Paul Daniels who was racing Ben Cartwright's immaculate 328 GTB. This entry was bolstered by invited guests racing cars not compliant with the classic regulations. These were Nigel Jenkins' 355 and Alberto Donati who was racing his lightweight (1050 Kgm) 308 GTB. A few of us oldies got quite excited about that car.
There were to be three races in all but with just one qualifying session. The grids being set as: best qualy time counting for race 1, 2nd best qualy time counting for race 2, and the finishing order of race 2 counting for the grid for race 3.
Top of the time sheets for formula classic was Lee Moulden's 355 with Gary Culver's 328 in close attendance. Next up was the stirring sight of Peter Fisk's 550 Maranello ahead of Jim Cartwright's 328. This was a remarkable turn around for the 550 after a troubled showing at the first race at Oulton Park. The pace was genuine and was consistently there all week-end. Peter was clearly having to try very hard indeed to achieve this performance, and was likely having a few frights along the way.
Off the line in race 1 it all went very still for Gary Culver as his stub axle broke bringing an immediate retirement. Peter Fisk stuggled to get traction in the 550 so into the first corner the order was Lee Moulden, Jim Cartwright and Chris Compton Goddard in his 308 GTB. Pete Fisk recovered from his poor start to take 3rd position. The best fun in race 1 was enjoyed by Chris Compton-Goddard, Peter Everingham and Nick Cartwright who where in close company. At the flag the order was Moulden (355), Jim Cartwright (328 GTB) Peter Fisk (550), Chris Compton Goddard (308 GTB). Peter Everingham took the Grp 3 win.
The Culver team, basically David Preston and support were now hard at work sorting the 328. Not only was there the broken stub axle but also an aggravating oil leak to find. The RnR team too were kept very busy looking after their many charges.
Race 2 on Saturday saw Peter Fisk on pole and wondering how he could get the 550 rolling in the best way possible. He actually did a decent job but missed out to Gary Culver into the first corner. Early on the order was Culver, Fisk, Kearney, Jim C & Chris CG. At race end Gary held on for the win from Jim C and Vance Kearney. Try as he might Pete Fisk dropped to a non-the-less respectable 4th over the line.
Race 3 on Sunday saw one of Vance Kearney's best performances to take a deserved win from Jim Cartwright and Gary Culver. Next up were Chris Compton-Goddard, Peter Everingham and an improving Paul Daniels. Peter Fisk was actually challenging Culver but suffered total brake failure at the end of the long straight. 150 mph and no brakes! Most fortunately there was a large gravel trap and the big car was arrested before hitting the wall. Peter had a big scare and we were all so grateful that he and the car were safe. Post event the fault has been diagnosed as boiling brake fluid. Peter will race his Mondial at Donington whilst more work and testing of the 550 is completed. Let's hope it re-appears at Spa where it could be epic.
Of our guests Nigel Jenkins in his 355 won all three races "on the road" pretty much as he pleased. The Donati 308 was fun to see and may join us again at Spa in July.
It had been an excellent week-end's racing with no damage and a lot of good will was earned by our series. To be honest the racing was not as close or as exciting as at Oulton, but the various tipos do remain close in lap times which is excellent news.
Next on the calendar is Donington Park on Saturday and Sunday July 2nd & 3rd. A big entry is expected. Hopefully we will see the return of Wayne Marrs in his 355 and also Chris Butler in the ex. Richard Allen 328 GTB racing in group 3. See you there.