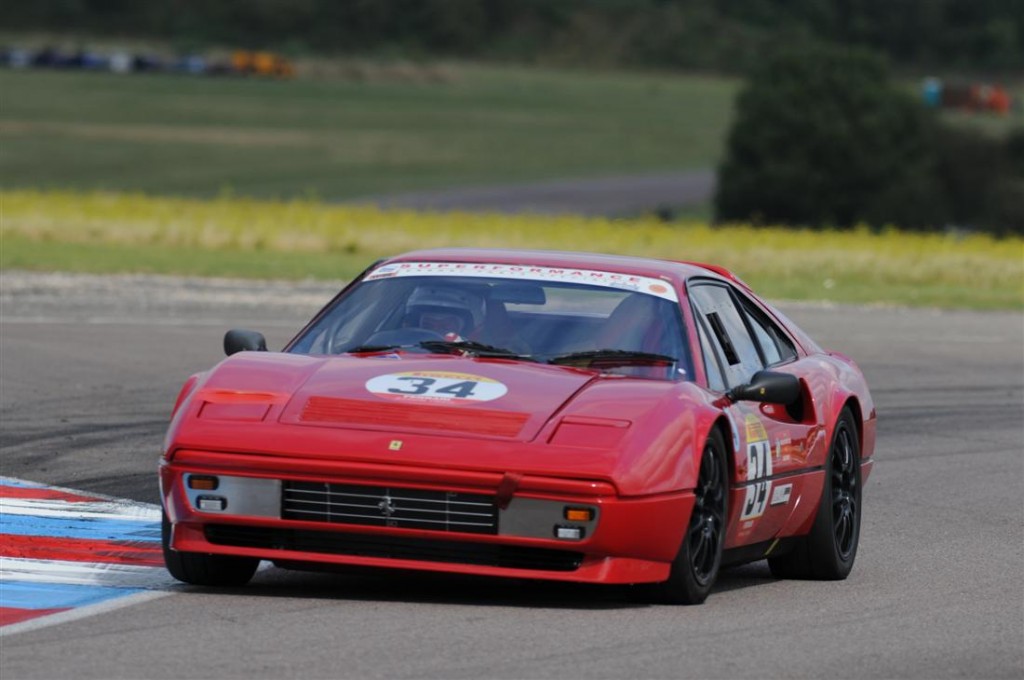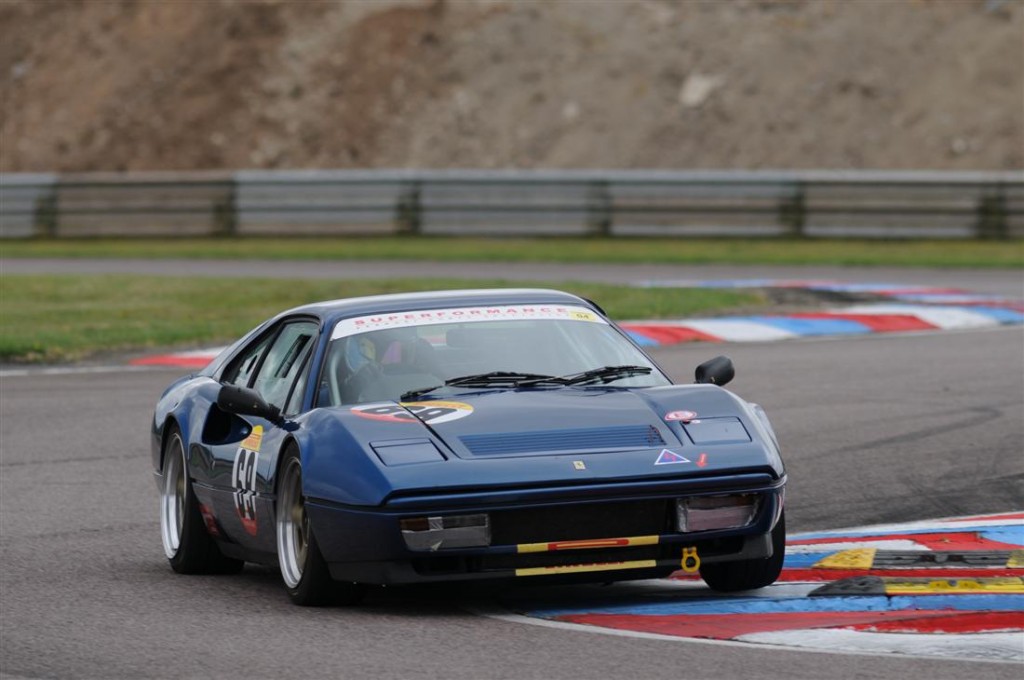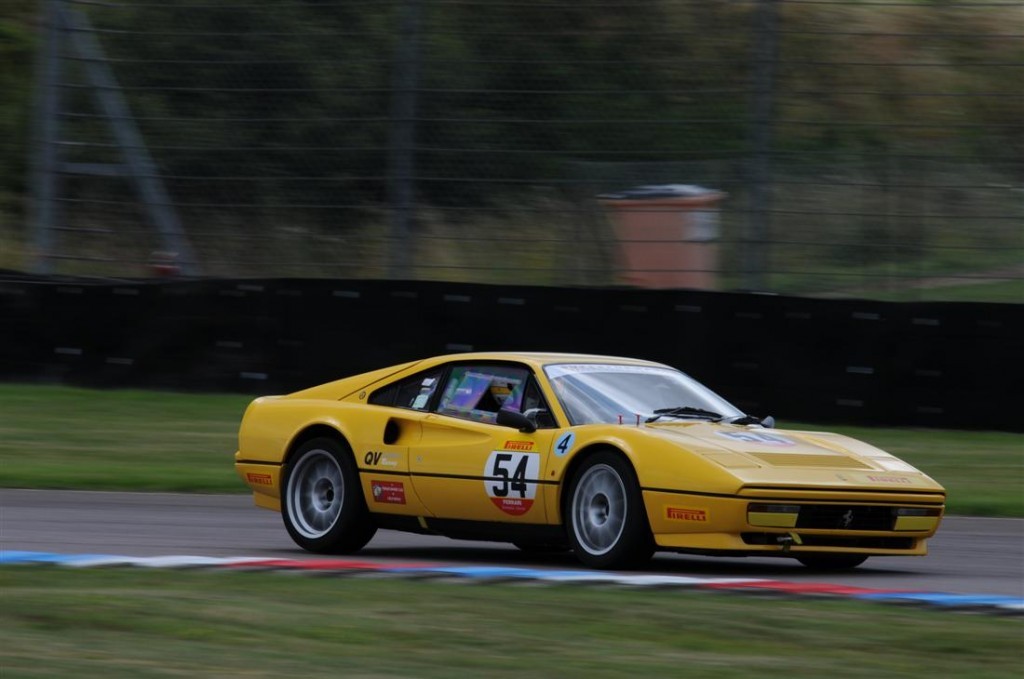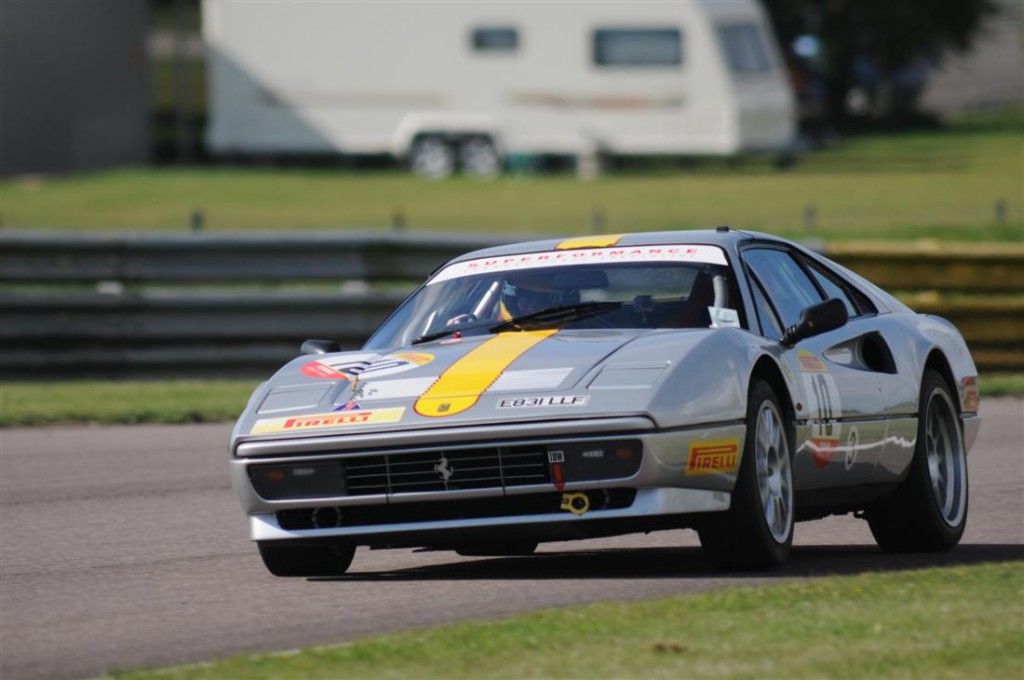 Thruxton is a circuit that rewards prior knowledge and practice. It is a fast and technical track on which there is very little chance to race or even test.
Taking advantage of this was Darren Wilson who knows the track well from his time in Clio Cup, and had also tested the previous day. He set a stunning pole position lap of 1.30.22 in his Grp 3, ex. Jamie Winstanley 328 GTB. Next up was the ever impressive Gary Culver (328GTB)  and the 308 GTB of Chris Goddard. Last year's star performer Jim Cartwright was late on track and only managed 3 laps. He qualified 4th. Dad Nick missed qualifying altogether due to a trailer issue.
Race 1
After Goddard jumped the start and then stopped the field got away safely with Culver and Cartwright assuming their expected positions in first and second. Nigel Jenkins from 5th on the grid had made his way through to 4th by the end of lap 1 and then 3rd on lap 2, and that was to be the 1-2-3 podium at the end of the race.
Behind this the Grp 3 pack of Wilson, Everingham and Walker, plus Goddard's Grp 2 308 GTB were having a fine time. On lap 4 however Darren Wilson suffered a rear hub failure and retired. After a race long tussle the order was Goddard, Everingham and Walker. This changed to Everingham, Goddard and Walker after Chris Goddard had been given a 10 second penalty for his start line whoopsi.
(If you fancy a driver's eye view of the race try Tim Walker's in car here)
Race 2
With Culver away on business, and Nick Cartwright suffering engine problems in race 1, just eleven cars took to the circuit for Sunday morning's qualifying session. There were no surprises with Jim Cartwright on pole from Jenkins and Goddard. Then there were the Grp 3 boys of Wilson (repaired), Everingham and Walker.
The race was lead initially by Cartwright, but Jenkins is a fighter and managed to get through to the front for a while. In time though it was always going to be a Jim C master class, and some of us mere students admired the lesson watching from the chicane banking.
It should have been another good battle behind, but Tim Walker suffered a rare wishbone failure at the end of lap 1 and retired. This left Evers chasing an on form Chris Goddard pretty much for the entire race. It was a decent contest and when they came up to back markers Evers must have thought he had a chance. In the end though Chris kept it all together to take a deserved 3rd overall.
Taking a popular driver of the meeting award was Peter Everingham for two excellent showings.