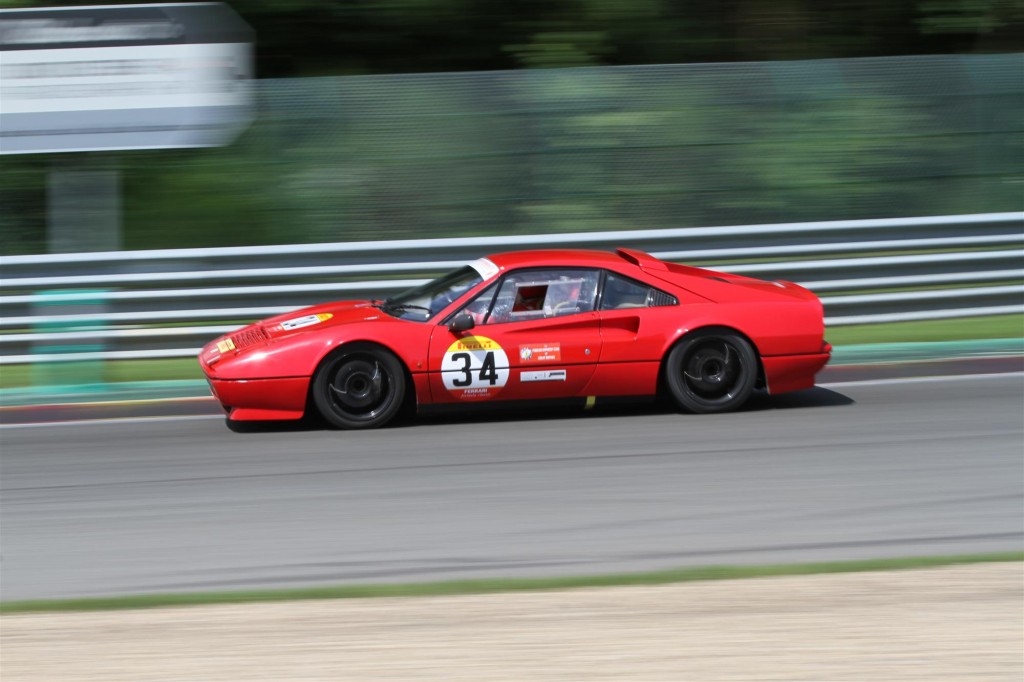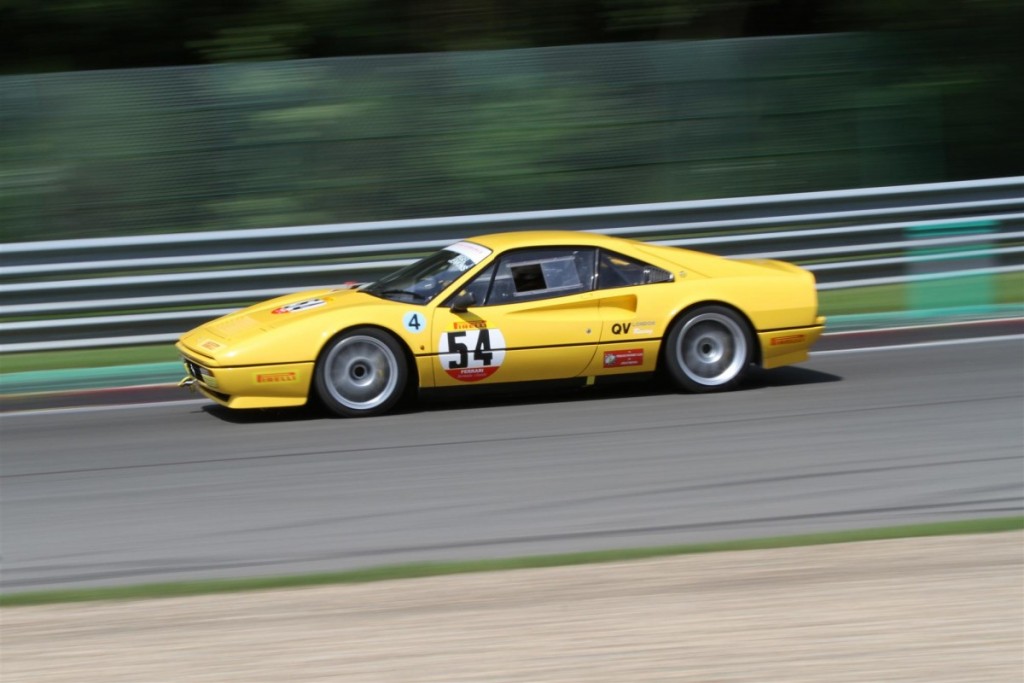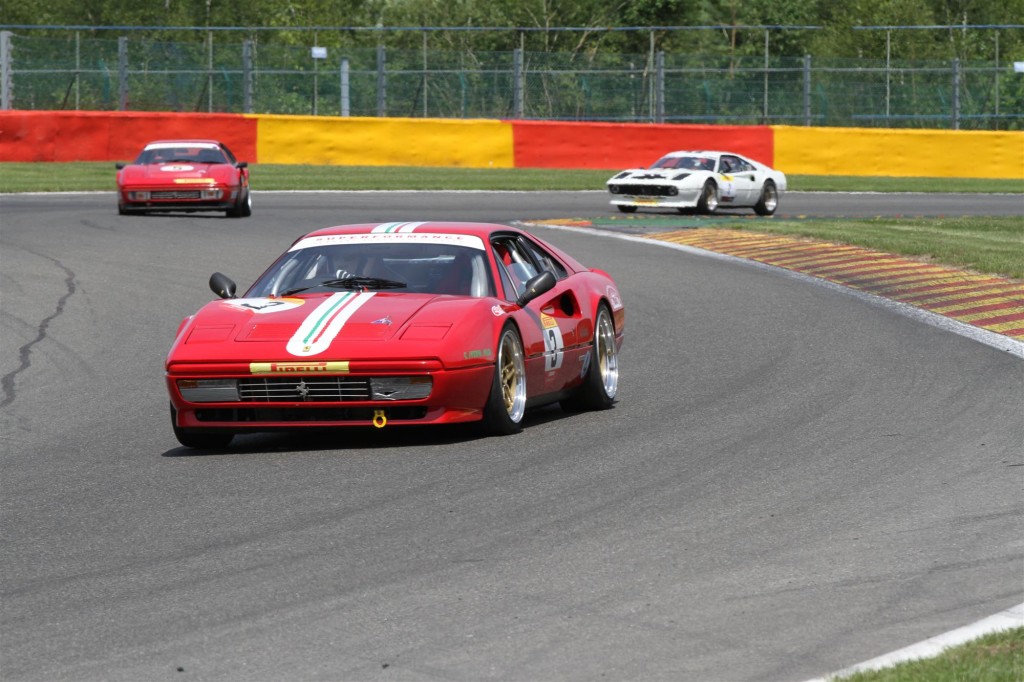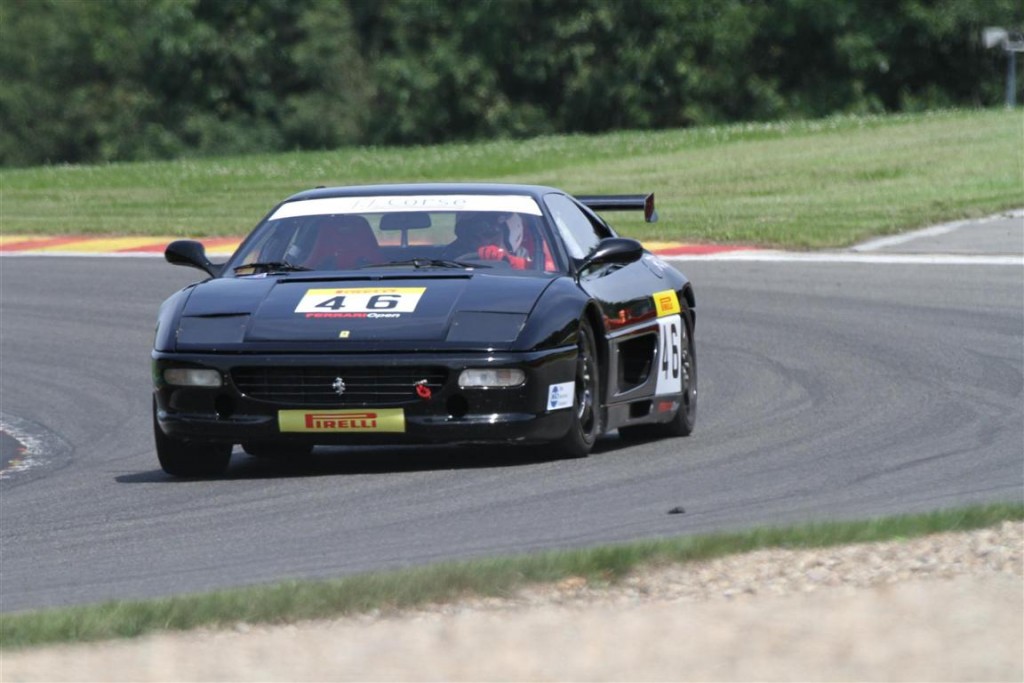 For the third meeting in a row both our Pirelli Open and formula classic races were combined. Qualifying for race 1 saw eight cars from Open, 16 from formula classic and an overseas guest in an invitation class. There were no pit garages available which meant that everyone was together in the paddock, and it made quite a display. Quite outstanding was the collection of cars being looked after by RNR. Two trucks brought eight cars and a potential of lots of work for Richard and his team.
Qualifying for races 1 and 2 took place on a very hot Friday. In both sessions Wayne Marrs was to be our pole man for Open in his 458/Challenge. Fastest of the classics was a very on-form Gary Culver (328GTB). These days 355/Challenge cars in our Open series race on Pirelli road tyres and now that our formula classic racers have gone back to a tyre that, whilst road legal, is designed for track work, the lap times of both tipos are pretty close.
Race 1
Just as at Zandvoort and Silverstone this was going to be a hot one. Ambient temperature was showing 32 degrees as the combined field of cars headed for the rolling start and it was front-row Marcus Hogarth who pulled into the lead from pole-sitter Wayne Marrs, ahead of Graham Reeder (430GT3) and John Shirley's 360/Ch. These Open-class cars were obviously quickly pulling away from the classic racers – but what a pair of separate races it turned into and if you factor in the 355/Chs we had three races going!
At the very front Hogarth and Marrs swapped places several times, and amongst the classics the action was equally tight. Culver initially led but was passed by Dave Tomlin (308GTB) until a couple of laps later it was all reversed again. Behind those two came another great three-cornered fight between the 355/Chs of Vance Kearney, Tris Simpson and Tim Mogridge who were just inches apart.
Hogarth kept a narrow lead to the end, just ahead of Marrs with Reeder in a lonely third spot somewhat outpaced by the powerful 458s. Shirley kept his fourth place in Open, but was only just ahead of the battling Culver/Tomlin duo who finished less than two seconds apart and headed the classics field ahead of an on-form Nick Cartwright who led Nigel Jenkins (328GTB) and Nicky Paul-Barron (328GTB) across the line.
The battling 355/Chs finished less than two seconds apart – another excellent encounter to watch – with Kearney taking the honours.
Race 2
Rolling starts may be a good idea in some respects, but certainly at Spa they feel pretty hairy. The reality is that the first few rows arrive at the start line pretty much flat out with barely a coat of paint between them. Next of course is the tight hairpin at La Source. At this spot at the start of race 2 Bernard Hogarth's 458 contacted the right rear of Reeder's 430 and tipped him into a spin. Hogarth then stopped and in the resultant concertina both Tomlin's 308 and Culver's 328 were damaged and retired. Hogarth continued. Reeder retired his 430 fearing considerable rear damage. As it happens the impact had been taken by the rear wheel only.
All this confusion left Wayne Marrs on what must have seemed to him a fast track day to an easy win. The racing behind however was pretty fast and furious. The 355s of Kearney and Simpson had a great race crossing the finish line side by side, with Kearney just getting the nod. Also having fun were the group 4 328s of Nigel Jenkins, Nicky Paul-Barron and Nick Cartwright, finishing in that order. Club finance director Chris Butler had taken over his old 328 from owner Robert Pulleyn and put on a superb show to win group 3 and Driver of the Day.
We were reminded yet again at Spa what amazing cars we have the privilege to race. In particular to be able to race our near standard 328s that hard in those temperatures without mechanical mayhem is frankly amazing. Thank you Ferrari.