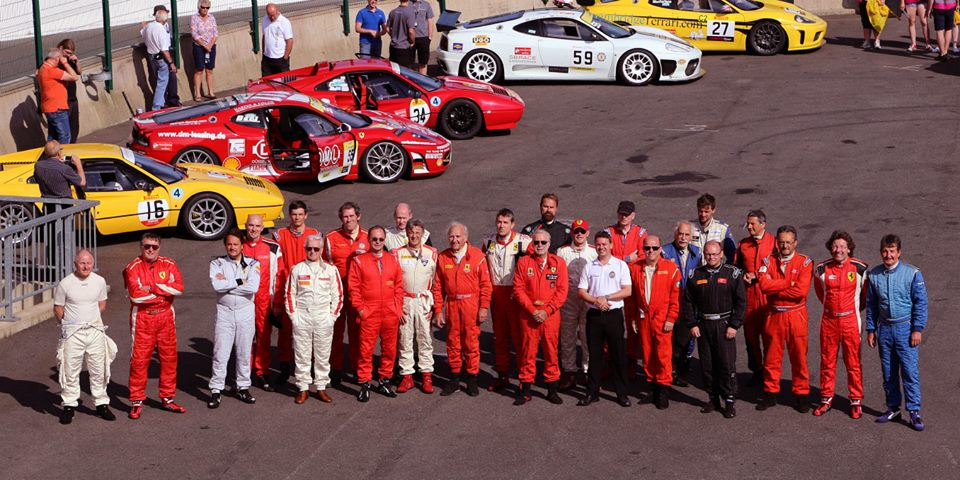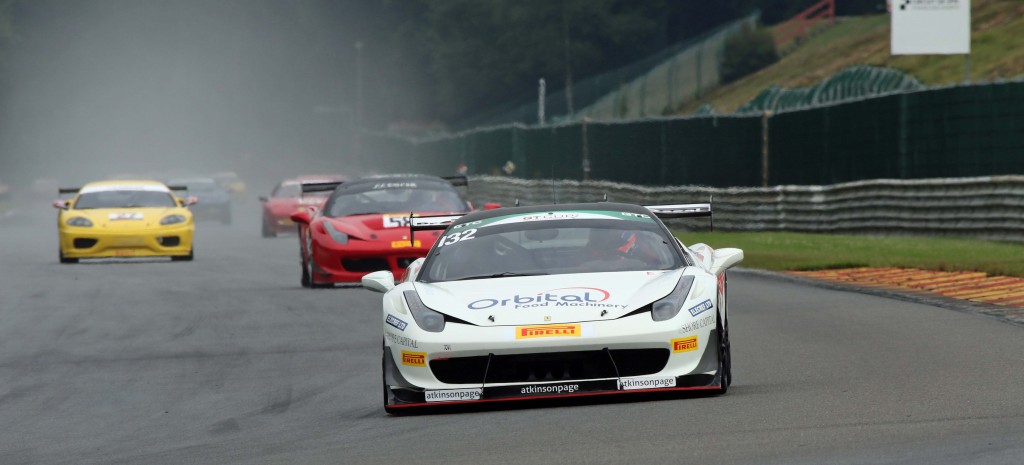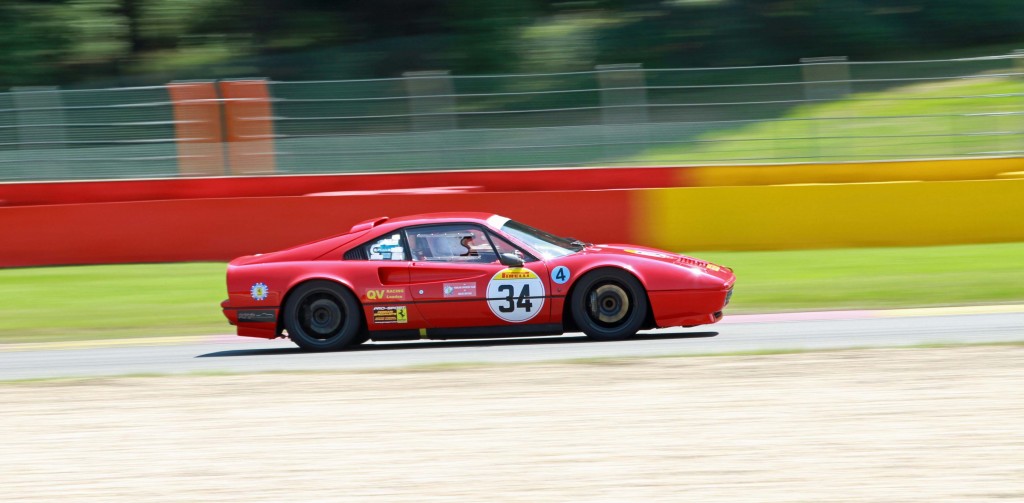 The annual trip to Spa is the highlight of the racing calendar. There was a good turnout of 16 cars eligible for the formula classic series and further 8 cars, all invited guests, which in the past would have been eligible for entry in the Open Race Series. The guests provided an interesting variety of Tipos ranging from 458s to the 355 Challenges of Nicky Paul-Barron and David Hathaway. Weather can play a big part at Spa and initially it was unusually warm with temperatures well over 30°C for the first two days.
The first qualifying session proved the point that the circuit in good dry conditions favours the most powerful cars. Lars Kinell lead the invitation class in his 458 Challenge. Gary Culver in his Group 4 328GTB lead the PFfc field ahead of Jim Cartwright, Chris Butler and Richard Moseley in their similar Group 4 cars. Darren Wilson lead Group 3 ahead of Peter Everingham and Pete Fisk. Paul Daniels was enjoying his first outing in the Ben Cartwright 328 GTB but reported that there was a steep learning curve as the standard brakes on his car were not comparable to the Porsche he was more used to driving.
John Swift headed Group 2 but had an unfortunate mishap at the La Source hairpin when he turned into the corner to receive a sharp knock from Lars Kinell in his fast approaching 458. The Swift 308 GTB did not look too good when it arrived in the paddock but helpers rallied round and with plenty of tape and hastily acquired safety netting the 'Old Blue Thing' was all set to go in the second qualifying session.
The second qualifying session at 2.00pm was in really warm conditions and a good test of the cooling systems of the PFfc race cars. Marcus Hoggarth took over from his father and was comfortably the fastest in his 458 Challenge. The PFfc order would be much the same with Gary Culver heading Group 4 and Darren Wilson heading Group 3.  John Swift had trouble keeping his damaged door shut and ceded Group 2 leadership to Peter Moseley in his 308GTB.
Race 1
There was a slight alteration to the usual paddock line up at the start as Series Coordinator Steve Burns arranged a different line up for the cars to allow for a group photo to be taken before the start of the race. In deference to our invited guests a rolling start is used for the races and once the lights go out it is a short distance to the La Source hairpin.
Those at the front of the grid made a clean getaway but further back Rob Pulleyn in his 328 GTB had made a lightning start to move up several places but in his enthusiasm to gain ground he tapped Darren Wilson who in turn was forced to give Chris Butler a tap. Butler was the unlucky one as he was pushed into a spin at the exit of the hairpin and would go through Eau Rouge at the back of the field.
Up front Lars Kinell went on to lead the race by a clear margin from Bernard Hoggarth both in 458's. Behind them was a race long scrap with Robert Macfarlane narrowly leading Paul Ugo in their 360's such that they would finish less than 1 second apart. Gary Culver in his 328 GTB had made a good start and for the first 4 laps was in front of the 355 of Nicky Paul-Barron and his Group 4 rival Jim Cartwright. This would all change when he made an error exiting Raidillon, not a good move when it is followed by the 1 Km long Kemmel straight, as it allowed Paul-Barron and Cartwright to get past him.
Behind the PFfc front runners there was some close racing, Darren Wilson lead Group 3 with his 328 GTB but was kept under pressure all the time by Nick Cartwright in his Group 4 328. Pete Fisk continued his weekend long duel with Peter Everingham to beat him by 3 tenths of a second. Myles Paulton in his first visit to Spa kept his Group 4 328 just ahead of John Roberts and Paul Daniels in their Group 3 328's. The Swift 308GTB won Group 2 as the similar car of Peter Moseley encountered a misfire causing it to finish a lap early. Apart from the mishap at the start it was a really good race in excellent weather conditions.
Race 2
All would change for Race 2 as heavy rain was forecast for the early Sunday morning race. With an eye on the forecast many of the cars  had changed on a baking hot Saturday afternoon to a wet set up. Fortunately the heavy rain overnight stopped in time but the race would definitely be held in damp conditions. All the PFfc cars made the correct choice by running on the Pirelli Trofeo tyres, similarly most of our guests made the right choice in abandoning slicks in favour of intermediate tyres.
This time round the start had no problems at all, aided by a certain amount of caution being  exercised by everyone due to the uncertain conditions, with a clean getway around La Source.  Marcus Hoggarth, who had taken over from his father, lead the race comfortably from Lars Kinell. Macfarlane and Ugo carried on their duel from the first race, until lap 6 that is, when Ugo had a big spin at Fagnes which dropped him back 3 places. Gary Culver again made a good start to lead the PFfc field, this time round he made no mistakes and lead all the way with Nicky Paul-Barron and Jim Cartwright in close attendance.
Pete Fisk and Peter Everingham  continued their Group 3 rivalry but this time Fisk mastered the uncertain track conditions to head Group 3, despite his best efforts Everingham could not get past and again finished 3 tenths of a second behind. John Swift put in a determined effort to gain several places to win the Group 2. At the back of the field William Moorwood found the conditions suited his Group 1 GT4 and enjoyed a close race  with Richard Fenny. Another good race in slightly testing conditions, all part of the Spa experience.
The weekend was judged to have been a  big success with a good atmosphere in the paddock and some excellent racing on a truly great circuit. Many thanks to our invited guests for joining us and contributing so much to the enjoyment of the weekend. Thanks as well to our photographers.