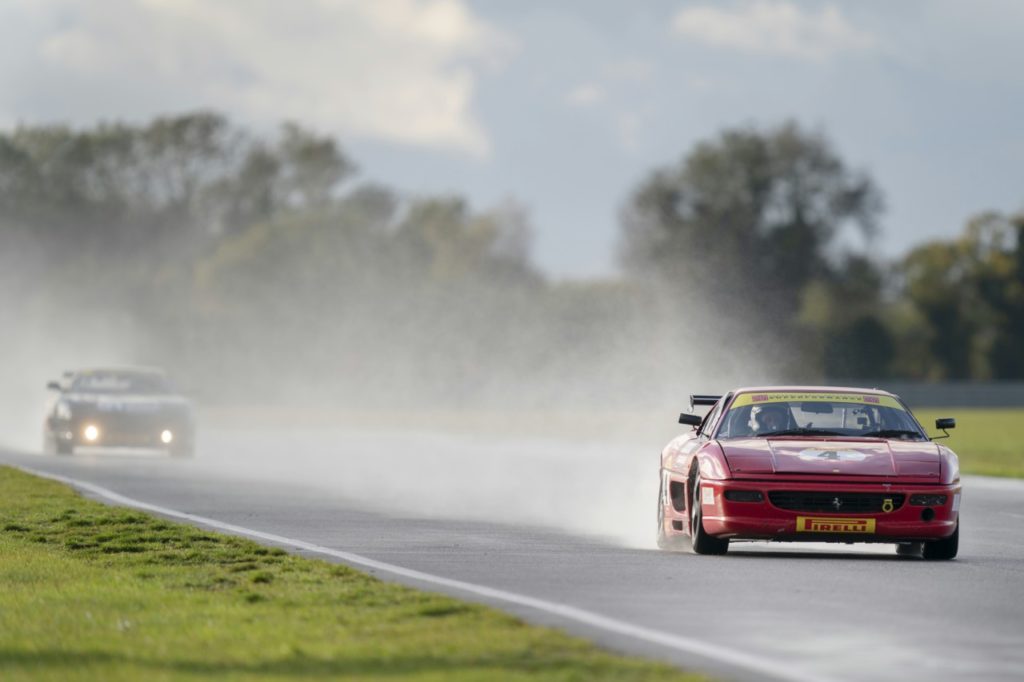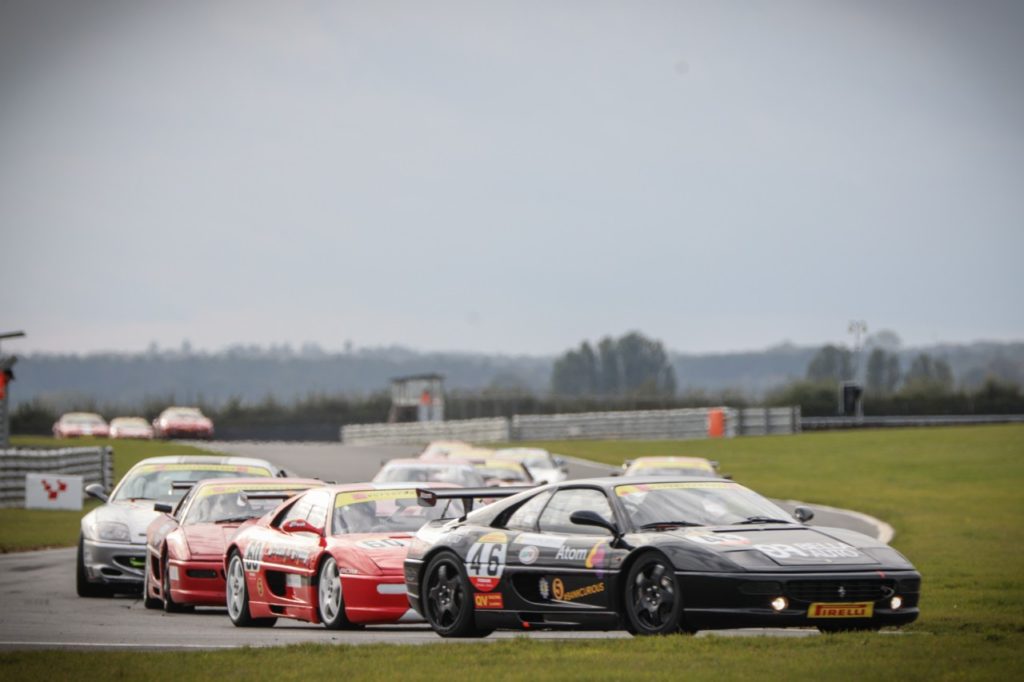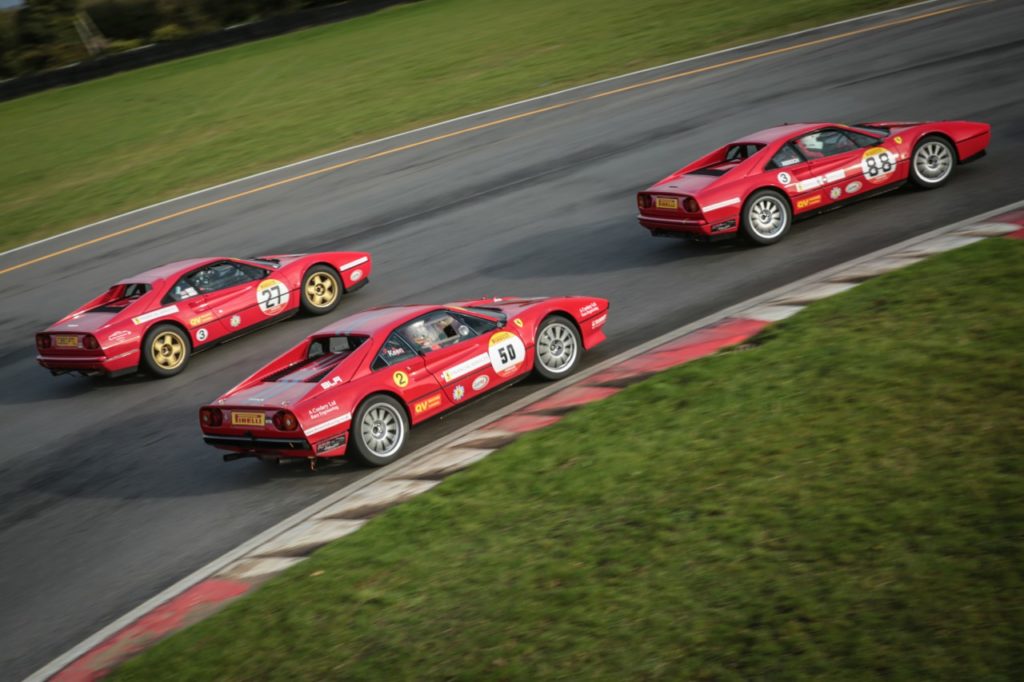 Principal guest reporter this time is Pete Fisk or, as he puts, it 'PFfc Snetterton 2020 from a Class 5 perspective'. Actually he has done a good job in noting an awful lot.
On Friday morning at Snetterton we were met by clear blue skies and the frantic bellow of brightly-coloured 488 Challenge cars kindly drying the track ready for the PFfc lads to get started with free practice. Tim walker had re-emerged with his "spare" or perhaps better termed "for sale" 355, determined not to miss out on the end of season finale possible as a respite from spending every waking hour on the damaged 355/Ch.
FNE's hospitality was up to its usual high standard with most of the competitors housed under the large and impressive marquee.  The grid was slightly light with several drivers missing in action but given the current circumstances understandable. There was an enthusiastic buzz around the cars as everyone prepared for the last weekend of term.
Slippery probably sums up morning practice, but conditions dried to enable some faster times as the session came to an end; Mills now looking quick in the middle of Group 5 with his times.  Qualifying was under dry and cloudy conditions and saw the Marrs/Simpson duo setting very quick times, Tris' new tyres were clearly working well.
Mogridge and Fisk were enjoying themselves, but off the front row pace by 2 or 3 seconds.  Walker seemed to be having brake issues and was leaving lengthy black stripes and smoke all over the place.  The results were that the grid for Race 1 was looking familiar with Marrs on pole, then Simpson, Mogridge, Fisk, Mills, Walker and Compton-Goddard.
Walker had a weight issue (well actually it wasn't just him it was his car as well) and Andy the scrutineer made him find a ballast box and add some weight after qualifying.  Further down the field Cartwright the younger was looking very quick in his standard Class 3 328 which is always off-putting.
RACE 1
Race 1 was actually held under pleasant conditions despite the forecast.  Walker, now with his brakes sorted seemed keen to get going.
Lights out and everyone got away cleanly, even Fisk managed an unusually decent start in the 550 Maranello getting back in touch with the leading 3 cars by the time they entered Riches.  The first lap was exciting with Marrs and Simpson neck and neck followed closely by Mogridge and Fisk.  Fisk tried two unusual passes on Mogridge, one on the outside at Agostini and another much more dramatic "go" on the outside at Brundle.  The latter attempt saw the two cars play the "I'm not braking first" game to the point where Fisk took to the grass only managing to rejoin just before Nelson.
The race played out in decent fashion with the leaders breaking away from the main pack by a margin.  Ten laps later the finish saw Marrs take the chequered flag with Simpson less than a second behind and Mogridge 3 seconds adrift in third.  Fisk held onto 4th, along the way setting a PFfc lap record (amazing! Ed) .  Walker had clearly got his car sorted and brought it home a respectable 5th followed by C-G.  Jim Cartwright achieved a new lap record and comfortably took Class 3, finishing ahead  of Nick who did the same in Class 4.  Mills, followed by the 328s of Everingham, Riddoch and Wharton made up the finishing order as far as Jago Keen in the 308 who earned his first and a well-deserved win in Class 2 against Fenny's GT4.  The predicted rain finally arrived just after the race finished.
RACE 2
Saturday was a different scenario for weather.  Damp, properly cold and with no 488s to prepare the track our drivers were faced with some tricky conditions for Race 2.  Marrs was again on pole followed by Simpson, Fisk, Mogridge, Mills and Walker with Compton-Goddard on row 4.  Setting the marker for the conditions on the green flag lap was the sight of the 550, so sideways out of Montreal that Mills had to take avoiding action.  This was going to get interesting!
As the lights went out Simpson took off faster than a sailor with a four-hour pass, but Mogridge had also made a good start rapidly followed by Marrs.  Fisk sat with the wheels of the 550 spinning as Cartwright junior sped past like a rocket.  Lap one saw the front three cars glued together pursued by Jim Cartwright in his 328 driving like a man possessed.  Running 5th was Fisk with Mills crawling all over the rear of the big 550, Walker and Compton-Goddard not that far behind.  It was close and by lap 4 Marrs was within half a second of Simpson with Mogridge just a fraction behind.
However, it all changed on lap 5 when Marrs pulled his gear change clean out, coasting into the pits waving the offending article like some medieval knight in battle – his race over.  The two leading cars of Simpson and Mogridge continued with nothing between them, Cartwright in 3rd was having a storming Class 3 drive while further back Mills and C-G had both passed Fisk.  At the flag it was Simpson, carrying ballast, less than a second ahead of Mogridge and a brilliant 3rd overall for Jim Cartwright.  Just outside the podium was Mills who, with every weekend, looks like he is beginning to pose a threat to the old order.  Further back, C-G and Fisk headed Evers and Riddoch followed by Cartwright senior who took a win in Class 4.  Keen won Class 2 finishing ahead of Wharton and Fenny.
RACE 3
After what seemed an eternity of sitting around in the cold and wet it was time for Race 3.  Having watched the 488 Challenge cars blast up Senna Straight with rooster tails of spray 20ft high our drivers quite rightly approached the line with some apprehension.  The grid had been determined by the previous race result so it was Simpson on pole, Mogridge, Cartwright junior, Mills, Compton-Goddard, Fisk with Evers and Riddoch making up row 4.  Marrs after his DNF started from the back of the grid.
Walker, eyeing the conditions decided that discretion was the better part of valour and put his car on a trailer; similarly Wharton had developed front end issue in race 2 and retired his 328. The track was very wet and this time it was Jim Cartwright's turn to spin exiting Montreal on the green flag lap, Mills once again taking avoiding action!
Two green flag laps were in order due to the poor conditions.  For the second time this season Fisk opted to start from the back of the grid, waving others by as they approached the start line.
No doubt the adrenalin was pumping when the red lights came on. Mogridge made a good start with Simpson not far behind.  Cartwright too made another great start and was close on the tails of the leading two cars.  Within a lap Simpson had closed on Mogridge and that was the way it stayed for several laps.  Meanwhile, Marrs was making great headway from the back row.  By lap 7 Marrs was up to 3rd and leader Mogridge was gapping Simpson in 2nd by some 14 seconds, a spin somewhere along the line delaying the Northerner.
Down the field others were clearly enjoying racing in the wet, the experienced and wily Evers posting fastest lap in Class 3 which must have concerned Cartwright junior bearing in mind the age gap!  Riddoch too came alive in the rain, passing a number of cars before suffering a clutch issue that put him off track briefly at Montreal losing him a couple of places.
As the chequered flag was waved it was a win for Mogridge by a 13 second margin to 2nd place man Simpson with Marrs completing the podium.
Jim Cartwright held on for 4th overall and a Class 3 win keeping just ahead of Evers.  6th and 7th went to C-G and Fisk respectively with Riddoch's 328 finishing an unfortunate 8th.  Keen took another Class 2 win ahead of Fenny.  Daddy Cartwright suffered a DNF after a spin on lap 8 from which he couldn't get going, and notably Mills had suffered a similar fate on lap one by leaving the track at considerable speed at Hamilton.
Yet another brilliant weekend of close competition and paddock laughs set against the fantastic backdrop of Ferrari North Europe's 488 Challenge series brings the 2020 season to a close.  With all the trials that this year has brought it is with considerable thanks to the wonderful team at the FOC that we managed to squeeze a full season into a few months.  Sadly no party this year, but we shall all be making up for it in 2021……..with any luck!
A selection of pictures by Chris Leach is posted on our Flick page.