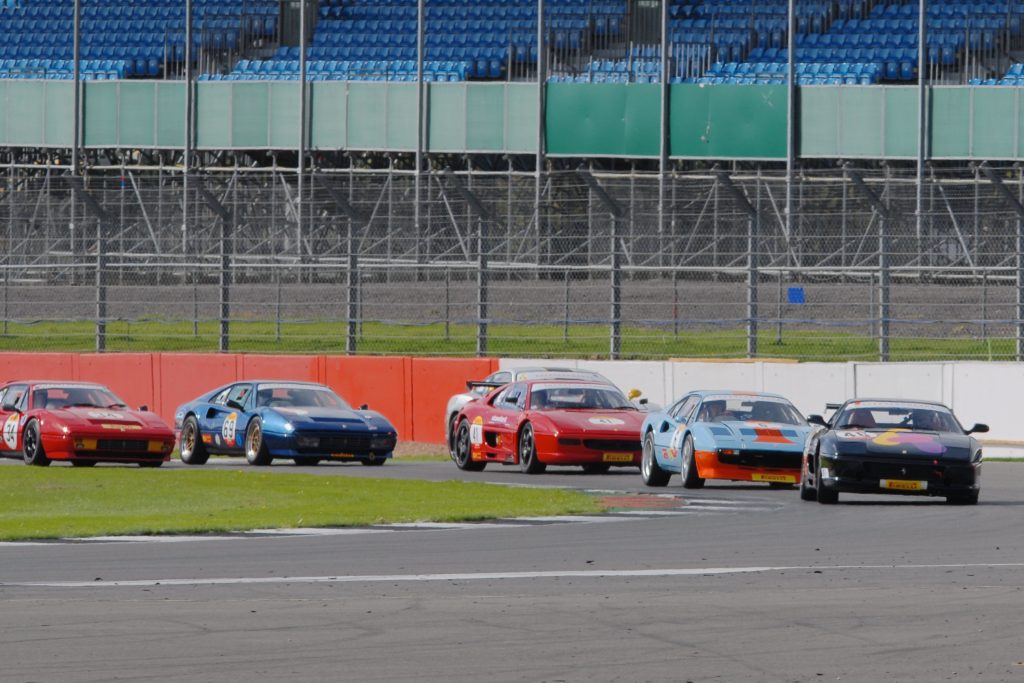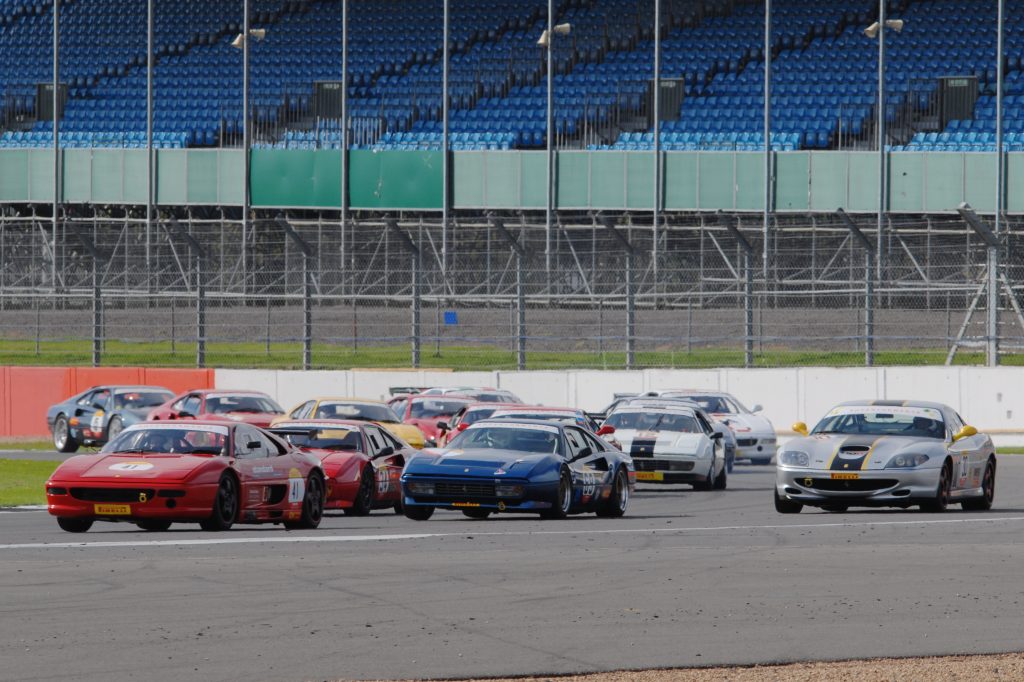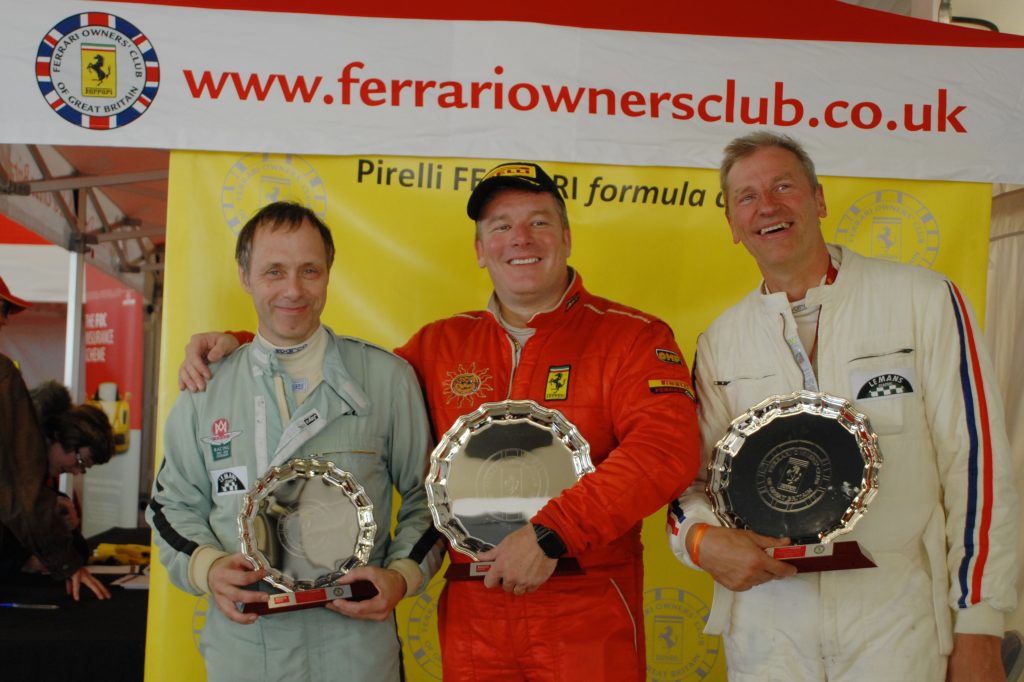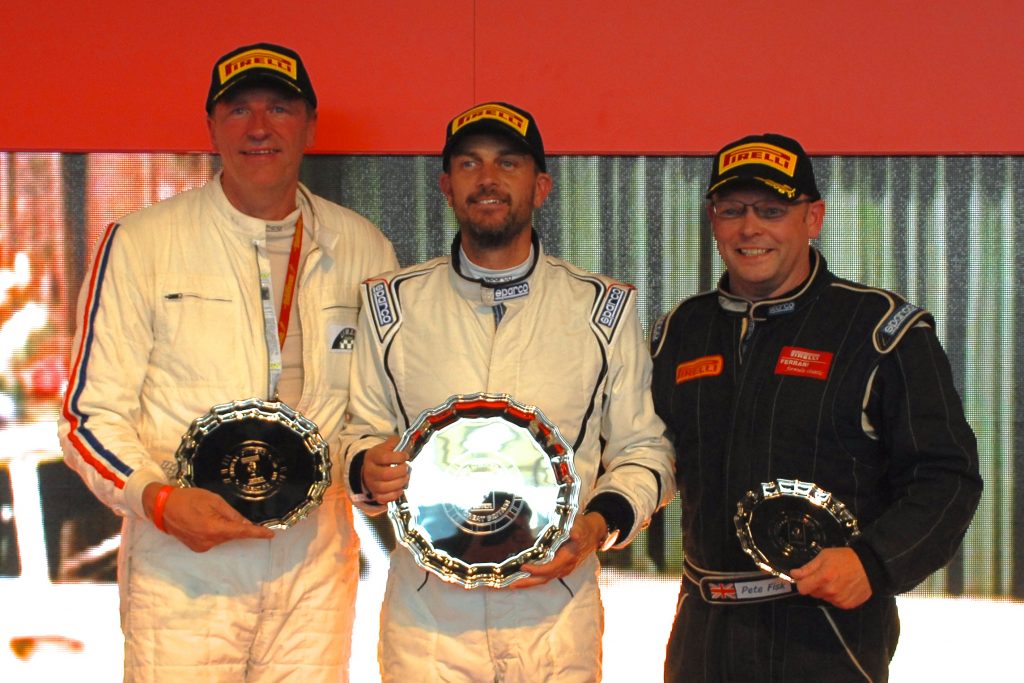 We have all enjoyed some outstanding events this year, but the icing on the cake was always going to be the season finale at Passione Ferrari Silverstone. We hoped for a big grid and got it. We hoped for good weather and got it. We hoped for good, close and safe racing with nicely presented cars, and got it. With so many Club members present, not to mention more Ferrari North Europe and Ferrari Italy dignitaries than have ever witnessed our racing series, this was an important week-end.
Twenty-five drivers in twenty-four cars (Vance Kearney and Lee Moulden sharing) took to the 3.66 mile track for the single qualifying session. Amongst these were old friends Len Watson in his 308 GTB and Andy Christopher. Andy's racing 308 GTB was not quite ready in time so he took the chance to race Ben Cartwright's 328 that has been raced in recent times by Paul Daniels in Group 3. Chris Compton-Goddard was racing his 355 Challenge car for the first time, his 308 not being quite ready for the meeting.
With high speed corners and two decent straights maybe this was a 355 or even a 550 track. Indeed it was the 355 of Tris Simpson that took pole position, but Dave Tomlin's 308 GTB was close behind. Lee Moulden (race 2 only) and Gary Culver (328) were next up. The Peter Fisk 550 was 7th. Chris Butler headed the competitive Group 3 class.
Race 1
Tris Simpson made an excellent start and led Tomlin into the first corner with Mogridge, Culver, Jim Cartwright and Fisk all chasing. In group 3 Everingham had a storming start leading his class and settling into 8th overall.
By the end of lap 1 however, with Tris in front from Tomlin, it was Peter Fisk in 3rd, the 550 clearly enjoying the big track. Having made a small mistake Jim Cartwright had dropped back to 7th. These positions remained pretty static for a few laps with Tris stretching his lead to some 5 seconds as others diced. Peter Fisk actually got the 550 into P2 ahead of Tomlin on lap 5 but thereafter his tyres were crying enough and he was also experiencing some fuel surge. By the end of the race he had dropped to 6th overall but it was a commendable effort and a measure of how far the car has come in one season.
In Group 3 Peter Everingham's lead was lost to Chris Butler on lap 3 after he found a patch of oil on the exit of Village corner. After a spectacular save Peter lost momentum and dropped from 8th overall, 1st in class, to 12th overall 2nd in class.
At 8 laps the race was fairly short but that was long enough to settle things. With no big screens and barely audible commentary it was hard to engage the spectators fully on such a long track, but most seemed to really enjoy seeing the older cars out racing. Tris Simpson took the easy win from Dave Tomlin (Group 2 winner) with Tim Mogridge taking the final podium position. Chris Butler took Group 3 with Gary Culver taking Group 4 and 4th overall.
Race 2
Another excellent start ensured the lead for pole-man Tris Simpson into the first corner from Mogridge, Culver, Moulden (making two places from the start), Cook and Tomlin. Evers again lead group 3.
A dream double victory was however not to be for Tris as his 355 dropped a cylinder and was retired on lap 4. Gary Culver had been in second position but after Simpson retired he lost this place to Dave Tomlin on lap 5 as Lee Moulden came through to lead the race. He was then further demoted by Peter Fisk on lap 6 and finished just off the podium in 4th place.
In Group 3 Peter Everingham led initially from Andy Christopher who was making an excellent job of getting used to a strange car. By lap 6 though Chris Butler had made his way through to lead the class. On the next lap Tim Walker got past Christopher so the class ended Butler, Everingham, Walker, Christopher.
Overall the race finished in the order Moulden, Tomlin, Fisk and Culver, or to look at it another way 355, 308, 550 & 328. Had we been offered that mix of tipos when agreeing the regulations for 2016 we would have taken it with pleasure. Fastest laps of the meeting were Tris Simpson in qualy – 2.28.526 and Dave Tomlin – 2.28.938 in race 2. Fastest Group 3 lap was Chris Butler on a 2.33.672 in race 2. The RnR driver of the meeting was Jim Cartwright following his great drive from the pit lane (a technical issue related to fuel – I will say no more!) to finish 7th overall in race 2.
So everyone packs up for another year. A quite remarkable year of club racing in so many ways with several true highlights. Judging by the smiling faces at Silverstone our formula classic series has a strong future. The need for special events where the marque Ferrari is celebrated, rather than being just another 10 lapper on a mixed card, is fully appreciated by those running the series. Finding the right dates and venues is a real challenge, but particularly with the end of season dinner being held at the Italian Embassy in London I do get the feeling that Gary Culver and his team are up to the task.
Apologies to the many who have not been mentioned. I know that you will all have your stories of daring do but there is only so much space and time available. Do check out our video section which is building into an excellent way to spend some time. Many thanks from William, Christian and myself to those who have contributed these videos and of course to Simon Cooke and others for the excellent photos. See you next year.