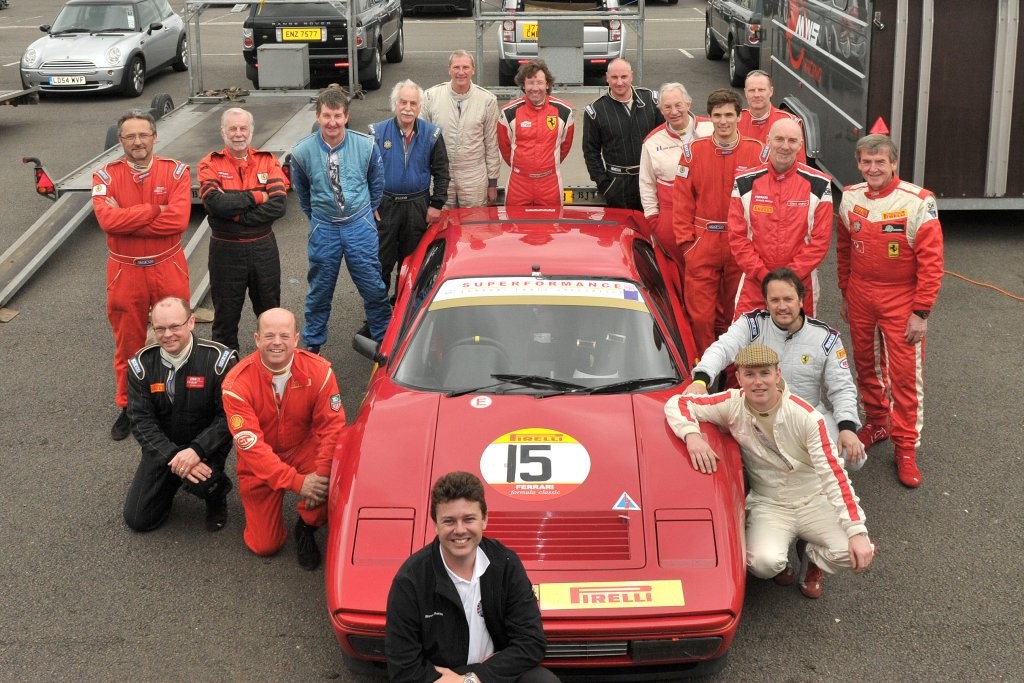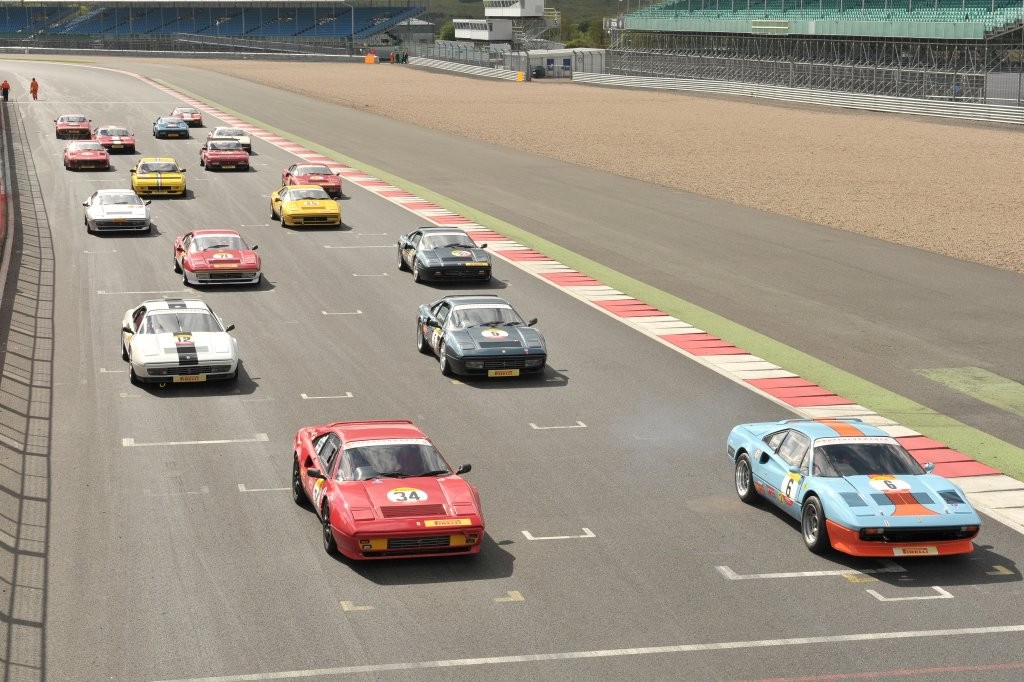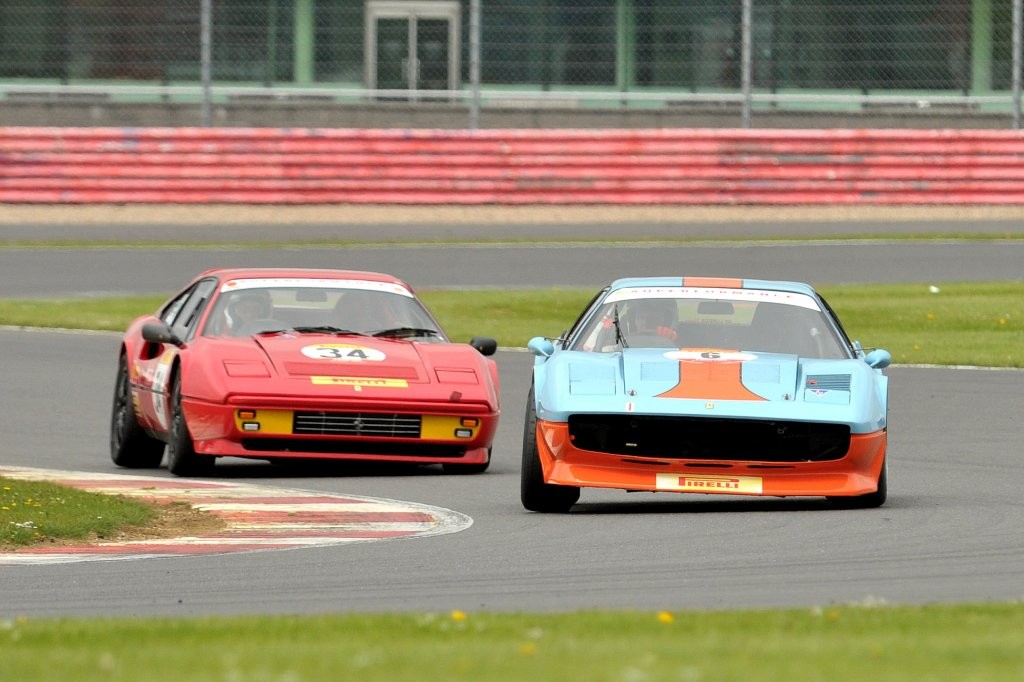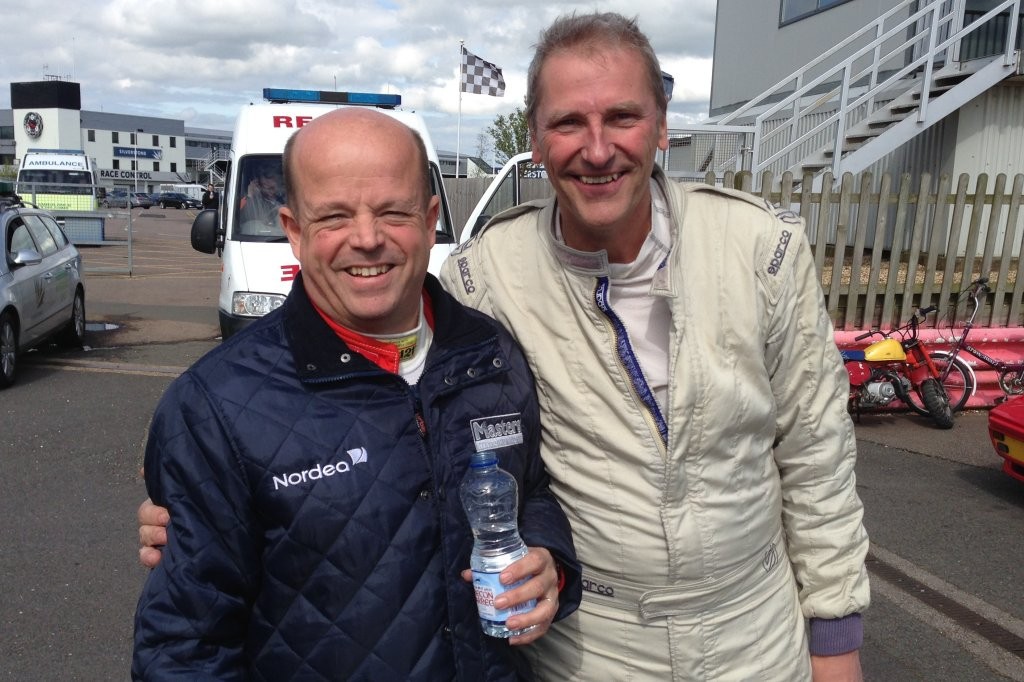 It seemed like a long time coming, but at last the Pirelli Ferrari formula classic season got under way at Silverstone, with the Classic Sports Car Club on the National circuit. A respectable 17 cars lined up for the qualification session, which would count for both races 1 and 2. A driver's fastest lap would count for race 1, with his second fastest lap counting for race 2. Miles Poulton managed to find the gravel in his 328 GTS, which both compromised his grid position and brought out yellow flags for a good deal of the session.
On pole though for Saturday at least was the familiar sight of David Tomlin in his Gulf Oil liveried Grp2 308 GTB, followed by the Grp4 328 of Gary Culver. Chris Butler in the ex-NPB 328 was next up followed by Peter Everingham and Peter Fisk (both Grp3 328 GTB).
Race 1 on Saturday afternoon was a pretty exciting affair. After managing the first few corners side by side it was David Tomlin who got the advantage on lap one from Gary Culver. Coming into Brooklands on the first lap Peter Everingham spun under braking causing Peter Fisk to do likewise in sympathy. This left half the field in avoidance mode, which thankfully they all managed to do. Both cars re-joined and began admirable comebacks.
Also progressing was Richard Moseley in the ex-Jenkins yellow 328. Richard had literally sat in the car for the very first time in qualifying, but was now starting to get to grips with it. A little further back in the field our Mondial pair of Didier Benaroya and Ray Ferguson were together coming into Brooklands on lap 2. Ferguson then spun on the exit but once again thankfully everyone managed to avoid contact. Ray did rejoin but subsequently retired with a mis-fire. Group 3 had of course been disrupted by the spinning events of lap 1. Leading this group now was Tim Walker with Darren Wilson keeping him more than honest.
Up at the front, despite a misfire that set in late on, the Tomlin 308 always seemed to have something in hand over the Culver 328, and it was indeed a Tomlin win from pole. Third however was in the balance right to the line. Moseley's 328 had chased down and passed the similar car of Butler on lap 11. Chris is a fighter though and was not going to give up the place easily. In fact he regained the place on lap 16. However coming into Brooklands on the very last lap the pair encountered back markers. Exiting Luffield for the very last time they passed either side of would you believe Richard's father Peter, racing the family 308. On the run to the line it was Richard Moseley who snatched 3rd place by a tenth of a second.
Winning group 3 by under half a second was Tim Walker from Darren Wilson. Next up were the early spinners Everingham and Fisk.
As usual there were lots of smiles and back patting after the race, something our co-ordinator Steve Burns commented on as being a very nice change from his experiences with BTCC and other professional classes. Tomorrow it all happens again.
Sunday – Race 2
It was clear that barring incident the race for Grp 3 (un-modified over 3 litre) honours was going to be close. The overall win however would once again be between Tomlin and Culver.
For race 2 it was Gary Culver on pole and indeed he did lead the race for a few laps. However once passed he never looked like having an answer to the blue and orange 308 GTB of Tomlin. It was good though to see the two cars driven with such skill and commitment. Richard Fenny was a non-starter due to mechanical gremlins.
We were also unfortunately robbed of the anticipated repeat contest between Richard Moseley and Chris Butler, as the yellow Moseley 328 suffered a clutch problem on the formation lap and was a non-starter. So in third place, but a very considerable distance back from the front two by race end, was Chris Butler (Grp 4 328). He was never threatened for the last podium place, but the leading Grp3 cars were not far behind at all.
The best racing was in the Grp 3 328 battle of Everingham, Walker, Wilson and Fisk. This was the order at the flag, but on every lap it seemed that they swapped positions for the entire race. It was good to watch, completely clean, and it must have been a thrill to be a part of.
Congratulations must go to the new race management team for an excellent start to the year. Do have a look around our new racing website for paddock news, lots of photos and videos etc.
(All pictures courtesy of Peter Gardener who has many high-res ones available for purchase via his website)