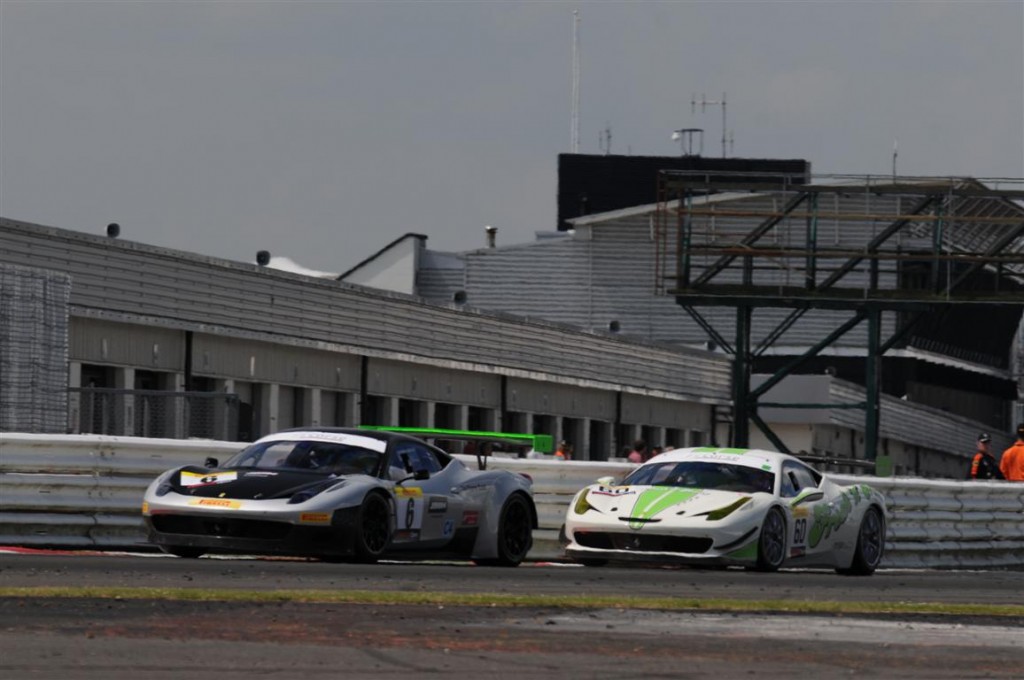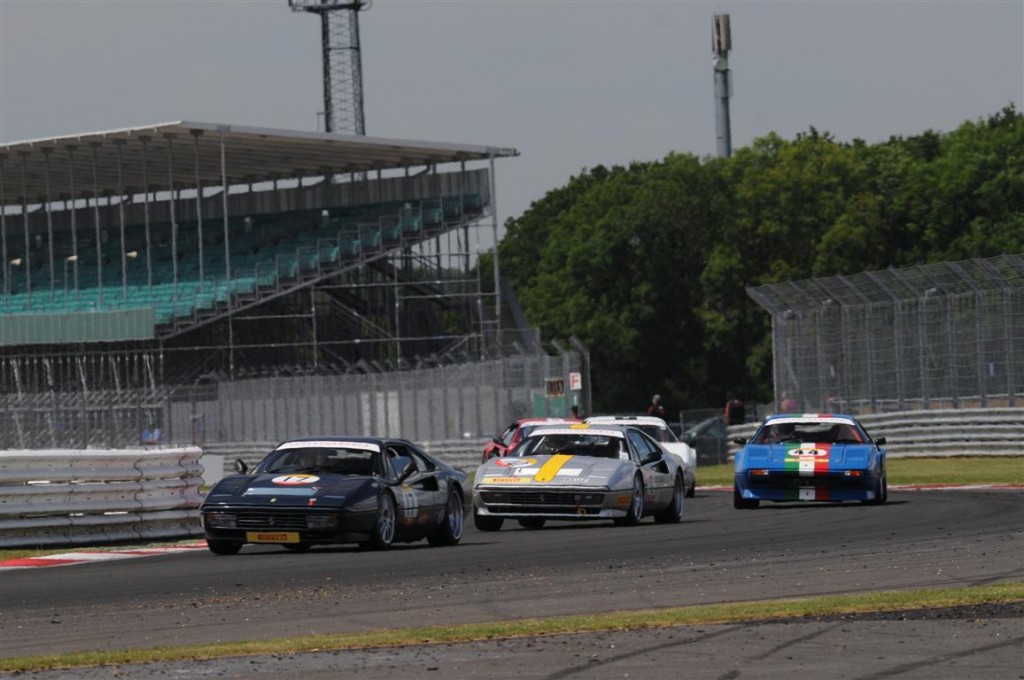 Once again our PFO and PFfc grids were combined for the fabulous MG90 meeting on the Silverstone GP circuit. In the UK at least this has to be our jewel in the crown. The MG Car Club team under Competitions Secretary Steve Carr make us very welcome and the event is attended by many thousands of enthusiasts.
The entry for the Open class was poor and just five cars turned up. The 458 GT3 of Arwyn Williams was quickest in qualifying for both races and his time of 2:08secs was 20 seconds quicker than the best of the formula classics and the big gaps would probably look a bit silly in the race.
In the classics class Gary Culver was on pole from Jim Cartwright and Nicky Paul – Barron, all in 328 GTBs. Tim Walker was next up and first of the Group 3 runners.
Race 1
Race one on Saturday afternoon was dry and hot. The rolling start went fine and it was clear that the Open cars would just streak away from the rest. But it was quite close at the front between Williams' GT3 and the somewhat less developed 458/Ch of Marcus Hogarth. They drove hard and finished just two seconds apart, and a long way ahead of third place Wayne Marrs (458/Ch).
In the classics class the battling monkies that are Gary and Jim would be at it again. These chaps dice hard and they certainly entertain, swapping positions several times. At a respectful distance was N. P-B waiting for any scraps that may fall from the table. Fall they did on lap 5 with Jim overcooking things and spinning. He rejoined some 5 secs behind Nicky's 328. Gary was thereafter untroubled. Jim did get through to 2nd again momentarily with a lap or so to go, but Nicky got him back and held on to the flag.
Race 2
Grid positions for race 2 were set by the 2nd fastest time set in qualifying. This again had William in pole but this time Wayne Marrs joined him on the front row. The quickest classics were once more some 20 seconds behind….
At the start Williams moved into his customary lead and pulled out a big lead over Marrs who, in turn, had a very lonely race ahead of Bernard (father of Marcus) Hogarth and that's the way the Open boys finished their day's work.
In the classics the battle at the front between Gary and Jim was again fast and furious with several changes in the lead. On this occasion it was interrupted not by a spin but by a rare wishbone failure on Jim's car. N.P-B got through the group 3 runners into 3rd place, which then became 2nd with Jim's retirement. Gary incurred a 5 second penalty for exceeding track limits but it was not enough to affect the final result.
Gary's fastest lap of 2.28.715 was some 4 seconds under last year's fastest lap. This is the biggest difference we have seen so far with the new Kuhmo tyres allowed for this season. The lap times at Spa could be very interesting.