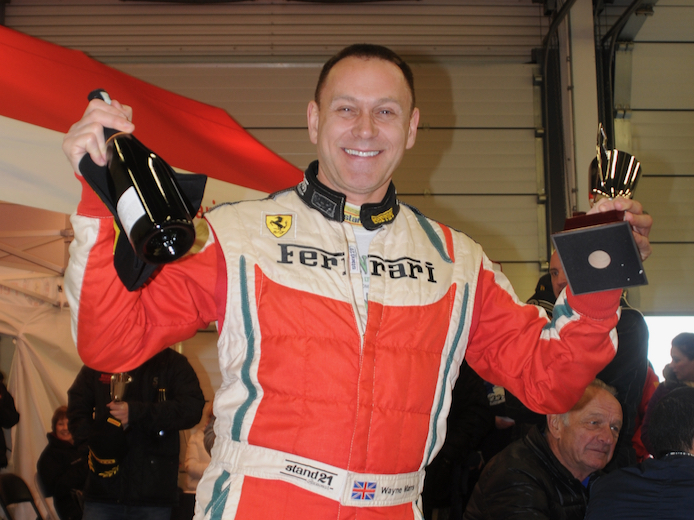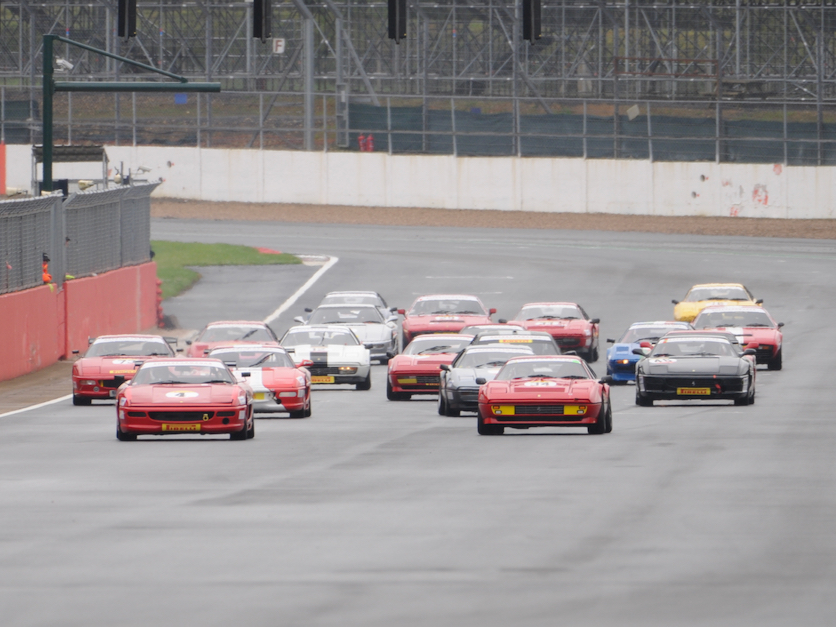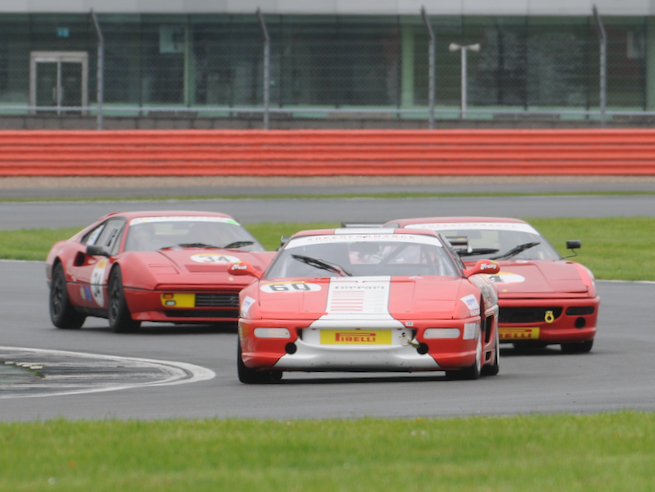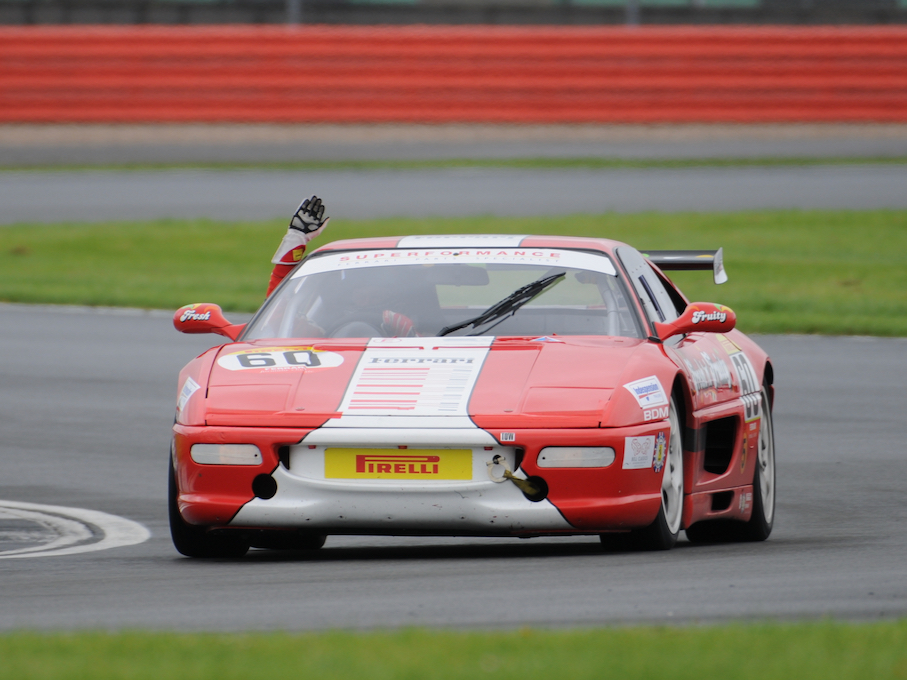 After some 32 years of Ferrari club racing, and some 15 years of our Pirelli formula classic series it was great to be back yet again. The long winter of anticipation was over, spring is here, summer is coming etc. Shame nobody told the Silverstone weather gods. Blimey it was COLD. And wet. Don't the Gods realise that Ferraris are sunshine good time cars?
Being part of a great official Ferrari event like Passione is a treat, but of course it does mean that we were a side show rather than the main feature, a status we are more used to. Planning the season is partly balancing a mixture of events throughout the year that will keep our racers challenged and entertained. Thankfully it is a balance that by and large our team of organisers get right.
Of the 22 cars originally entered we lost one in mid-week testing (technical) and Peter Fisk's 550 in Friday free practice (an off). This crowd favourite will be greatly missed until its return. I know we all wish Peter the best of luck with its repair.
At this point let's say hello to Colin Sowter and Carl Cavers.  Both are new to the series. Colin is best known as the boss of Ferrari Parts emporium Superformance. He has a lovely collection of cars and has been threatening to race with us for some time. Colin entered his 348 GTB. We need to insert a quick fanfare here – it's about ruddy time somebody raced a 348. It's an excellent choice in the "bang for the buck" department and one that should be repeated by others.
Carl Cavers has taken the interesting decision to race prepare a road 355 GTB, in other words not a Challenge. We have been promoting this idea for some time. With genuine Challenge cars having such an "invester" tag, and being so close in specification to the road car, it has to be a good choice. With guidance from Walkersport and Migliore Cars, Carl has presented a lovely car that would grace any man-cave, let alone a race grid.
It was also good to welcome back Pauline Goodwin, after some time away, plus Tim Walker (previous Grp 3 winner) and Nick Taylor in his Mondial. Interestingly, Tim Walker has taken the same route as Carl Cavers in taking a road 355 and preparing it for racing, although Tim's is closer to a race car specification than Carl's. Both cars featured beautiful Fabspeed exhausts which are works of art.
Qualifying
So 20 cars then in qualifying. 9.45am, around 6 deg and wet – oh joy. Top of the time sheets was Tim Mogridge (355) from Gary Culver (328) and Wayne Mars (355). The track was slowly drying and Tim's pole lap was on his final lap. Marrs may have taken pole but spun on his last lap. Also impressing in difficult conditions were Chris Butler in 5thoverall and 1st in class (Grp3 328) and Colin Sowter in his 348 (6thoverall) – who said 348s were difficult to handle? Even more impressive is that I don't think Colin had driven the car before Friday free practice.
There were more than the usual early season gremlins both in qualifying and the race. Gear selection issues (Richard Moseley & Carl Burgar), steering issues (Chris Compton-Goddard), injection electronics (Tris Simpson), fuel pump (Len Watson). Let's hope all get sorted for Oulton Park.
Race
Our single race was timed at 9.30 on Sunday morning. It wasn't raining but the track was damp/wet and very greasy. At the start both Tris Simpson and Wayne Marrs on row 2 failed to see the lights. This promoted an excellent starting Chris Butler to P3 as they entered the first corner. However by the end of lap 1 the order was Marrs, Culver and Mogridge followed by Chris Butler, Nick Cartwright (328) and Tim Walker.
It was clear that the front three had a pace advantage over the rest of the field on the day, and they had the most enthralling battle for the entire race. Gary Culver had managed to squeek into P2 at first but was then taken by Mogridge. These positions were to swap occasionally, sometimes just for a few seconds. It was clean and it was fun – just what racing is supposed to be.
Holding onto P4 was Chris Butler with another excellent drive. Tris Simpson was closing slowly, but hampered by an off-song car P5 was all that could be achieved on the day. Colin Sowter retired with an electrical issue but we hope to see this combo again soon. Silverstone GP is a long track and tricky conditions always spread a field, so it was a largely strung out affair apart from at the sharp end.
The final result was in doubt right to the chequered flag with Marrs coming home first just 0.533 of a second from Mogridge and 0.871 seconds from Culver. To keep praising Gary Culver and his 328 might get a bit boring – so apologies, but this combination, particularly in difficult conditions, continues to impress and amaze us mere mortals.
Group 2 was won by Chris Compton-Goddard (308 GTB) and Group 1 by William Moorwood (308 GT4). One of many notable drives was that of Richard Moseley who went from back of the grid to finish to 10th. Awards were presented by Sam Osborne from Ferrari North Europe and we thank FNE for their hospitality.
Next up is Oulton Park with the VSCC. Expect lots of lovely vintage cars to look at and some strong racing from our lot. It is rumoured that Nigel Jenkins will return so this could be even closer than Silverstone. Pray for some decent weather please.