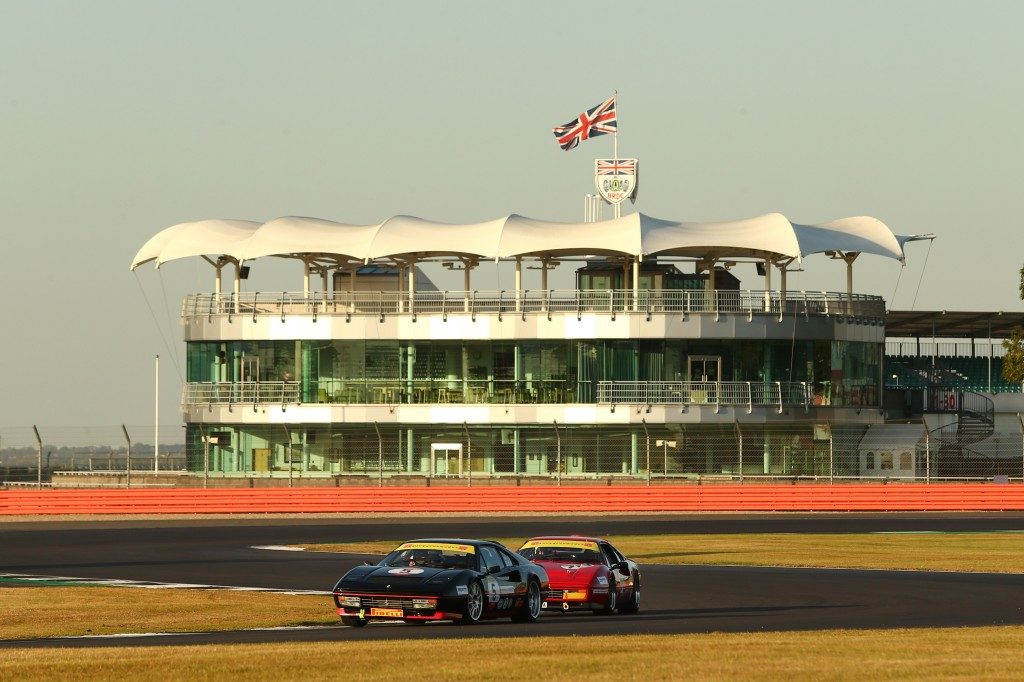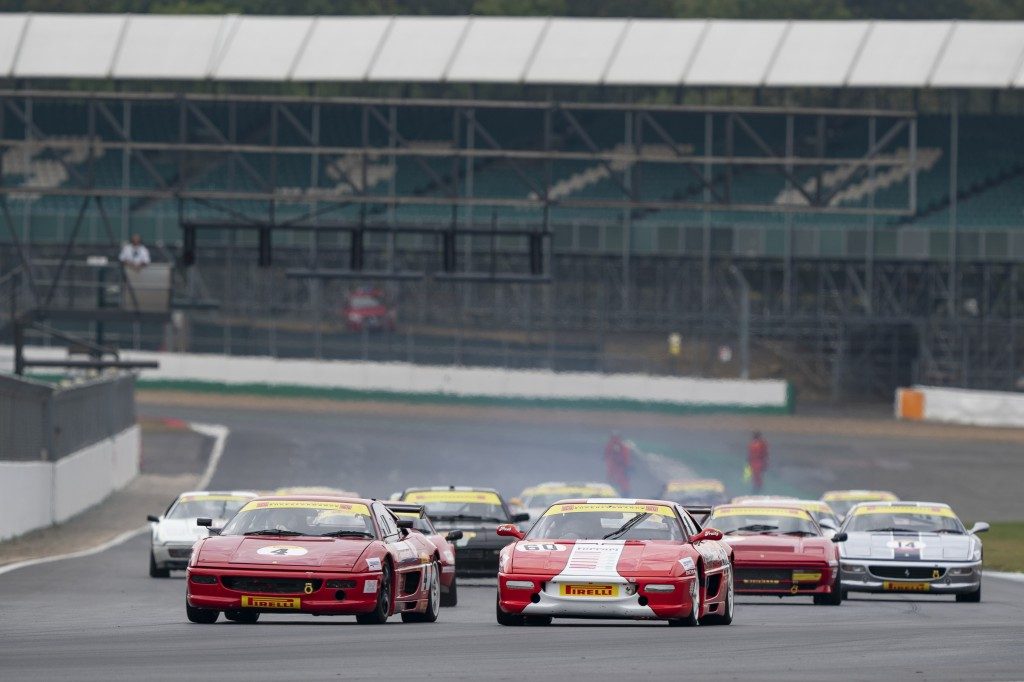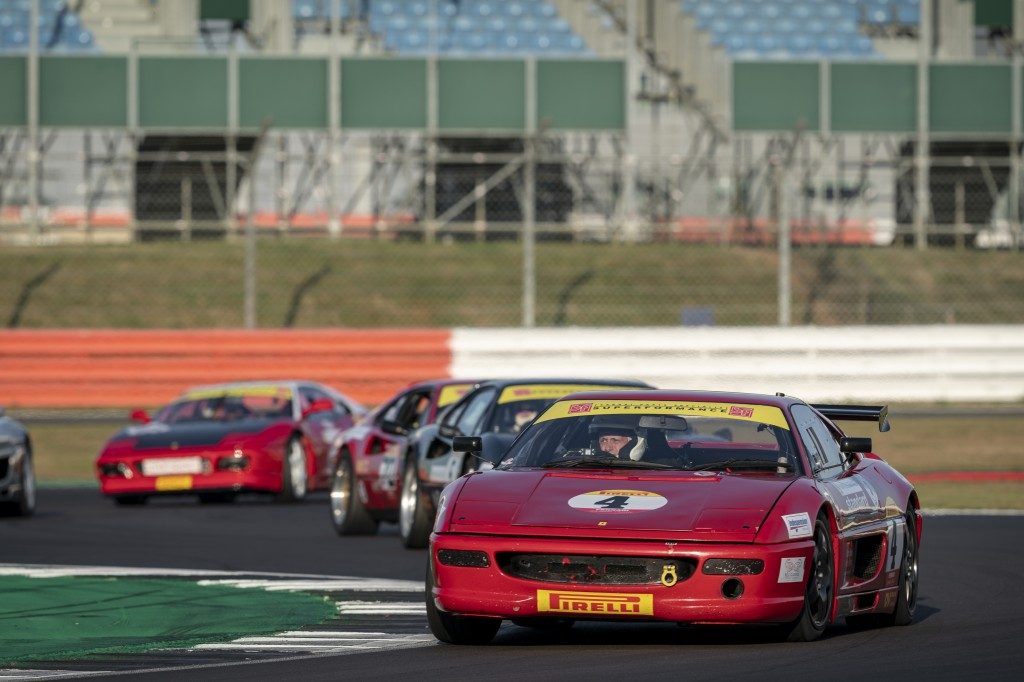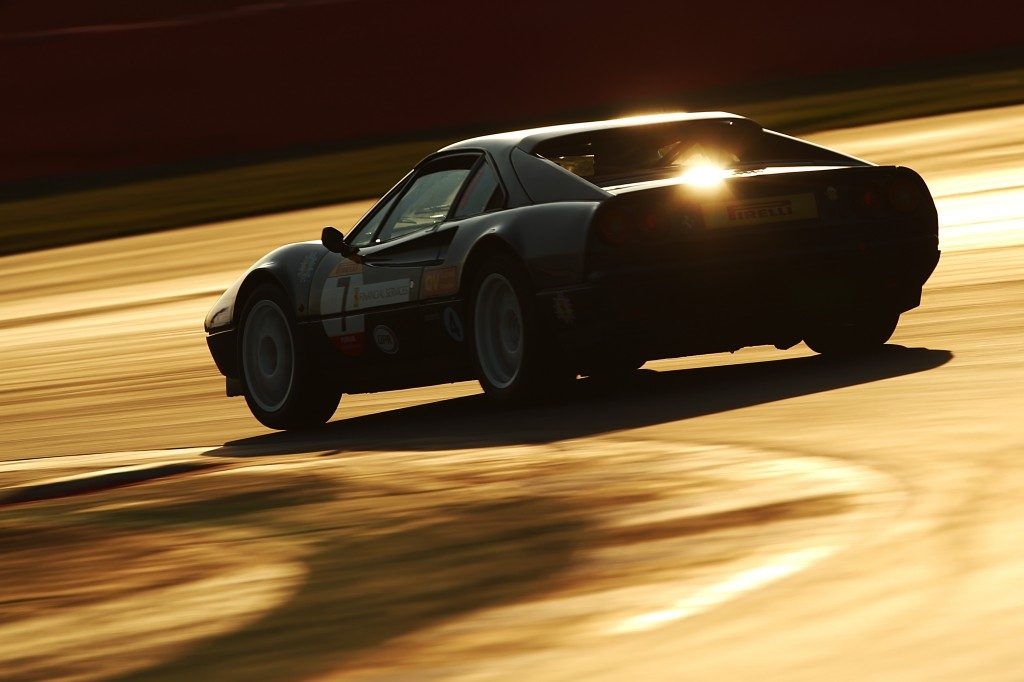 The season finale with three races on the Silverstone GP Circuit attracted 21 entries, second only to the 24 at Festival Italia. The ability of the Club to arrange races on the GP circuit is limited as the costs of attending a club racing event are prohibitive and our best chance of getting onto the GP circuit at an affordable price is with Ferrari. The downside of this is that the race timings are less than wonderful. The big pit garages with all the classic cars was a great sight and welcomed by the many spectators who were free to wander at will amongst the cars.
Qualifying took place on a dry track and Wayne Marrs put his 355/Ch on pole with a very quick time which he was unable to match in the subsequent races. As ever Tim Mogridge and Tris Simpson were very closely matched in their similar cars. As all season Chris Butler (328 GTB) and Colin Sowter (348/Ch) were quickest in Groups 3 and 4 but it looked like they would be faced with a new challenge with Jim Cartwright making a welcome return in a group 3 328 GTB and Richard Dougal making his first appearance in a Group 4 328 GTB. Further back Nick Taylor made his first appearance of the season in his distinctive black Mondial T. Qualifying only 12th, Pete Fisk  (550 Maranello) struggled with a new clutch which failed after 4 laps.
Race 1
For once Wayne Marrs made a decent start and lead the race ahead of Simpson and Mogridge. Butler made his usual good start but now had something new to contend with as Jim Cartwright was well and truly in his rear view mirror.
This is how he describes his races – 'Jim is a great driver and there was just nothing between us out on track with our standard cars matched for speed and handling. Even the unfortunate smoke from my tired seals dripping on to the exhaust didn't put him off and he persistently filled my mirror and tried to dive down the inside of me repeatedly. Mixing it with Jim, swapping places and basically being absolutely on (and over!) the limit for 20 minutes was one of the highlights of the season for me and it was a shame that in the final damp race that my tyres were spent and I just ran out of steam …but not smoke! I hope Jim can join in a bit more next season and we can pick back up where we left off.'
Further back Richard Dougal was going well and having a close race with Nick Cartwright in his similar 328 GTB and Nick Taylor's Mondial T. He was nervous at the start as, despite being an experienced racer, he had never done a standing start before. Chris Goddard was experiencing problems and not achieving times to match qualifying and was headed by Darren Mills and Rob Pulleyn in their 328 GTB's.
As ever this season it was the 355's finishing as the top 3 and Chris Butler was just able to hold off Jim Cartwright by 0.6 of a second. The closest finishes were at the back as the 308 GT4's of Richard Fenny and Nick Whittaker were only 0.2 of a second apart and Len Watson (308 GTB) held off the 308 GT4 of William Moorwood by 0.3 of a second.
Race 2
The good news for the start of race 2 was that Pete Fisk was back on the grid following a dash back to his workshop for a replacement clutch. For once this season it would be a little different at the front as at the end of the green flag lap Tris Simpson pulled into the pits with an oil pressure problem leaving Marrs on his own on the front row to take the lead from the start.
The lead only lasted for two laps when his radiator failed, dumping coolant onto the track at Brooklands and causing a number of problems, fortunately nothing serious, to the cars behind him. Mogridge now had a clear lead and eventually had Pete Fisk in second place after he took a few laps to get past the Butler/Cartwright duel.
Richard Dougal was getting quicker as his familiarity with the car improved and had a close battle for Group 4 honours with Nick Cartwright. Lap 5 saw the first mechanical retirements of the weekend as Len Watson pulled off with electrical issues followed on lap 6 by Chris Goddard retiring his 308 GTB as it was smoking heavily and Colin Sowter's clutch failed on his 348 Challenge.
Richard Fenny was suffering oil pressure issues and was passed by Nick Whitaker who now became the winner of Group 2. The podium had a different look with Mogridge, Fisk and Jim Cartwright taking the top three places.
Race 3
The grid for the final race of the season was determined by finishing position of the previous race. There would be three very quick cars at the back as Wayne Marrs had 'borrowed' a radiator from Tim Walker, Tris Simpson had solved his oil pressure problems and Colin Sowter had a new clutch put in his 348/Ch.
Through much of the day there had been heavy rain and although the rain had stopped the track was clearly damp so everyone was going to be in for an exciting start. In fact the start was electric at the back of the field as everyone did well to get round the first corner, Abbey, without any contact as the quick cars at the back of the grid overran the slower cars ahead of them all at this pinch point.
Mogridge was able to take the lead as Fisk had a very tricky car to drive in the damp conditions with Jim Cartwright and Chris Butler for a long time holding onto second and third places.  Further back Carl Cavers managed to go a long way off the track coming out of Becketts in his 355 Berlinetta but thankfully did not make contact with anything and was able to re-join the race at the back.
After a hesitant start the 328 GTB of Peter Everingham was now going better in the conditions, getting ahead of Richard Dougal and chasing Nick Cartwright. Colin Sowter having started well was having brake issues and decided to retire his car.
With Chris Goddard not starting the Group 2 prize went to Nick Whittaker although he was tracked all the way by William Moorwood in his Group 1 car. Yet again the podium was much the same but with Tim Mogridge in top spot as, although Simpson and Marrs got through the field to take second and third places, they could not get close enough to challenge him.
The final podium of the year was a great sight with all the cars parked up under it at the start of the pit lane in the setting sun. A great way to finish a successful season.