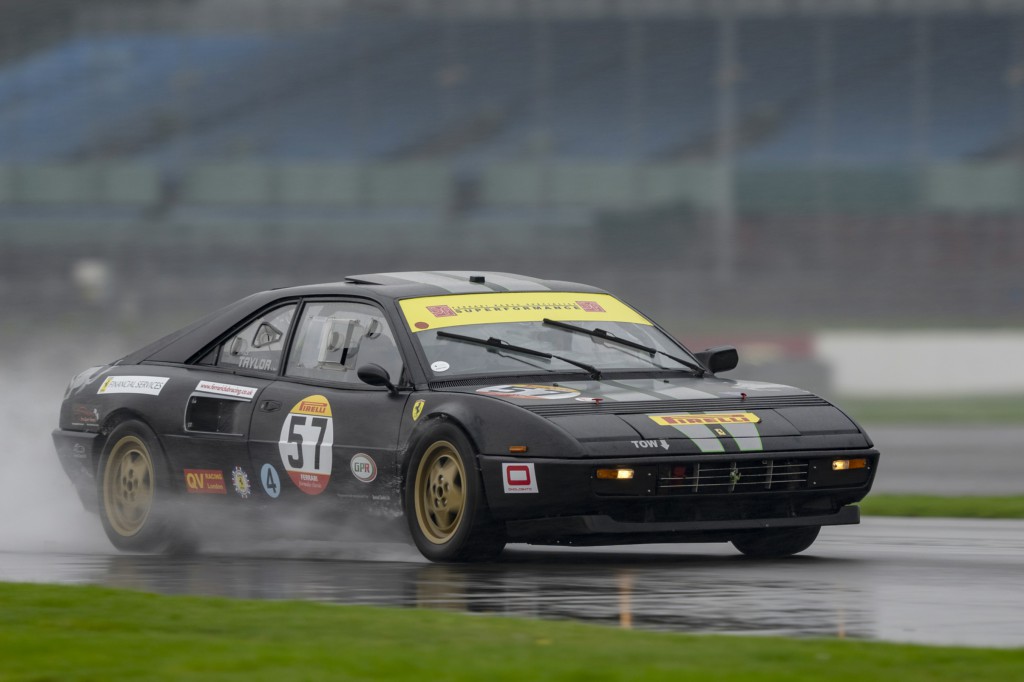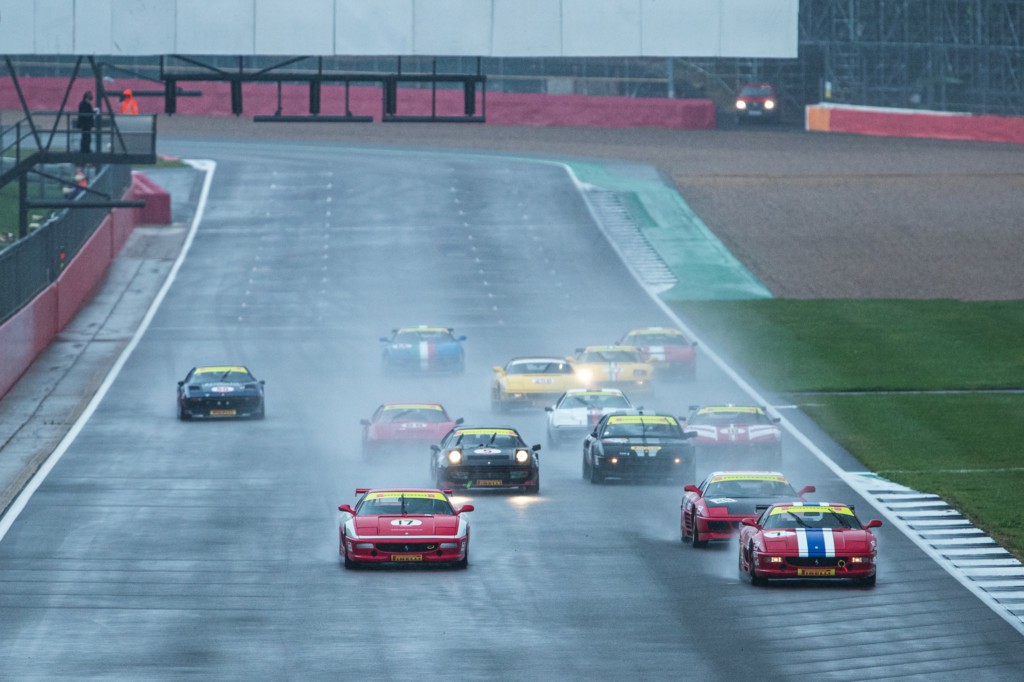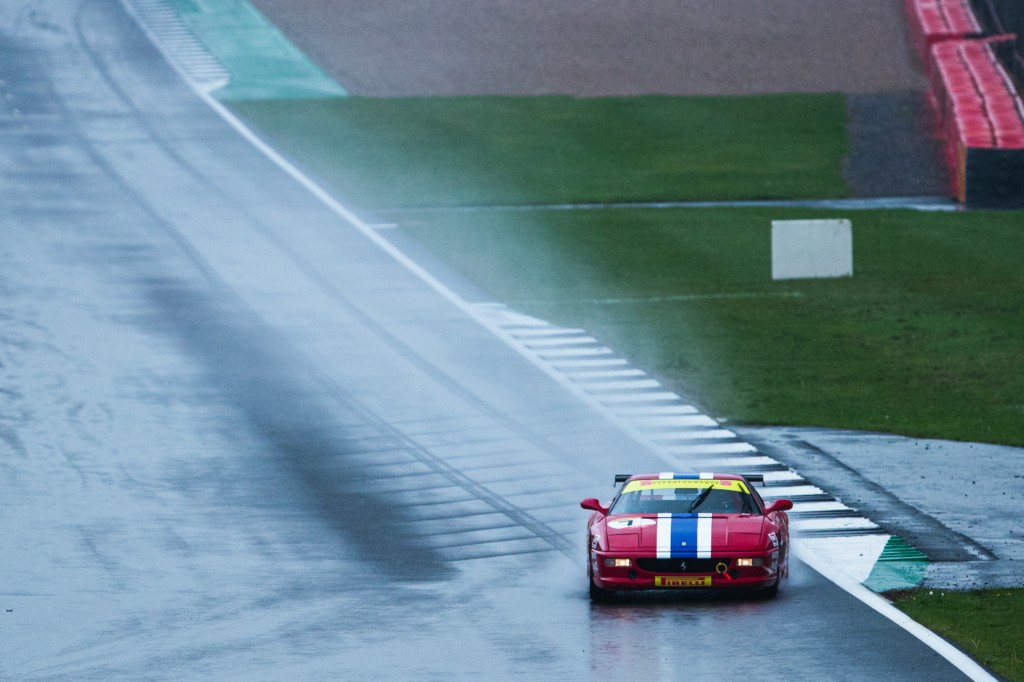 Back as part of the FNE UK 488 Challenge Programme, the Silverstone weekend is a Ferrari Racing Days event including a number of Corsa Clienti FXX cars and on this occasion three F1 cars, all given time on the weekend programme. The PFfc topped and tailed both days, first out and last out with lots of down time…
Free Practice: 0900hrs – Dry.
The initial entry of 16 cars dropped to 15 as Pete Fisk's 328 refused to run cleanly and Chris Compton Goddard was away on the Saturday at the Goodwood Revival, as were a number of other competitors. But adding to our numbers was the redoubtable Robin Biesbroek, having driven his 348 from Holland ready for the fray. So just 14 cars went out for Free Practice at 9.00am on Saturday in clear sunny weather, James Little in his 355 topped the times. It's a big circuit and I was pretty lonely out there, don't think I saw another car!
Qualifying. Saturday: 1230hrs – Dry, sunny
On to more serious work and Qualifying saw James Little out front, 2s ahead of Wayne Marrs, followed by Nicky Paul Barron and Darren Mills. Sowter, Butler, Everingham and Nick Taylor were all within 5s of each other running similar times to free practice and the final group all ran within 7 seconds so looked like there might be some close racing in those groups. Several remarked that they were unable to equal their free practice times.
Race 1 Saturday: 1742hrs – Dry, sunny
Lights out and the front row made a good start, Little and Marrs close together, Colin Sowter from the 5th row got away well as did Nick Taylor and Andy Riddoch. It was all fairly close in the midfield but Chris Butler suffered electrical failure going into Brooklands and was out on lap 0!
Then, towards the end of the first lap, with Marrs and Little in close company, Marrs spun turning into Vale as a result of a broken wishbone (which put him out for the rest of the meeting). After 2 further laps where Little increased his lead, Paul-Barron ran in second and Sowter third and Darren Mills in 4th. Nick Taylor, going like a train headed the Evers/Riddoch group and Ray Ferguson going ever quicker was right up behind them.
Robin Biesbroek and Myles Poulton were in close company but Richard Fenny appeared to be in trouble losing out to Jago Keen. Richard retired on lap 5. The race was then neutralised by the appearance of the Safety car for 2 + laps whilst Wayne's car was lifted. Once released and more closed up, the race continued. Ray Ferguson went for some overtakes moving up the field, but Nicky Paul-Barron retired with electrical issues.
At the flag James Little led, Colin Sowter consolidated his solid start and drive in second with Darren taking third and a spirited drive from Nick Taylor took 4th. Ray Ferguson was delighted with 5th overall, a creditable drive, Evers and Riddoch 6th and 7th whilst Robin Biesbroek finished in 8th, excellent for a road/race car driven to the meeting. Myles Poulton and Jago rounded out the finishers.
Race 2 Sunday: 0900hrs – Wet
What! It can't be! But it is! As we formed up in the pit lane at what seemed like dawn, down came the rain, slow at first but steadily increasing. No time to change to the best tyres, it's make do with what you have. There followed the form up lap and two green flag laps, during which the rain got harder. A total of 13 (including Chris Compton Goddard back from Goodwood) gridded up and out went the lights.
Nick Taylor made a lightning start and he and Colin Sowter battled closely followed by Butler as the pack went into the Farm complex. By the time Becketts was reached Colin spun out of contention and going into Club Darren Mills suffered a failed drive shaft which put him into a spin on the start-finish straight. Chris Compton Goddard, starting from the back was making up places and Fenny, Ferguson and Biesbroek were together, but Jago Keen was making a break with some flair.
Nicky Paul-Barron retired on lap 3, then it was a bit like Strictly Come Dancing PFfc style, as Butler spun on lap 5, recovered and found Evers and Riddoch close on his tail. Up front James Little was increasing his leading pace with Nick showing real form in second and Jago Keen putting in terrific laps, the best at 3m.08s. Chris Butler then lost it going into Maggots putting himself into the gravel. Amongst the followers Evers decided it was time for a spin at Abbey, followed by Andy Riddoch who spun going on to the Wellington Straight; Chris Compton Goddard had made it to 3rd overall and Colin Sowter had recovered to 6th.
The race was then red flagged and results taken from end of lap 4 giving Little the win from a jubilant Nick Taylor, Chris Compton Goddard, Riddoch, Evers and Sowter. Keen drove like a star to finish 4s behind Sowter with Fenny, Ferguson and Biesbroek rounding out the finishers.
Race 3 Sunday: 1730hrs – Dry, Sunny.
Again 13 cars made the final race, grid positions decided by the results of Race 2. James Little and Nick Taylor got away well, as did Colin Sowter and Andy Riddoch. Myles Poulton made a great start further back and the battle commenced. Evers only made it to Maggots where he was pitched into a violent spin as a result of an oil hose giving way, his race run.
Nicky Paul-Barron retired on lap 2 with the electrical gremlins.  James Little quickly extended his lead and Nick Taylor, still on it had a spin which promoted Colin Sowter to second who was then passed by Chris Compton Goddard.  Darren Mills and Ray Ferguson were really on it having quite a tussle as the laps went by and Myles Poulton maintained his good start moving up the order eventually passing Andy Riddoch for 6th place, a pretty good drive from the back of the grid.
The Mills/Ferguson battle resolved itself in favour of Ray Ferguson but Nick Taylor was unable to recover from his excursion ending the race in 8th. Jago Keen couldn't get by Robin Biesbroek but stayed close. So a third win for James Little, a very good second for Chris Compton Goddard with Colin Sowter close behind for 3rd.  Ray Ferguson a storming 4th overall, Mills 5th and a great 6th place for Myles Poulton after a spirited drive from the back.