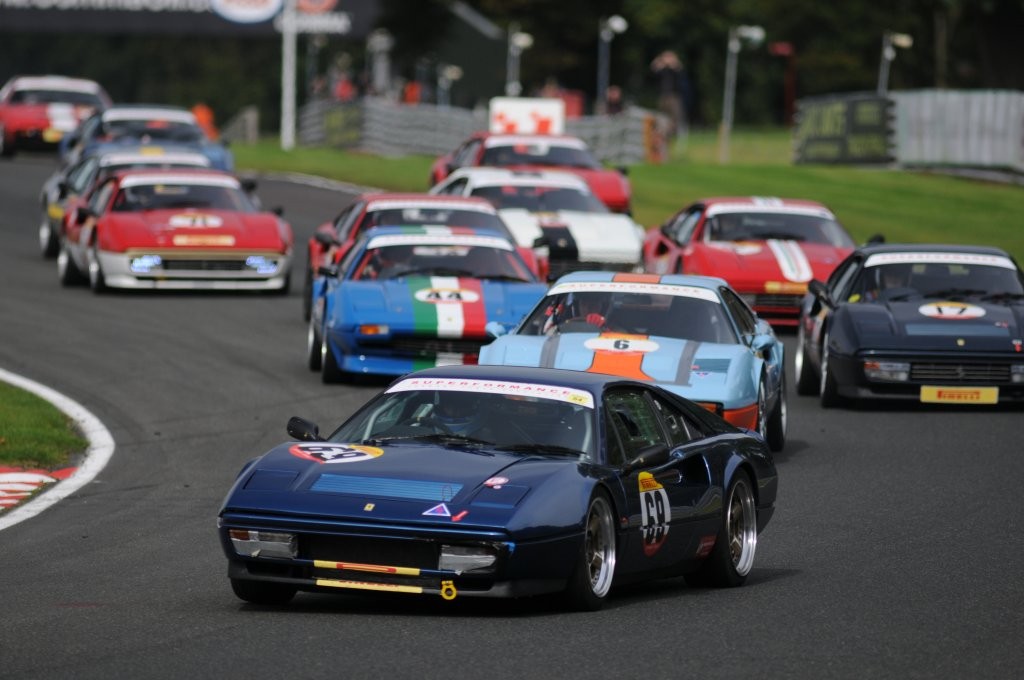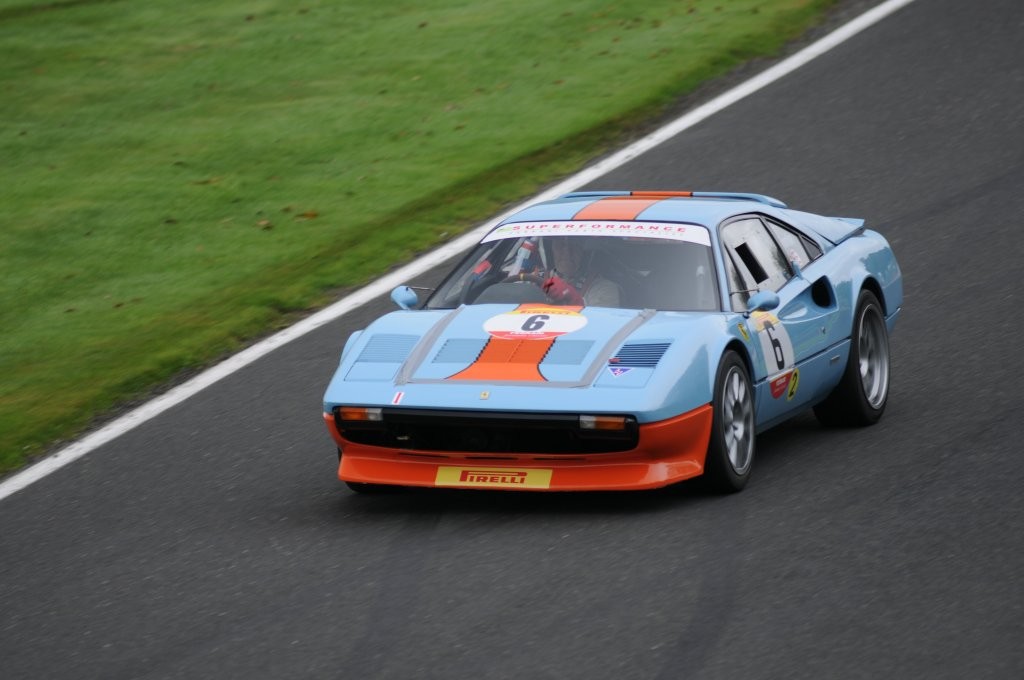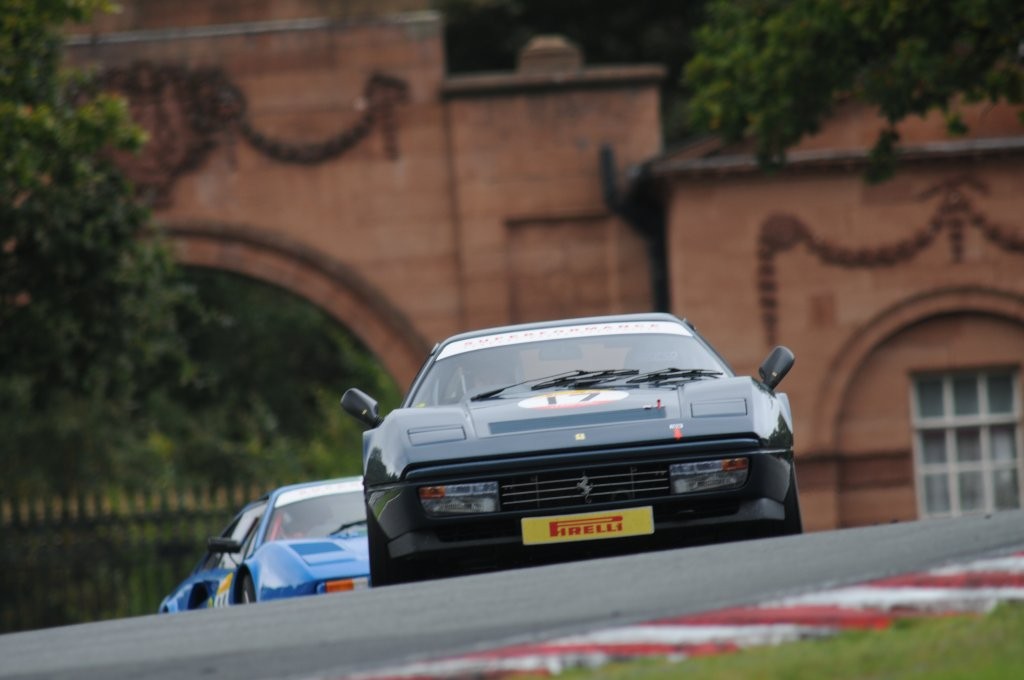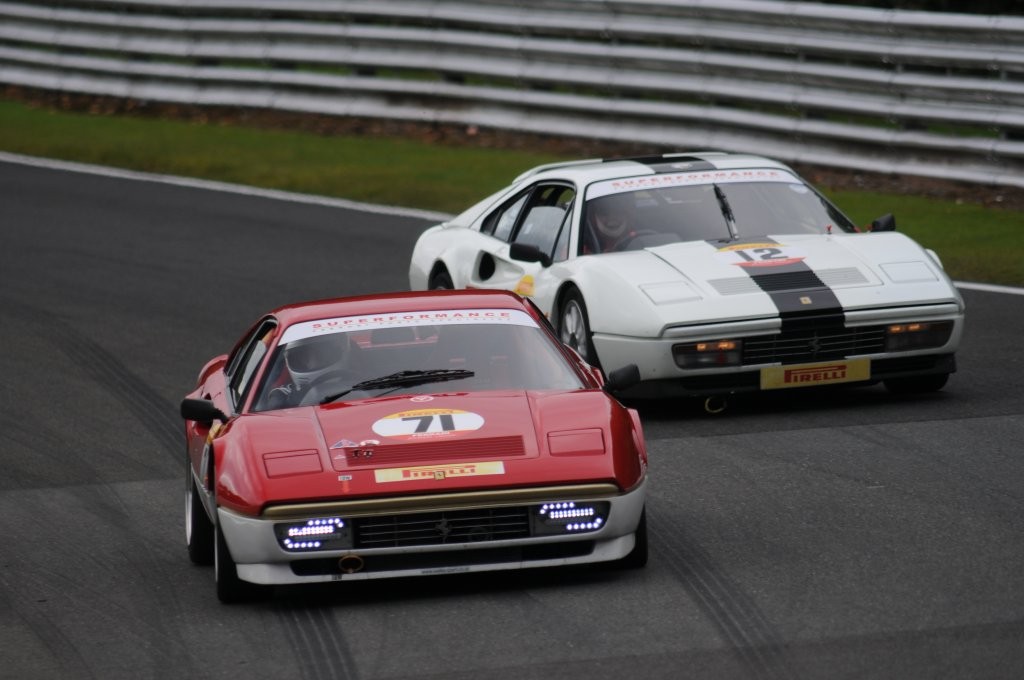 The Grand Finale!
The final races of our Pirelli formula classic series took place at the fabulous Oulton Park circuit in Cheshire on Sept 27th. Oulton is a proper road circuit with a great combination of corners , cambers and gradients.
The entry for this double header in one day was very decent at 17 cars and 19 drivers. Father and son Moseleys were sharing the family 308 GTB, and Chris Butler was sharing his old 328 GTB with owner Robert Pulleyn. In fact the entry could have been greater were it not for a date clash with Inter-Marque at Snetterton.
Dominating the first qualifying session for Race 1 was David Tomlin in his group 2 308 GTB. Having started his racing career with our Club [as a hillclimber – Ed] a few years ago, David is now an accomplished driver in historic and endurance events worldwide. His time of 1.55.935 took everyone by surprise and showed what can be done with a good car, lots of track time, and having the chance to share driving data on a regular basis with the likes of Martin Stretton. Next up overall and leading group 4 was Jim Cartwright on 1.57.837. Chris Butler continued his excellent form to take pole in group 3 (6th overall) from Peter Everingham and Tim Walker.
In Q2, for race 2, Tomlin got down to a 1.55.672 with Gary Culver just pipping Jim Cartwright this time for a front row position. In the competitive group 3, it was Darren Wilson who took the honours from Evers and Walker.
Race 1
This was an entertaining affair with the front three of Cartwright, Tomlin and Culver in close company. In 4th position it was Nicky P-B who had his mirrors full of Chris Compton-Goddard for most of the race. In the end it was a 10 second penalty incurred by a jump start that settled things. Cartwright crossed the finish line first, but after the penalty was applied the victory was given to Tomlin. Culver was 3rd with NP-B finally getting into a clear 4th overall.
Chris Butler won group 3 from Tim Walker and Peter Everingham, although it was Evers who took the fastest lap in class. Further back, Pauline Goodwin had an epic dual with John Swift, who was unable to get by despite trying every trick in the book.
Race 2
Race 2 was pretty late starting at 17.42 pm. Any spectators who stayed though were treated to a terrific dice between Tomlin, Cartwright and Culver. In fact the pace was so hot that Culver had a spin, and that is rarely seen.
With Compton-Goddard having retired his overheating 308, it was Daddy Cartwright's turn to fill N.P-B's mirrors in 4th place. And that was the order at the flag. Winning group 3 this time was Peter Everingham, making a better start and getting an early break from his rivals in the class. Tim Walker and Darren Wilson scrapped it out right to the end. Evers again took fastest lap in class.
Just like our Open races at Silverstone this was a truly excellent end to a race season. No damage, lots of smiling faces, and promises to do it again next year. Running a race series is always going to be a challenge at times, however in the case of our formula classic series there is enough support to ensure a healthy future. Over the years appreciation in vehicle values has certainly helped to offset racing costs. Whilst this can never be guaranteed it has been a reality for many years. I wonder what Swifty paid for his glass fibre, sorry Vetroresina, GTB all those years ago!