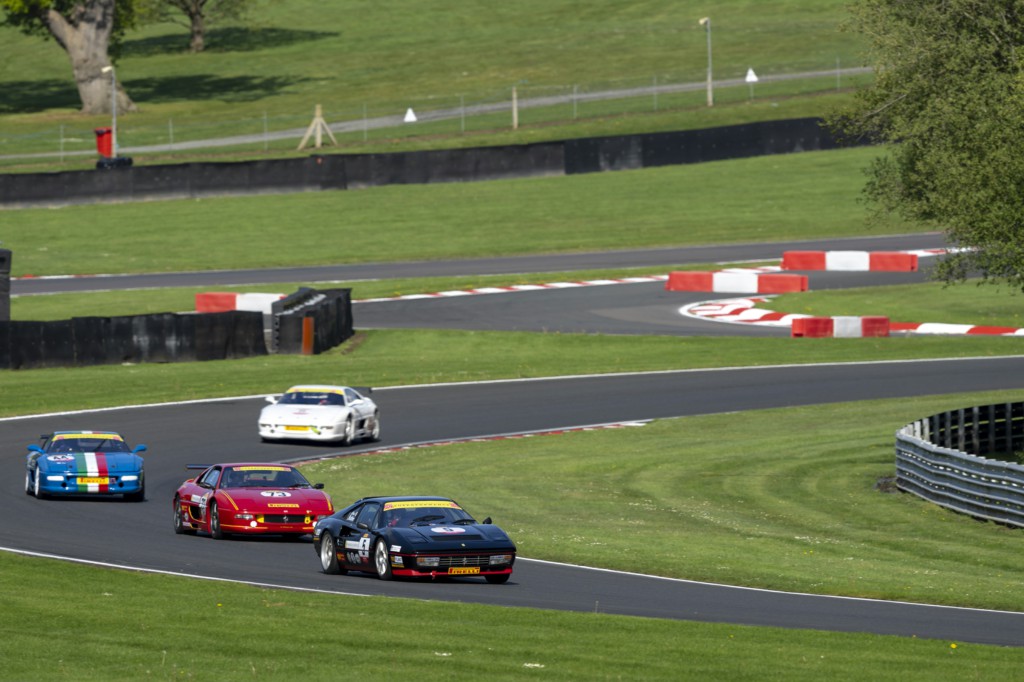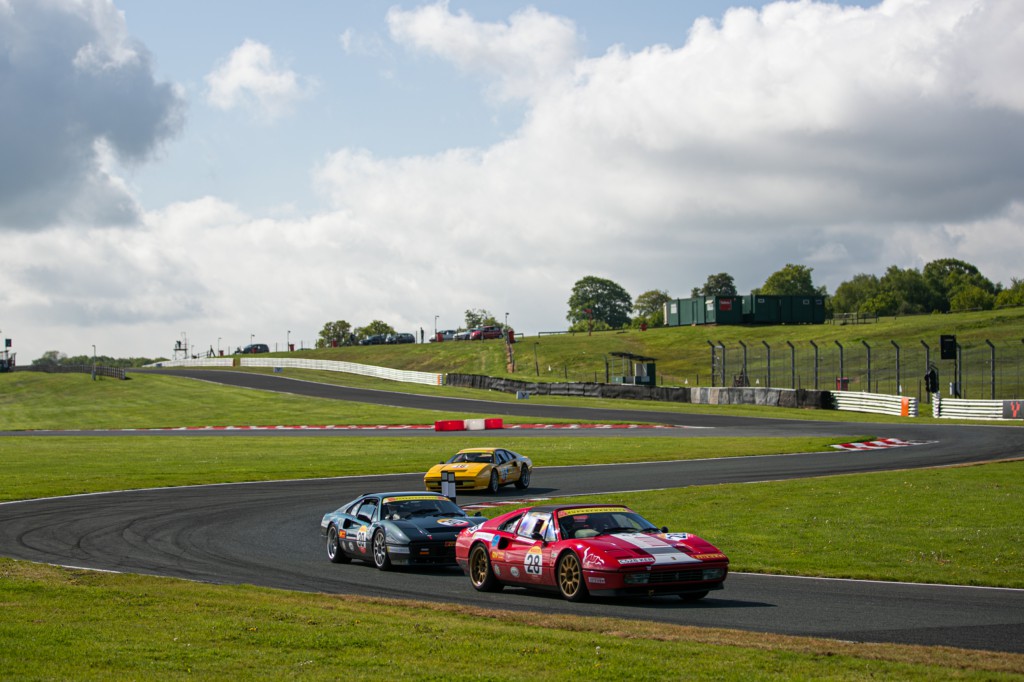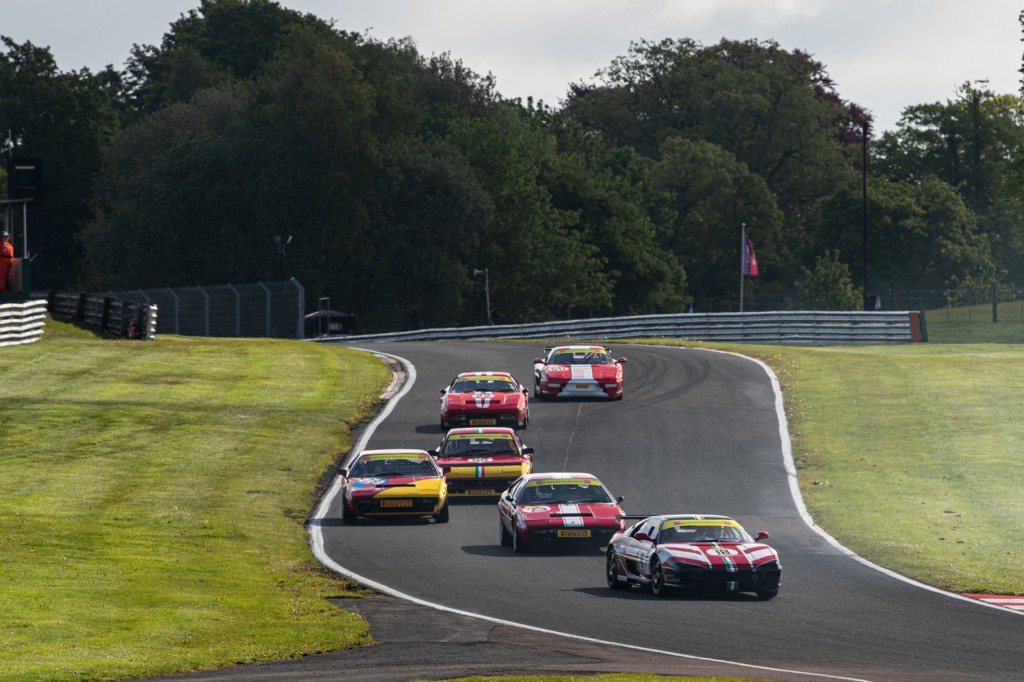 Oulton Park was the venue for the first race meeting of the PFfc race season and what better place to start in some warm spring sunshine, well at least most of the time. Eighteen cars were entered which was a good number considering that several regular faces were unable to attend. It was particularly good to meet up with two entirely new entrants to the series, Tony Claringbould in the ex-Simon Rossinelli Mondial T who is not entirely new to motorsport having raced Minis in the past and Tim Shearman in a very well known 328 GTB. The weekend would give Tim not only his first race but his first experience of Oulton Park and all credit to him as he seemed the cheerfully take it all in his stride.
Qualifying
This took place on a dry track and immediately Wayne Marrs, 355 Ch, was on the pace and heading the timesheets. Tris Simpson, 355 Ch, had a very mixed session with a visit to the grass coming up to the hairpin and two disallowed laps which meant he qualified in second for race one but only sixth for race two. Chris Goddard chose his 355 Ch for the weekend and lapped consistently to get two third grid spots, even more consistent was Chris Butler, 328 GTB, who's times continually improved to get a second place spot for Race two.
Vance Kearney, 355Ch and Richard Moseley, 328 GTB put in some good times despite not having raced much in the last year.
 Race 1
Rain had been forecast in the afternoon and it duly arrived just before the first race. By the time the cars were due to head to the grid it was truly wet, Ray Ferguson and Tim Walker thought better of the conditions and retired their 355's. As the cars lined up on the grid at the end of the green flag lap Peter Moseley pulled off into the pit lane as the ignition problems with his 308GTB continued to trouble him. All the other cars safely got away at the start of the race and all went well as far as the Shell Oils hairpin where Colin Sowter's 348 made contact with Butler causing both of them to spin and be overtaken by the cars behind. At the end of the first lap the main beneficiary of this incident was Peter Fisk, 328 GTB, who was up to 4th place.
Fisk would see a lot of action in the race as initially both Vance Kearney and Myles Poulton in his 328GTB would get past him but then pair of them both took a straight line at Knickerbrook losing their position as well allowing for Richard Moseley to join in the fun. Two laps in Fisk would yet again lose ground caused by a spin coming into lodge.
The rain never let up as the race progressed and the track became ever wetter and I struggled to gain ground on Richard Fenny's GT4 but with a couple of laps to go he had a spin coming out of Knickerbrook which allowed me a rare Group 2 win. In the end it was a good win for Marrs and an impressive drive by Goddard to get second place ahead of Simpson.
Race 2
After the testing conditions on Friday Saturday looked much better with Oulton Park now looking its best in the sunshine.  Yet again Peter Moseley had to drop out with ignition problems and he resolved to get them sorted before entering any more races. As the cars came to line up on the grid for the start Marrs called into the pit lane worried about a warning light. This put Butler in pole position from which he made one of his, customary, blindingly quick starts to take the lead. Simpson made up places from his low grid position to be in second place at the end of the first lap only to come up behind Butler who was doing his best to keep the lead.
Meanwhile Marrs had been advised that there was no problem with his car and started from the pit lane and in no time was catching everyone up, something of a surprise for those who had not seen him pull into the pit lane. At the back there were some close racing as on the second lap I managed to get passed Fenny to then be heavily pressed for the next 6 laps, ahead of us Ferguson was struggling to get past the 328 GTB of Andy Riddoch. In turn ahead of them Poulton and Fisk were also having a very close contest in their seemingly very closely matched cars.
It is possible that Butler's drive in keeping all the 355's behind him was helping Marrs catch everyone up as it was not until lap 5 that Simpson took the lead and by then Marrs was up to 4th place. Marrs's impressive drive got better as he took the lead on lap 7 with Butler finally finishing in 6th place as the 355's got the better of him. Richard Moseley did well in a rare outing to finish in 7th place and first in class for Group 4. 
Fenny finally got the better of me on Lap 8 and ahead of us Ferguson finally passed Riddoch. Darren Mills retired with transmission problems which would also prevent him entering the final race.
Race 3
The Race was set to be late in the afternoon and was threatened by a delay as one of the UK Challenge cars tried to jump the barriers and fly into Park Ferme. Fortunately, no one was hurt and barrier repairs were swiftly completed. This allowed us to start on time but once the cars were lined up on the grid there was a strange sequence of events. On the first green flag lap Simpson's front brakes locked on the first corner necessitating a recovery and a second green flag lap on which Goddard's front brakes locked up, this time conveniently on the pit straight with an easy recovery. On the third green flag lap Marr's front brakes locked up out on the circuit. This was not quick as recovery trucks were by now in short supply and worryingly cars were beginning to get very hot waiting on the grid with engines running hoping for a start to the race.
Finally, after 27 minutes we had green flag lap number 4 and followed by a start to the race with Kearney now in pole position with Walker alongside him as the only remaining front running 355. Walker took and early lead only to be passed by Kearney on lap two with Butler running consistently behind them in third place.
In the middle there was an epic struggle between Poulton, Fisk and Ferguson for the entire race. Sowter had started from the back of the with new clutch plates from a 355 and was able to make up ground steadily with some good lap times to almost catch Butler but would finish in 4th place. The race was halted after 8 laps by race control as almost certainly with 3 extra laps some of us would have run out of petrol if we had run for the full 20 minutes. Fenny again headed Group 2 on the dry track and credit to Claringbould for going much quicker in race two as he came to terms with his car and the circuit.
The commentators were faced with a tricky decision for the RnR Driver of the Day but chose to give it to Vance Kearney for his very consistent drives in all three races. Tim Shearman's 328GTB caught the eye of Andy Bush for the Superformance award for best prepared car. In all a great start to the season with a variety of track conditions. Hopefully this will be the last race report I will need to write this year. I already have writers signed up for the next three events but a looking for help for the two Brands hatch meetings.