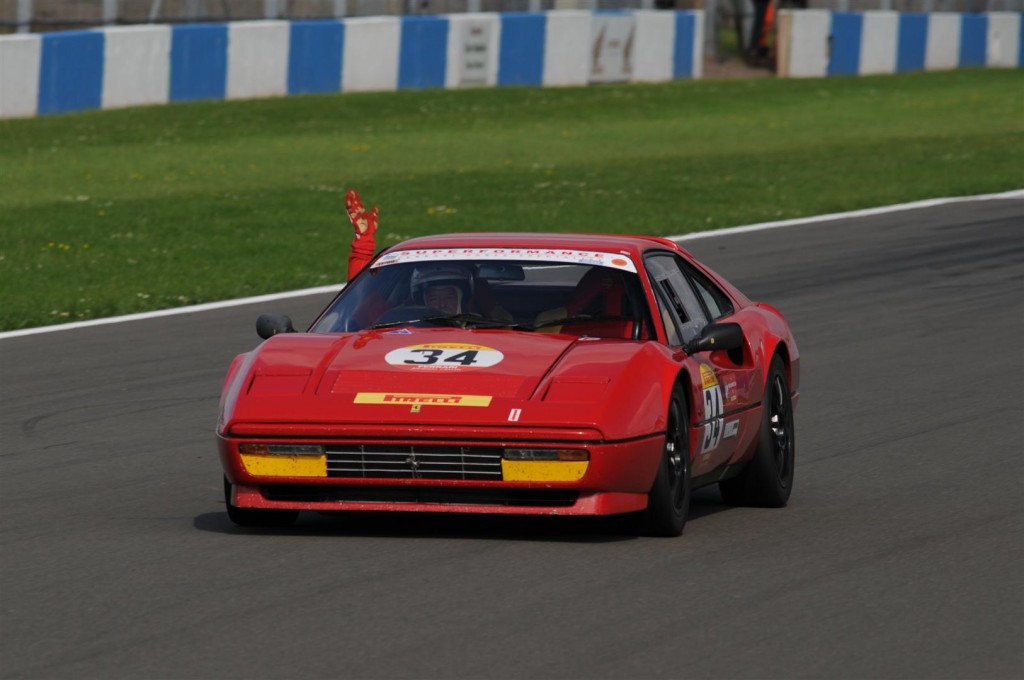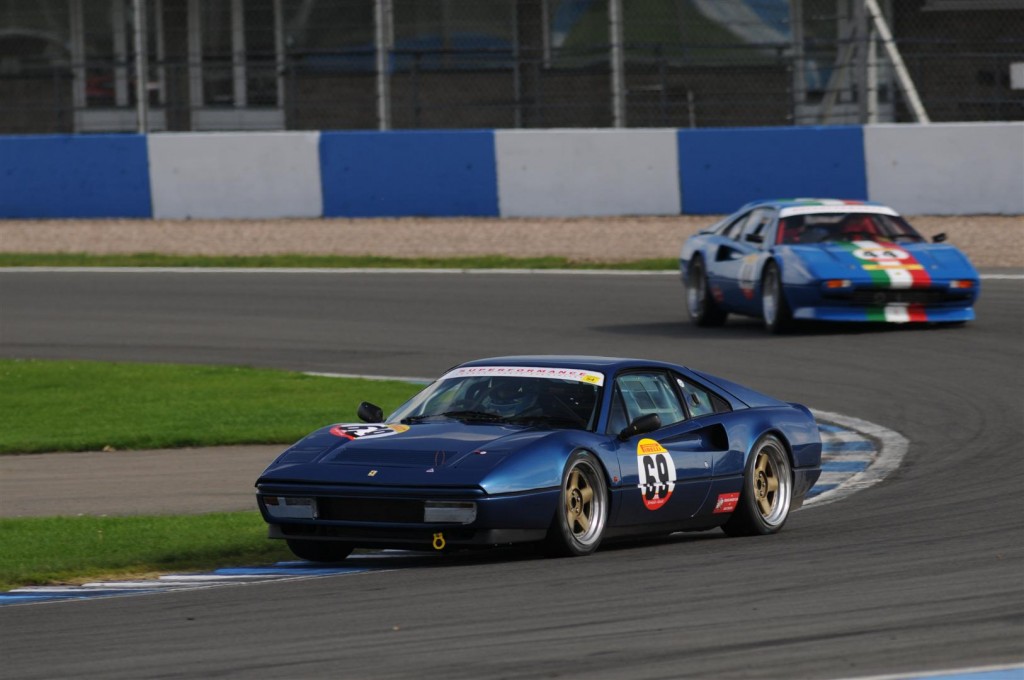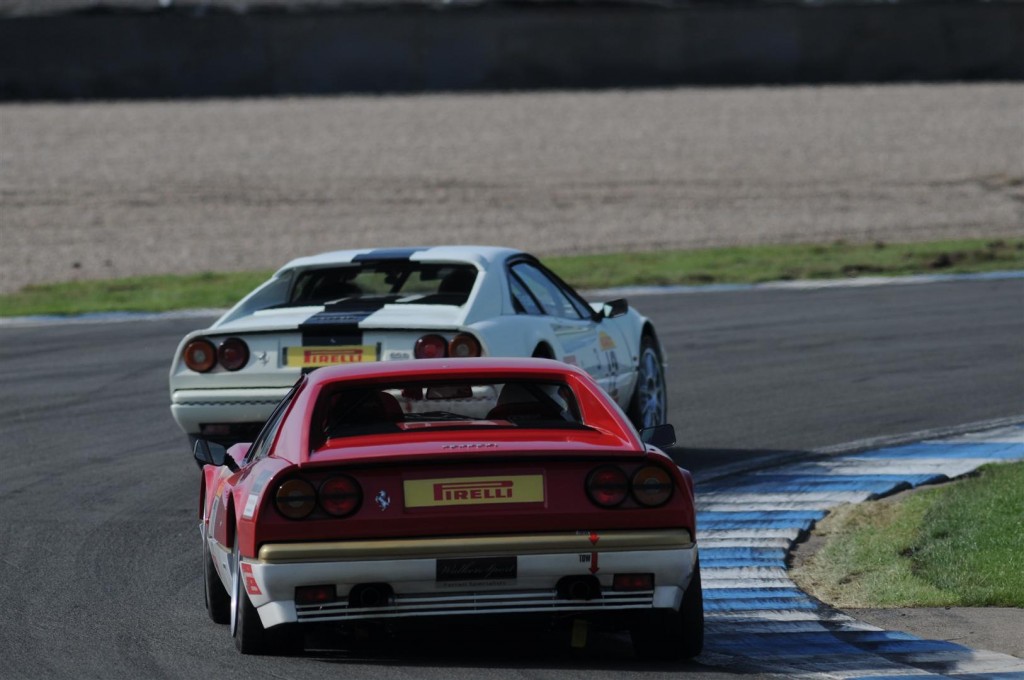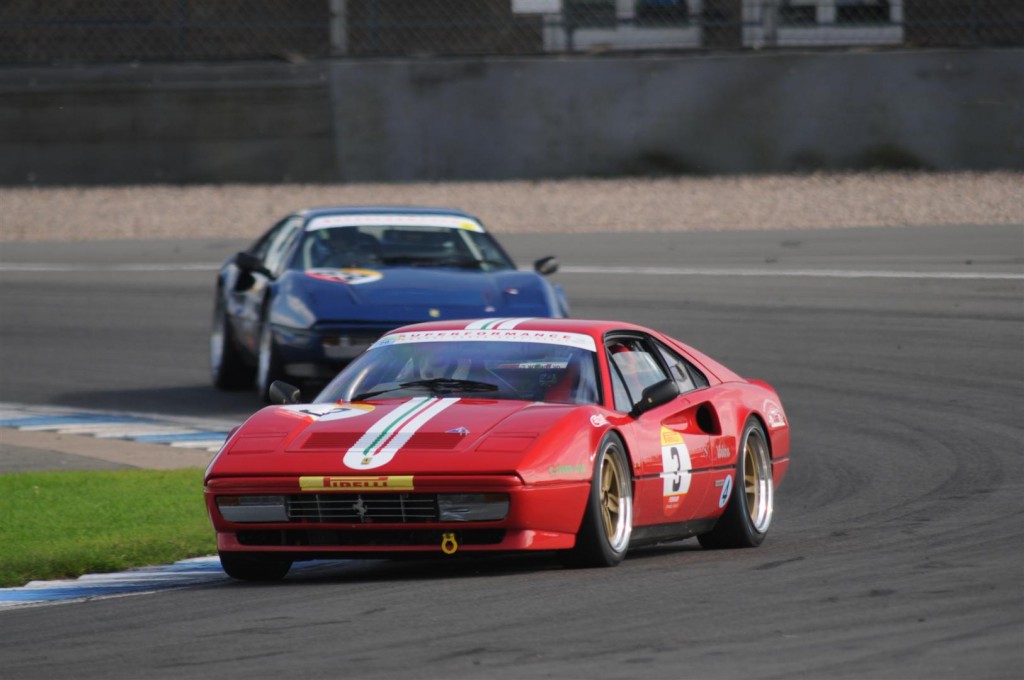 There was a good 20 car entry for the Donington double header, with two qualifying sessions and two races on the Saturday and Sunday.
Most of the leading lights of the '14 season were there, although there were a few absentees what with the next race at Zandvoort coming up in just a week. The calendar timings continue to be an unfortunate feature of both the Open and classic series' with a lot of races being crammed into a short space maing it difficult for some competitors to find enough time to get to them all.
Race 1 – Saturday
Qualifying was very very close at the front: the 328's of Gary Culver, Jim Cartwright, Nigel Jenkins and Darren Wilson were less than a second apart. The next four were equally close together with less than a second separating Chris Goddard (308GTB), Tim Walker, Nick Cartwright and Peter Everingham, the last three all in 328s.
At the start pole-sitter Culver got away cleanly and started pulling out a lead from Jim Cartwright and Jenkins, with Goddard and Wilson behind swapping positions several times. But on lap 6 the Safety Car came out whilst a spinner was moved to a safer position and so everyone closed up again.
At the restart Culver again moved into a small lead from Jim Cartwright but the latter then lost his second place to Jenkins who moved right up behind the leader. But Culver held him off for the remaining three laps and won by just over a second.
Only a few seconds behind came the tight scrap between Wilson and Goddard, with Nick Cartwright joining in and Tim Walker and Peter Everingham also in close company. The racing reflected the very small gaps between them all in qualifying!
Race 2 – Sunday
Sunday's qualifying session brought another pole for Gary Culver but this time Jenkins was next to him and in an excellent third place the ever-quicker Nick Cartwright ahead of Goddard, Wilson and Jim Cartwright who suffered from car maladies although it was all fixed for the race.
Again it was Culver who led away from the grid followed by Jenkins, Nick Cartwright, Jim Cartwright and Goddard. Poor Wilson had to start from the pit lane but would start a good chase through to the end.
Culver pulled slowly away from the others, maintaining a gap over Jenkins that varied between a second or two, and they pulled out a handy lead over the two Cartwrights and Goddard, with Walker and Everingham having a mighty tussle behind. Wilson was carving his way through the field, up into 6th by the end of lap 11 of the scheduled 15 and also benefiting from Nick Cartwright's retirement on the same lap.
But at the front Culver maintained his composure and lead over Jenkins until, suddenly and inexplicably, the latter spun on the last corner of the last lap and could not get going again! This handed second place to Jim C. ahead of the rapidly-recovering Darren Wilson who got a well-deserved third place finish having started in the pit-lane.
Tim Walker finished an excellent fourth, having overcome Goodard by just a couple of seconds at the end with Everingham in 6th just ahead of our chairman Richard Allen.