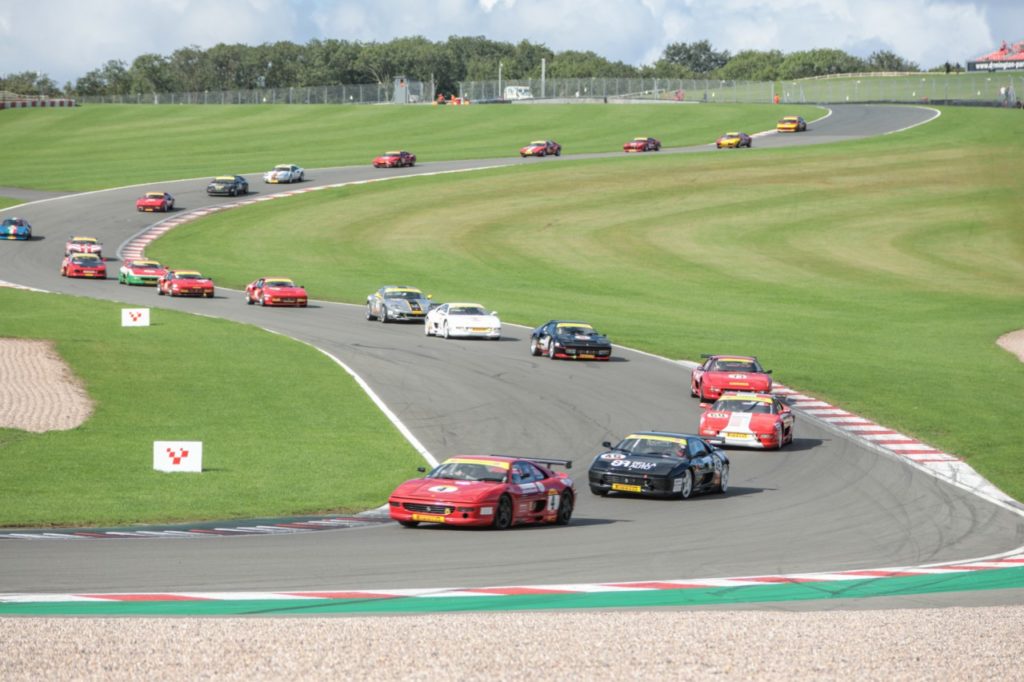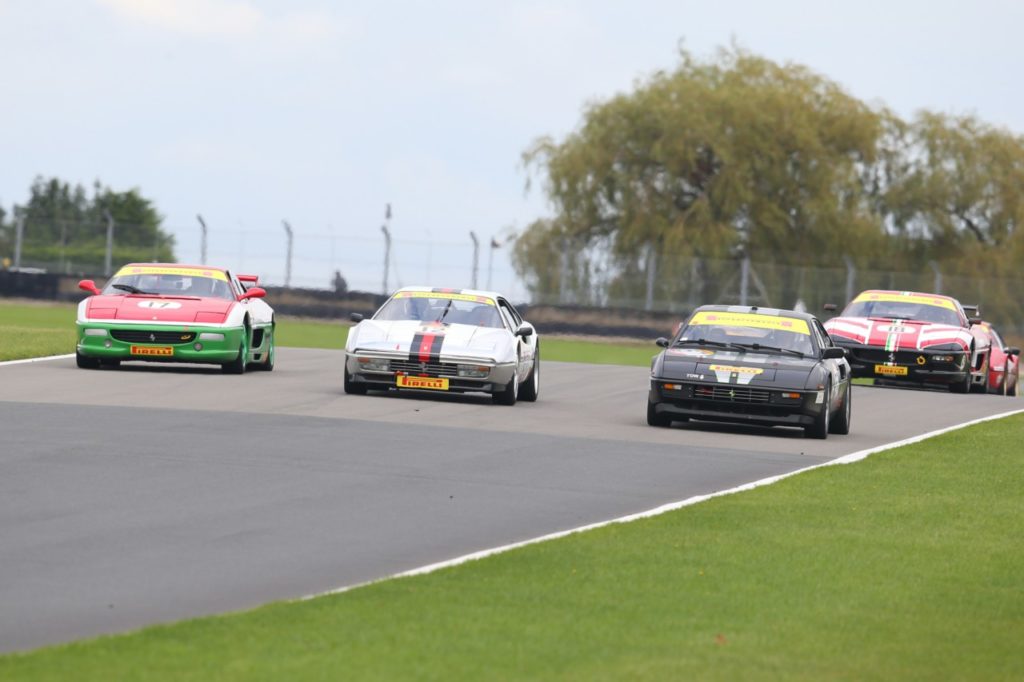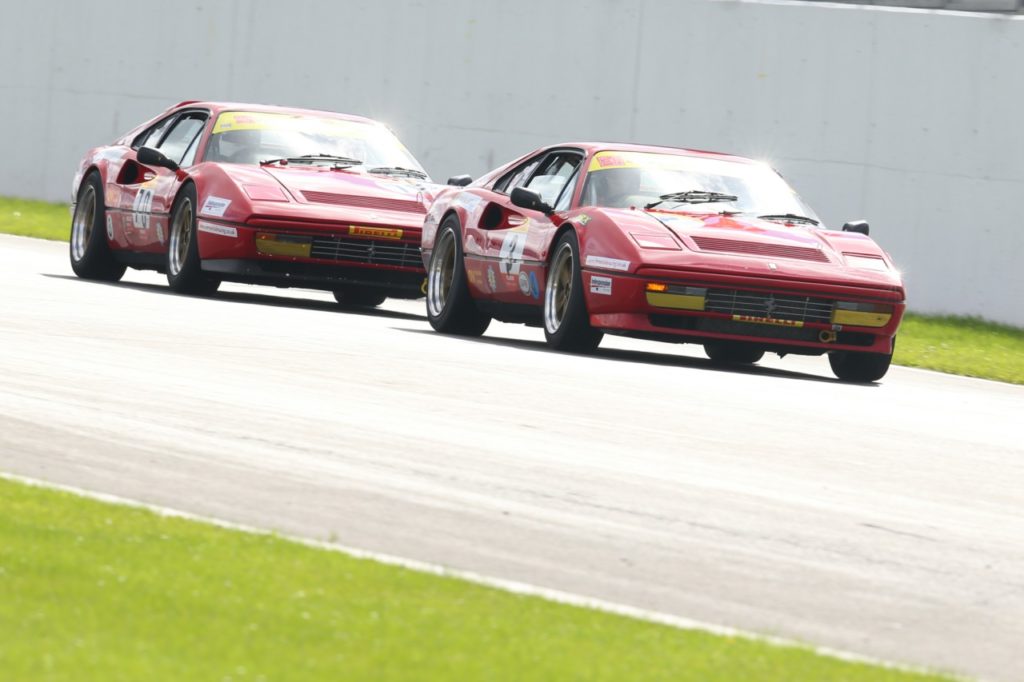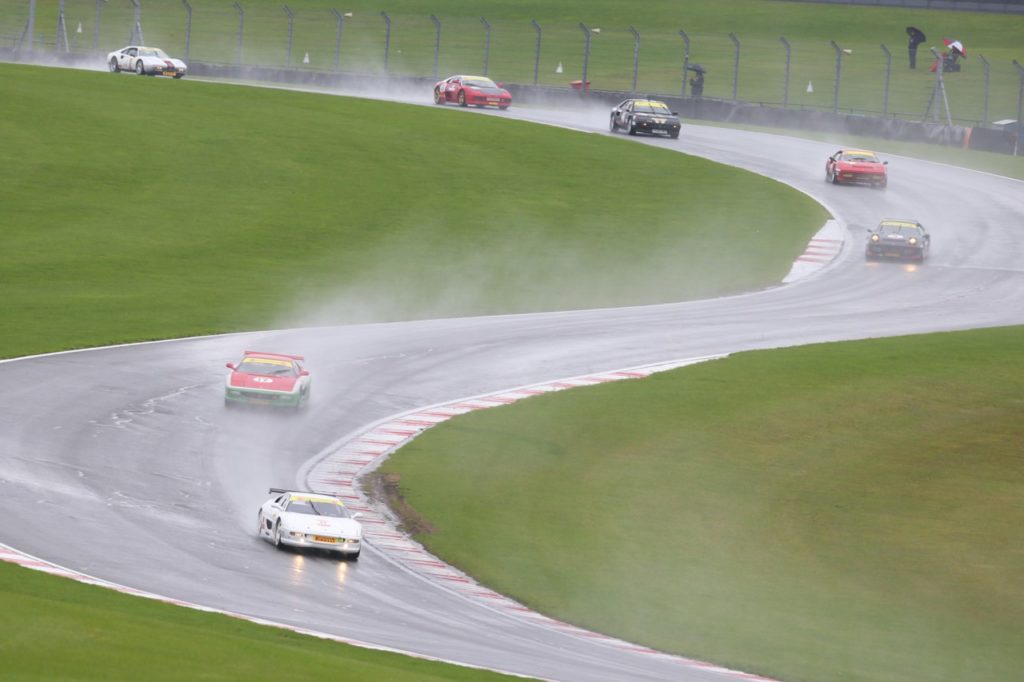 Another good weekend with 21 cars on grid. Including Tim Mogridge who was running as a guest seven of these cars compete in group 5, and judging from the first two meetings of the year group 5 is the most competitive.
Tris Simpson, acting as a guest reporter, provides his own distinctive take on the meeting. It is also well worth checking out his in-car video contributions which this year include a 360-degree camera. Key protagonists from the weekend are Tris Simpson, Tim Mogridge, Wayne Marrs, Vance Kearney, Nicky Paul-Barron and Darren Mills in 355s and Pete Fisk in his 550 Maranello.
Qualifying
Must say I can't believe I managed to pip Wayne to the pole position for race 1 and 2.  He has the speed on the back straight that leaves us all for dead.  Hope the rev limiter sorts that at Silverstone.  Anyway, good to know I have the pace and I am ahead of the dreaded Mogridge as well.  Walker is also getting on the pace of the pack along with Nicky and Vance so it's going to be fun. As long as that 550 can't release its power (it didn't).
Race 1
Tim Mogridge's rain dance worked again.  I felt happy as I had finally conceded and bought some new tyres.  After a good start with Wayne dropping back, I felt pretty confident, however I noticed quite quickly that I didn't have the balance I was expecting.  Switching from under-steer to snap over-steer frequently, with Tim right on my tail (especially in the left-hand corners) I had a moment at Coppice Wood but thankfully caught it.  Tim was sent into a spin too and dropped back behind Wayne and Vance.Meanwhile Tim Walker, who was sticking with Wayne, locked up into the Parks Chicane and drove to the pits.
Fisk decided to start at the back of the grid and headed straight to the pits as he couldn't see out of the window.With a good lead I just kept at my maximum (not going off) pace and watched as Mogridge worked his way through the pack and onto my rear.  I enjoyed keeping him there for a couple of laps but as we caught Chris C-G's 308 GTB going into Coppice Corner Tim made his move around the outside and pulled ahead along Starkey's straight.  I just didn't have the pace.  It transpires afterwards that maybe I needed to soften my suspension setting (but it's never been a problem previously). Or maybe I hadn't fully scrubbed the tyres due to the red flags in practice.
It should also be noted that Jim Cartwright, 328 GTB, had an exceptional start from row 5 on the grid to be in 4th place at the end of the first lap and would ultimately finish 5th with Chris Butler in a similar Group Three 328 GTB behind him. Experienced racer Nick Taylor (Mondial T) making his first appearance of the season finished in 8th place. As with the first meeting at Brands Hatch the wet race followed dry qualifying and practice sessions and everyone acquitted themselves well with no incidents.
Race 2
A dry day.  On pole again feeling pretty confident.  I get away well ahead of Wayne but don't see Tim come around the outside.  Maybe I took 4th too early giving him an easy pass.  Damn.
He doesn't have the pace initially and keeps me tight with Wayne who just drives straight past me on Starkey's straight and repeats the move the following lap on Tim (we really need to get his rev limit sorted).  I am then on Tim's bumper for the whole race.  He brakes early into McLeans causing me to have a moment letting Tim Walker through who has been on my tail with Tim for some time.  We are all together for a couple of laps and Mogridge is slow through Park Chicane (most times actually as an observation), allowing me to get a run on Walker through the chicane and passing on the Pit Straight.  As we come through back markers Mog and I take Burgo through Redgates and pass Riddoch through Hollywood.  Walker tries to follow through but catches Reddick on the second curb right apex as you enter the Craner Curves, sending both into a spin and Tim into the barrier.  A very unfortunate racing incident marked harshly by the Stewards.
I stick with Mogridge to the line but just can't carry the speed sufficiently through the Chicane to get him.
Also worth noting was the good start by Nick Cartwright, 328 GTB, which moved him up several places and most importantly got him ahead of his son Jim resulting in an extended battle in which Jim was unable to get by eventually having a spin on lap 12 which lost him time and track position. Chris Goddard (308 GTB) finished just ahead of Peter Everingham (328 GTB) and there was a similar close battle between Nick Taylor and Burgo Wharton (328 GTB).
Race 3
Nicky PB has a poor start and is swamped by the pack.  Chris Butler in his 308 GTB has a blinder and is inside me into Redgate.  I leave space and go around the outside thankfully keeping 3rd on track into the Craner Curves. Butler stays with us in a chain for the first couple of laps. Nicky picks his way back through the places at Redgate each lap.
Tim gets Wayne into Redgate and I go for the undercut, but Wayne doesn't see me and I have two wheels on the grass (I show Walker how to swear at that moment) but get out of trouble and set off back at them.  Catching Wayne, I take too much speed through the Park Chicane and go off onto the grass on the exit. Holding it steady I ease back on track.  Once recovered I catch Wayne and manage the same move, with him balked by Mogridge in the Chicane, I get a good run through it and take him on the Pit Straight.  Now back on Mogridge we are really tight as we cut though the field on an epic lap (love that bit of the video).  Mog takes the win but hey I beat Wayne.  Do hope his limit is sorted for Silverstone.
Nicky and Vance will be getting on the pace I'm sure, but Walker will need some work before he can return to the mix.  Let's see if Pete can sort his 'fumes issue' and give us something fast to think about.
Also worth noting was another good performance by Chris Butler who got the better of Colin Sowter's Group Four 348 Challenge
– Tris Simpson