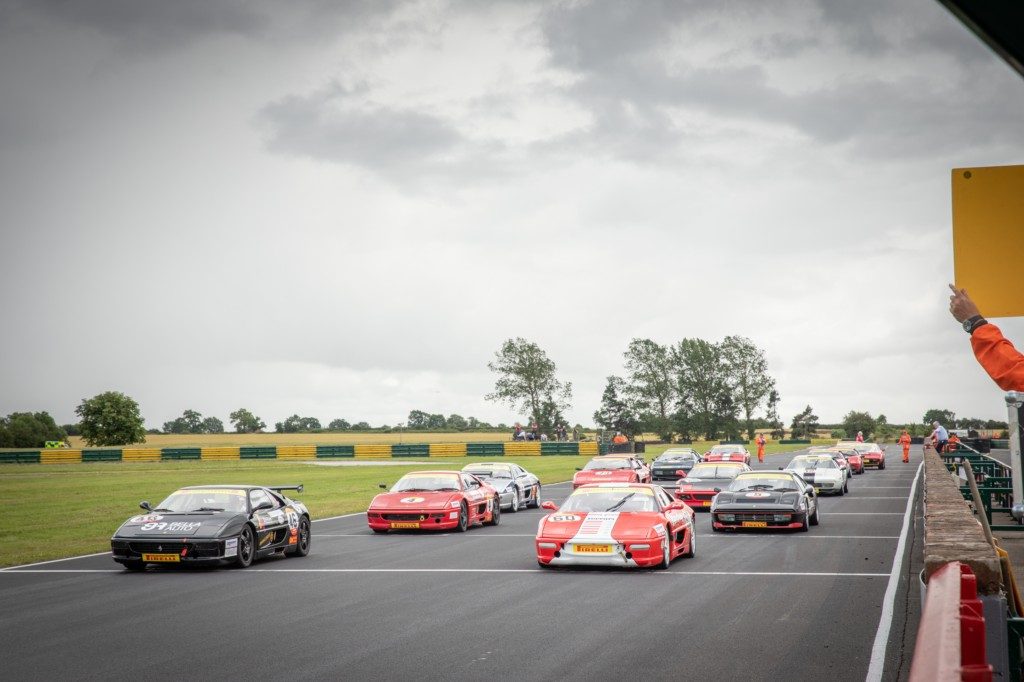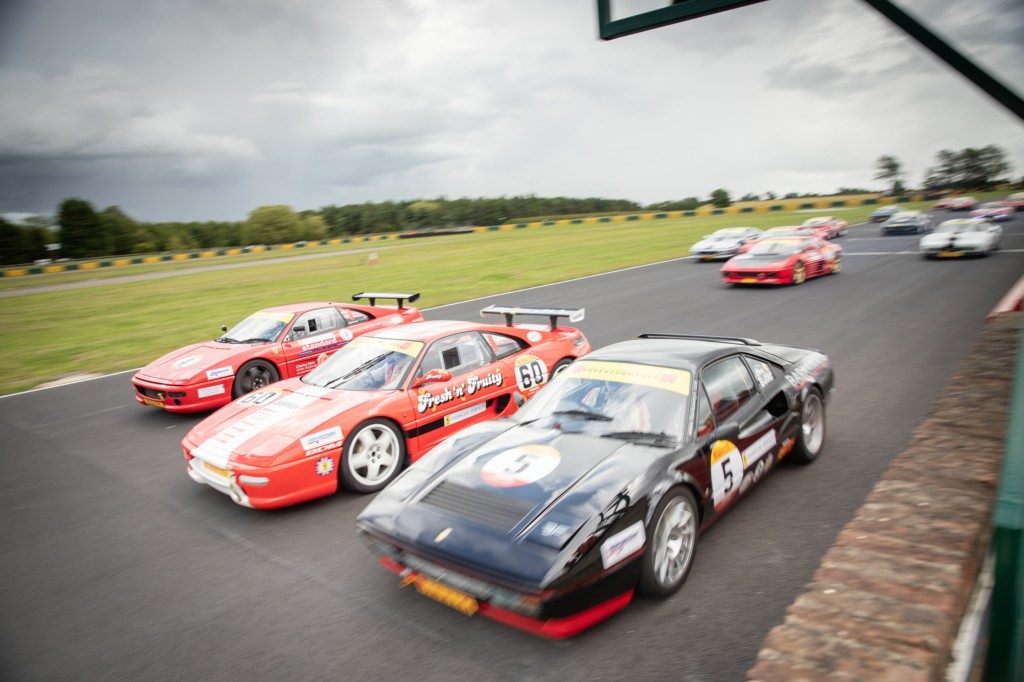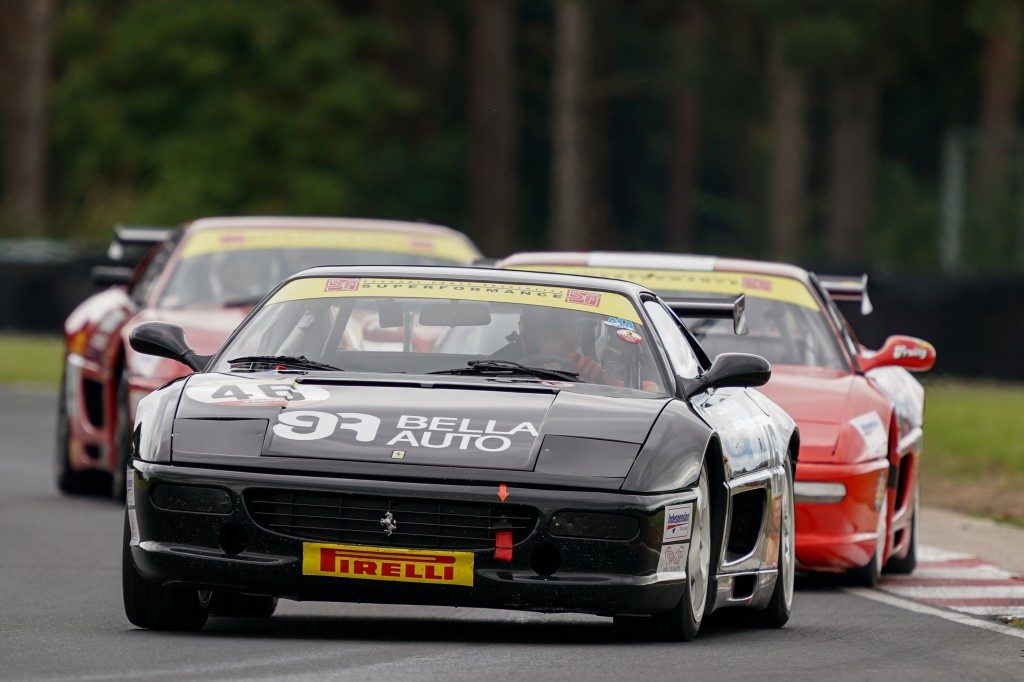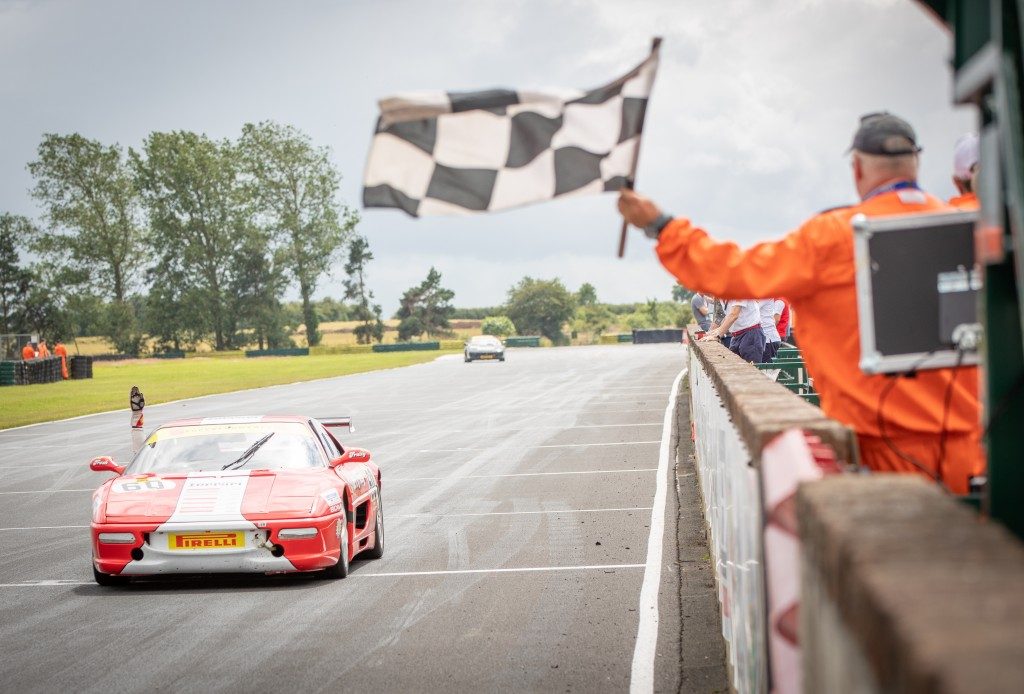 Croft was a new circuit for almost all of the 18 cars entered for the PFfc races. All the cars were located in the FNE supplied marquee and we were made very welcome by the circuit and by the best crowd so far this year with many interested spectators visiting the marquee and talking to the drivers. Tris Simpson ensured that there was a good turnout of cars from the North East Area group and these were all lined up in front of the Marquee.
Qualifying was going to be a challenge with a new track to learn and it was no surprise that local man Tris Simpson was on pole with his 355 Ch.  The other local man, Chris Butler, was in 4th place in his 328 GTB while Carl Cavers impressed with 5th place in his 355 GTB. Chris Goddard had a major engine problem which meant that he would take no further part in the meeting. The track has been recently resurfaced and provided a really good consistent grip which gave the drivers plenty of confidence as they came to terms with the circuit.
Race 1
Wayne Marrs (355/Ch) made a slow start allowing the similar cars of Tris Simpson and Tim Mogridge to get well ahead of him. Chris Butler as ever this season was the leader of the chasing pack but was being chased hard by Colin Sowter's 348/Ch. At the back Len Watson (308 GTB) made a good start and was closely followed by William Moorwood and Richard Fenny in their 308 GT4s. In perfect conditions lap times continually improved as the track became more familiar to the drivers.
Wayne Marrs got ahead of Tim Mogridge on lap three and then chased Tris Simpson very hard. By this time all the drivers were improving on their lap times but also finding out that it is a very hard track on which to overtake, particularly if the car in front is careful to position his car to prevent overtaking.  Simpson was very impressive with some firm but fair driving which enabled him to keep ahead of Marrs. Sadly on lap 4 his ABS failed  with a big lock up at the end of the pit straight and finally Marrs was able to take the lead.
All would change at the back as a bold overtaking manoeuvre by Richard Fenny at the end of the back straight did not come off and he took to the grass forcing Len Watson to take avoiding action and all this allowed William Moorwood to get clean away from the two of them. Ahead of them the 328 GTBs of Robert Pulleyn, Carl Burgar and Darren Mills were also enjoying a close race.
The race was all looking pretty settled until the last lap. Richard Fenny grasped Group 2 honours from a sleeping Len Watson. Colin Sowter, who had pressed Butler very hard, had a front wheel bearing failure causing him to pull off with half a lap to go.
Race 2
At the start of race 2 Tris Simpson again took the lead from pole but this time was followed by Wayne Marrs. Competition within the chasing pack is always very tight and in his determination not to lose ground Tim Walker, 355 GTB, went straight off into the gravel on turn 1.
At the back it was William Moorwood's turn to make a good start and he found himself ahead of Burgo Wharton (328 GTB) and Richard Fenny. Colin Sowter, his bearing replaced with help from Nick Cartwright, got ahead of Carl Cavers on lap 2 and set about chasing down Chris Butler.
At the front it was almost a repeat of the final race at Snetterton as Tris Simpson took the race to Wayne Marrs and indeed lead the race for 8 laps until Marrs could get ahead but was unable to pull away at all. A little way back Tim Mogridge was able to get fastest lap of the race as the front two fought for position.
Behind the front three there was another group of three fighting for position as Chris Butler lead a high speed train with Colin Sowter and Carl Cavers very close behind. A little further back Nick Cartwright and Peter Everingham were also having a very close race in their 328 GTBs.
At the back Burgo Wharton was chasing William Moorwood very hard and got by on lap 4 but was unable to pull much of a lead and then came the added problem of a coolant leak from his 328 GTB which left a neat trail for all of two laps until the car was forced to retire. The coolant trail caused Carl Cavers into a spin so he lost ground but Colin Sowter got past Chris Butler on lap 8 so for the first time this season Butler was not 'the best of the rest'
With a lap to go Richard Fenny, who pulled clear of Len Watson, caught and passed William Morowood to take Group 2 honours.
Marrs took yet another win and it will be interesting to see the impact of weight penalties which will be imposed on race winners in the coming races this season.
Race 3
There was no race three! At the start of the Ferrari Challenge race there was a big accident at the start which did substantial damage to the barriers at the end of the pit wall. Fortunately the two marshalls at the pit exit were not hurt but the damage to a number of timber posts was such that inevitably the races meeting was cut short as there was no way that the track could be made safe.
A sorry end to our first visit to Croft for many years. Hopefully not the last as it is a truly enjoyable and challenging circuit.