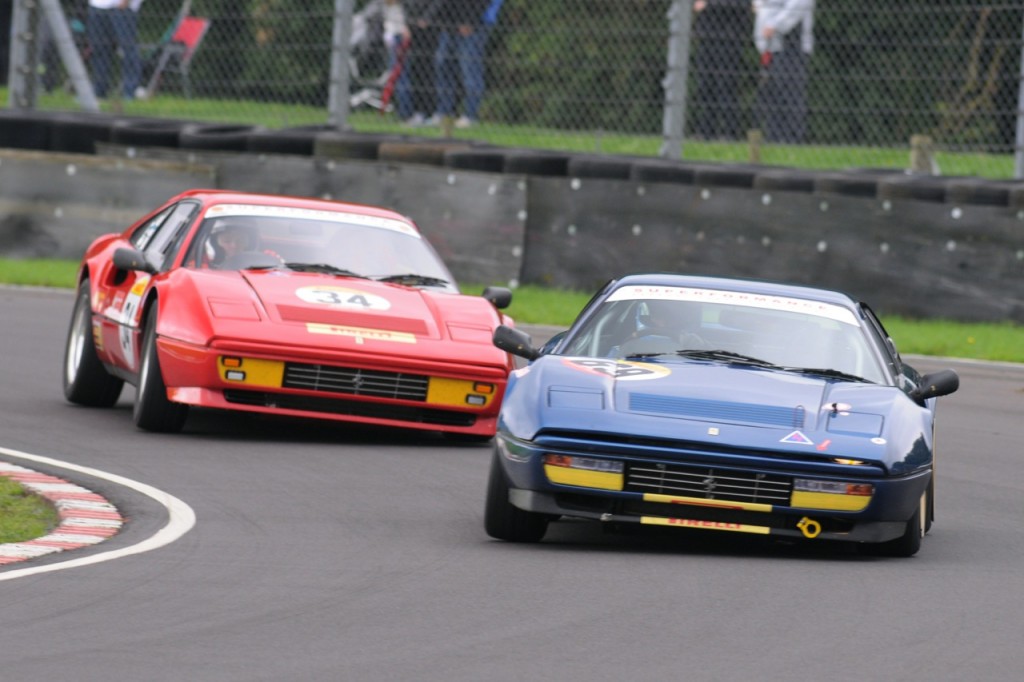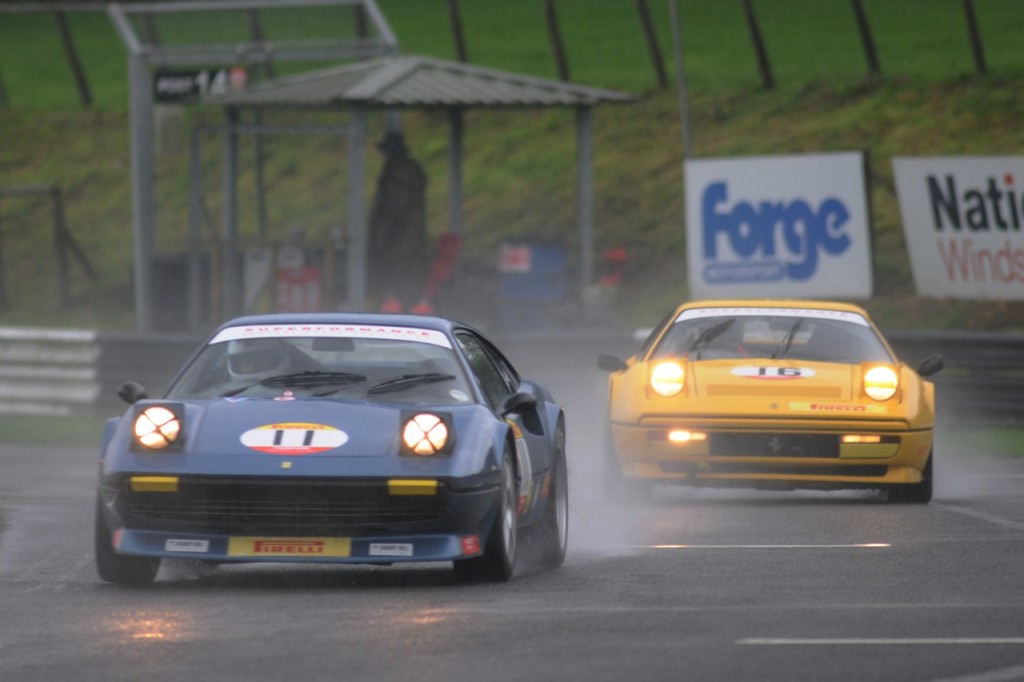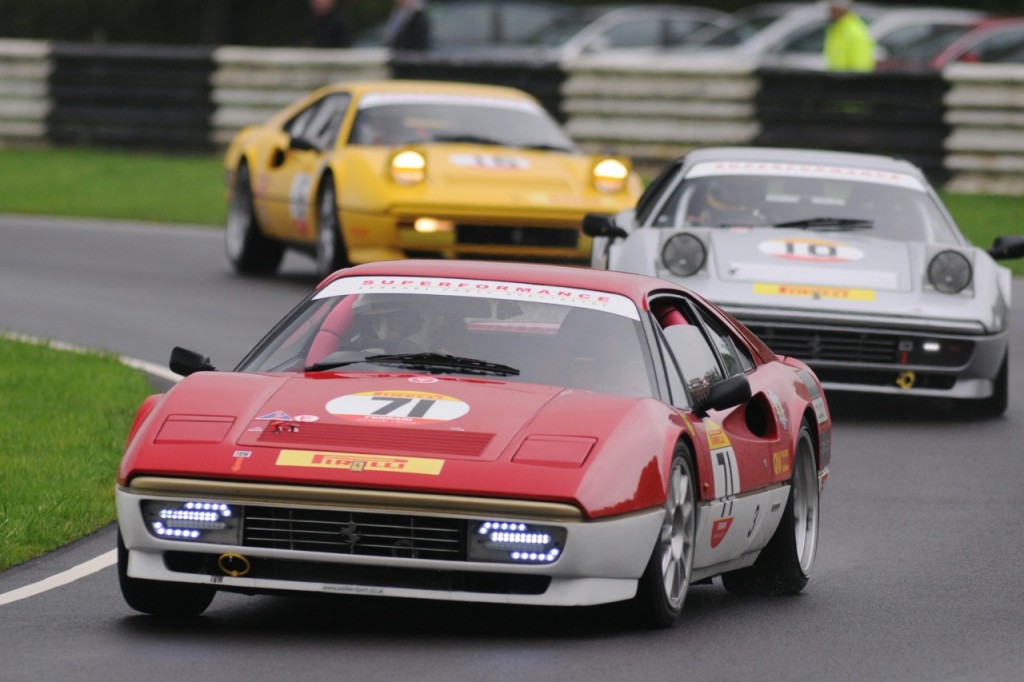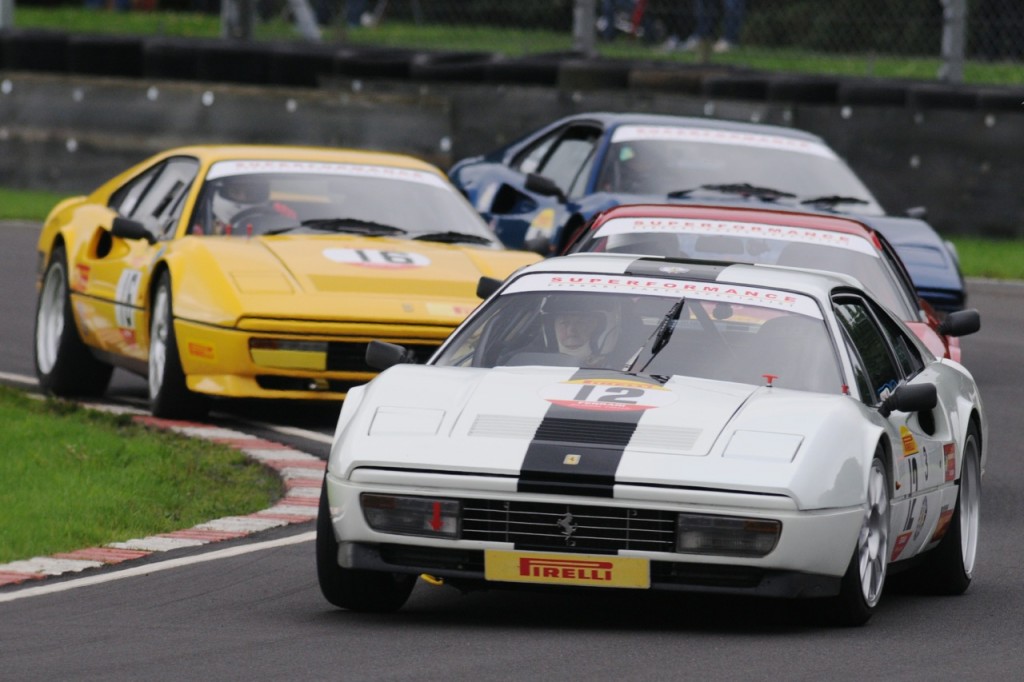 Our Club's various race series have been visiting Castle Combe since the very early days of the 1980s. The August bank holiday date has become somewhat of a fixture and nearly always brings with it challenging weather conditions.
With William Moorwood missing there were no Group 1 entries. RNR boss Richard Dougal was sharing John Roberts' 328 GTB with John doing race 1 and Richard race 2. A welcome newcomer was Edmund Peel. Edmond has owned the ex. Geoff Neal left hand drive 328 for a few years, but this was his first outing in the car. Pauline Goodwin was making a welcome return in her 328 GTB. In total 15 cars took to qualifying for the races.
In raining and wet conditions Jim Cartwright (Grp 4 328) took pole position, followed by Peter Fisk in his Group 3 328. Jim's Group 4 rival Gary Culver was nearly 5 seconds adrift possibly due to fitting the Trofeo tyre instead of the more deeply treaded Rosso.
Race 1
Race One started at 12.37am on a wet track. Interestingly everyone raced on the P Zero Rosso road tyre, except Gary Culver who fitted his normal Trofeo R Pirellis. Surely the Trofeo wouldn't work when it was this wet? It was a brave decision (see paddock stories).
At lights out, front row sitter Peter Fisk got a dreadful start and was quickly swamped by passing cars. He also managed to spin and at the end of lap 1 he was dead last. It was Jim Cartwright who led at first from Culver, Tim Walker, Darren Wilson and Richard Moseley, with Peter Everingham just behind. The battle at the front was intense and very exciting to watch. Cartwright in particular was bravely fighting his 328 through Camp corner and past the start/finish line. At some parts of the circuit Jim's Rossos were working better than Gary's Trofeos, out of the chicanes for example, and in other places like Camp corner it was the Trofeos that had the edge. Indeed on lap 3 Culver slipped past Cartwright through Folly and over Avon Rise into Quarry to lead laps 4, 5 & 6.
In the meantime Peter Fisk had been charging through the field and was showing in P6 overall and 4th in class by lap 5. Peter is both a star at Combe and in the wet, but as we know pride can come before a fall. In these conditions there is merely a knife edge between hero and zero. Coming down to Camp corner Pete's 328 just got away from him as he touched the brakes and the car found it's way into the tyre barriers pretty hard. Peter OK but with ego bruised. 328 less so, but will race again. We look forward to seeing them back as soon as possible. He was far from alone in the spinning stakes, but all others at least in race 1 got away with it.
Back to the front, and possibly with some assistance from lapped cars, Jim got past Gary on lap 7 and it was all guns blazing for a grandstand finish …. or it would have been had Jim not received a black flag for excessive noise. Of all commonly used UK circuits Castle Combe likely has the most noise problems. We all have to respect this if we want to continue racing. Having said all that it did seem terribly hard to spoil the enjoyment of the paying public who were enjoying one of the best races of the day. The car did after all pass it's static noise test, and the call to black flag the car must have been marginal. So Culver then was all alone in the lead and cruised to yet another win. I know he would have preferred a battle to the end. 2nd in group 4 and 5th overall was Richard Moseley.
In Group 3 Tim Walker and Darren Wilson were having their usual tussle. There was rarely more than a second between them, but as has often happened this year, Walker kept his head to finish in P2 overall and win the group. Peter Everingham was third in class but not quite in contention on this occasion.
Others performed well in the conditions. Myles Poulton and John Swift both had good races and newcomer Edmond Peel kept his head to finish a commendable 11th.
As we have seen before in wet conditions some cars really struggled to find any grip at all on the Rossos, where others faired better. Peter Moseley's 308 in particular looked like it was driving on ice. One theory is that if the tyres loose temperature the grip just goes away. If you can push hard enough to get the tyres warm then they are more comfortable.
Race 2
After a convivial lunch in the Strawford Centre right in the middle of the paddock it was soon time for the second race. The weather was still murky with the odd spit of rain but the track had largely dried, although it looked awfully greasy – as evidenced by the number of spinners in the previous race.
The grid positions were taken from the second fastest lap in the single qualifying session. Once again we had Jim Cartwright on pole with Peter Fisk second, but the latter was a non-starter following his bash in the first race. Gary Culver was third followed by Tim Walker and Richard Moseley.
With the track fairly dry those who had a choice of tyres went over to the Trofeos. Following his exclusion from race 1 for excess noise Jim and father Nick did their the best stuffing wire wool up the exhausts, a solution however that would probably not last the race distance.
At the start it was Cartwright who shot into the lead, closely followed by Culver. These two quickly pulled out a lead, with Culver looking the quicker of the two but not able to get past. Everingham had made a demon start from his third row position and was running third, leading Tim Walker and Richard Mosely at the head of an exciting class 3 battle, with Richard Dougal and Darren Wilson also joining in. A feisty John Swift was next up, leading another tight group that had Richard Fenny, Peter Moseley and Myles Poulton in it as well.
At the front the Cartwright-Culver duo were nose to tail, slithering noticeably on the greasy track. Culver tried hard to get past but could not make it stick. And then on lap 6 the inevitable happened – Cartwright's 328 had long ago spat out its wire wool and the car was once again black flagged for excessive noise. A shame, as this now left Culver in a very lonely first place with no-one to race with.
Behind there was much excitement. Everingham resolutely defended his third place but was being caught by the quicker group 4 328 of Richard Moseley, which inevitably slipped past and moved up into second place following Jim C's retirement. But Evers did not give up and continued to chase the yellow 328.
A little gap behind was another very close battle between Walker and Wilson. Initially a hard charging Richard Dougal was part of this tussle. Unfortunately he pushed just a little too hard and spun, collecting a luck-less Darren Wilson on the way. Both managed to continue. After another gap came the Peter Moseley – Swift – Fenny group, running nose to tail when not side by side. It was all good stuff.
At the front Culver reeled off his remaining laps and ran out the clear winner by nearly 20 seconds. Richard Moseley took an excellent second place and in third spot was Evers in his class 3 winning 328. Somehow Tim Walker managed to hold off Darren Wilson for the last ten laps and crossed the line just 0.4 secs ahead.
Richard Dougal finished in a lonely 6th place, his exhaust dragging on the ground in the corners. Behind him John Swift had one of his best results of recent times as he got past Peter Moseley on the last lap to finish 7th, a drive that earned Swifty the Driver of the Day accolade.
Although the various groups were well spaced out there was exciting racing throughout the field. It seems however that none is quite in the Cartwright/Culver league, as these two continue to dominate the season. The next races at Donington on 5/6 Sept will see the return of Dave Tomlin and Chris Butler so hopefully the front runners will face a bit more opposition then. And Jim will have stuffed some more wire wool up his exhaust…