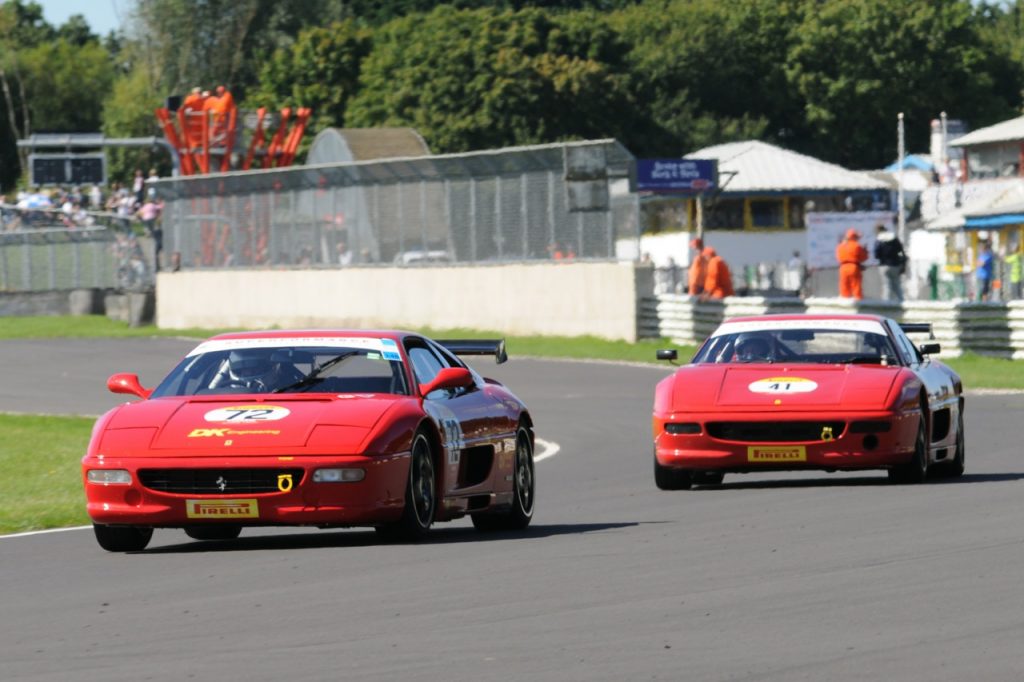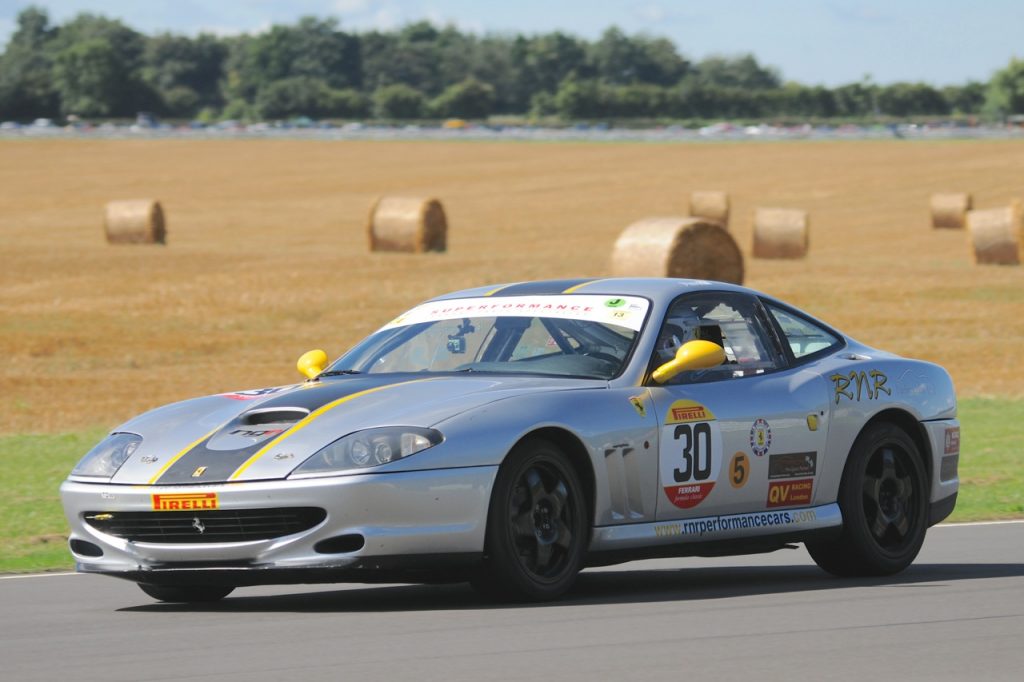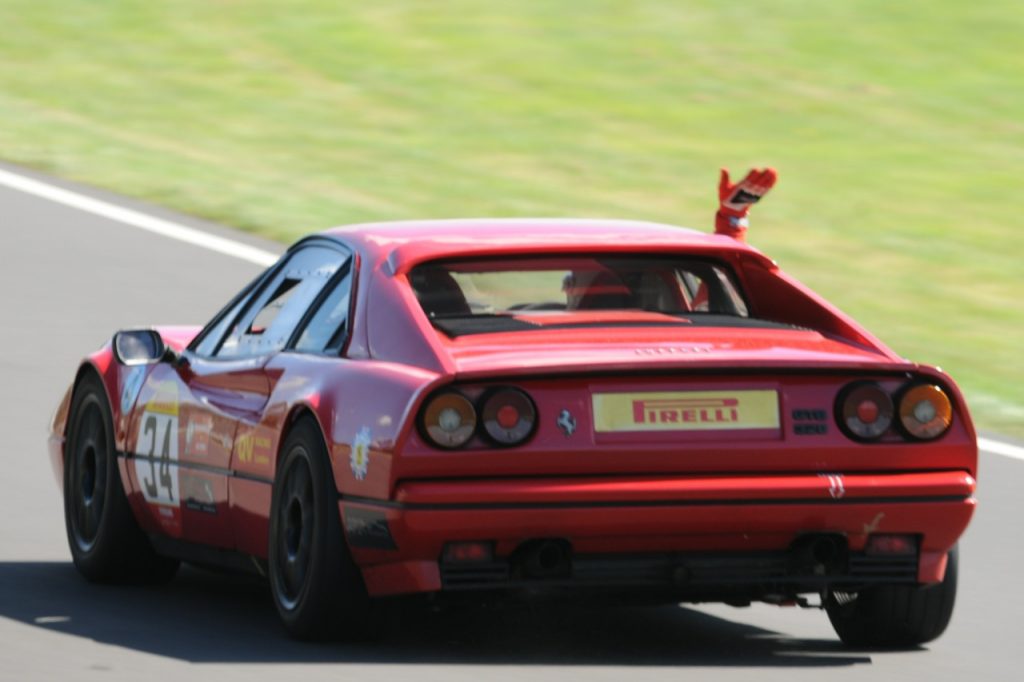 Our club has been racing at Castle Combe for more years than many of us can remember. From Maranello Challenge days, through to Ferrari Open and formula classic. The traditional August Bank holiday date draws a big crowd and there have been many great races.
In recent years we have had some rotten weather and some frankly scary racing. This year however we had a dry track under very warm blue skies. Tucked between the high-profile  Brands Hatch Italia Festival and the Silverstone Passione Ferrari events though many racers chose to stay at home for this one, which was a great shame.
Qualifying for our thirteen starters was dominated by a very much on-form Gary Culver. His 328 GTB was visibly quicker through Camp corner for example than anyone else. It is not long ago that any lap under 1.20 in a 328 was good going. Gary posted a 1.16.105 to take pole position. It was pretty close though with the first five cars being under 1.17. Clearly this was a quick day.
Race 1.
The grid at Combe is always packed very tight and if any car has a poor start it tends to affect others. So it was that when welcome series returnee Wayne Marrs failed to launch his 355/Ch.  Chris Compton Goddard swerved in avoidance, which put Peter Everingham on the grass etc. etc. No damage done though so the chase was on. Mr. Culver however was not in a mood to be chased and he proceeded to build an impressive lead.
Trying to keep him honest were Richard Cook (355/Ch) and initially Jim Cartwright (328). Tim Mogridge (355/Ch) took third position on lap 3 and Wayne Marrs was recovering from his bad start. This recovery however didn't last long as Wayne struggled with a failing ABS sensor. This is not a nice failure on a 355 and it can make the car hard to manage. Wayne wisely retired the car on lap 6. By lap 5 Dave Tomlin was flying and his 308 GTB posted the fastest lap of the race at 1.15.988. This pace however proved to be a little too much for the old girl and thereafter David was coping with deteriorating handling. Post race this was quickly diagnosed as a broken wishbone, so David was fortunate to finish as he did.
As at every circuit we have a fair speed differential between the leaders and the tail enders. At Combe this year in qualifying we had a spread of 1.16.1 (Culver) to 1.28.1 (Fenny). In this gentleman's series all do their best to accommodate each other when lapping. Most of the time this works fine, but on occasion there can be issues. So it was when Jim Cartwright came up to lap Richard Fenny. A split second decision on Jim's part, that with the benefit of hindsight proved to be wrong, resulted in contact and damage to both cars. Fenny retired on the spot, Cartwright continued at reduced pace with both drivers I'm sure wishing that they could rewind events. Post-race Jim was excluded from the results.
So with Culver up the road and the 355s of Cook and Mogridge putting on a very decent show for the podium positions (Mogridge just coming out on top) that was that. Tomlin limped home in 4th and Pete Fisk, finding the big 550 a little stiff for the bumps of Combe, finished in 5th position.   Chris Butler took Group 3 honours whilst Chris Compton-Goddard and Peter Everingham had fun a little behind. Laps records in Group 2 were Tomlin, Group 3 Butler, and Group 4 Culver. Fastest laps for 308, 328 & 355 were covered by under 0.3 of a second.
Race 2
The day's racing was continually interrupted by red flags and incidents in other races. Delays mounted and by the time our cars took to the grid for race 2 at 16:45 hrs we were a very long way behind schedule. To make matters worse our race was cut to half length – just 10 minutes.
With the loss of Tomlin (suspension), Fenny (damage) and Compton-Goddard (overheating) we were down to ten on the grid. Wayne Marrs had his brakes back and Pete Fisk had softened the 550. Whilst lap times were quite close this was another Culver demonstration. We try and limit our praise for Gary as he is both a Club director and a close friend, but it has to be stated sometimes. Gary bought his 328 back from Stuart Bowler in 2004. He missed the Castle Combe races in 2011 and 2012 and he was a DNF in 2013. Apart from that I think he has won every Ferrari race at Combe since – every race! The funny thing is that he won't know this and has no idea of laps times at all, he doesn't care about records, he just loves the racing.
In the very short race there were some decent scraps. In particular Peter Fisk and Wayne Marrs were great fun to watch. The dice earned Marrs the RNR 'Driver of the Meeting' award. The podium featured Culver, Mogridge and Marrs. Chris Butler took Group 3 but Evers was right on his bumper throughout.
From the heady days of 25 car grids at Combe this was a disappointing turn out. It's a great date at a great venue with big crowds, but if it is not drawing entries then its future has to be considered.