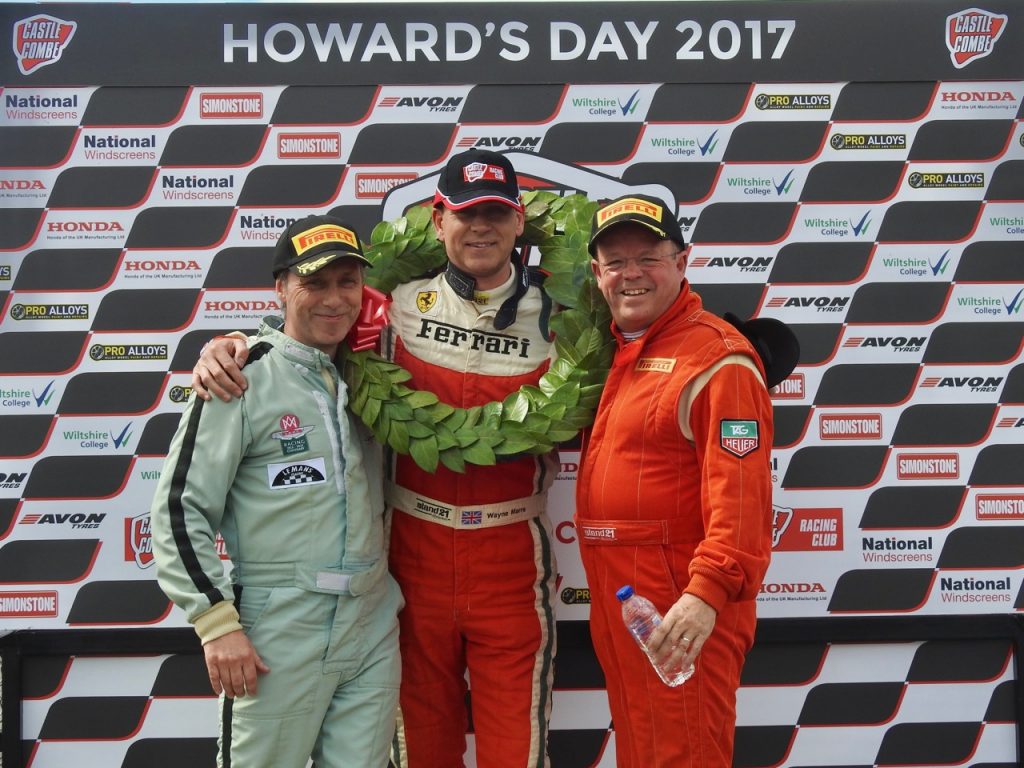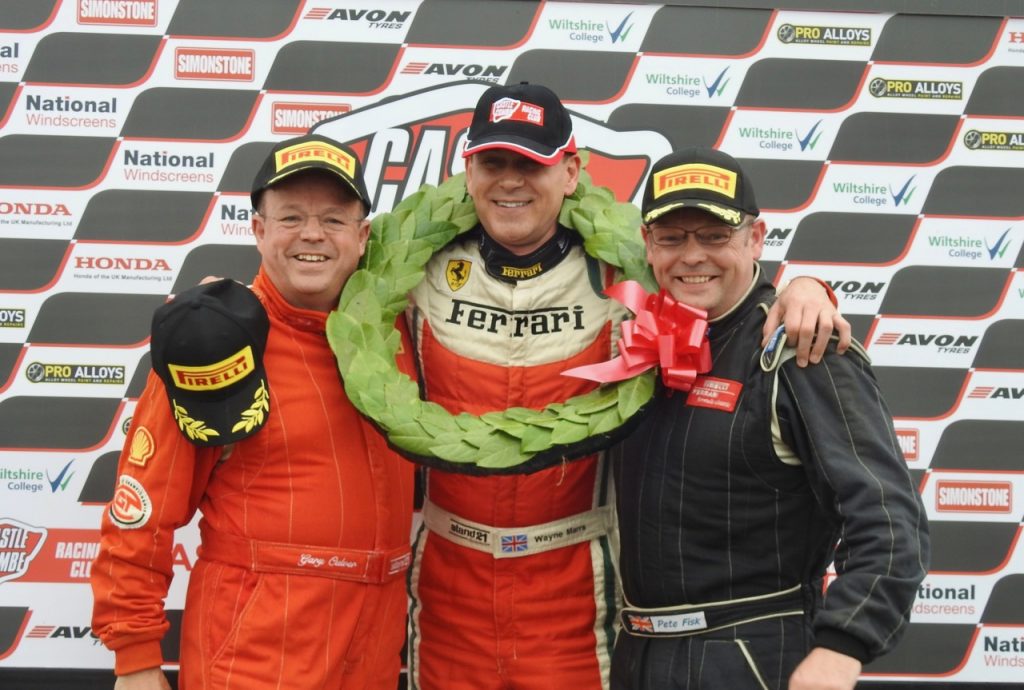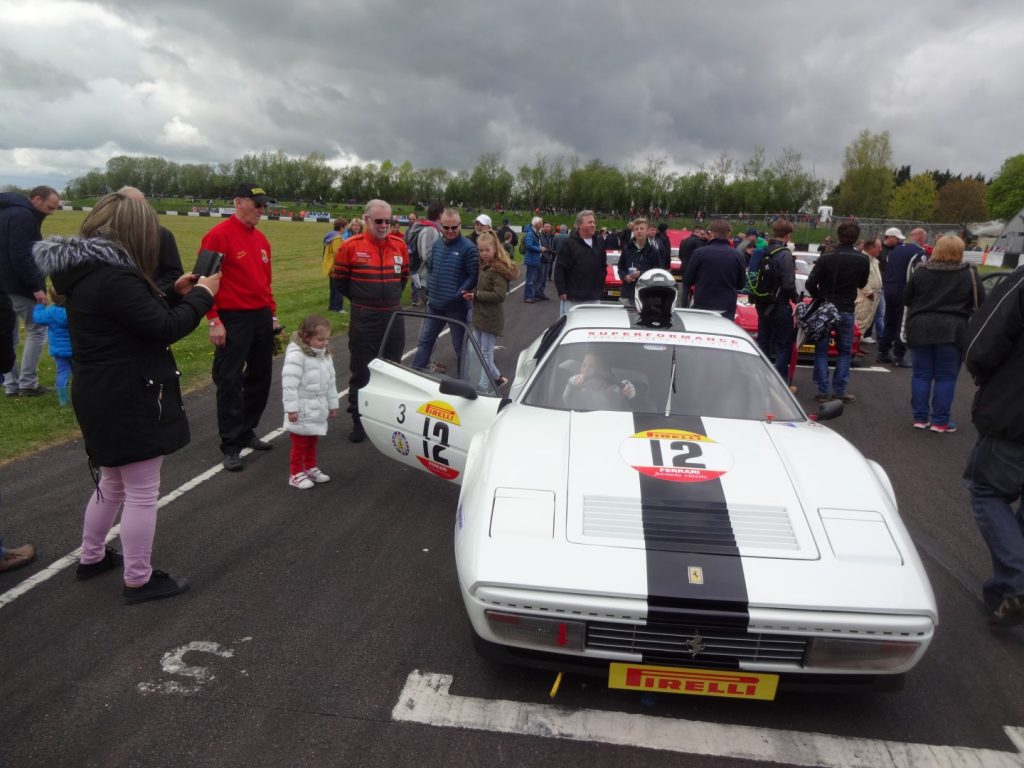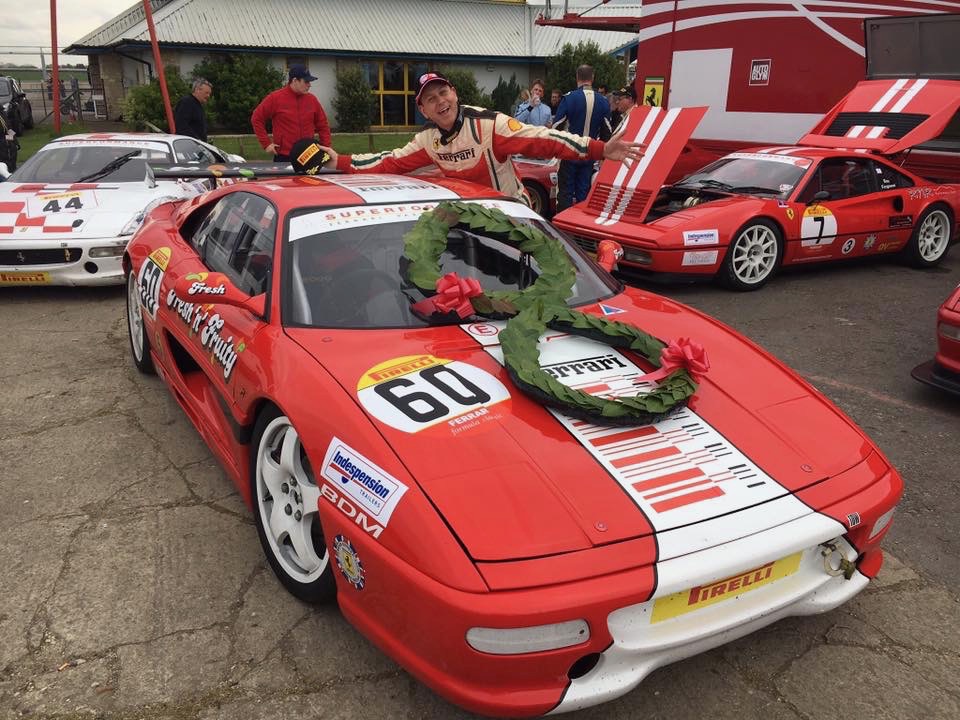 It's a Bank Holiday Monday and it's Castle Combe, but it's April not August. This new date brought forth sixteen brave souls for qualifying. It's cold enough but thankfully dry. Top of the time sheets in qualifying were the three 355 Challenge cars of Wayne Marrs, Richard Cook and Tim Modgridge. Serial Combe victor Gary Culver was next up in his familiar 328 GTB, followed by the gorgeous 550 Maranello of Pete Fisk. Chris Compton-Goddard qualified 6th running a 355 Ch in place of his usual 308 GTB.
Group 3 was lead by the silver bullet of Chris Butler from Peter Everingham, both in 328 GTBs. It was excellent to see both Peter & Richard Moseley (308 & 328 GTB), Davids Hathaway and Edge (355 Ch), Nick Taylor (Mondial), Ray Ferguson (328 GTB) and Len Watson (308 GTB). Dad Paul and son Charlie Ugo had the 308 GT4 out for an airing, doing one race each.
The times were mightily impressive. Pole was a 1.14.622 and the first six cars were all under 1.17.00. Chris Butler's 1.18.1 was also a great time in a standard 328. So was this just a quick day, or have things moved on?
Prior to the first race there was a formula classic grid walk, which whilst not on the scale of last year's Brands Festival Italia was nonetheless popular, and our cars made an excellent show. The yellow 488 safety car on loan from FNE looked stunning at the head of the pack.
Race 1
At the start of race one most got away well except Chris Butler. He dropped his silver 328 back from pole position in group 3 (7th overall) to 13th overall at the end of lap 1, a good 7 seconds adrift of his class leader Pete Everingham. Chris used to be known for his lightening starts but this ex-Richard Allen car seems to prefer a leisurely get away.
Leading was the very experienced Wayne Marrs. Wayne started his racing career with us many years ago under the guidance of Graham Reeder. He progressed to being an Inter-Marque and GT Cup champion variously racing 328 GTB, 355 Ch, 360 GT and latterly 458 Ch which he raced in the European challenge series a few times. There is nobody better to race against and I knew that the chasing pack were in for some fun. Initially the best of the rest was Tim Mogridge, but Gary Culver was looking very racy. I have said this many times but if you get a chance to see one of our races do so. Particularly at Castle Combe or possibly Brands Hatch were you are fairly close to the action. The commitment and skill shown is pretty impressive.
As the race progressed the front five (Marrs, Mogridge, Culver, Cook & Fisk) stayed in touch, so that at the end of lap 8 for example they were all within 3 seconds of each other. In group 3 Chris Butler had a bit of a shift on making up for lost time. The seemingly inevitable happened on lap 8 when Chris got past Evers to lead the class. Gary Culver got past Tim Mogridge on lap 11 and set to chasing Marrs. He did actually get alongside once or twice and it was an exciting battle to watch. Marrs is wily though and he seemed to just about have things covered.
At the flag then at the end of 15 laps it was Wayne Marrs, Gary Culver (group 4 winner) and Tim Mogridge, with other class wins to Peter Fisk (sole group 4 runner), Chris Butler (group 3) and Paul Ugo (sole group 2 runner).
Not Classified were Peter Moseley (loose ignition connection), Nick Taylor, Len Watson and Chris Compton-Goddard who had a slipping clutch.
Race 2
Our only non-starter from the first race was Nick Taylor, so with a grid set by the 2nd fastest laps in qualifying they were off again. The drizzle had held off, but only just.
In race 1 Chris Butler had endured a poor start in the 328, and Chris Compton-Goddard hadn't shown his true potential due to a slipping clutch in his 355. Richard Dougal from RnR had worked tirelessly to sort the clutch issues and from a decent grid position on row 3 Chris would enjoy a much better race – well, nearly all the race!
At lights out it was actually Gary Culver who lead the pack over Avon Rise for the first time. He was followed by Wayne Marrs and Chris C-G, Tim Mogridge and Richard Cook. In group 3 Butler had got away well and was dicing with Peter Everingham for the class lead. At the end of that first lap though Marrs had got ahead, and this was to set the pattern of the race. The first two remained in very close contention pulling a small gap to the chasing group of the three 355s plus the 550 of Peter Fisk. Chris Butler had cemented his lead in Group 3 and was hard on the heels of Richard Moseley in his group 4 328 GTB. Chris actually got past the lightly modified 328 on lap 11 and went on to post a class record 1.17.597 sec. lap.
As in race 1 Culver managed to get alongside Marrs once or twice, but try as he did the 355 just had the edge on the day. Chris Compton-Goddard was enjoying possibly his most competitive race with us, and was set for a podium right up until the last lap. It wasn't raining but maybe there was a little drizzle. For whatever reason cresting the Avon Rise on that last lap Chris's 355 just got away from him causing a slow spin. Tim Mogridge being the closest spun in avoidance and both cars made their way to the barriers and retirement. Fortunately they were glancing blows and both drivers were fine. Both cars were clearly bruised, and nobody wants to see any damage, but it could have been so much worse.
So at the end of a shortened 12 lap race the podium became Marrs, Culver and Peter Fisk who had got past Richard Cook on lap 9. The RnR driver of the meeting was Wayne Marrs and the prizes were presented by our new sponsor Indespension Trailers.
It was a decent start to the year with some frankly amazing lap times. The entry for the next rounds at Knockhill are set to be greater, and I'm sure that the racing will be just as close – plus we are promised television coverage!