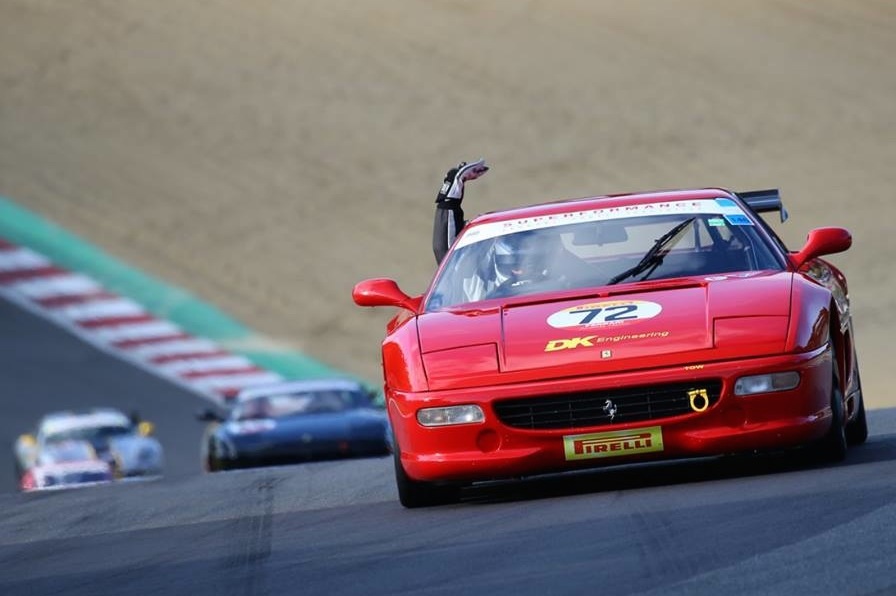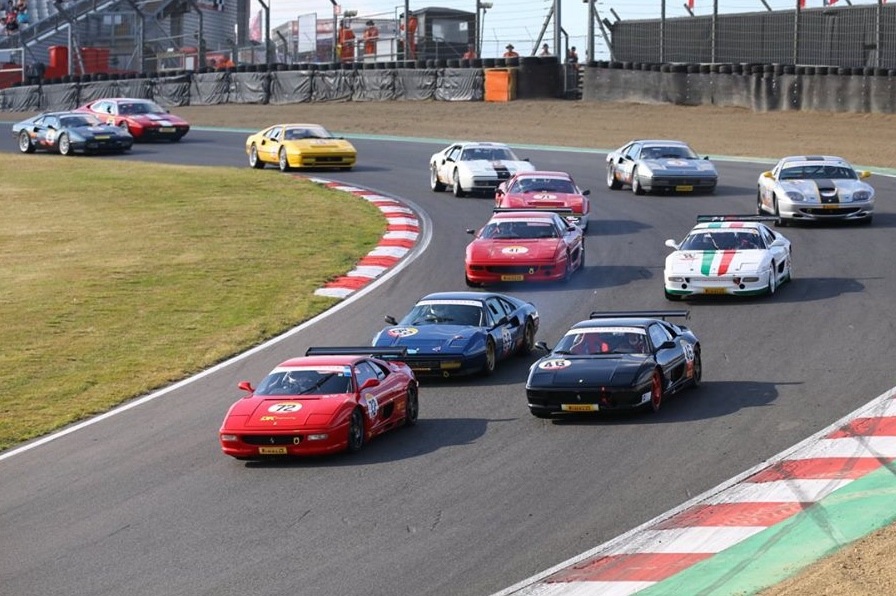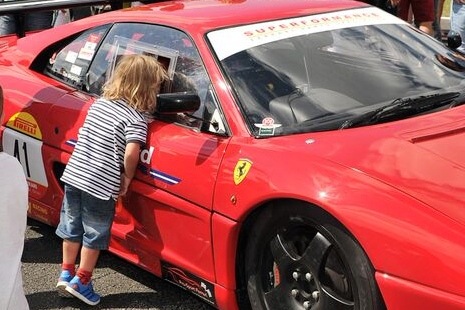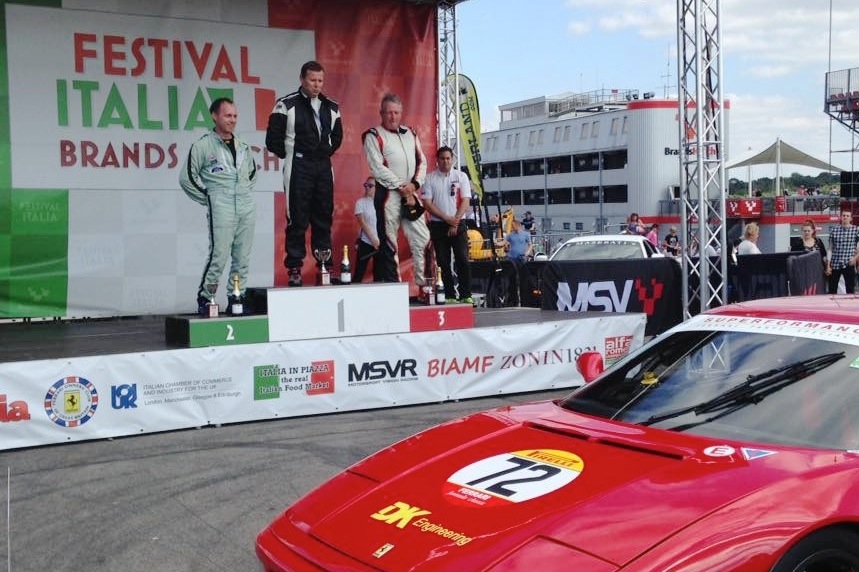 We have indeed been fortunate this year to have three Ferrari, or at least Italian focused events at which to race – Val de Vienne in France, Passione Ferrari at Silverstone in September and Festival Italia at Brands Hatch. These are just the kind of events that make our club racing scene just that little bit more special.
The initiative for Festival Italia came from Jonathan Palmer's Motor Sport Vision organisation who own and operate Brands, Oulton and Snetterton circuits. This one day event packed a lot in and certainly delivered; from Tricolore fireworks over race control and coloured fluorescent lights in the pedestrian tunnel, through to Italian national flags flying, Italian food and music, Italian opera on the grid, public grid walks and interviews with the drivers. Take a bow MSV for a job well done. There was also the largest turn out of members cars seen this year – even surpassing Silverstone Classic! For our racing web site we will concentrate on the formula classic races only.
A pleasing twenty one cars took to the track for the morning free practice session. Included in this number were five 355/Chs and the Fisk 550, all of which are of course new to the series this year. Honours have been pretty even so far between the 355s and the older cars, and it has been impossible to tell which would have the advantage. If any circuit was going to suit the older cars then surely Brands Indy, with no really long straights, would be it. Well we all guessed wrong as it was 355s that dominated in a way not previously seen.
It was to be a day of some attrition. After free practice we lost John Swift with various engine maladies, and Nick Cartwright with a blown clutch. After qualifying we lost Miles Poulton with a misbehaving engine and Gary Culver with a slipping clutch. Motor racing can be like that.
The first four cars home in qualifying were 355s – Richard Cook on pole, from Tris Simpson, Tim Mogridge and Vance Kearney. Next up, even with a slipping clutch was Gary Culver from Chris Butler and Jim Cartwright. It was great to see Peter and Richard Moseley back with us, both quite understandably a bit ring rusty.
Our cars assembled on the grid early for a full access grid walk. This proved to be really popular with the public and initially was likely a bit daunting for the drivers not used to such attention. There was autograph signing, interviews, selfies galore, kids sitting in cars and a sea of people – just fabulous.
Race 1.
Brands is a hard track to make a good start on. There is a slope which will slew the car sideways if there is too much wheel spin, and depending on where you are on the grid you could roll forwards or backwards without a brake on.
Nevertheless our four 355s got away cleanly. The black car of Tris Simpson lead up to Druids from Richard Cook and Tim Mogridge. Jim Cartwright's 328 was 4th from Vance Kearney. Experienced hill climbers like Chris Butler normally storm off the line, but Chris has yet to make a decent start this year and Brands continued this trend. It was Tim Walker who lead the group 3 boys at first. Behind Tim were Peter Fisk (550), Peter Everingham and a recovering Chris Butler. Unfortunately at the end of lap 1 Tim's crankshaft sensor failed and that, as they say, was that. On lap 4 Chris Butler got past Peter Everingham to take the group 3 lead.
The first few laps were pretty static at the front. Vance got past Jim Cartwright on lap 7 but it was lap 9 that saw a change at the front. Tris Simpson was coming up to lap William Moorwood coming into Druids. Tris went up the inside but the gap closed, there was some contact and Tris ended his race in the gravel. This presented the lead to Richard Cook which he was to hold to the flag. Our only other non finisher was Ray Ferguson who managed to find the gravel at Paddock in his quite stunning 328 GTB.
Race win then to Cook with class wins to Jim C (Grp 4), Chris Butler (Grp 3), Richard Fenny (Grp2) and Charlie Ugo (Grp 1). Vance Kearney took the fastest lap at 54.779. Interestingly Nigel Jenkins had posted a 54.866 in his 328 in 2014 so the tipos are actually really close.
Race 2.
At lights out it was Tris Simpson who got the best launch, but by Druids Richard Cook had once again got in front. Charging hard was Jim Cartwright (328) who was in P2 at the end of the first lap. Vance Kearney had dropped back as he struggled to find a right gear at the bottom of Paddock, so in P3 & P4 it was Tris Simpson and Tim Mogridge. Chris Butler made his second bad start of the day, and it was a repaired Tim Walker leading group 3 from Peter Everingham and Butler. Peter Fisk was hanging on gamely in the 550.
By lap 4 a recovering Vance Kearney (355) was having fun with the Fisk 550 as the pair went around Paddock side by side. The 550 maybe even having the edge on the drag up to Druids only to be out-braked and passed by the 355 – great stuff. Getting too close for comfort where the group 3 328s of Peter Everingham and Chris Butler. Coming into Clearways Butler went for a closing gap, there was contact and both cars spun. Chris continued but Evers retired with suspected rear wheel and tyre damage.
At the front Jim Cartwright was trying his hardest to keep with leader Cook, but was ever so slowly dropping into the clutches of the other two 355s of Simpson and Mogridge. The change came on lap 11 with Simpson demoting Cartwright and taking second slot. Mogridge in turn also got past. Our leader Richard Cook meantime was driving like a pro, making seemingly easy work of back markers, and setting the fastest lap of the race along the way.
With just a few minutes to go Charlie Ugo stopped on Cooper Straight with a sky high oil temp. This brought out a safety car which of course brought the field back together. It looked very much as the race would end under yellow flags, but the marshals and safety car team did an excellent job of clearing the hazard, and we were treated to a last two laps of thrilling action.
At the chequered flag it was an imperious Richard Cook from Mogridge, Simpson and Cartwright (group 4 winner). Group 3 winner was a thrilled Tim Walker, group 2 was won by Richard Fenny with William Moorwood taking group 1.
Racing is so often a tale of what might have been. With front runner David Tomlin being absent, and Gary Culver retiring from the races we were deprived of what could have been an epic. Nevertheless this was a superb event which surely will be repeated in 2017.
The RnR driver of the meeting was Richard Cook. Two pole positions, two race wins and a fastest lap. Not a bad week-end.