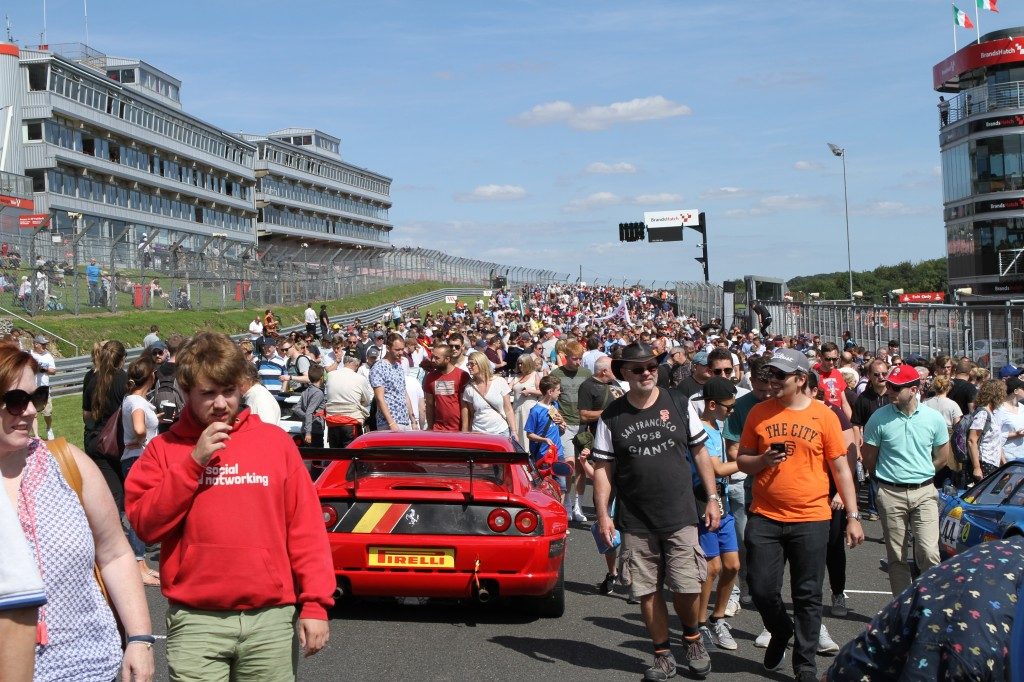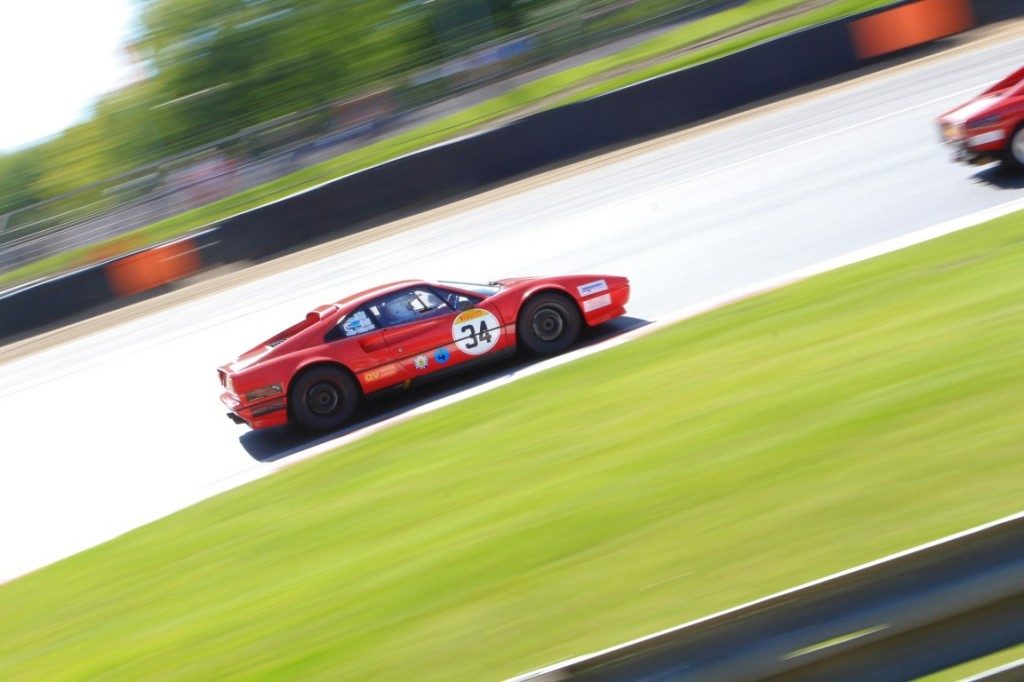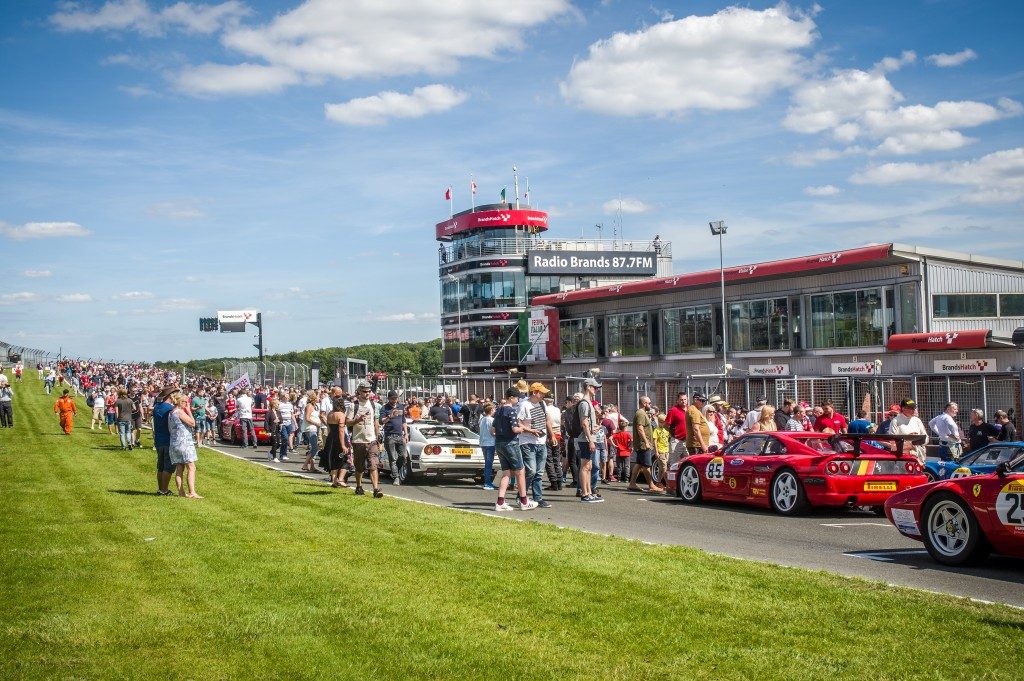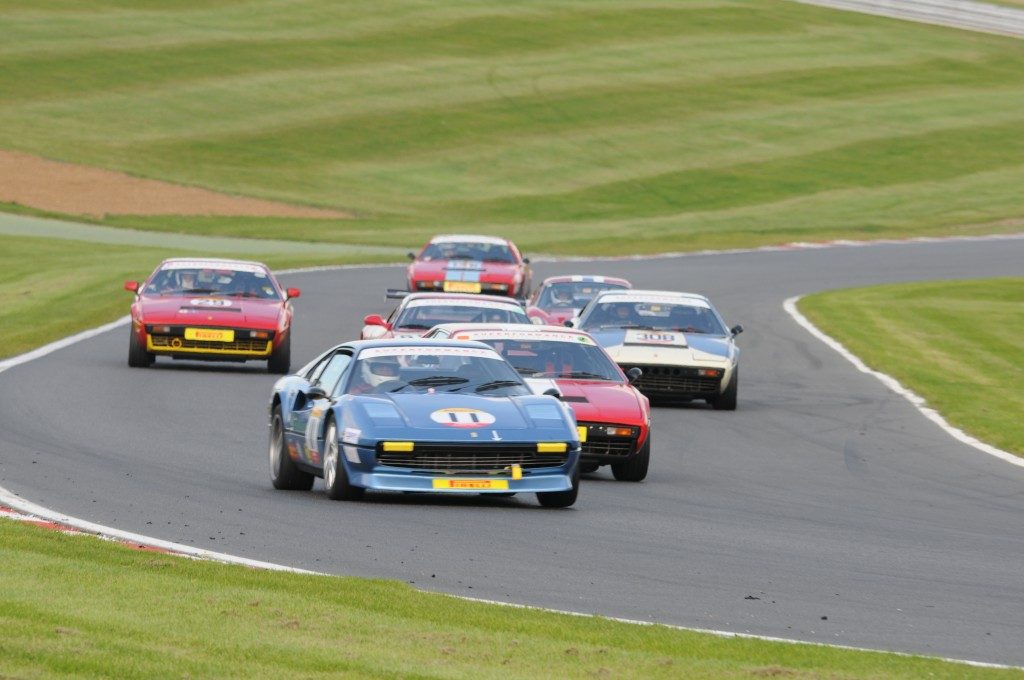 Festival Italia at Brands Hatch in August is a special event. Building on the success of last year's inaugural event this year the crowd, boosted by the brilliant weather, was even bigger, and there was more to enjoy both on and off the track. Our Club had over 100 cars in our area but were part of an overall display by all Italian car clubs and a host of other attractions for the big crowd to enjoy. On the track the Pirelli Formula Classic races had star billing with a grid walk before the start of the first race. The sight of hundreds of spectators coming down to the grid from the top of Paddock Hill bend at the start of the grid walk is something special. Talking to the many spectators around the cars and seeing how much joy can be given by offering someone the opportunity to chat to the drivers and sit in the drivers seat is a reminder that possibly we can take our cars for granted. The event was very well organised by MSV who managed to encourage all the spectators onto the track, but then also usher them off at the appropriate time.
Once the grid was cleared of spectators there was a bumper entry of 21 cars, this despite four late withdrawals. In pole position was last year's two-race winner Richard Cook in his 355 Challenge alongside Gary Culver in his 328GTB. Other notable performances or entries were as follows. Heading Group 3 was Chris Butler's 328GTB, and alongside him Peter Everingham's white 328GTB looking in fantastic order thanks to excellent work by the Cartwright's following Peter's accident at Oulton Park. Chris Goddard headed Group 2 in his 308GTB but not far behind him was Richard Fenny the fastest of five GT4's on the grid. Welcome returnees were Myles Poulton's 328GTS and Nick and Ethan Whittaker in their GT4. Carl Burgar complained of being out of practice being only his second race in the recently acquired 328GTB. Perhaps best of all was the 246 Dino entered by Bell Classics. This car has a long hill climb history but has been little raced. In past times Dinos regularly raced but this was the first entered in recent years and was a welcome addition to the grid.
Race 1
On the green flag lap Vance Kearney's 355 Challenge had a gearbox problem and had to retire. Once the lights went out Gary Culver was able to take the lead followed by Tim Mogridge's 355 Challenge with Richard Cook slipping back to third place. Lap times were all very close with some competitive racing all through the field. William Moorwood's GT4  passed the Dino of Simon Barker only to lose the place with a move around the outside of Clearways. The Goddard 308GTB was going well only to discover that during the grid walk one of his bonnet catches had been released requiring a very fast pit stop to have it fastened – this allowed the Fenny GT4 to head Group 2. On the same lap Tim Mogridge lost his second place letting both Richard Cook and Nigel Jenkins (355 Challenge) get past him. Jenkins in turn began to slow with an alternator issue allowing Cook into second place.
Chris Goddard was going well making up lost ground to head Group 2, helped when Charlie Ugo's GT4 went wide at Clearways losing time in the gravel, and by Richard Fenny missing a gear change at Druids. When the chequered flag was shown it was another win for Culver as he continues his excellent form this season. Second was Richard Cook and third Tim Mogridge who were all ushered to the podium located on the outside of the track.
Race 2
The grid for race two was set by the second fastest times set in qualifying and was not surprisingly very similar to the grid in race one. When the cars lined up on the grid though the 355's of Lee Moulden (sharing with Vance Kearney) and Nigel Jenkins were missing as engine issues could not be sorted in time.
At the start of the race Culver again went straight into the lead ahead of Cook. At the back of the grid Ethan Whittaker's GT4 made a slow start causing some avoiding action to be taken. This allowed Paul Ugo, who had taken over the family GT4 to make a storming start, as did Len Watson in his 308GTB. Group 2 which had been so competitive in the first race then suffered a series of mishaps. First Matt Wilton in the Bell Classics Dino dropped out, followed by Fenny with a clutch issue, Paul Ugo with a sticking throttle, John Swift with a lack of water and finally Len Watson who had been running really well was let down by a crankshaft sensor coming loose. This allowed Ethan Whittaker who was now running well to make up time from his shaky start to come second in Group 2.
The battle for third place overall was close with initially Tim Mogridge keeping Pete Fisk's 550 Maranello behind him. Fisk had not found the track particularly to his liking but despite that he managed to take third place on lap 9. At the front of the race Gary Culver finally made a rare mistake on lap 14 coming out of Clearways, this allowed Richard Cook to take the lead over the line only to himself make a mistake at Paddock Hill allowing Culver to retake the lead. So it ended with a second win for Culver and another second for Cook heading group 5. Chris Butler had two Group 3 wins ahead of Peter Everingham. Chris Goddard had a second Group 2 win this time ahead of Ethan Whittaker and William Moorwood secured two Group 1 wins ahead of the Terry Simpson/Mark Cavoto's GT4.
The sunshine certainly helped but the timing of Festival Italia in August was a great day out for the big crowd. It is certainly a real pleasure racing in such an event and this is shown by the big turnout on the grid. Roll on next year.