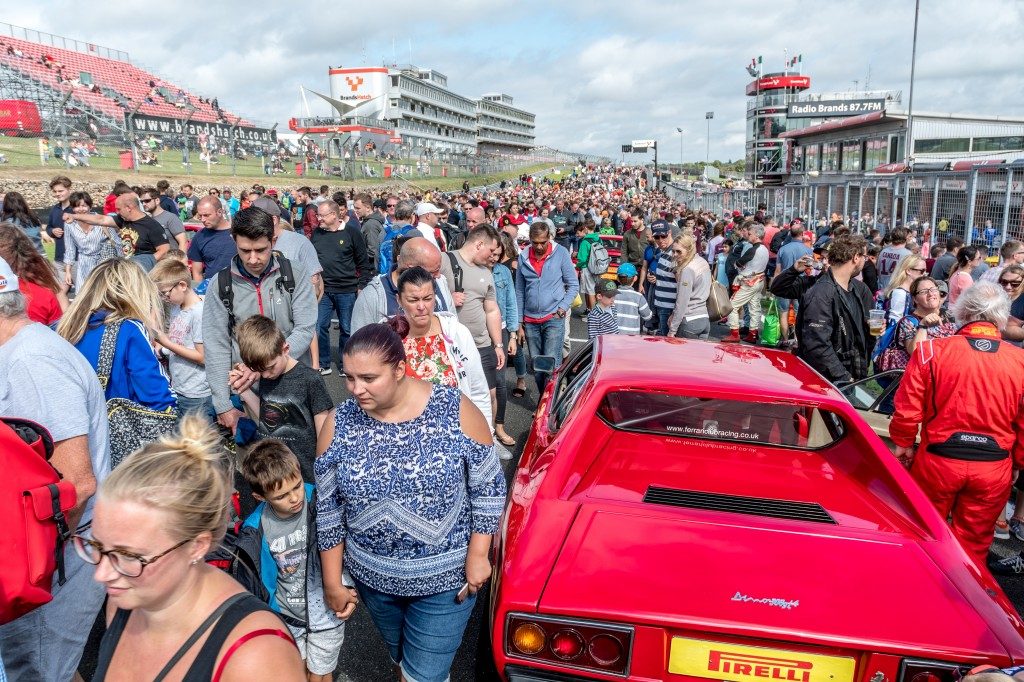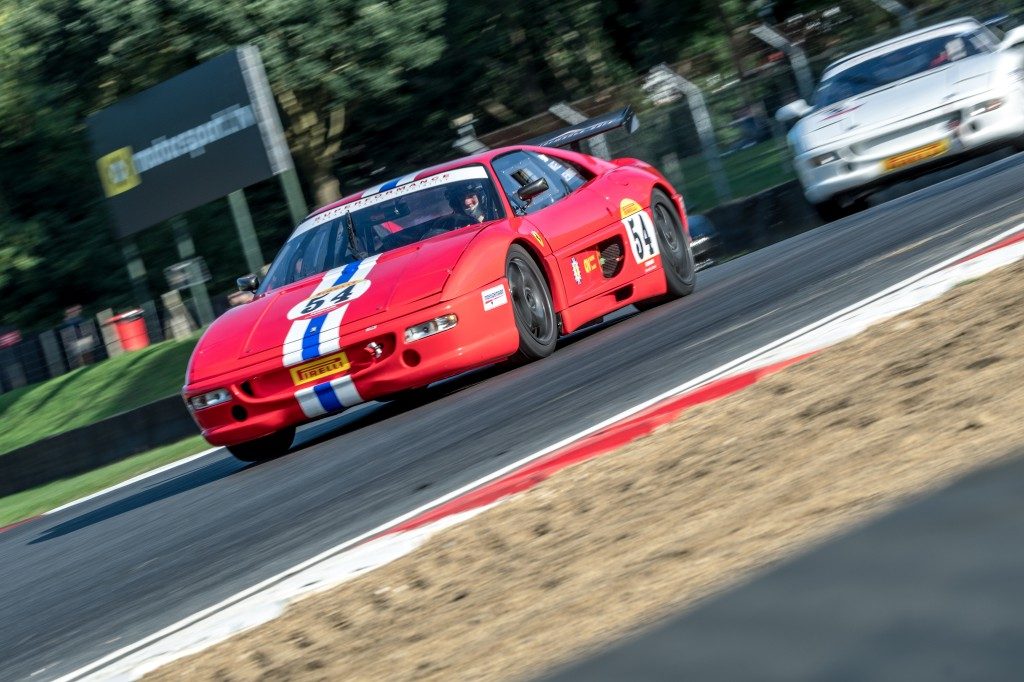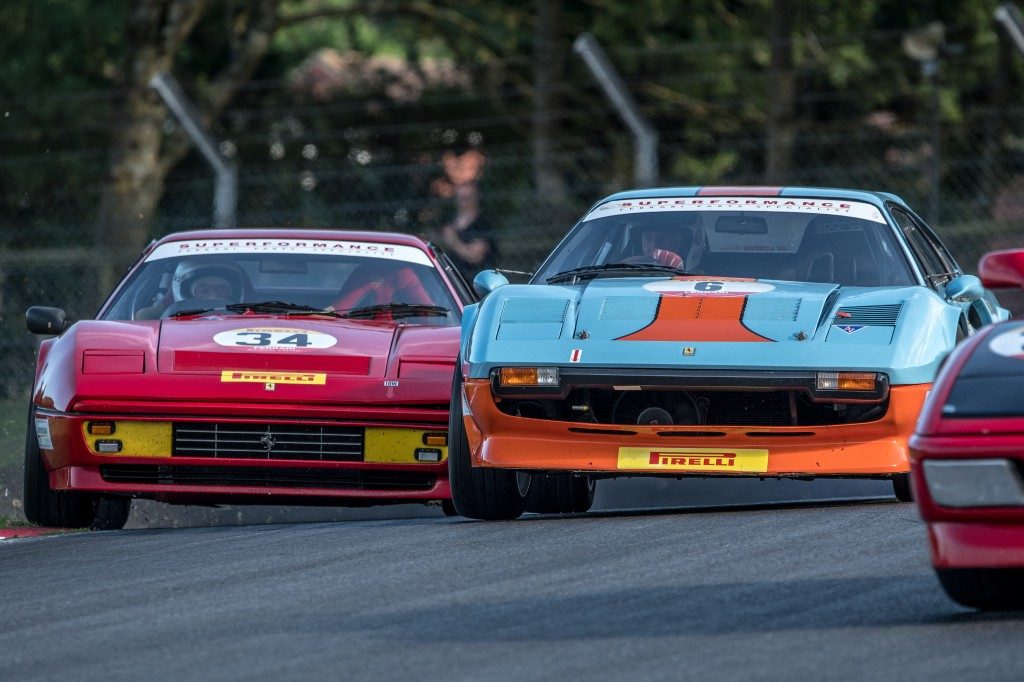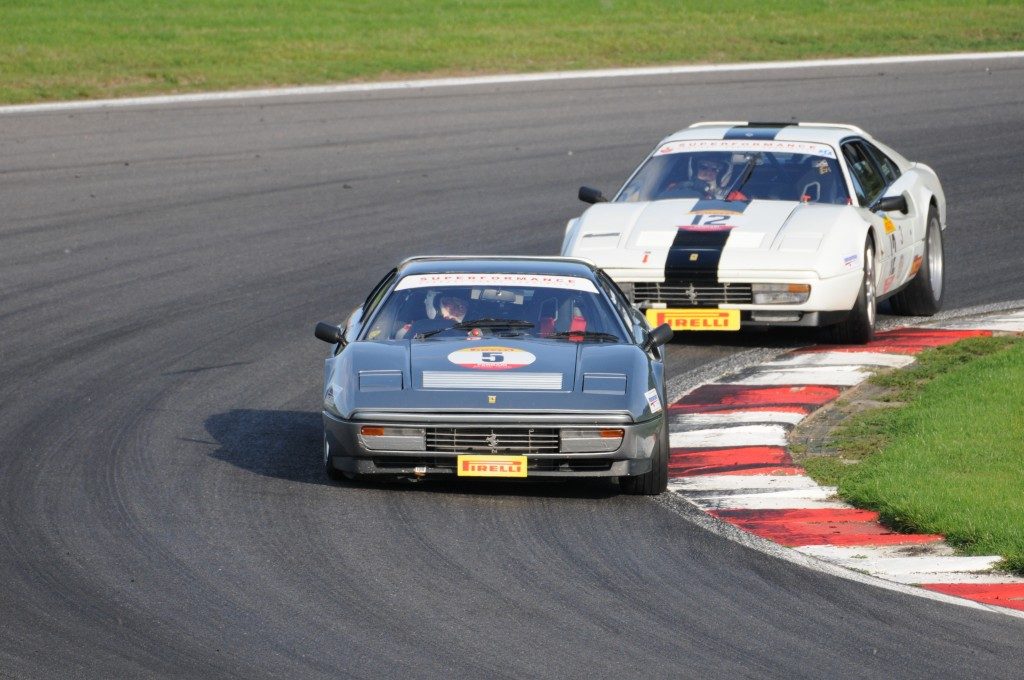 FESTIVAL ITALIA just seems to get better and better. There was a bigger crowd than the previous two years and, for those who had time to have a look, the car displays on the outside of the track were a joy to visit. MSV certainly organise the event very well with something for everyone to enjoy.
We had a healthy entry of 19 cars which took part in qualifying. The format of the day with a timed practice session followed by a qualifying session in which the two best times set the grid for the two races seems to work very well.
Tris Simpson in his 355 Challenge continued his good form this season and took pole for both races. Next to him was Nigel Jenkins' 355 Challenge with last year's winner Gary Culver (328 GTB) in third position. There was a welcome return to the series by David Tomlin is his distinctive blue and orange 308 GTB who qualified fifth. Atul Saini's bad luck from Donington continued as a trip to the gravel raised some new mechanical issues in his 355 Challenge and he could take no further part in the meeting. Right at the end of the session he was followed into the same gravel trap by Carl Burgar's 328 GTB. In the briefing we were asked to put on a good show and not to make contact with other cars. I think we achieved this but perhaps Steve Burns should also ask us to avoid gravel traps…
Race 1
The sun came out as the cars were lined up in good time on the grid for the grid walk. This seemed to be bigger than ever and is the crowd were wonderfully enthusiastic and friendly. Once the grid was cleared it was time to get back into the cars and prepare to race. There was a slight delay when there was a request for the driver of 'car no 26' to make himself available for the race. Not something that usually happens on a grid after the 3 minute board has been raised!
At the start all the cars got away but some better than others. Tris Simpson after a faltering start emerged in the lead but Nigel Jenkins alongside was not as fortunate as he slipped back four places. Peter Everingham  (328 GTB) made a good start to head his fellow Group 3 competitor Chris Butler (328 GTB) and Vance Kearney's 355 Challenge. Chris Goddard (308 GTB) also lost several places at the start and as the race unfolded all those who had lost ground would steadily make up their lost places, not easy on a track where it is relatively easy to defend your position in the race.
Tris Simpson initially had a clear lead but by lap 9 he had cause for concern as Nigel Jenkins had moved up to second place and he lost the lead on lap 14 and then, as his tyres began to let him down, he lost further places after going wide on Graham Hill bend.
For a number of laps Carl Burgar led Myles Poulton (328 GTS) Colin Sowter  (348 Challenge) and Chris Goddard but through the latter half of the race these positions were all reversed with Goddard pulling away from them leaving Sowter, Poulton and Burgar to finish very close together.
At the front Nigel Jenkins finished a worthy winner with Tim Mogridge  (355 Challenge) in second place only just ahead of Gary Culver's 328 GTB. Chris Butler headed Group 3 ahead of Peter Everingham. In parc ferme it was apparent that Myles Poulton was leaking water and William Moorwood was leaking oil such that neither could take part in the second race.
Race 2
The second race was exceptional with some very close racing from start to finish with the outcome uncertain right to the end of the race. The start of the race was terrific as Lee Moulden who had taken over from Vance Kearney in their 355 Challenge made a good start from the second row so that he joined Tris Simpson and Nigel Jenkins as the three of them went into Paddock Hill bend alongside each other. You had to hold your breath to see who would blink first as this could not continue all the way into the hairpin at the top of the hill. This time round it was Jenkins who took the lead followed by Moulden and Simpson.
Close behind them there was another three-car group with Tomlin leading Culver and Mogridge followed by yet another race as Butler was ahead of Everingham albeit by a small margin. Further back it was a little quieter as Goddard tried to make up for a poor start as he was chasing Sowter and Burgar. Len Watson's 308 GTB was now running well and initially had the better of Richard Fenny's 308 GT4.
When cars are closely matched the Indy Circuit does not provide easy overtaking opportunities and it seemed that Culver and Mogridge were marginally quicker than Tomlin who was in no mood to let anyone by. Culver found himself in the tricky position of having to both attack and defend in the middle of this group of three and on lap 7 he lost his place to Mogridge but this was not to last as on lap 13 Mogridge was forced to pull off with an oil leak.
Behind these three it would seem that if the form book was correct that Butler would pull slowly away from Everingham but this was not to be case as, maybe inspired by the enthusiastic crowd, Everingham never gave up the persuit of the silver 328 GTB in front of him and in the last few laps was clearly getting closer and closer. Looking at the detailed lap times it is incredible how closely matched these two were.
Something similar was happening at the front when it seemed that every time Jenkins eased away a little from Moulden and Simpson the gap would then diminish and there would be no let up at all, right to the end of the race.  Culver too was relentless in his pursuit of Tomlin and eventually on the penultimate lap he squeezed past on Cooper Straight and despite going wide into Clearways he hung on to take fourth place at the end.
This race on its own provided plenty of deserving options for the commentators' selection of the RnR Driver of the Day and the award was given to Lee Moulden for his impressive drive.
For lots more of Simon Cooke's pictures please go to the Club's Flick page.