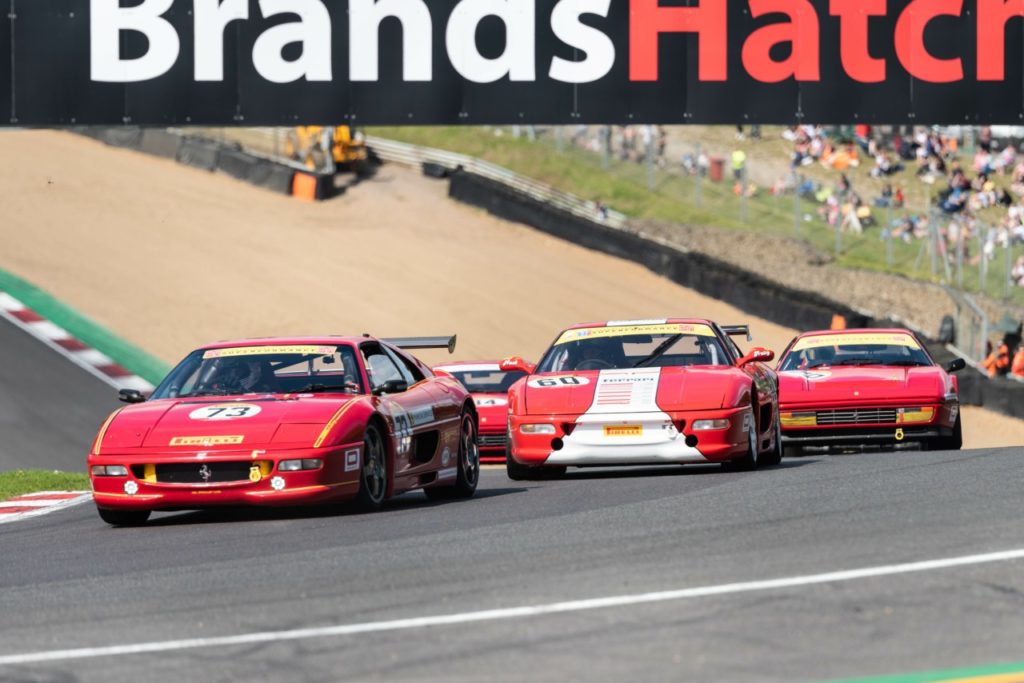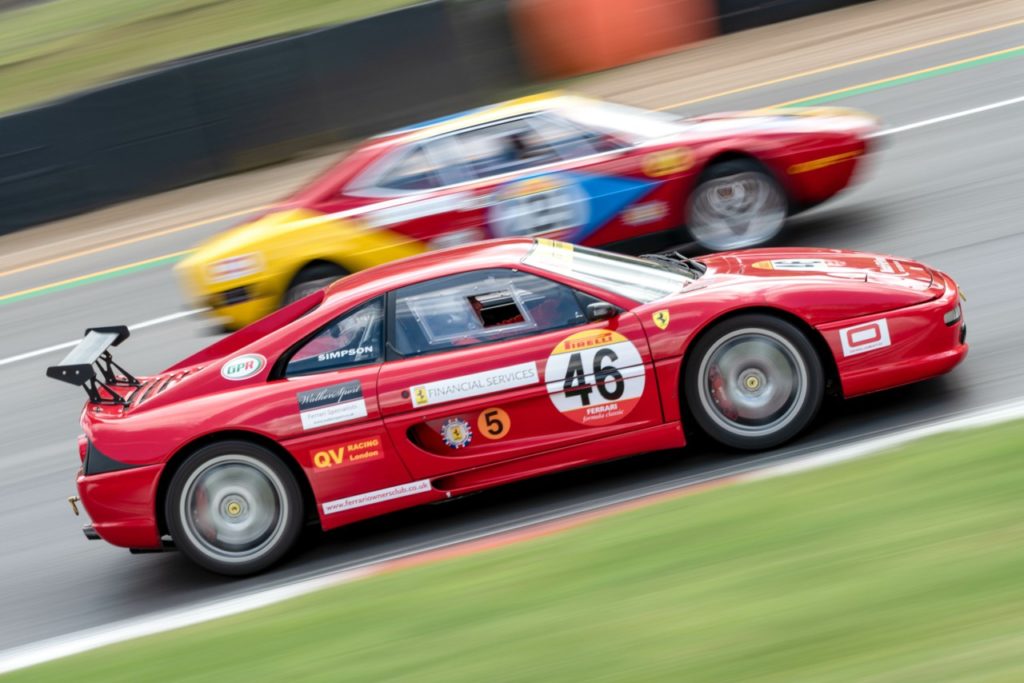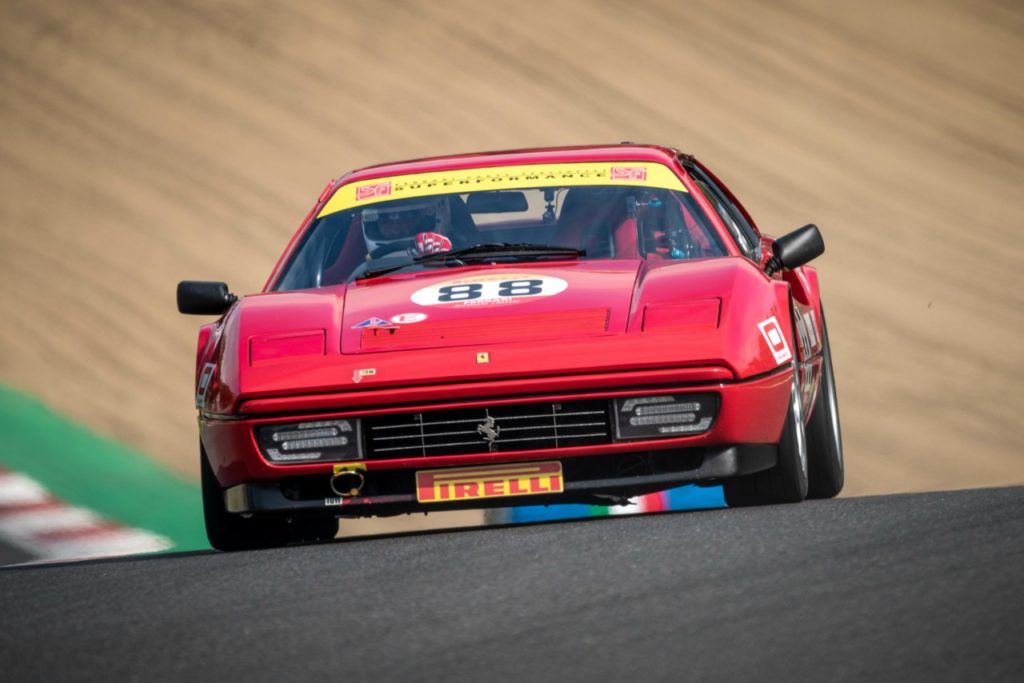 Without doubt one of the highlights of our racing calendar is the Festival Italia and 2021 exceeded expectations with enthusiastic crowds and proud owners of a fantastic variety of Italian machinery. Blessed with great weather, impressive grids, F1 car displays and even an opera singer it was a day set to tick all the boxes.
It was a little unfortunate to see the formula classic grid whittled down from 18 competitors to 13 runners for race one due to a few mechanical and track mishaps.
Qualifying for race one and Wayne Marrs lit up the timing sheets with a swift 53.280 to take pole with Tim Walker 0.8 in arrears and Gary Culver in 3rd with an impressive lap of 55.03. Great to see Mr Culver returning with his 328 GTB in such great form. An impressive qualifying time from Jago Keen punching above his weight placing his group 2 308 ahead of some larger capacity machinery promised an exciting mid pack tussle.
Race 1
After being serenaded by Mr Go-Compare on the start finish line with Nessum Dorma and the Italian National Anthem it was straight to business with race one.
Marrs made a clean get away with Walker and Culver maintaining 2nd and 3rd positions respectively. Tris Simpson down in 11th after issues in qualifying made a great start and was soon slicing his way through the pack. He was soon up and making the pass on Butler into 5th place on lap 2 and in pursuit of Jim Cartwright who was hanging onto the coat tails of Culver in 4th. Darren Mills was at close quarters with Nick Cartwright nibbling at his rear bumper challenging lap after lap.  Simpson was soon up behind J Cartwright before getting past.
A vibrant quartet consisting of Keen, Riddoch, Wharton and Ferguson made for great viewing as each awaited opportunities. Riddoch made the pass on Keen on lap two and Wharton was through on lap 5 catching and forming an entertaining duel with Riddoch. Keen succumbed to Fergusons 355 Challenge on lap 7 and Ferguson was soon catching Wharton and Riddoch's group 3 328s. Riddoch maintained the front of this pack keeping a feisty Wharton at bay until the finish line.
Simpson continued to chase hard, reeling in Culver and making the pass on lap 17 for third place. Mills passed Nick Cartwright on lap 18 and pulled a comfortable gap. Simpson set about catching the lead pair and came within 4.4 seconds of the lead as Marrs crossed the finish line to take the win with Walker taking 2nd.
Consistent drives but somewhat quieter races for Moorwood and Butler. Group wins went to Marrs, Culver, J Cartwright and Keen. followed by a few hours to cool off and to enjoy some quality racing in the afternoon sunshine before being called up for race two, the last race of the day.
Race 2
The cars lined up for race two with not much change at the sharp end. Keen was once again in front of Ferguson, Wharton and Riddoch. Simpson lined up last behind Moorwood and was no doubt looking forward to another charge through the field.
A great start for Walker in his 355 took the lead from Marrs but thia was short lived with a brief grassy excursion at Mclaren handing the lead back to Marrs. J Cartwright made the jump on Culver and was working hard to maintain the advantage with Culver looming large in his mirrors.  Walker regaining the tarmac in 7th place was soon making an impressive charge back through the field.
Mills made a clean start maintaining a lead over N Cartwright. Wharton and Riddoch passed Keen on lap one and Ferguson then got past on lap 3. Once again some high tension racing between this mid pack with Riddoch passing Wharton on lap 7 but Wharton reappeared in front again on lap 8 with Riddoch dropping back behind Ferguson after a spinny moment at Druids.
The order remained Marrs, Culver, Cartwright and Butler until lap 7 when the hard charging Walker and Simpson passed Butler. Culver passed J Cartwright on lap 8 after an impressive tussle and was soon eating into Marrs' lead. Simpson and Walker were at close quarters until Simpson found a way through on lap 14 and was soon after J Cartwright for the final podium spot.
A recovered Riddoch made his way back up to the 355 Challenge of Ferguson and passed on lap 14 on the hunt for Wharton. Marrs had to respond with the impressive pace of Culver as he was soon filling his mirrors under a second behind over the final laps. Marrs took the win but was kept honest until the line. Simpson squeezed passed J Cartwright on lap 20 to clinch the final podium spot.
A great race to watch packed full of action throughout the field. Class wins went to Marrs, Culver, Cartwright and Keen.