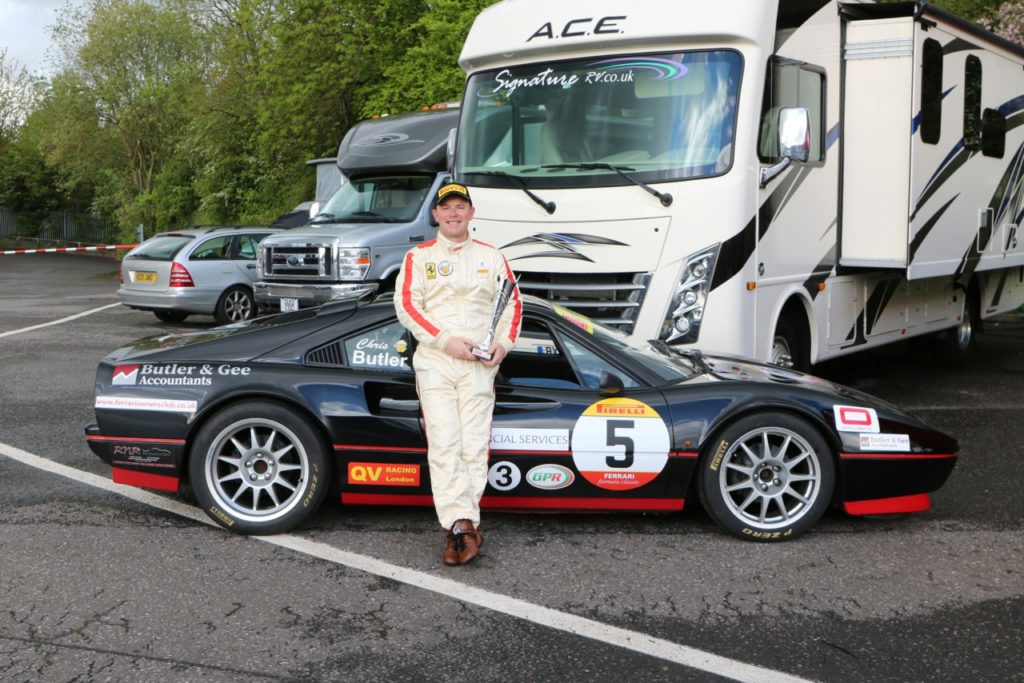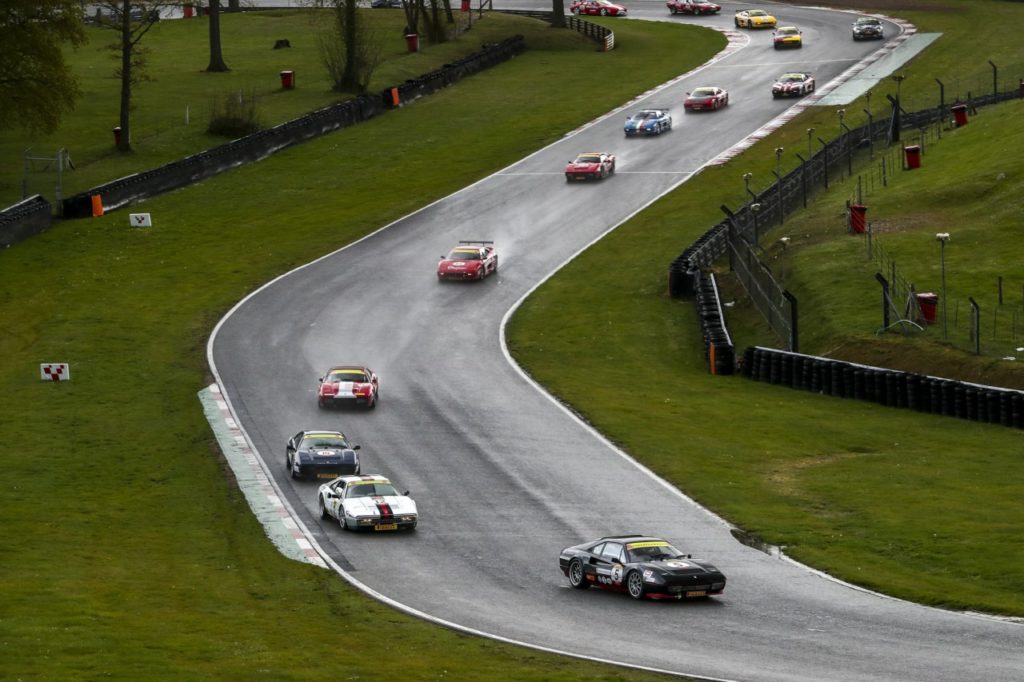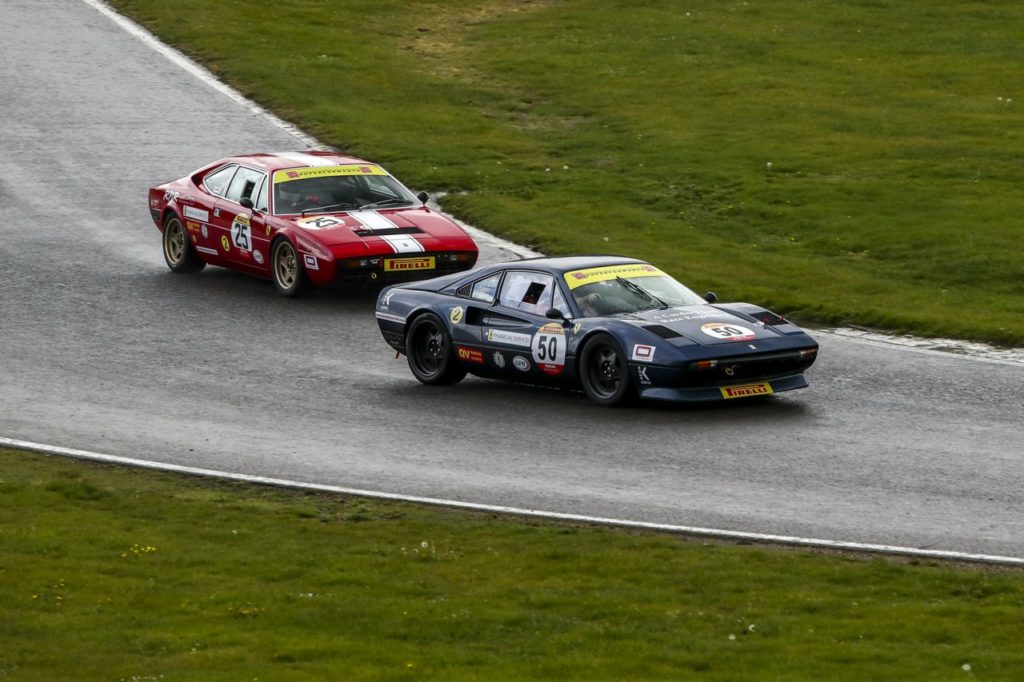 The opening race meeting of the season was highly entertaining with the weather having a big part to say in the results and some outstanding driving by a number of drivers who revelled in the conditions.
There were 20 cars in the paddock, most of them driven by familiar faces from last year. It was a pleasure to meet up Robert Rees in his newly acquired blue 328 GTB which he told me with a smile that it was preferable to the Radical he raced last year. Len Watson was back after a year's sabbatical in his familiar 308 GTB. Peter Moseley was back after 2 years with his 308 GTB and Ray Ferguson was back from a longer break with a newly acquired yellow 355 which was so smart that it won the Superformance award for Best Presented Car judged by Scrutineer Andy Bush.
Saturday – Indy Circuit
Qualifying
Following a damp free practice the 20 minute qualifying session was the only dry track time experienced over the weekend and as a result the grid positions went pretty much to expected form. Wayne Marrs (355/Ch) was on pole with Pete Fisk seemingly happy with handling of his 550 Maranello in second place ahead of Tris Simpson in his 355 Challenge.  In sixth place Tim Mogridge (355/Ch) had both suspension and engine problems such that he would take no further part in the meeting. Colin Sowter did well in his 348 Challenge to top Group 4 in seventh place.
Chris Butler headed Group 3 in his 328 GTB in 9th place with Peter Everingham behind him also in a 328 GTB. Group 2 was headed by Richard Fenny in his 308 GT4 with William Moorwood, now running in Group 2 following the decision not to have Group 1 this year, second in the Group also in a 308 GT4.
Race 1
Sure enough the expected rain came in time for the first race of the weekend and, although not torrential, the track conditions were decidedly difficult with two green flag laps for the drivers to be fully aware of the changing conditions. When the lights went out everyone got away safely but it was soon apparent that in these conditions on this particular circuit a 355 was not the ideal choice as Chris Goddard found out soon enough with a spin in his 355/Ch coming out of Druids which dropped him to the back of the field. Sowter also had a spin on lap 2 which dropped him back.
By the end of the first lap Butler and Everingham were up to 5th and 6th place. Ahead of these two the pick of the Group 5 drivers was Vance Kearney (355/Ch) who took the lead from Marrs on lap 5 but then found Butler in his mirrors. The Group 4 328 GTBs of Myles Poulton and Robert Rees were also making up places.
On lap 11 Kearney ran wide approaching Clearways and Butler took the opportunity to take the lead which he would hold for the rest of the race. In Group 4 Richard Moseley was getting back into race driving to such an extent that he got ahead of Moorwood and then Fenny to head the Group with only 2½ seconds between these two at the end of the race.
Butler won his first race in 10 years ahead of Kearney and Marrs with Everingham in a creditable 4th place. Group 4 was won by Poulton in 7th place narrowly ahead of Robert Rees.
Sunday – Grand Prix Circuit
Qualifying
The two fastest times would determine the grid positions for the two races in the afternoon. This was a really interesting wet 20 minute session complete with a red flag and brief hold up so that Len Watson's 308 GTB could be recovered which after a close inspection had only minor damage to the front wing. Prior to the stoppage Wayne Marrs was on pole, Everingham second followed by Butler and Kearney.
Once the session started again Butler hung back to get a free run and with an exceptional lap took pole ahead of Marrs and Kearney with Everingham down to fourth. On second fastest times Marrs was ahead of Butler and Everingham ahead of Kearney.
In 5th place Group 4 was headed by Poulton for the first race and Rees for the second race, similarly Fenny and Moorwood would also each have top position in Group 2
Race 2 -Rain again
At the start of the race Butler with his first ever pole position made a faultless start to take the lead with Everingham tucked in behind him. Rees also made a good start to get up to 4th place behind Marrs.
Peter Fisk was using the power of his 550 to good effect on the straights and emboldened by the improved handling got ahead of Simpson on lap 4 and Poulton on Lap 5. Jago Keen found that the GP circuit suited his 308 GTB better, moved up past Fenny and Moorwood to head Group 2.
The length of the GP circuit and the slow rain-influence lap times meant the 20 minute race was only 10 laps in length. On lap 10 Everingham, racing with superb control behind Butler, inexplicably had a spin on the exit of Graham Hill Bend and dropped back to 4th Place.
In Group 2 it was a win for Jago and a very close finish for second as Fenny dropped his pace approaching the chequered flag but judged to perfection he held on to second place in the Group by 100th second from Moorwood.
Another win for Butler, second place for Marrs and a very impressive 3rd place for Robert Rees. As for Everingham, somewhat distraught in the paddock, he admitted to a fit of coughing which caused him to lose concentration, not fair as he has given up smoking.
Race 3 – more rain
This year the grid formation is like Formula One with more spacing between the cars on the grounds that it would help to avoid a potential accident and this proved to be the case. When the lights went out Marrs remained stationary with the extra room available allowing the cars around him to get away safely. Fisk, 4 cars behind him, also made a poor start and as he was getting past Marrs, he was also overtaken by Moorwood and Ferguson on the outside of him, fortunately there was enough space for all of us. Coming out of Druids Ferguson had a spin which was neatly avoided by Fenny.
Butler made his usual good start and was tracked by Everingham, Rees and Poulton. Incredibly there were four 328s running at the front. By the end of lap three Poulton had got ahead of Rees, Marrs from being last off the start was up to 7th and in the Group 2 battle Jago was now heading the class but then all would change as Marrs ran wide coming out of Paddock Hill bend and was beached in the gravel bringing out the safety car.
Two slow laps allowed everyone to close up prior to a 4 lap dash to the finish. Immediately after racing resumed Darren Mills had a meeting with the barriers coming off at the exit of the ever tricky Graham Hill bend, sustaining body damage and forcing him to retire.
Up front Butler was imperious with Everingham never less than two seconds behind. Poulton drove faultlessly in third place as Simpson and Fisk, who had got past Rees after he lost time on lap 7, chased him hard to the end but were given absolutely no chance of overtaking. So incredibly the final podium was comprised of three drivers of 328s. Who would have predicted that before the weekend?
Commentator Peter Snowdon observed that there were a number of excellent performances to choose from but it was clear that the outstanding candidate for the RnR 'Driver of the Weekend' award was Chris Butler.