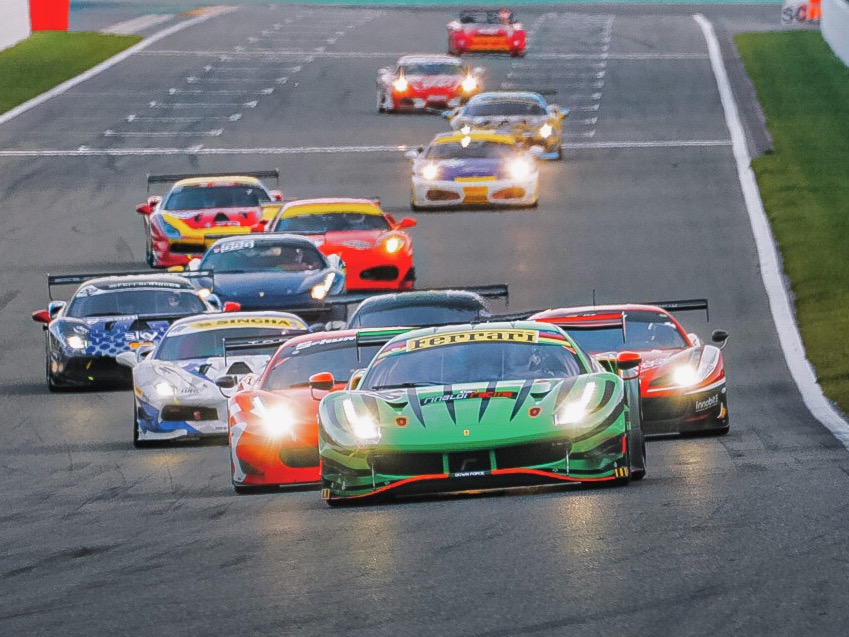 For many years the Club has enjoyed an annual visit to the fabulous motor sport mecca that is Spa-Francorchamps, the famous 7km long Formula 1 circuit located deep in the Belgian Ardennes which, following the cancellation of the proposed 2020 event due to COVID-19, provided the setting for the final instalment of Ferrari Club racing action for 2021.
Unfortunately the added complications of customs paperwork required for International travel following Brexit, together with uncertainty surrounding the ongoing travel restrictions resulted in a much depleted UK entry, with just one British driver, Andy Christopher making the trip with his F430 Challenge.  We also welcomed two guests, Robin Biesbroek from The Netherlands with his 348 Challenge (who has joined our Pirelli Ferrari formula classic grid in the UK on a couple of occasions) and Hans Hjelm from Sweden with a latest specification 488 GT3.  Robin in his usual style drove his car to the circuit, albeit with Spa being somewhat closer to home than Silverstone or Brands Hatch, enabling him to arrive on the morning of the event just in time for qualifying.
At this event we shared the grid with our friends at Ferrari Club Deutschland, who assembled a grid of 18 cars.  Unfortunately the F40 of Michael Röder failed to arrive due to a gearbox issue and Ralf Schuchmann crashed his 458 Challenge during the pre-event track day, so following the Drivers' Briefing given by our own Series Co-ordinator Steve Burns (who was fulfilling the role of Race Director), a total of 19 cars (including the 3 "UK" drivers) took to the circuit on Saturday morning for Qualifying, which ran under clear blue skies.
Unsurprisingly the GT3 machinery topped the time sheets with Thomas Löfflad (458 GT3) taking pole position by 0.548 seconds from Josef Schumacher (458 GT3).  As seems to be a perennial issue at Spa-Francorchamps, a number of drivers had their lap times cancelled for abusing the track limits.
Race 1 was a lights to flag victory for Löfflad (Class 8), who managed to hold off Schumacher with a gap of 3.372 seconds after 30 minutes (or 13 laps) of racing.  The Class 7 winner was Oliver Plassmann (488 Challenge EVO) with Class 5 going to Holger Harmsen (488 Challenge) despite a 5-second penalty for the dreaded track limits.  With Ralf Schuchmann absent from the entry list following his crash on Friday, this left Nader Berg (458 Challenge EVO) as the sole Class 4 runner, Nader experiencing his first ever motor race and loving every minute of it.
Thomas Vital won the 430 Challenge class (Class 3) from Ralf Goral and Andy Christopher after a race long battle, Andy commenting afterwards that he'd had a great race and was highly complementary of the driving standards.  Andy spent the rest of Saturday evening on the hunt for a brand new set of slick tyres (to no avail) so he could go a little bit quicker on Sunday.  He'd clearly caught the 'Spa racing bug' and was waxing lyrical about the experience.
Class 1 for the Classic / Invitation cars was won by Cornelis Filius in his incredibly rare (one of only 17 produced) Maserati Barchetta who finished ahead of Robin Biesbroek (348 Challenge).  19 cars started, and 19 cars finished.
Sunday morning and with the sun continuing to shine, 18 cars headed to the startline, Christopher Stahl withdrawing his 458 GT3 following a small altercation with the tyre barrier during Race 1.  As the lights turned green, Eckhard Breitmeier (488 GT3) got the jump on Thomas Löfflad (458 GT3) and sprang into a lead which he would hold until the chequered flag came out 13 laps later.  On lap 3 Andreas König (488 Challenge EVO) spun exiting Bruxelles and made contact with the tyre wall, the fluid from his damaged car running down the hill towards Turn 9, with the slippery surface catching out a few of the following drivers.  The race then settled down with a number of good battles throughout the field, including at the front.  In the closing stages of the race Löfflad made a couple of moves to retake the lead but unfortunately also got caught out by the fluid at Turn 9 and span away any chance of challenging for the top step of the podium. He managed to rejoin ahead of the intense battle for 3rd position which was led on the road by Josef Schumacher (458 GT3) from Hans Hjelm (488 GT3).  However a 10-second penalty for abusing the track limit at Raidillon was to befall Schumacher, and so it was a surprised Hjelm who headed to the final step of the podium.  Andy Christopher (430 Challenge) went one better than Race 1 by finishing 2nd in Class 3, 2.106 seconds behind Ralf Goral (430 Challenge).  Classes 1, 4, 5 & 7 honours again went to Cornelis Filius (Maserati Barchetta), Nader Berg (458 Challenge EVO), Holger Harmsen (488 Challenge) and Oliver Plassmann (488 Challenge EVO) respectively.
With the Race 3 grid based on the results of Race 2, Eckhard Breitmeier (488 GT3) led away from pole position.  Hans Hjelm (488 GT3) starting from the 2nd row held a tight line through La Source, and with tyres not fully up to temperature, Hjelm span into the retaining wall, which brought out the Safety Car for one lap to enable his broken 488 GT3 to be recovered.  At the restart the top 3 of Breitmeier, Thomas Löfflad (458 GT3) and Josef Schumacher (458 GT3) commenced a very close and entertaining battle, with Löfflad exploring every opportunity to pass Breitmeier, who was demonstrating a master class of defending, placing his 488 GT3 exactly where Löfflad wanted to be.  On lap 6 Löfflad saw a gap on the left at Raidillon and was able to drag past Breitmeier onto the Kemmel Straight.  However the manoeuvrer was completed outside of the track limit so the message soon came from the Race Director that he must give the position back, which he duly obliged.  With Löfflad slowing to allow Breitmeier back through, this allowed the chasing Schumacher to close in, and soon Löfflad was having to defend rather than attack.  On lap 10 Schumacher pounced with a move down the inside into La Source.  Unfortunately Löfflad was already moving across to defend and when the contact occurred it was Löfflad who spun, losing several seconds but being able to rejoin still in third position.  That left Breitmeier clear to take his 2nd win of the day, from Schumacher and the recovering Löfflad.
With Oliver Plassmann not taking the start, and Andreas König also missing due to damage sustained in Race 2, this left Werner Genter as the sole survivor in Class 7 for the 488 Challenge EVO cars.  Unfortunately a broken brake calliper also left Andy Christopher as a frustrated spectator, with the Class 3 (for 430 Challenge) spoils going to Thomas Vital. Cornelis Filius (Maserati Barchetta), Nader Berg (458 Challenge EVO) & Holger Harmsen (488 Challenge) completed a hat-trick of wins in Class 1, 4 & 5 respectively.
Overall it was an excellent weekend, the weather gods were kind, and the hospitality extended to us by Ben Dörrenberg and his team at Ferrari Club Deutschland was exemplary.   It's just a shame that more UK based drivers were not able to make the trip.