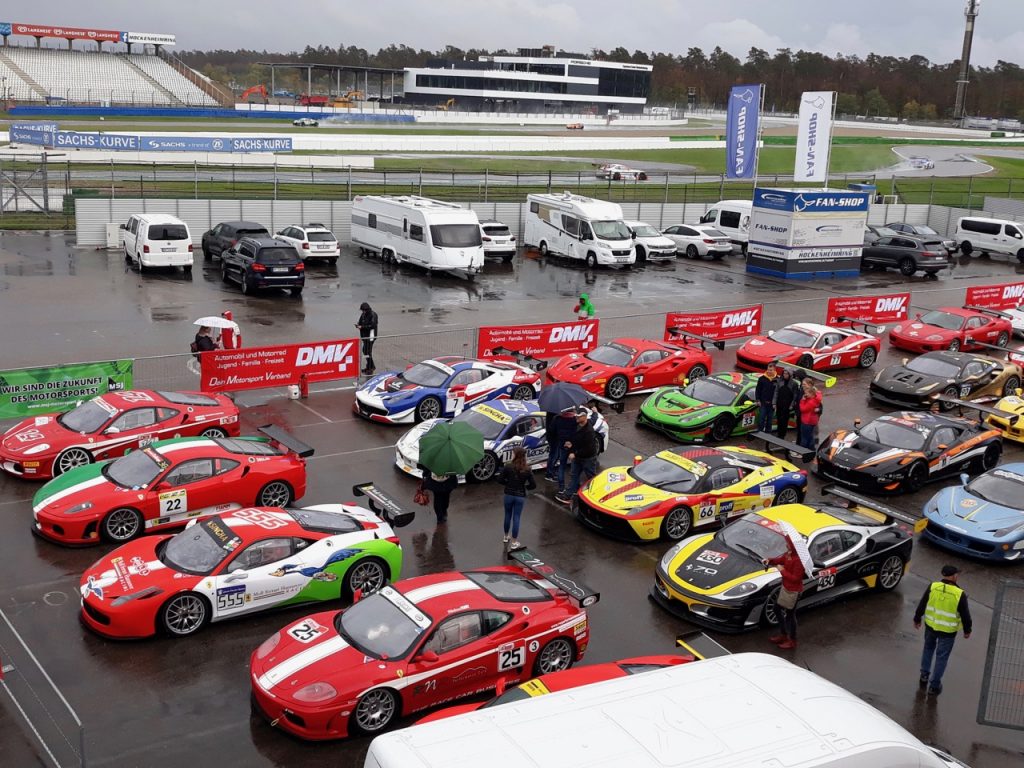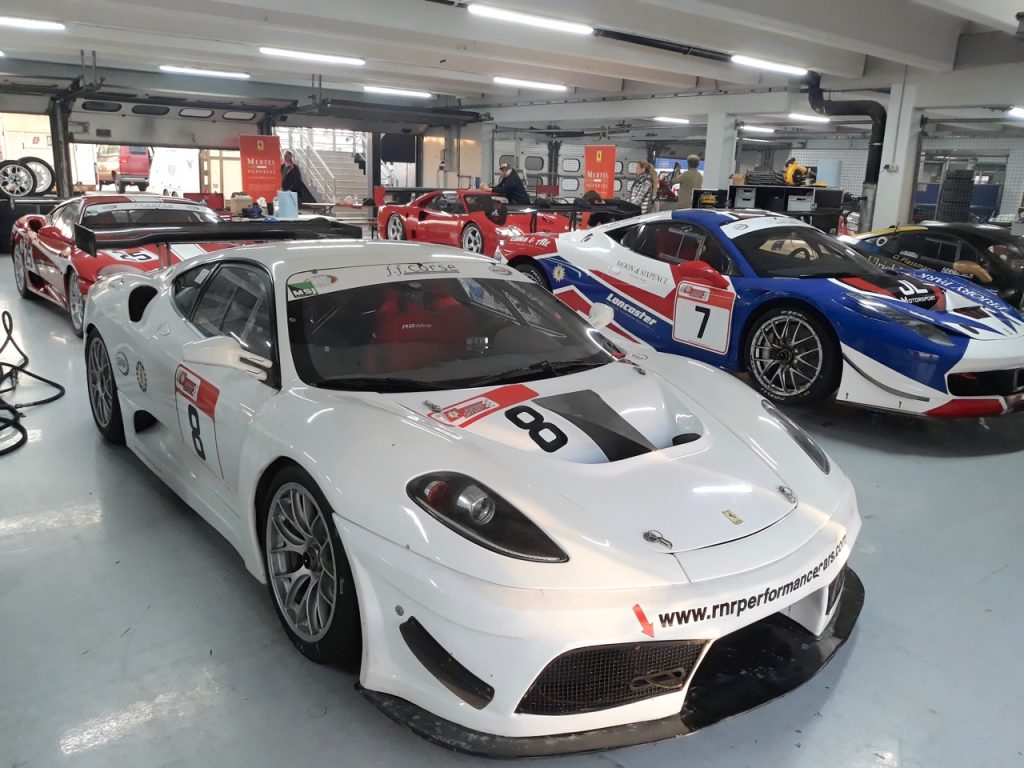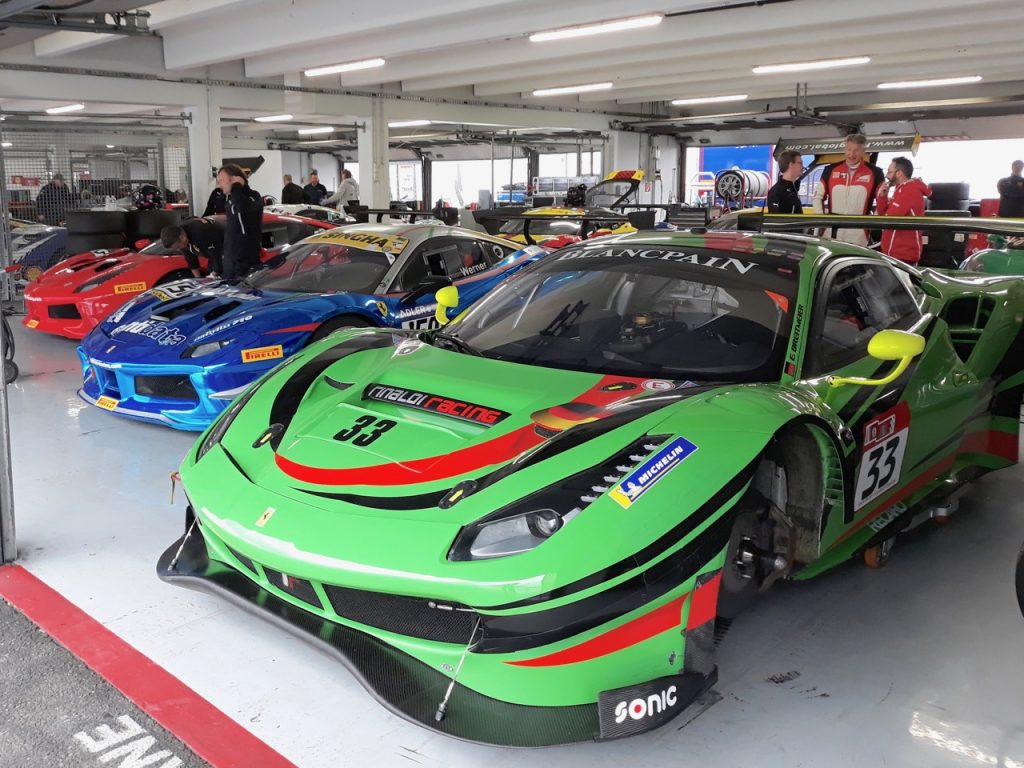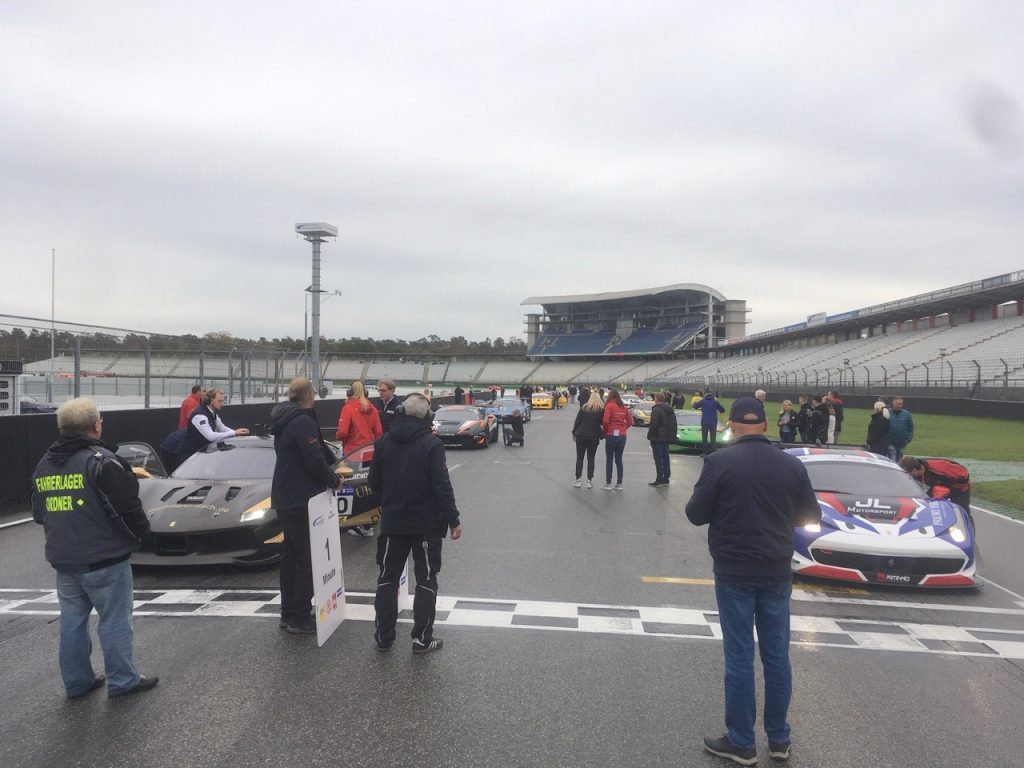 Hockenheim will forever be remembered for a wet April day in 1968 when the great Jim Clark met his death in a Formula 2 race. The fast forest section of the track where Clark died has now been re-natured and over a number of years safety at the track improved, so that the final 2002 track layout (it's a Tilke design) is now one of the most iconic of the F1 season. With a fast sweeping "parabolika" ending in a wicked hairpin and an extraordinary stadium section (the Sachs turn) this is a wonderful driving experience, and so it proved for the final races of the FCR season over the weekend of October 18/19.
The Ferrari Club Deutschland (FCD) amassed a terrific grid of 24 Ferraris including 488, 458, 430 and 360 Challenge cars plus a couple of GT3 cars and a wonderful F40 LM. Just three cars made it from the UK, Richard Fenny's 360/Ch and Vance Kearney's 430/Ch, both supported by Richard Dougal from RNR Performance Cars, along with James Little's 458/Ch supported by son Josh.
Hockenheim is easy to get to, with autobahns all the way, and our route from the Channel took us right past Zolder, Spa and the Nurburgring. The track is within walking distance of the small town of Hockenheim, although the wet weather kept us in our cars.
Both 30 min practice sessions (and all being new to Hockenheim we really needed them!) and both qualifying sessions were wet. Qualifying 2 was a special challenge with running water streaming across the track in at least two places along the "parabolika" posing the risk of aquaplaning. The full wets however do a remarkable job in these conditions.  James and Richard were on Pirellis and Vance was on Dunlops.  All three drivers posted decent times although James in the 458/Ch was by some way the fastest of the three securing P2 and P3 for the two races. All three came through unscathed although all sessions were peppered with yellow flags and the occasional red.
Race 1 started in torrential rain and finished abruptly for James after a coming together whilst challenging for the lead at the hairpin on lap 1. Richard and Vance completed the race without incident though not without a few moments. Vance claimed an impressive 8th overall with Richard coming in 19th. Both achieved a class podium.
Race 2 looked marginal for slicks but in reality was clearly a dry race and a chance to experience the track at full speeds. With James not starting Vance came in 11th and Richard 18th, both again achieving class podiums.
Once again hospitality and organization by FCD (Ferrari Club Deutschland) was first class. On a busy race weekend we had full use of the F1 garages and the opportunity of watching at close quarters racing in the DMV Formel V, AvD Historic Race Cup plus the DMV GTC and Dunlop 60 series.
In 2020 the FCD will once again be racing at the Nurburgring in August and Hockenheim in October and would dearly like to see more competition from British drivers. In addition we have our own Spa event in June where the German club and others will be our guests (subject to confirmation). Based on this year these are all must do events if you have a modern Challenge car.