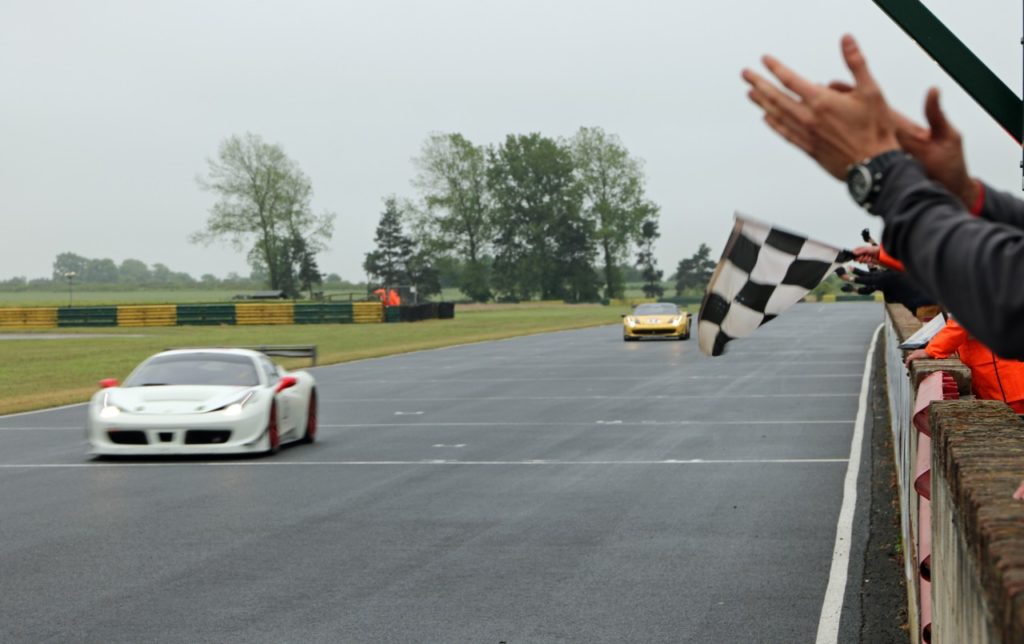 Well, despite being the middle of June, arrival at Croft for the weekends FCR series saw heavy showers and a damp weekend ahead. Clearly the wet tires were going to feature at some point.
Saturday saw a damp track, somewhere in between slick and wet tires, the latter proving the tyre of the day.
Practice gave those of us first timers at Croft a chance to learn the various braking and turn in points, and indeed the curves that may be taken almost flat. I made the mistake of trying the slicks thinking that the wets would be destroyed on the greasy but drying track – how wrong was I being some 15 secs off the pace. Wets were now the order of the day.
On to qualifying and out front James Little put it on pole with his 458 Challenge closely followed by Wayne Marrs in his Fruity 488 Challenge. Andy Christopher was very quick in his 430, beating the 458s of Colin Sowter and Nigel Jenkins into P3. Chris Goddard's 430 was next up with Richard Fenny in his 360 bringing up the rear. Obviously the power difference between the 360 and other tipos proving a bridge too far for Richard to move up the order throughout the weekend.
RACE 1 (Wets)
With everyone on wets for the first race in greasy conditions, it was sad to see that Little was a non-runner due to his wets being shredded during qualifying. At the off it was Marrs into the lead closely followed by Sowter, Christopher and Jenkins with extremely close racing for 6 laps when Sowter managed to squeeze past Marrs to take the lead. On lap 8 Jenkins got past Christopher, late braking into turn 1. Sowter managed to take his lead up to 4 secs by lap 13 with Jenkins all over the back of Marrs until another turn 1 dive saw Jenkins move into 2nd place.
At the finish line it was Sowter by 1.3secs over Jenkins who took fastest lap chasing him down. Marrs held onto 3rd with Christopher and Fenny following. Unfortunately we lost Goddard on the 8th lap due to faulty accelerator sensor.
RACE 2 (Slicks)
Same grid for race 2 on Sunday with now a drying track and everyone on slicks (at last).
This meant Little was able to take his pole position and frankly he was not challenged for the remainder of the weekend – all the fun and games were behind him as Marrs, Sowter and Jenkins entertained the crowds with some extremely close racing, a few side by sides and changes of position, in the end Jenkins took 2nd, with Sowter 3rd and Marrs behind albeit suffering with some "dodgy" brakes. Again Goddard had further sensor issues and failed to start the race.
RACE 3 (Slicks)
A grid change for Race 3, based on the finishing positions in race 2. So Little quickly off to a flyer, and Jenkins suffering a poor start to see both Marrs and Sowter overtake before the 1st corner. By the end of lap 1 Jenkins had got past them both but another 14 lap scrap between Jenkins and Marrs provided great entertainment for both crowd and drivers leaving Sowter only a few seconds behind.
At the front Little had achieved a 19 sec lead by lap 12 but started to get vibrations from what turned out to be a cracked wheel. This gave Jenkins and Marrs the chance to make up some of the gap and at the line it was Little from Jenkins by just 0.7secs. It was good to see Compton-Goddard complete this race after a difficult weekends racing and we look forward to him getting more action next time out.
Whilst we suffer with small grids in the FCR series, it is clear that each driver is committed to providing close but safe racing and if only we could add another 10 cars to this exciting race for slick tyre Challenge cars, what a spectacle that would be. All at Croft made us feel welcome, the marshals kept us safe and well organised for each race, and definitely a circuit to improve driving skills (both wet and dry!)