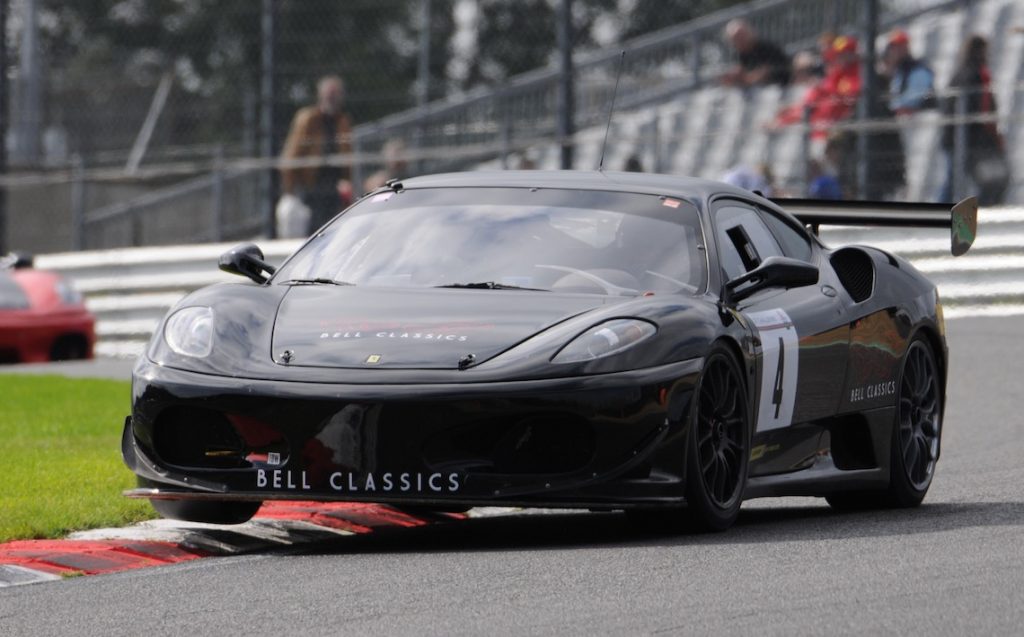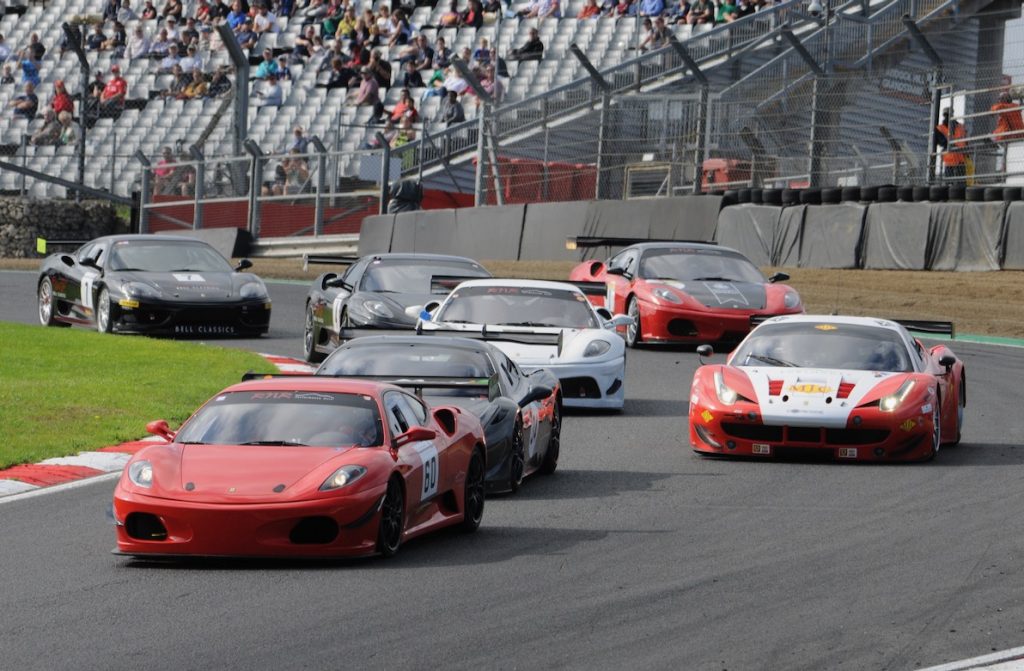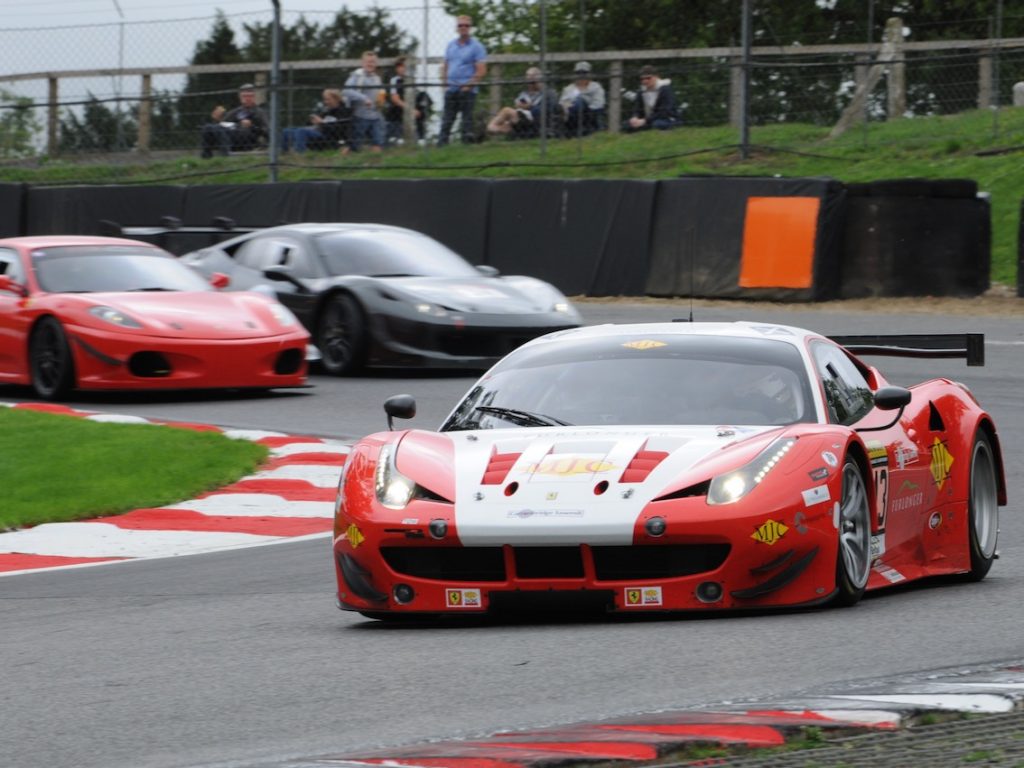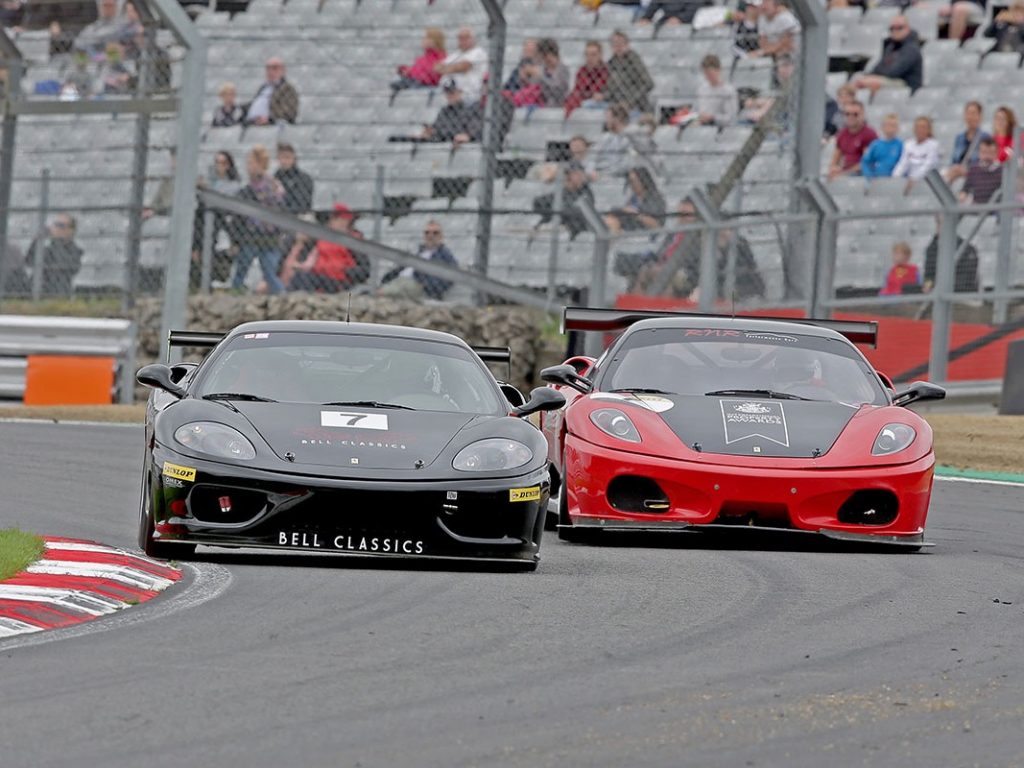 With a very successful pair of races at Donington for the modern tipos in June we were keen to build on the momentum and have another go at the Italia Festival at Brands Hatch. With the tight and twisty nature of the Indy circuit plus the lack of overseas entries (they were racing at Nurburgring the previous week-end) the entry was always going to be a little light. However our ten cars kept everyone entertained – and then some.
On paper at least this should have been a pretty easy day for Witt Gamski's 458 GTE as it was the highest spec. car in the field. Witt is a very experienced racer and a multiple Britcar champion. However he had not driven the car for a year whereas his rivals were race sharp. Also not seen at Donington but present here were the Kearney/Moulden 430 Ch+ , and Stuart Shield in his 430 Challenge which were welcome additions.
Fastest in qualifying was Wayne Marrs who produced a stunning lap of 49.493secs to secure pole in his 430 Challenge. Next up was Witt from Gary Culver's grey 458 Challenge. Moulden and Kearney were close in 4th and 5th in the shared 430. Richard Fenny drove well to P7. Stuart Shield was next up from Matt Wilton and the lone 355 of Chris Compton-Goddard. Colin Sowter's 430 failed noise so didn't qualify, although if fixed he could race.
Race One
This kicked off from a rolling start at around 1pm. It was indeed Witt Gamski who got ahead from Marrs and Culver, these three in a really close dice. Just behind were the 430s of Lee Moulden and Andy Christopher. At the start of lap 2 these two unfortunately got together at Paddock Hill Bend – known as Curva Della Collina Paddock for the day – spinning both cars into the gravel. Andy was able to re-join but it was end of play for Lee. This brought out the safety car for a few laps whilst the white 430 was recovered.
At the re-start battle was rejoined in the same positions with the front three engaged in a very high speed game of positional tactics. Fourth now was Matt Wilton in the black Bell Classics 360 Challenge car that used to belong to our Chairman Nigel Chiltern-Hunt. Next up was Stuart Shield, his 430 sounding a bit flat but seemingly going OK. We loved the fact that Stuart had requested and got race number 1 – why not? Richard Fenny was then just in front of a recovering Andy Christopher, Colin Sowter and Chris Compton-Goddard.
The large crowd were entertained by the fine contest at the front. Marrs managed to keep Culver at bay until lap 8 when the 458 just squeezed past leading into the Variante di Grande John (Surtees). By now Gamski had a decent gap of some 2.3 seconds to Culver and Andy Christopher had worked his way back to 4th position. This put Culver in chase mode and he responded by posting the fastest lap of 49.167 on lap 16. This was great racing with Culver trying everything he could including dropping back and chasing again. Eventually with the help of a back marker he managed a clean pass on lap 18 to take the lead and an eventual win. The traditional celebratory ice cream would have to wait however until race 2. As an aside was this the 4th tipo that Gary has won with: 328 GTB, 355/Ch, 360/Ch, 458/Ch ? Marrs was a very solid 3rd completing the podium. The dice for lower positions between Matt Wilton, Stuart Shield and Colin Sowter was interrupted by a spin for Sowter, thankfully without damage. It had been a memorable race with another to come.
Race Two
It all started again around 4pm and in warm sunshine. Marrs was again on pole but this time he managed to keep the 430 a nose in front of initially Culver and Gamski and then Gamski and Culver. The white Kearney/ Moulden 430 now had all its gravel removed from the race 1 off and was in 4th position in the hands of Vance Kearney. Andy Christopher was next up from Stuart Shield, Matt Wilton, Colin Sowter, Richard Fenny and Chris Compton-Goddard.
Witt finally managed to take the lead from Wayne on lap 8 around the outside of Paddock, which is quite some place to do it showing great respect between the two drivers.  As Marrs and Culver then diced for P2 so Gamski pulled away a little. Watching our leaders racing into Paddock with an entry speed of well over 130 mph and so close was a thrill. Brands certainly does offer excellent viewing unlike some other premier UK venues. The outside of Paddock move was repeated on lap 12 with Culver at last taking Marrs. Eventually the Marrs 430 cried enough breaking a near side front wheel bearing on lap 13 causing a spin and retirement at the bottom of Paddock. It had been a great show.
Culver then set off in chase of the lead but it was too much to ask in the time left. So Witt took the win from Culver (who at last could get his ice cream), Kearney, Christopher and Shield with Wilton, Sowter, Fenny and Compton-Goddard completing the field.
Now if this event in 2019 could be a two day Festival with day 1 on the fabulous GP circuit we could really see something special. If you have not visited in the past then make sure you do next year – it's a super event. A special thanks to our snappers who excelled themselves with some superb photos, more of which can be see on the Club's Flickr page.