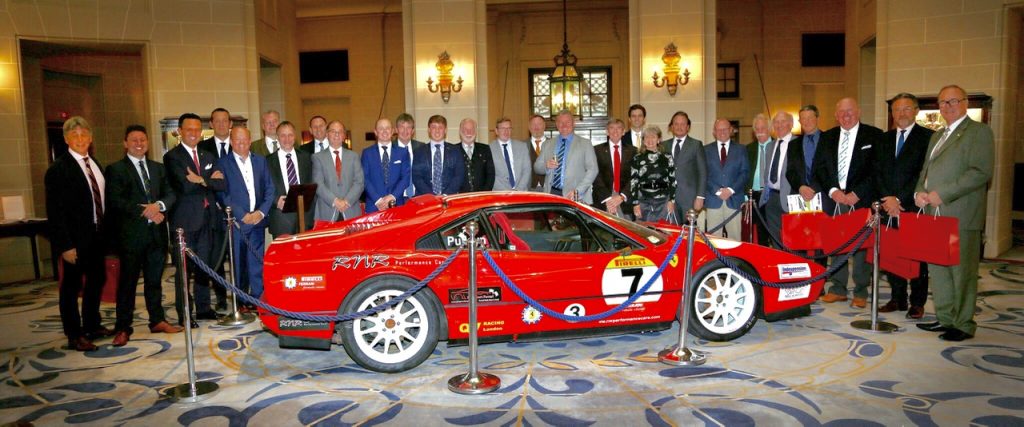 A special race series deserves special locations and the RAC Club in Pall Mall London certainly ticked the box. Originally founded as the Automobile Club of Great Britain in 1897, becoming the Royal Automobile Club in 1907 by Royal Charter from King Edward VII.  In 1905 they organised the first Tourist Trophy (TT) motorcycle race, and became the governing body for motor sport in Great Britain. They moved to the current address (formally part of the War Office) in Pall Mall in 1911. The club organised the first British Grand Prix at Brooklands in 1926.
With a frontage of 228ft it remains one of the largest private member's clubs in London. The club is one of the best equipped in the capital with Edwardian Turkish baths, an Italian marble swimming pool, squash courts, snooker room, three restaurants, two bars, a fully equipped business centre, a club shop and a small post office. The basement formally housed a rifle range and bowling alley. It also houses an extensive library, automotive artwork and historic trophies.
With ace MC Peter Everingham aided by Steve Burns and Gary Culver, along with honoured guests Jason Sugden of Pirelli UK and Francesco Balli of Ferrari North Europe, our racers enjoyed getting together in such prestigeous surroundings. We don't run a championship of course, so no champions as such. However we can still award endeavour and out standing performances. Mentioned in dispatches this year were:
Best overall performance: Peter Fisk 550 Maranello.
Driver of the year: Chris Butler 328 GTB. 
Group 1: William Moorwood. Stubberfield Trophy
Group 2: Chris Compton-Goddard. Stirling Cup
Group 3: Chris Butler. The Big Swifty
Group 4: Gary Culver. Trofeo Italia
Group 5: Peter Fisk. Ivan Bishop trophy
Preparer of the year: Richard Dougal (RnR Performance Cars).
Mechanic of the year: David Preston.
Bad luck award: Vance Kearney.
Hard charger award: Nick Cartwright.
Spirit of the series: Peter Everingham.
A special thanks must go to our own Club office who once again set up an excellent room and made sure that everything went without a hitch.
Pics by Bev Burns.