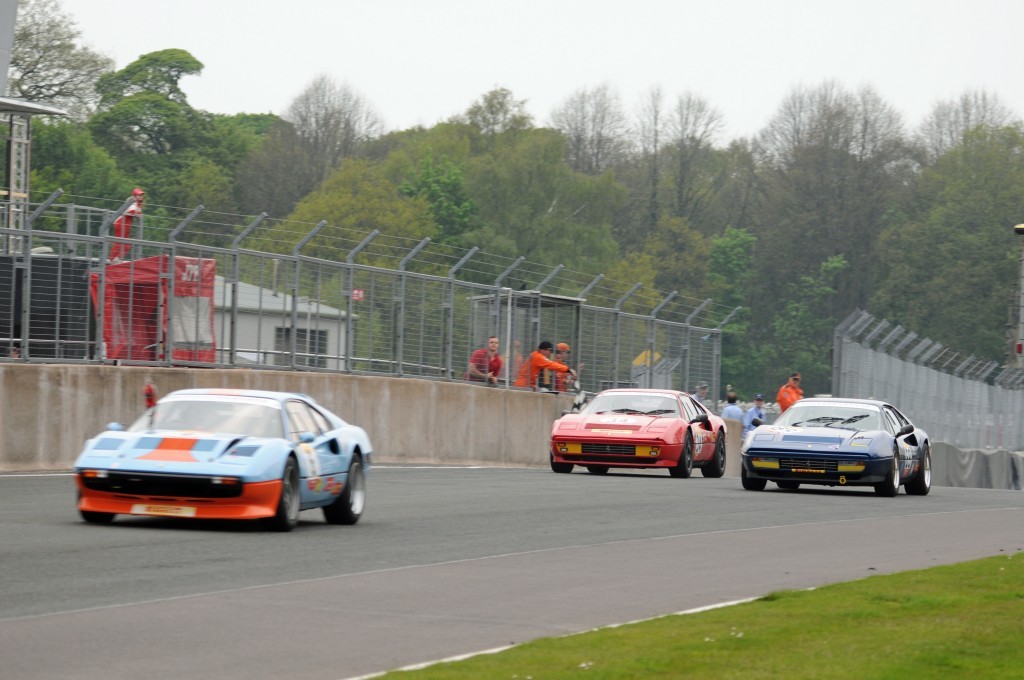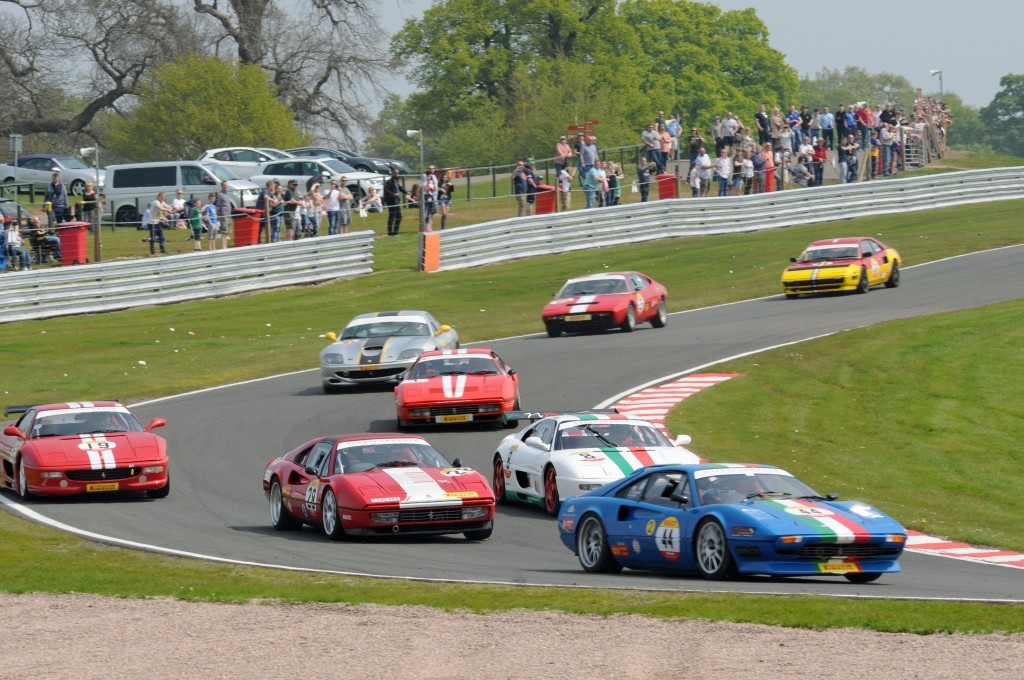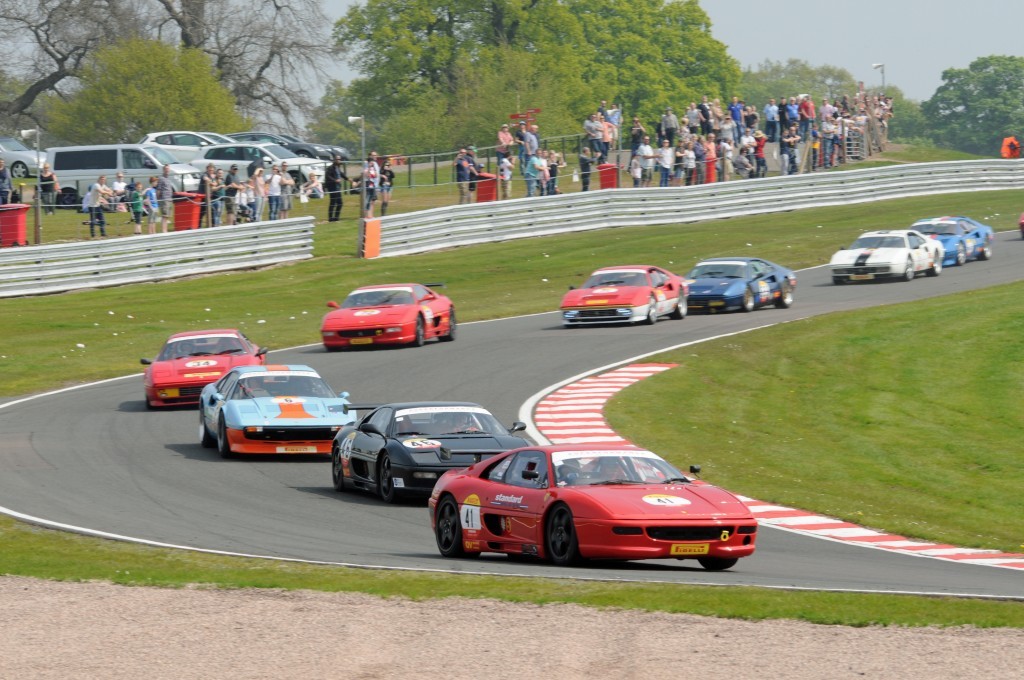 These were possibly the most anticipated races in recent years, as we finally got to see the effect of inviting slightly later cars into our formula classic series. Entry levels were considerably up on last year, and even after last minute withdrawals some 19 cars took to the track for the single qualifying session in bright and warm sunshine. Missing was the shared Kearney/Moulden 355 whose driveshaft came adrift at the last minute. They would start from the back of the grid in both races.
Even with a late start to the season some drivers and cars were more prepared and up to speed than others. Clearly on top form was Dave Tomlin (308 GTB) who took pole position for race 1 with an excellent 1.55.996. His 2nd fastest lap would also secure pole for race 2. Next up for race 1 was Tim Mogridge (355/Ch), Gary Culver (328 GTB) and Tris Simpson (355/Ch). In Group 3 for standard cars over 3 litres it was Tim Walker who took the honours over rival Peter Everingham. Chris Butler is joining this class from Donington in the ex. Richard Allen 328. This will certainly give the Walker/Everingham duo something to think about.
Race 1
After a clean start it was Tim Mogridge who lead lap 1 followed by his old Inter-Marque rival Tris Simpson , both in 355s.  The chasers were the old school of Tomlin, Culver and Jim Cartwright. Lee Moulden's 355 had made very light work of making places and went from the back of the grid to P6 on lap 1. His charge was aided by a poor lap 3 from Tomlin and Lee was P3 at the end of lap 5. So the mid race was dominated by the 355s, but Culver was hanging on gamely in his 328. During the race we lost William Moorwood's GT4, Rob Pulleyn's 328 and the fabulous Pete Fisk 550 Maranello – all with technical issues. Newcomers Richard Cook (355/Ch), Terry Simpson (308 GT4) and Steve Kirton (Mondial) were having solid races with Cook particularly impressing. Group 3 was lead all the way by Tim Walker. The chasing Evers got passed by Chris Compton-Goddard's 308 on lap 4, which tended to halt his chase for Group 3 honours.
The charging Lee Moulden took the lead on lap 9 which impressed none more so than Tim Mogridge who must have thought his name was on the trophy. The expected all 355 podium was altered when Tris Simpson had a wobble on lap 9 letting Culver through. It had been an excellent clean race with encouraging parity between the various tipos.
Race 2
A lovely afternoon was passed in the Ferrari paddock whilst the VW Fun Cup 4 hour race staggered from one safety car to another. The best race (ours of course) got going at 17.52pm. The winning 355 from race 1 was now to be driven by owner Vance Kearney – no pressure then! As it turned out the late hour seemed to suit some, as will be seen. The grid for Race 2 was set on 2nd fastest laps in qualifying, and this together with several lost laps due to exceeding track limits did mix things up a little. The Rob Pulleyn 328 was now driven by Chris Butler and was back in rude health.
At the end of lap 1 it was a revitalised Jim Cartwright who enjoyed a 2 sec. lead over Mogridge, Tomlin, Simpson and Culver. Group 3 winner from race 1 Tim Walker retired with electrical issues. This was a cracking race at the front with the old school looking particularly on it. In fact by lap 5 it was Tomlin (308), Jim Cartwright (328) and Culver (328) leading, with chasing Mogridge and Simpson finding the pace a tad warm.
These front three put on a great show of on the limit clean racingc – one of the best I have seen. The 355s too were having a superb scrap themselves but were falling behind the front pack. At the flag it was Tomlin who just held on from Cartwright and Culver. These three covered by just over half a second. Tim Mogridge held on from Tris Simpson in P4 and P5. Driver of the day was awarded to Gary Culver who showed great skill and commitment over the two races.
So what did we learn? With 355s dominating race 1 and 308/328s dominating race 2 we clearly have a fascinating season ahead. Some circuits may suit the older cars and some the newer models. Right now it is impossible to say which, and that is excellent news. Entry levels too are looking good and a 25 car grid is very likely at some point in the season.
Next up is Val de Vienne in France, followed by Donington Park on July 2nd.