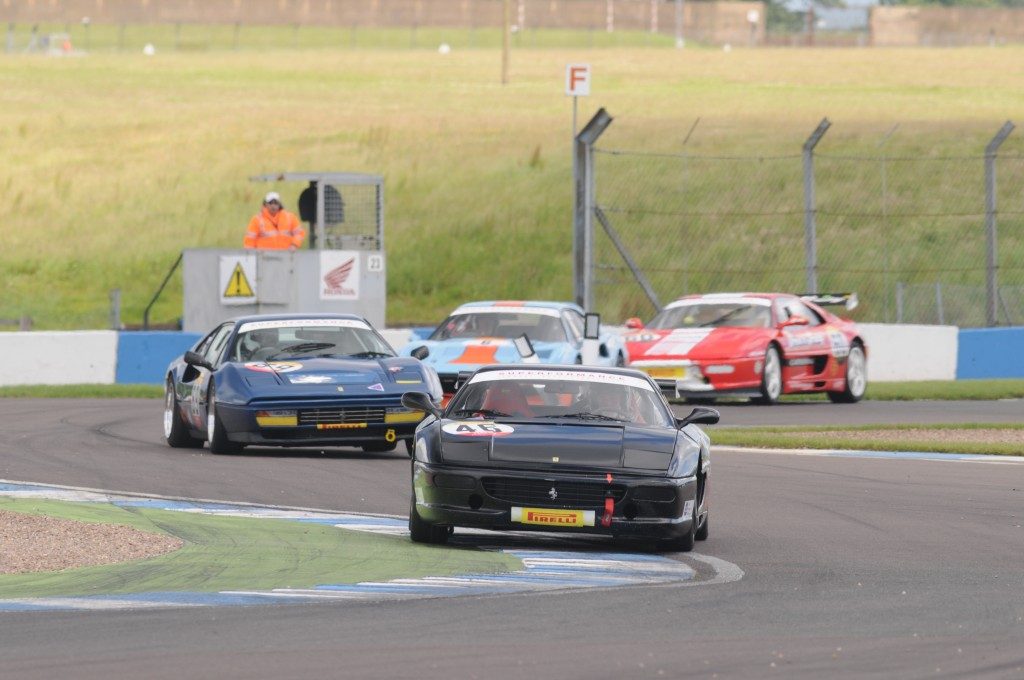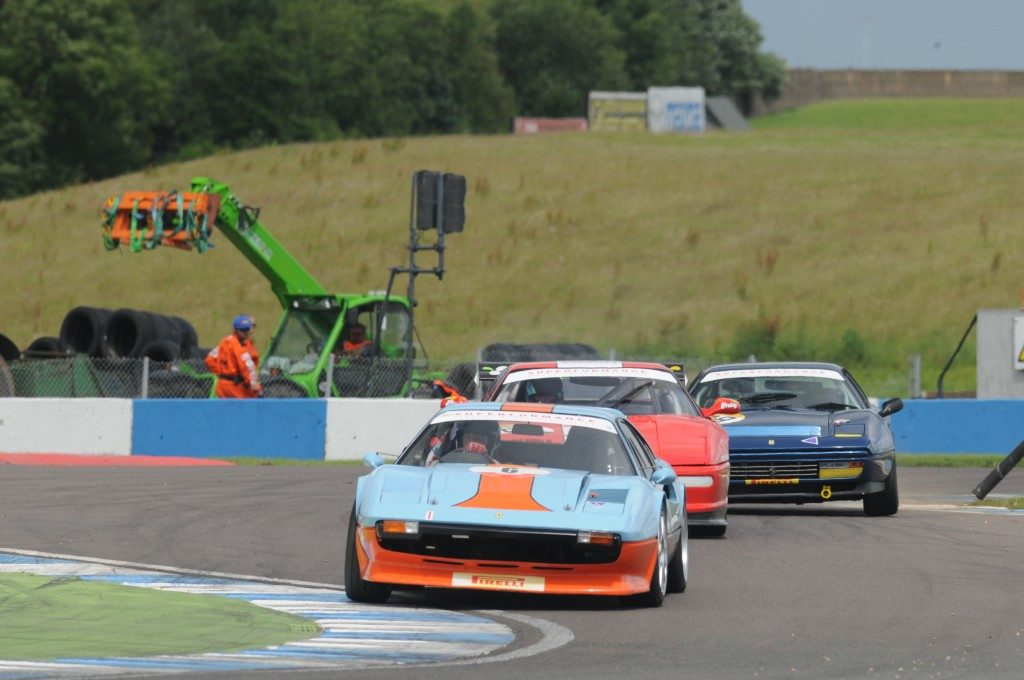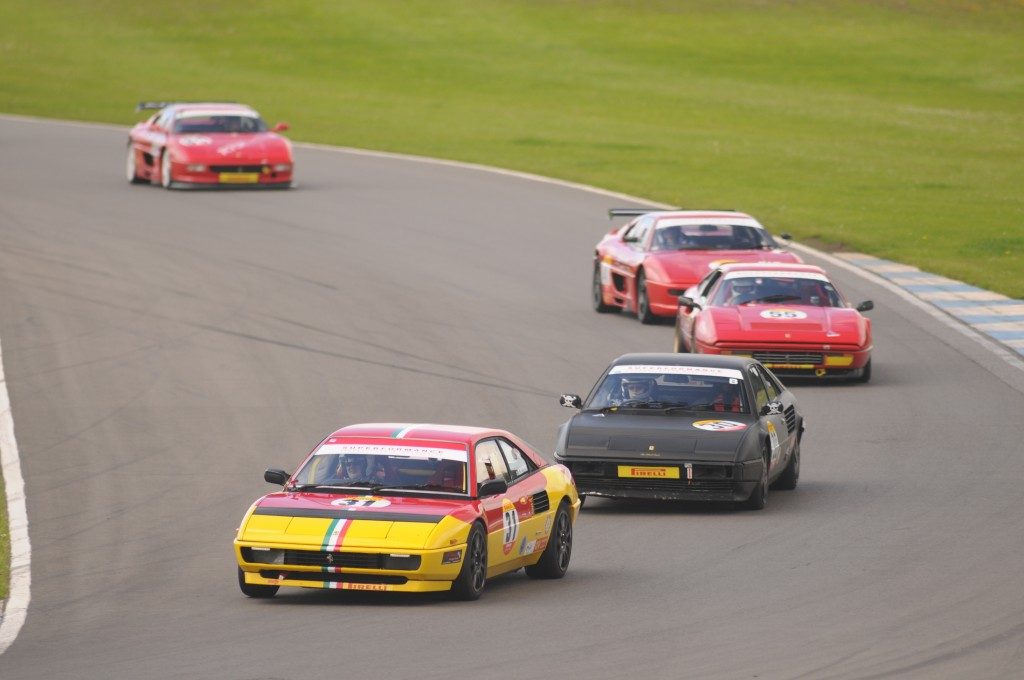 For the third race meeting of 2016 the Pirelli Ferrari formula classic races were held on the full GP circuit at Donington Park. Probably for all the competitors this was a new experience as opportunities to race on the full circuit are hard to come by. We were able to run on the full circuit as we were part of the Masters race weekend which included their FIA GP and Sports Car races so were able to watch some exceptional classic racing – and there are few better places than the Craner Curves to watch.
Qualifying
The single 20 minute qualifying session would determine the grid for the two races with the fastest time counting for the first race and the second fastest for the second race. Before we even started Gary Culver withdrew his 328 GTB and despite rushing home to collect his 308GT4 rally car he decided that this car was also not race ready. But we still had 21 cars lined up and running for qualifying. As ever at Donington initially there did not seem to be too much grip but times quickly started coming down. David Tomlin ( 308GTB) started out late and put in three quick laps to be on pole for the first race but then put himself in the gravel trap at McCleans to bring out red flags and the end of the session.
Richard Dougal in Wayne Marrs' 355 Challenge was on pole for the second race. Tris Simpson (355 Challenge) put in some consistent laps to be second on the grid for both races. Jim Cartwright headed the Group 4 cars in his 328 GTB, Chris Butler impressed in his first drive in his newly acquired ex-Richard Allen 328 GTB to be 5th on the grid for race 1. At the back of the grid Tim Mogridge encountered problems with his 355 Challenge and failed to put in a time, so too did Charlie Ugo who was called in with noise issues.
Race 1
There was a hectic start to the first race with David Tomlin failing to make a good start which allowed Tris Simpson and Jim Cartwright to get ahead. Further back Myles Paulton  (328GTS) had a gear selection issue causing him to lose ground and he set off near the back of the grid, by the time he reached Coppice he came up behind Richard Fenny who obliged by sliding off into the gravel but this did not stop him following Fenny into the same gravel trap, fortunately without contact. Under yellow flags the marshals were able to retrieve the cars without any hold up to the race. At the front of the race there was for a while a really close race between Simpson, Dougal, Tomlin and Jim Cartwright. Initially Simpson led but made an error and conceded the lead to Tomlin. Richard Dougal had a strong race running in second place before a sensor warned of a potential crankshaft problem so he promptly retired the car, always a wise move when driving a borrowed car.
Group 3 looks to be as competitive as last year with close competition between Chris Butler, Peter Everingham and Tim Walker in their 328 GTBs, Butler with his grid advantage had failed to make good use of it but by lap 7 was leading Group 3 and heading for a class win first time out in his new car. The race was be won by Tomlin, from Jim Cartwright and Tris Simpson. In 4th place was Richard Cook, 355 Challenge, who would go on to get a good result in race 2. Towards the back William Moorwood, 308GT4 headed Group 1 but was given plenty of pressure from Charlie Ugo in his first ever race.
Race 2
Prior to the start of the second race there was some tyre adjustments made. David Tomlin swopped his 16″ tyres for a well used set of 17″ tyres with no apparent change to his pace and Peter Everingham who had flat spotted his front tyres was able to borrow some replacements from Culver.
Race 2 was just as close as race 1 with Tris Simpson taking an early lead but with Tomlin and Jim Cartwright running close behind they soon took up the front two places with the lead changing places a number of times. Pete Fisk in his black Mondial QV started with concerns about oil pressure and soon thought better of continuing when he started to lay down a smokescreen so he wisely pulled off after one lap.
Peter Everingham liked his new tyres and had a storming race to head Group 3 for the whole race and Chris Butle, who made up a lot of time having started near the back of the grid, managed the fastest Group 3 lap of the weekend. Nick Cartwright (328 GTB) had two second places in Group 4 over the weekend and finished the second race 3 tenths of a second behind Paul Daniels who was driving his son's 328 GTB.  Moorwood recorded his second Group 1 win of the weekend but was lucky to do it as Charlie Ugo, now in his second race, went easily past him but then had a big spin going down the Craner Curves. His performance over the two races impressed the race commentators so much that they gave him the RnR 'Driver of the Weekend'.
At the end of the race it was Tomlin who finished 3 tenths of a second ahead of Cartwright with Tris Simpson 3rd and Tim Mogridge (355 Challenge) in 4th place. When the results came out Jim Cartwright was given a 5 second penalty for exceeding track limits to drop to 4th place and Mogridge who had started at the back of the grid was promoted to the podium in 3rd place.
In all two really good races with plenty of close competition without any contact. Thanks to Simon Cooke for some really good photos, all of which can be found on his website.