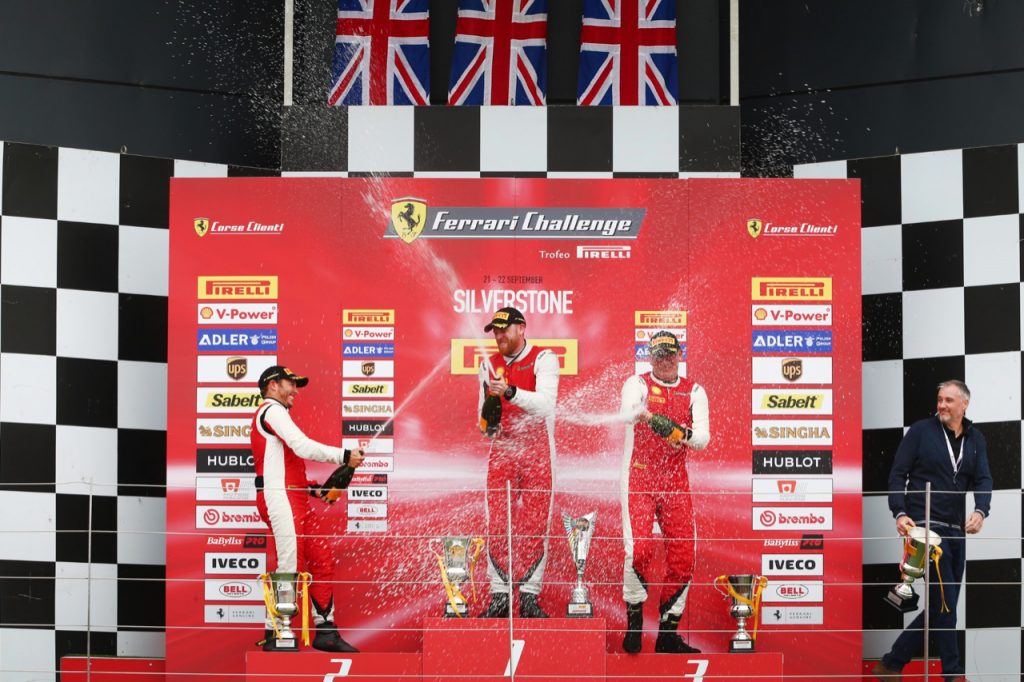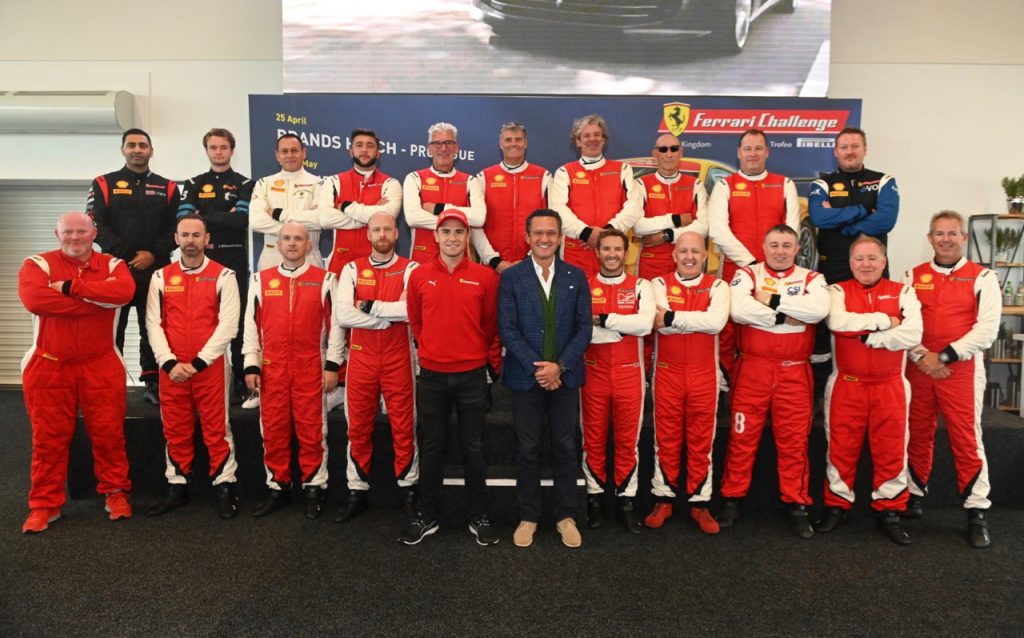 Silverstone, Sunday 22 September 2019 – Jamie Clarke wins the Trofeo Pirelli title after back-to-back wins, while Toby Flannagan wins the Coppa Shell title.
Race 1
Jamie Clarke (Stratstone Manchester) converted his pole position into a Trofeo Pirelli win, leading the race from start to finish. Clarke now takes the championship lead from Jason Baker (Dick Lovett Swindon), who was unable to attend Race 1.
 Trofeo Pirelli. Spectators at Silverstone were treated to a fantastic race, with action throughout the field from lights-to-flag. Unfortunately an incident on lap 2 meant that Josh Kirkwood-Jones (H. R. Owen London) and Mark McAllister (Lancaster Ferrari Colchester) could not continue after sustaining damage, causing a lengthy safety car period, with Wayne Marrs (Dick Lovett Swindon) also forced to come into the pits. Andrew Bruce (Meridien Modena) took his best finish of the year, coming across the line in second place, closely followed by Paul Hogarth (Stratstone Manchester) in third. Henry Simmons (Maranello Sales) also made impressive progress, finishing in fourth position.
 Coppa Shell. Once again the Coppa Shell lived up to expectations. Richard Guy (Charles Hurst) lead the class for the majority of the race, before an untimely spin dropped him down the order. Following a thrilling battle, Toby Flannagan (Maranello Sales) eventually emerged victorious, narrowly beating Alex Moss and Stuart Willson who finished second and third respectively. Jamie Thwaites (JCT600 Brooklands Leeds) was unable to build on his win from Croft, having to retire near the end of the race. Imran Kara (Graypaul Birmingham) also had to retire, with a puncture to his front-right tyre ending his race on the last lap, after he had progressed impressively through the field.
Race 2
Jamie Clarke (Stratstone Manchester) managed to hold off Jason Baker (Dick Lovett Swindon) in wet conditions to seal both the race win and the Trofeo Pirelli title, following a dramatic, season-long duel between the pair.
Trofeo Pirelli. Jason Baker was in good spirits after narrowly missing out on the title, saying 'it's been a really good season, I just love the racing, racing like that is great. Jamie and I have been close all season but never came together and instead had really good battles.' Jamie, reflecting on the season as a whole, said 'It's been a season of two halves. Arriving at Croft, I had lots of points to earn to make up the gap to Jason. My confidence grew every weekend, along with fastest laps and then pole positions. It's been a great season.' Paul Hogarth (Stratstone Manchester) completed the Trofeo Pirelli podium.
Coppa Shell. After Richard Guy (Charles Hurst) spun and lost his lead, Stuart Willson (Graypaul Nottingham) battled through the conditions to take his second victory of the year, becoming the only driver to win more than one race in the Coppa Shell class. Commenting on his first experience of racing in the wet, Willson said 'I really thought wet the tyres would go off, but they didn't and it was a really great race.'  Jamie Thwaites (JCT600 Brooklands Leeds) and Alex Moss (Graypaul Birmingham) rounded out the podium after impressive drives.
However, despite falling down the order following contact, Toby Flannagan came across the line to claim the overall Coppa Shell title. Following a consistent season, an elated Toby commented 'I had no expectations going into the season at all, I wasn't thinking about points. This is a lovely surprise and I'm quietly congratulating myself.'
The weekend of racing held at Silverstone wraps up the first season of the Ferrari Challenge UK with an extremely positive final result for the English national series. Four rounds, eight races, twenty 488 Challenge cars on the grid and battles throughout the various events, thrilled the ever-present spectators in the grandstands and paddock who were there to witness the success of the championship.
The season gets underway again next year with a prologue scheduled for Donington from 17th to 18th March 2020.