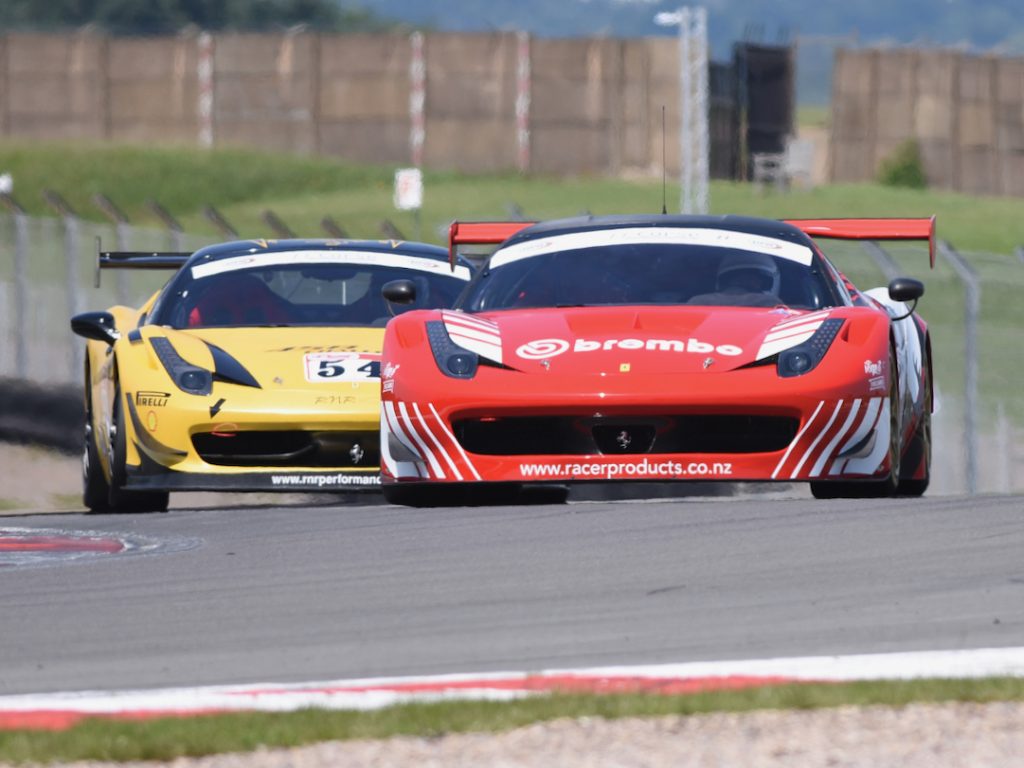 We are indeed fortunate in the UK in having racing available for all our member's Ferraris. Our formula classic series takes basically everything up to 1999 in various classes. The Ferrari UK Challenge handles new 488 Challenge cars and the Ferrari Club Racing Series covers Challenge and GT models from 360 to 458. As at Spa recently earlier cars are also invited to FCRS expanding their usability even further.
On Saturday 29th June the VSCC hosted our FCRS races at Donington in scorching heat. At 34 deg. this was to be an endurance test for cars and drivers. Ideally our UK entrants would have been joined by drivers from Germany and elsewhere but late withdrawals meant this didn't happen. So on the day just 11 cars took to the track for qualifying.
Class of the field was James Little in his JL Motorsport 458 Challenge. His 1.08.49 took a deserved pole position from Arwyn Williams 458 GT3. Club director Gary Culver was next up in his 458/Ch from old adversary Nigel Jenkins having his first run in a similar car. The 430/Chs were next in the order Andy Christopher, Nicky Paul – Barron, Chris Compton-Goddard, Myles Poulton and Colin Sowter. Richard Fenny was the sole 360/Ch and Carl Cavers gave his 355 a run as his newly acquired 458/Ch was not ready in time.
In race 1 the rolling start went without incident but in the race we did loose Culver, Sowter, Fenny and Compton-Goddard with mechanical or other issues. James Little took a comfortable win from Arwyn Williams with Andy Christopher making up the podium. Nigel Jenkins' 458 did complete the race but at a reduced pace after a phantom pit stop. So with RnR running five cars their engineers were to be kept very busy in the break.
Race 2 set off at 16.02 with 8 survivors. James Little again had little opposition but behind him the trio of Jenkins, Christopher and Paul-Barron stayed in close company for most of the race. On lap 18 however NP-B retired with a suspected failed oil seal leaving the podium positions to Jenkins and Christopher. Myles Poulton took 4th ahead of Compton-Goddard, Colin Sowter and Carl Cavers.
Given the heat and small grid size our boys put on a decent show. It does however confirm that if FCRS is to fly in the UK we need to attract foreign drivers. The cars are great to race and there are enough around to support the series, but special events are needed and they are not that easy to arrange in a congested calendar.
This year our formula classic series is supporting the Ferrari UK Challenge, and hopefully will again next year, but FCRS were not invited. Now if in 2020 they were to be then the UK Challenge race week-ends would cover every age of Ferrari race car. That would be something special.